---
Depeche Mode
-

Ten Songs That Made Me Love...
published: 14 / 2 / 2021
---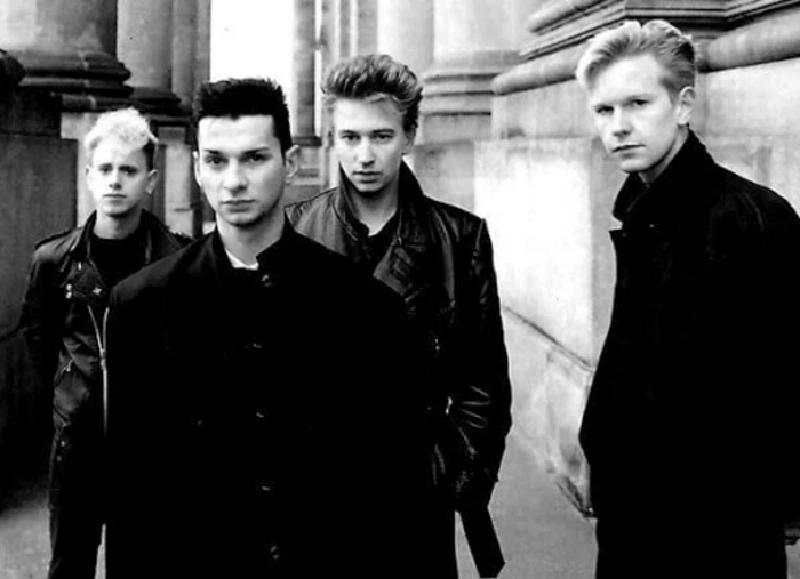 intro
Fiona Hutchings in 'Ten Songs That Made Me Love...' writes of her favourite songs by Depeche Mode.
It feels like an elephant in the room somehow that I haven't chosen either 'Enjoy The Silence' or 'Just Can't Get Enough' in this selection of Depeche Mode tracks. It's not that I don't like them, because I do. But they strike me as the tracks most people would recognise even if they don't particularly like Depeche Mode. The latter was their first Top 10 single in the UK and the former was seen by many as a watershed, a point where they became a proper grown-ups band, moving away from the plastic cheesy pop tag of the 80s. Honestly, I think that's a load of crap. Depeche Mode have fantastic songs in every stage of their forty-year career and have experimented and played around with their sound. A band that can keep it together despite a frontman who has nearly died onstage more than once, rock and roll tales of drugs, excess and piercings in unexpected places plus the departure of two key members, deserves more acknowledgement and respect than they got for many years. I'd also hazard a guess they don't really care what anyone thinks about them. The fact they only just got inducted to the Rock and Roll Hall of Fame is a rant I'll save for another day. 1, 'Never Let Me Down Again' ('Music For The Masses', 1987) Probably my favourite Depeche Mode single, this one feels like it captures everything that was best about them in their pomp. It's both electric and guitar-driven, we are flying high but fear falling, it's hopeful but not wanting redemption. Powered by rumbling bass, Gahan's baritone is a little more fragile than usual, it contrasts beautifully with Gore's coda that "everything is going to be alright. Tonight". Full disclosure, the first time I saw this on the '101' documentary I cried. Gahan starts waving his arms and the huge crowd immediately copy him. The power and the joy of that moment is mirrored by band and fans. It doesn't matter how many times I see it or which live performance, I still get the hairs on the back of my neck standing up. And if I'm alone I join in, because how can you not? Rightly or wrongly, this is the track I want to see me out of the world. 2. 'Shake the Disease' ('The Singles 81- 85', 1985) Alan Wilder came to the conclusion first that this song sums up the dark, twisted Depeche Mode mind. It could equally have been called 'Understand Me', but 'Shake the Disease' is a lot starker and more disconcerting. To my knowledge it has nothing at all to do with AIDS, but it's worth noting that it dropped along with their first singles collection in 1985 into a world where AIDS was whispered about in corners and doom-laden voices. Less than a year later, tombstones and portentous tones would be warning us not to die of ignorance. There are elements of a love song, but equally if ever a song was about loving a bad boy it's this one. Plus this is one of the songs heavily featuring riffs they made by dropping things, hitting things and playing a sheet of corrugated metal with a stick. 3. 'Pain That I'm Used To' ('Playing The Angel', 2005) Announcing their latest offering with a wailing siren that just gets bigger when the drums kick in, this is angsty, snarling and sung through gritted teeth. I have chronic pain among other things and this is exactly the type of song I mean when I say music helps me deal with that particular joy. It's definitely a "Come and have a go if you think you're hard enough"-type number. Also, hold on to your hats, but regardless of the video Andy Fletcher plays bass on this one. As in an actual one, not on a keyboard. 4. 'I Feel You' ('Songs of Faith and Devotion', 1993) The shocking blast of static warns you something has changed. When it comes to album openers, Depeche have a solid record. Guitars and basically a kick-ass (whisper it) rock song. Opening one of the biggest-selling Mode albums and (sadly) marking the last outing before Wilding quit, it's just filthy. I know the recording and touring of these songs of faith and devotion nearly killed them and split the band, but what they produced was so worth it. Also, not going to lie, 14 year-old me loved that video. 5. 'Precious' ('Playing The Angel', 2005) Breaking a three-year gap since their last release, 'Precious' is a more gentle, melancholy-sounding Mode. Martin Gore described his private life as "pretty crappy" as he was about to divorce his wife. The song is a meditation on how his children would cope with the split, the pain they were feeling as well as his own. Even Gahan's vocals are lighter, softer - almost angelic. The backbone of the song still has the hallmarks of driving drums layered with multiple flavours of synth, but it's happy to support not dominate. 6. 'Everything Counts' ('Construction Time Again', 1983) This and 'People Are People' were neck and neck. So I decided to slightly cheat by mentioning both. It's the wry lyrics, biting in some cases and neatly packaged in prime hook-heavy synth that gets lodged firmly in your brain. What sounds like distorted traffic noises are somehow enhanced and made a bit more frantic by a xylophone and a melodica. Which is some kind of magic right there, because I don't know about you but those two instruments throw me straight back to middle school assemblies. 7. 'Walking In My Shoes' ('Songs Of Faith and Devotion', 1993) If you look up 1990s MTV videos this is the video you get. We know (in retrospect) that the Mode are not in a good place. Alan Wilder is sadly not far from calling it quits to go and do something easier: taming rabid uncaged tigers with nothing but a stern look, perhaps. This song is at once hugely dramatic and simply plaintive. Gahan was trying to be the rock god of excess he thought he was meant to be, but maybe the experience wasn't quite the cakewalk we lesser mortals imagined. 8. 'Master And Servant' ('Some Great Reward', 1984) Well before the music started to sound dirtier the lyrics were already overtly laying out that Depeche Mode weren't Saturday Morning kids TV fodder. I am sure a video made today would embody the BDSM lyrics so much better than perching the band on some chain, some light ineffectual whipping and Gore rolling around on the floor. There was a tiny bit of controversy, the lyrics though sung cheerfully enough aren't hiding behind metaphor. There was talk of Radio 1 banning it, but I suspect they'd learned from Frankie says 'Relax' the previous year and knew that banning a song just makes it even more appealing. And this one was already pretty appealing. 9. 'Policy Of Truth' ('Violator', 1990) Currently enjoying a sort of revival thanks to a remix for the film 'Death on the Nile' (to be released at some point in cinemas we hope), this one always felt a bit overshadowed by THE 'Violator' single. It's just as timeless and arguably has never been more topical. I'm not saying it's been on a constant loop in the back of my head since early November... but yeah, it has. The vocals are dangerously smooth on this one too. Fun fact, the only single to chart higher in the US than the UK 10. 'Stripped' ('Black Celebration', 1986) The prospect of being taken to a forest and stripped to the bone is either the start of a serial killer Netflix special or the start of an intense and unsettling song. The car overtones, revving motorbikes slightly tweaked and the taste of petrol collide to make a dark but sexy atmosphere. Gahan has said it's not about sex, it's about having nothing to do, making choices without your television. He has a point (I'm sure he will be very gratified to learn) but for me this one is delightfully, dangerously filthy and I love it.
Band Links:-
http://www.depechemode.com/
https://en-gb.facebook.com/depechemode
https://twitter.com/depechemode
https://en.wikipedia.org/wiki/Depeche_Mode
Play in YouTube:-
live reviews
---
NIA, Birmingham, 19/11/2017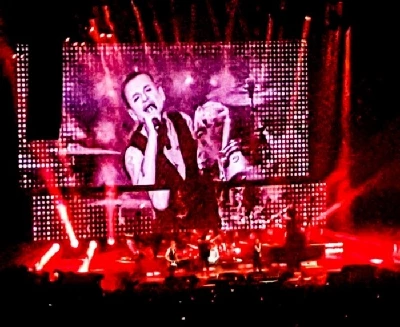 DAve Goodwin watches 80's legends Depeche Mode play to a packed NIA Birmingham as they tour their new album 'Spirit', 37 years and 14 albums after their debut, 'Speak and Spell'.
features
---
Profile (2006)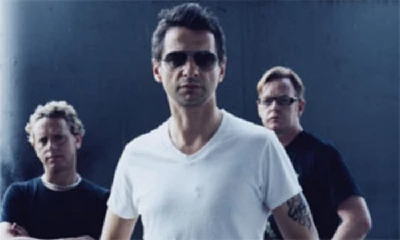 To celebrate their 25th anniversary, Depeche Mode have had three of their albums, ,'Speak and Spell' from 1981,'Music for the Masses' from 1987 and 'Violator' from 1991, re-released. Anthony Strutt profiles them all
photography
---
Photoscapes (2017)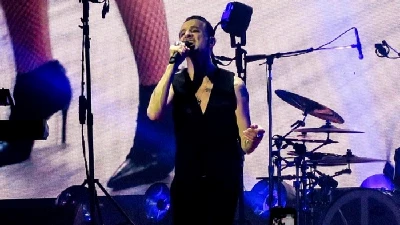 Darren Aston photographs electro pioneers Depeche Mode at a gig on their recent tour at the Manchester Arena
Pennyblackmusic Regular Contributors
---