---
Miscellaneous

-

Ten Songs That Made Me Love...
published: 30 / 6 / 2017
---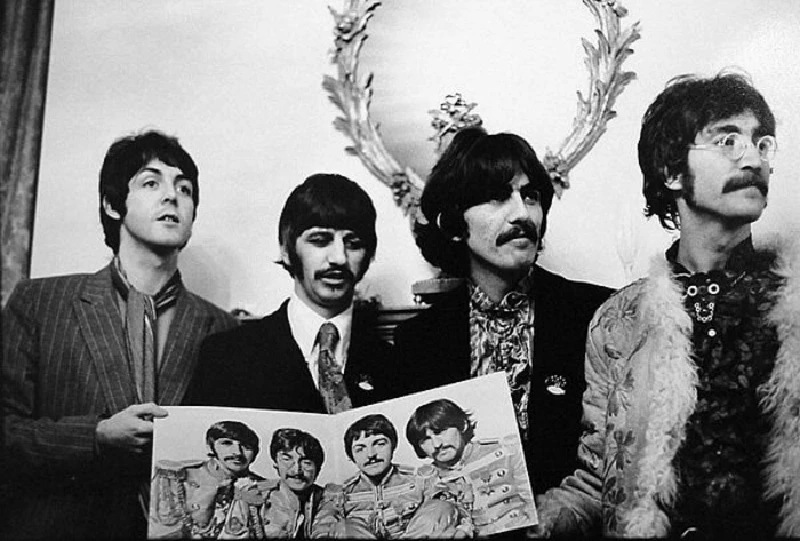 intro
In 'Ten Songs that Made Me Love...' Adrian Janes writes of ten of his favourite songs from 1967 and tracks by artists including the Beatles, Pink Floyd, the Doors and Jefferson Airplane
Even now, to speak of 'The Sixties' conjures up for many people images of hippies dancing in parks and flower-bearing protestors, a massive contrast to the austere Fifties. Leading edge fashions were a wild mixture of richly coloured garments, often Indian-influenced, and quasi-vintage items, like the ironic military-style jackets donned by Jimi Hendrix and the Beatles. Rock groups were in the vanguard, the abandonment of the suits that every band and singer wore earlier in the decade symbolic of the greater creative control musicians were now demanding, as the music they made symbolised the social freedom the young wanted. So the songs in this selection, for me, all suggest in some way that year's fantastic blossoming of creativity and imagination, and continue to be inspirational. Beatles - 'Strawberry Fields Forever' Soft flute notes from a mellotron begin the song, wildly fluttering notes end it. Over its course, John Lennon's nostalgia (Strawberry Fields was a children's home in Liverpool that held summer fetes) becomes more of an argument with himself due to the harsher world he knows as an adult: "Always, no sometimes, think it's me But you know I know when it's a dream I think I know I mean a 'Yes' but it's all wrong That is I think I disagree" The music too moves from a gentle rhythm and the dreaming thought that "Nothing is real" to faster, more decisive drumming supported by stern cellos and ascending trumpets. The song evokes a swirling complex of emotions, sadness for something lost yet somehow able to affirm something precious that lasts 'forever'. The combination of rock and classical instruments and the imagination and ingenuity of George Martin's production remain an amazing example of pop as art. Pink Floyd – 'See Emily Play' Despite Its florid organ introduction, it's soon joined by what could almost be a beat group's rhythm section. But Syd Barrett's deadpan, very English vocals, the organ drone and spacious sound soon take this song to another place altogether; his guitar break of ever-ascending notes suggests an almost desperate urge to break more than musical boundaries. Jimi Hendrix Experience – 'Are You Experienced?' From the fade-in of a backwards guitar, the climactic track of Hendrix's debut album is a tour de force of psychedelic music, yet delivered in the most alluringly insouciant manner. Such is his almost casual guitar mastery (the solo here unfurls like a snake in the sun) that the quality of Hendrix's singing is often neglected. But listen to how he can move in seconds from a soul shouter's "Have you ever been experienced?" to a slyly crooned "Well - I am". Is the experience he promises chemical, sexual or something else? Maybe all of these, but for sure, once heard this song permanently expands your awareness of the possibilities of music. Doors – 'Strange Days' Insinuating organ creeps through one of the most seductive, yet disturbing, Doors' songs. Jim Morrison's distorted voice (which by the last verse is so scrambled as to mask some words almost completely) leads into an underground of pleasures where "The hostess is grinning/Her guests sleep from sinning". It's as if he sees Hendrix's invitation and its possible results already turning sour. Yet the combination of unnerving keyboard and pin-sharp guitar wrapped around his words is irresistibly beautiful. Rolling Stones – 'We Love You' The clank of boots and keys evokes the legal tribulations of the Stones after their notorious drug bust of February 1967, opening onto urgent piano and bass. Arguably sarcastic (its sentiment somewhat out of keeping with the reputation of rock's 'bad boys'), this piano-driven track is another great example of how bands were now making music that still had essential rock qualities while pushing beyond their previous limits. It's epitomised in a climax of distorted brass, guitar, thunderous tom toms and eerie chanting. Cream – 'We're Going Wrong' If the Fifties were the teenage phase of rock, the Sixties saw it become a young adult with growing political and moral awareness. Simple lyrics ("Peace/Open your mind/See/What you can find"), that could be dismissed as naïve, are given tremendous depth of meaning by Jack Bruce's anguished singing, aided by blasts of guitar and clattering, agitated drums. He utterly convinces that he's discovered what has horrified him this very day. Traffic – 'Hole in My Shoe' From its sitar and flute intro to its added layers of piano, organ and mellotron, this is one of the era's best examples of a band adventurously combining unusual instruments and textures. Admittedly the child's spoken word interlude ("I climbed through a crack in the cloud") is embarrassing now, but it's far outweighed by the music's mysterious power and the contrast of Dave Mason's understated vocal with the grit of Steve Winwood. Electric Prunes – 'I Had Too Much to Dream (Last Night)' Sounding like an angry trapped wasp's buzz magnified a thousand times, the accidentally discovered guitar effect that starts this song seems to lead into a fairly conventional verse, a dream about the singer's lover. But the nagging bassline hints at something more, before another spurt of distorted guitar and the breaking in of the drums reveals the singer's realisation that it was an illusion and the true extent of his isolation. What makes the track above all is Ken Williams' sinuous backwards guitar threading throughout, a constant reminder of the singer's disorientated state. Country Joe McDonald and the Fish – 'Bass Strings' This reflective number, embellished with some superb bluesy guitar playing by Barry Melton, on the surface straightforwardly advocates the alleged benefits of drugs (McDonald even intones "LSD" several times during the fade). Yet there is some common ground with the misgivings of 'Strange Days': the cavernous setting in which organ, guitar and McDonald's plaintive voice exist, and his pained perception that "The truth lives all around me/But it's just beyond my grasp", all suggest that the wish to "Stay high always" is not going to be granted. Jefferson Airplane – 'White Rabbit' It would seem obvious that this song is another advocate of drugs for consciousness expansion (though on at least one occasion Grace Slick told an incredulous interviewer that "Feed your head" meant to read as much as you could). Yet even more than 'Bass Strings', the tremulous power of Slick's voice and the guitar undertow make it ambiguous, maybe even a warning: "If you go chasing rabbits/You know you're going to fall". In fact, with its ingenious use of the sheer weirdness of Lewis Carroll's characters to suggest the drug experience, 'White Rabbit' sounds as daunting as it is in any way tempting. 1967 was an extraordinary year in many ways, and it seems extraordinary to recall that the songs discussed here, which still sound so fresh and bold, are now fifty years old. It's their lasting quality that chiefly makes them worth writing about. But if nostalgia has any part to play here, it's to recall that many of these songs are so widely known because they were massive chart hits. The fact of these sales is important only insofar as it reminds us of a time when the consciousness and taste of many fans accepted music that pushed at the previous limits, showing an open-mindedness and willingness to question that spilled over into the rest of life. If 1966 was, as Jon Savage, calls it, "the year the decade exploded", 1967 was the year in which it flowered.
Visitor Comments:-
828

Posted By: lisa, chicago on 29 May 2017
Fab review!
---
Pennyblackmusic Regular Contributors
---