---
Miley Cyrus
-

Ten Songs That Made Me Love...
published: 9 / 2 / 2015
---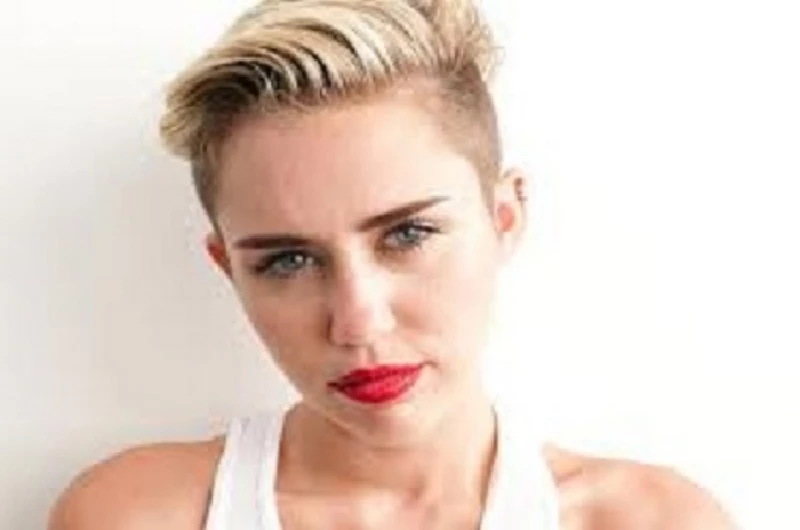 intro
In our series, in which our writers write about ten songs that made them love a particular band or artist, Malcolm Carter reflects on his favourite songs by the often critically derided Miley Cyrus
After moving to Sweden, there was a period when I didn't watch much television. Any American/English programmes were ones I had already seen. It took me forever to get used to the subtitles, and the Swedish-made programmes I failed to get a grasp on. All that's changed now, of course. I miss subtitles if they are not displayed, and there are some fantastic programmes being made here in Scandinavia. Plus back then whenever I did turn the TV on there was an awful Disney show titled 'Hannah Montana' on at least one of the channels. Annoying would be an understatement. Not having young children, I knew nothing about the programme or the people appearing in it, although the name of Miley Cyrus kept appearing in magazines and newspapers. Some years later I actually caught a whole programmre of 'Hannah Montana' (the remote was probably bust and the walk to the TV is all of three metres), and I have to admit that there was something about Miley Cyrus that made me think that there might actually be something more to her than just another Disney kid. But I think what really got me interested in her was the reaction I received from absolutely everyone if I even mentioned her name. I don't know how her main audience (the young girls) felt about her at that point in time (I think the 'Hannah Montana' thing was reaching its end), but anyone over the age of about eighteen felt really strongly about Miley Cyrus and in all cases they were negative. So, I'd drop her name occasionally just to get a reaction, just to, I guess, wind people up a little. It was fun. But I had to know a little about her music to do this. Getting into Miley's music at that time was not an easy task. Even though there were some decent pop songs on her early albums under the Miley Cyrus name, it was hard going at times especially for someone my age. But even back then one thing was obvious; Miley could sing. These days they could stick me in a studio and probably get something fairly reasonable back, so I'm totally aware of how things work now but Miley really has improved as a singer through the years so much so that I'd rate her voice as one of the best, if not the best in pop music right now. Need convincing? Check out any of the following: 'You're Gonna Make Me Lonesome When You Go' (2011) From the 'Chimes Of Freedom' album, an album honouring fifty years of Amnesty International, which featured major artists covering Dylan songs. Miley has never hidden her country roots and she lends a nice country sheen to this song. The live appearances she made on American TV promoting the album proved that even away from the studio Miley could cut it. Yes, there's a huge Dolly Parton thing going on in there, and, given that Parton is Miley's Godmother, that's no real surprise, but Miley shows here and in many other songs that she's equally at home with country as she is with pop and the latest strain of R&B. 'Real And True' (2013) It's strange but much of Miley's best work comes when she works with other artists who you would not necessarily associate her with. R&B star/rapper Future released this track about a year ago (November 2013) with contributions from Miley and English singer Mr. Hudson. Produced by Mike Will Made It who is no stranger to Miley's work, it's a straightforward love song and, while Future's vocals tell the story, it's Miley's voice that again steals the show. The way her voice soars at about 3.49 should dispel any doubts that she can actually sing and her vocals when sings the line "We've been in the same place for a long, long time/If our eyes go the wrong way I still know you're mine" are expressive in a way that's impressive from a then 21 year old singer. As usual, especially in the UK, Miley's appearance in the accompanying video received more attention than her soulful vocal performance. 'Last Goodbye' (2014) Unfortunately what could have been the best song on Miley's last album, 'Bangerz', was left off. 'Last Goodbye', a modern day power ballad, is yet another song in which Miley is rumoured to be singing about her relationship with 'Hunger Games' actor Liam Hemsworth. Miley shows what a versatile singer she is; compare her performance here to those on her 'Backyard Sessions'. There is no trace of her country/folk influences here. Miley bares her soul again displaying more emotion than most would think her capable of. 'I'll Take Care Of You' (2014) Not yet released on record, but a song that Miley has performed in concert and live on Australia's 'Sunrise' morning TV show. As it's not available commercially the version most people have access to is the Australian early morning cut which has been on YouTube for a couple of months. The song, already covered by many, is best knowm by the soul crowd by Bobby Bland, although the versions by Etta James and Irma Thomas are also worthy of checking out. It's an unusual choice of song for Miley to cover. While the emotion she displayed in some of the above songs marks her out as an unexpected soul singer, it's on this track, especially on that Australian show, where she really shows just how an emotive singer she is. While young female singers such as Elin Larsson from Blues Pills are rightly being hailed as the new breed who are keeping the sound of singers like Janis Joplin alive, Miley shows that she is far from out of the running here. Admittedly Miley's usual backing musicians are as hot as ever on this track, but it's still mostly down to that voice. Yes Miley might have stolen the idea from Beth Hart and Joe Bonamassa and others but it's still a cracking version, especially from someone who is not known for this type of song. 'Lucy In The Sky With Diamonds'(2014) From 'With A Little Help from My Fwends' by the Flaming Lips. It's telling that respected musicians request Miley's vocals on their projects. To be honest, I think that Miley's best work comes when she is working with musicians whose music falls into completely different areas than that to which we've come to expect from Miley. Wayne Coyne was an unlikely musical partner, but Coyne is another respected musician who has obviously seen that there is so much more to Miley than there initially appeared to be. While the Flaming Lips recreation of 'Sgt. Pepper' isn't as bad as some would have you believe, there are some songs that Coyne should have left alone. The two songs that, however, feature Miley on vocals are the best on the album. 'Lucy' features a lysergic vocal performance from Miley that fits the mood of the piece brilliantly. Again it's like nothing else Miley has recorded and is years away from her soulful performance on 'I'll Take Care of You' but the fact that such a young singer can tackle all these differing musical styles and win says much about her talent. Miley's take on McCartney's vocal contribution to 'A Day in the Life' is also worth checking out. Seems Miley got into the spirit of the project more than some of the other contributors. 'Ashtrays & Heartaches'(2013) From the 'Reincarnated' album by Snoop Lion (Dogg). Yet another unexpected collaboration and yet another musical style. While Miley has touched upon many different genres, Snoop's fusion of rap, reggae, and hip-hop was another new musical direction for her. Miley's short wordless vocals, which open the song, are, as ever, an essential ingredient of the track; her vocal interjections that feature in many of her songs are fast becoming a Miley trademark. The song is arguably the most instantly accessible on 'Reincarnated', but the whole atmosphere of the song is heightened by Miley's vocals. '23'(2013) By Mike Will Made It. Although Miley wasn't the only other singer contributing to this track by American Hip Hop/R&B artist/producer Mike Will, once again it's her vocals that drew the most attention to the song. In all honesty this was initially probably down to Miley's appearance in the video, but there's no denying that '23' is an extremely catchy few minutes of commercial hip hop/R&B on which the icing on the cake is Miley's vocal performance. Miley is introducing music fans into other areas of music constantly. Would a 12 year old listen to the Flaming Lips if Coyne hadn't appeared on stage with Miley and utilised her talents on their latest album? Would this writer have checked out '23' if Miley hadn't added her vocals to it? Probably not, and I'd have missed out on an excellent example of a music I wouldn't usually have bothered checking out. 'Adore You'(2013) 'Bangerz' is viewed as the album where Miley finally delivered what she'd been aiming for over the last few years. It's a far from perfect album, but it does have more than its fair share of high points. This ballad is one of them. It's a classy pop ballad simple as that and shows off Miley's way with those wordless vocals perfectly. If the song wasn't kicking off a Miley Cyrus album and bearing her name it would have got a lot more recognition for what it is. It's well-constructed, atmospheric and goes some way to proving that Miley is capable of showing more emotion in her vocals than many other celebrated singers. Unfortunately once again it seems that the video received more attention than the actual song, and many missed the beauty that lies in the core of the track. 'My Darlin' (2013) Another track from 'Bangerz', this one features Future and was produced by Mike Will Made It. The song utilises the Leiber, Stoller and Ben E King song 'Stand By Me' to great effect. Miley turns in another brilliant vocal, and it's no surprise that Future chose to work with her on his own song. Their voices compliment each other perfectly, and this is another song that should have been pulled as a single if just to show a further side to Miley's talent. 'Butterfly Fly Away'(2009) This is the oldest recorded song on this list and actually originates from Miley's 'Hannah Montana days' that must seem like a lifetime ago to her now. The song was originally featured in the 'Hannah Montana' film, and was included in the soundtrack album. This version is from the Billy Ray Cyrus album 'Back To Tennessee' and is slightly longer. Although it's been described as overtly sentimental and syrupy, it couldn't possibly be any other way could it? A duet between father and daughter concerning the girl's transition to adulthood, the pair look back on her younger days with sadness and affection. It's a touching pop song written by Glen Ballard and Alan Silvestri, and is up there with any other Glen Ballard song. Father and daughter's voices work well together here and, although given Miley's current output it seems that more from the duo is unlikely at this point in time, the day will surely come when they work together on an album. It could be argued that Miley, despite making some excellent music, is distracting from that by making headlines due to the way she dresses and behaves. But for music fans it must be about just that; the music. Take away the crazy outfits and the strange-shaped cigarettes, and you still have that voice which is the only thing that matters when you're listening to the music. Just like her godmother, Miley Cyrus is going to be around in music for a long time and so she should be. I truly believe that Miley has been working for her current status for a number of years and is now where she wants to be. We should nurture talent like this, and not dismiss it over a few misguided clothing choices. At the end of the day Miley Cyrus is blessed with a great singing talent; she's 22, famous and can no doubt meet her bills at the end of the month with more than a little to spare. What's so wrong with that? And as for the clothes, dancing and cigarettes show me a 22 year old that's so different, and I'll show you someone who's missing the whole point.
Pennyblackmusic Regular Contributors
---