---
Blondie
-

Ten Songs That Made Me Love...
published: 13 / 11 / 2014
---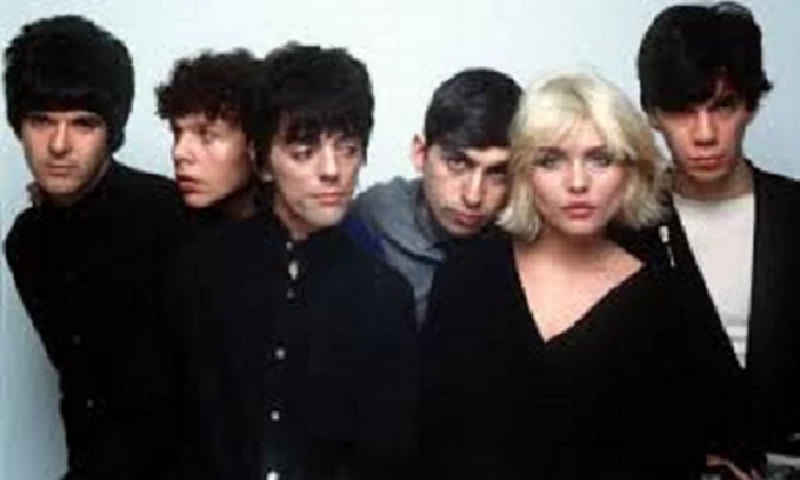 intro
In our series, in which our writers write about ten songs that made them love a particular band or artist, Mary O'Meara reflects on her favourite Blondie songs
I was hooked at first sight. It was the 'Hanging on the Telephone' video on 'Top of the Pops' in 1978 and I was just a school kid. Impossible not to be captivated by the energy, style and cool NYC chic of the band, running up and down stairs, Debbie pouting and applying mascara whilst looking into the camera as only she can. This was around the same time that I discovered David Bowie and Queen - a heady but magical cocktail to encounter as I headed towards official teenager status and having a few coins of my own to actually buy a couple of records. Blondie adorned the cover of the first issue of 'Smash Hits' I ever bought - which I didn't realize at the time happened to be the first issue of 'Smash Hits' that was ever published. I remember sitting in the shopping mall opposite my school at lunch time turning the pages that led into the rock and roll world I came to inhabit and never really left, a coming of age, a growing up but never growing old mentality that still courses through my veins today. Blondie were one of the bands that flung that door wide open so they will always have a special place in my heart. I've hand-picked ten of their songs that did it for me then and still do it for me now. 'Hanging on the Telephone' (1978) A song that starts with that quintessential 20th century sound - a phone buzzing - those nerve-wracking moments where you're waiting for the receiver to be lifted are followed by the explosion of Debbie's announcement that she's in the phone box ("it's the one across the hall") - this record smashed immediately into my consciousness as this is the first I'd ever heard of Blondie. Those few seconds at the very start of the record where the vocal is briefly unaccompanied is a genius entrance for a song that is focused on the exhilaration of hearing the voice of someone you're crazy about on the phone - that need for connection. This record completely encapsulates that desperation, that excitement, that relentless desire that may or may not go anywhere but she sure as hell is going to try and reach the object of her affection. It's a sentiment I'm sure most people can relate to on some level or another. Like many Blondie records, it's only just over two minutes long and all the more powerful for it...it's fast and frantic, just like the speed of telephonic transmission. 'Picture This' (1978) Pop songs don't get much catchier than this for me. Again, it's short and sweet and full of yearning but what sets it apart as a special record are those quirky lyrics, that hint of risqué imagery, the expansive, uplifting vocal that literally seems to paint provocatively over the blank canvas awaiting our evocation. "All I want is a room with a view/A sight worth seeing, a vision of you," declares Ms Harry playfully. In the same way that 'Hanging on the Telephone' captures the longing to hear a voice, this song captures the longing to see that special someone. Images are conjured up rapidly and the poetry continues "Picture this, a sky full of thunder/Picture this, my telephone number". The song is about the power of fantasy and wanting to make it "something more solid" - it's almost as though, if she pictures her guy vividly enough he will manifest before her eyes. Pure magic! 'For Your Eyes Only' (1982) When I first heard this song I immediately thought it should have been a James Bond theme and it's only recently I discovered that it was written with that intention but wasn't chosen by the film-makers. Luckily this song wasn't cast aside and ended up on Blondie's 'The Hunter' album. In my mind it would have made a great Bond theme but again, perhaps it's too lyrically quirky, too genuinely close to the underground/underworld. It has the cinematic quality expected for a Bond theme and a definite espionage vibe and to me is far more memorable and intriguing than the Sheena Easton number that was selected. 'Call Me' (1980) Here's the track Debbie penned with Giorgio Moroder for the film 'American Gigolo'. Once again, the medium of the telephone is employed but this record is a million miles away from the scratchy old pay-phone "across the hall" we began with .This song is almost certainly about prostitution (male and female?) and there's a sense of everything being bigger, faster, crazier and less personal than 'Hanging on the Telephone'. This was one of the band's biggest hits, holding the number one spot on the billboard charts for six weeks. It's easy to see why, as it bubbles over with the energy of a whole crate of champagne being uncorked simultaneously. I love this record because it truly marries disco/dance and rock - it's neither one or the other. It's the best of both, not to mention, of course, the beauty of vocals as they climb, descend and drift across the L.A. skyline. 'Union City Blue' (1979) Blondie at possibly their most wide-screen and expansive...like a lot of their music, this is an urban, street-wise number. Even without seeing the video of the band performing on a disused boat against an industrial New Jersey backdrop, it's impossible not to feel the grit and tension of the city, yet woven through it are the very human aspects of city life - power, passion, romance as well as the despair temporarily found in the refrain "oh, oh, what are we gonna do?/Union, union, union city blue" - yet, this is a resilient sound and the movement into blinding daylight contained in the lyrics and the fact that Debbie sings that "she has a plan" confirm this. I love this record for that urban angst combined with suss and strength....Astounding that Debbie apparently penned it during a break on the shoot of the film 'Union City' (in which she starred) though this song wasn't actually featured in the film for contractual reasons - but then, it seems so many of the best songs are written swiftly and spontaneously. This is sure one of them and comes in, once again, at under three minutes. 'In the Flesh' (1976) What's not to love about this song? It's one of the oldest Blondie records I'm aware of. Just as previous tracks I've written about focused on sound and vision, this one focuses on the tactile element of attraction. It's sensual, it's soft and the kind of song you want to listen to somewhere dry whilst watching rain fall. Like many Blondie records the lyrics have that weird blend of prosaic and poetic that is so accessible and simply real. "While walking one day on the Lower East Side/Met you with a girlfriend/You were divine" followed by the singer being put in her place by this "girlfriend" with some cautionary drum rolls...yet the song returns to its lulling, gentle mode quickly and despite having her fingers burned it's clear her love/lust continue to burn brightly. '(I'm Always Touched by Your) Presence, Dear' (1978) How many records manage to sing about telepathy and psychic phenomena without sounding remotely silly or pretentious? This is another perfect, under-three-minute Blondie pop song with an unusual subject matter, but one that I happen to personally relate to though would rather not divulge details. Gary Valentine (Blondie's bass player at the time) wrote this song about the connection he had with his girlfriend. They shared dreams and were tuned into each other even when many miles apart. I love the switch between major and minor key, the shift in frequency and. as I've already talked about most of the five senses, it seems only right to also examine the mysterious sixth with this brilliant record 'Atomic' (1980) It's got a strange, compelling sound - a longer track than most of their other material. The ambiguous use of the word "atomic" gives the track a peculiarly abstract, slightly futuristic vibe. Whether it relates to the threat of nuclear war, or a chemical/sexual reaction - or both - or none of these things isn't exactly explicit but musically and emotionally it seems to be a song about accumulated tension and release. I also find it impossible not to think that 'Tonight' from 'West Side Story' is somehow tangled up in here as it does echo it in a very modern NYC kind of way - perhaps intentionally - perhaps it's simply a song about the joyful anticipation of meeting a lover but the repeated statement "atomic" suggests inherent danger of some description. Once again, I love Debbie's direct and almost conversational lyric "Oh, oh, your hair is beautiful" - for some reason it's rare to hear a woman sing that to a man (I'm assuming she's singing to a man...)- but, as a female listener, it's refreshing and liberating to hear her do so. 'X Offender' (1976) I toyed with whether to include this track or not and in the end I felt it should be listed here because it sums up Blondie's skill at being edgy, even controversial (lyrically) but dressing the song in an irresistible, irrepressible beat so that its slight trashiness can be overlooked if you don't listen too closely. The new-wave/punk ethic of the band was never too far from the surface, and, though they shook hands with many styles and blurred the lines between genres, there's always - for me - a spikiness at their core that sets them apart, so that even if there's sugar sprinkled on top there's a rebellious, slightly decadent underbelly present that always keeps their music interesting. 'Dreaming' (1979) One of the band's more introspective, philosophical numbers...it's a beautiful lyric - "I sit by and watch the river flow/I sit by and watch the traffic go/Imagine something of your very own/something you can have and hold/I'd build a road in gold/Just to have some dreaming/Dreaming is free." We've come full circle, back to 'Picture This' and the desire to have something more solid - or is the dream just as important? Dreams are anything but solid but at the same time they can be eternal and no one can take them away from you. I love this song for the celebration of dreaming and its power and place in a mundane world. Like many other great Blondie tracks, Clem Burke's shimmering drumming feeds the beat and catapult the listener into their own and a universal, shared dream-space – free and open to all of us.
Band Links:-
https://www.facebook.com/Blondie/
http://www.blondie.net/
https://twitter.com/BlondieOfficial
https://www.youtube.com/user/BlondieVEVO
https://www.instagram.com/blondieofficial/
Have a Listen:-
Pennyblackmusic Regular Contributors
---