---
Donovan
-

Ten Songs That Made Me Love...
published: 10 / 4 / 2016
---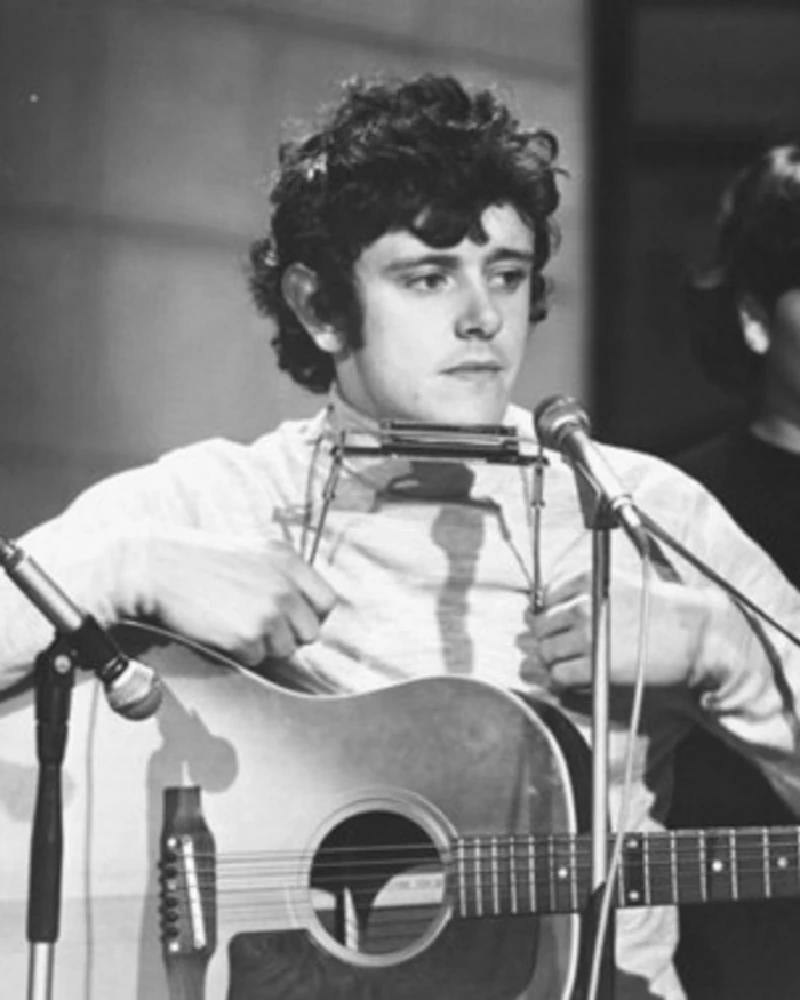 intro
In 'Ten Songs That Made Me Love', our series, in which our writers write about ten songs that made them love a particular band or artist, Lisa Torem writes of some of her favourite songs by 60's folk artist Donovan
Scottish-born Donovan Leitch was raised on poetry, which his father read to him nightly. His lyrics and precise enunciation reflect what he perhaps gleaned from that childhood ritual. Gifted with a soothing, quasi-hypnotic voice, he learned early on as a teen to incorporate melodic finger-picking into his largely original arrangements, which added unarguable richness and texture to his free flowing lyrics. I've always been amazed at Donovan's versatility. He was weirdly billed as the UK's answer to Bob Dylan in those early days. True, both artists played heartfelt harmonica while strumming guitar and both were influenced by the likes of Woody Guthrie, but Donovan represented softness, innocence and lyrical precision, whereas Bob Dylan often came across as gruff or bitter. They, in my mind, were worlds apart. But why was I amazed? Because his work took us to so many different places and through so many distinctive eras. He made excellent use of his production team and was open to new ways of fusing story lines with electronics as he grew musically. On a more base level, he understood the nature of women. He understood the subtlety of how a well-placed chord enriches the voice. He actually taught John Lennon how to fingerpick. And he is an underrated singer. His voice took on edginess as the years progressed; yet he was always able to whisper a sensitive ballad. The Donovan many remember from live performance or video was the guy whose unkempt curls framed innocent, boyish features, who blew into a harmonica that swung from a primitive stand. 1. 'Catch the Wind' ('What's Bin Did and What's Bin Hid', 1965) This was his debut single on Pye Records in March 1965. It was on the album, 'What's Bin Did and What's Bin Hid' of that year, too. Over haunting strums, he sang, "I want you near to kill my fears", combining his passionate affection for a woman with an earnest ode to nature, a technique which he resurrects many times in his long career. The album enjoyed the drumming of Pretty Things' percussionist Skip Alan and his dear, best friend, Gypsy Dave on kazoo. "I want to be in the warm heart of your loving mind," he concludes. Ever the philosopher, ever the king of conquest, this singer-songwriter never fails to say the words that lead to romance. So even though Donovan was still starting out in his career, he already had the ability to express his thoughts and feelings with sublime, authentic simplicity 2. 'The Magpie' ('A Gift from a Flower to a Garden', 1967) But Donovan also loved nature and wildlife. In 1967, he recorded 'The Magpie'. "The magpie is a most illustrious bird", he sang over an incandescent strum. "Dwells in a diamond tree. One brings sorrow and one brings joy, sorrow and joy for me." Like many of his ballads, he conveyed sweetness and melancholia simultaneously. I also love the melodious qualities that birds bring to mind. This song makes me think that Donovan took the time to listen closely to nature's clues. I imagine that he was very attracted to the rhythms of the magpie's song. There's really nothing quite as beautiful as waking up early to such sounds. That said, his voice here reflected that nuance. 3. 'Widow with a Shawl'('A Gift from a Flower to a Garden', 1967) "And in my chariot of sleep, I ride the vast and dreamy deep, deep sea. I awake a-weary on the shore", Donovan utters on 'Widow with a Shawl'. "Seven years and seven days, no one has seen my woman." This is one of his most haunting, timeless stories and it still holds universal appeal. What is striking is how expertly he mirrored vowel sounds within a phrase. That is pure artistry. The song has a very old-school feel, like an olde English, Irish or Scottish ballad passed down from the elders to the next generation. This is a Donovan treasure that I can listen to again and again and each time discover something new. 4. 'Jennifer Juniper' ('The Hurdy Gurdy Man', 1968) Donovan continued to reach out to young audiences as the violent 1968 rambled on. His ballad, 'Jennifer Juniper', inspired by Jenny Boyd (the sister of George Harrison's then-wife Pattie), with whom Donovan and The Beatles' studied meditation in India, is another embracing ballad. Donovan's keen sense of story structure cannot be denied. "Jennifer Juniper lives above the hill", he sang. Then he asked, "Is she sleeping?" and replied, "Yes, I think so." Again, "Is she pretty? / Yes, ever so" throughout, engaging in a charming call and response, which he artfully commanded. I thought of that as something so unique because call and response so often involves another speaker or two. I loved the way he became both the proud lover and the omnipotent observer and the lover. The trailing flute added icing to this fragrant cake and in the bridge when he ponders: "I'm thinking of, what it would be like if she loved me?" Donovan completely hooked me into this romantic fantasy. 5. 'Sunshine Superman'('Sunshine Superman', 1966) 'Sunshine Superman' contains some of the most memorable lines of the hippie era. "Sunshine came softly through my window today", he sang. As the song continued, he peppered the lyrics with 1960's lingo: "Everybody's hustling just to have a little scene." The song was directed towards the then-lover of Rolling Stone Brian Wilson, Linda Lawrence. "When you've made your mind up you're going to be mine", he asserted in a bluesy scowl. Donovan's patience won over as he did get the girl, and he and Linda are still happily married to this day. This song truly exemplifies the poetic freedom and instrumental liberties that musicians then promoted. And it certainly didn't hurt to have Jimmy Page ravaging electric guitar. 'Sunshine Superman' was Don's third album released in 1966 in the US. The entire album was progressive for its time. Perhaps it was producer Mickie Most that got on board with the usage of exotic sitar (by Shawn Phillips). Donovan's voice was just incredible here, like a whip. He sang with confidence and with a sense of whimsy. There's a great energy to this song as the instruments electronically butt against each other and as Donovan presides over the top. He's bold and brash and sounds older and more mature here, yet still young at heart. 6. 'Three King Fishers'('Sunshine Superman', 1966) A few years ago, Monster Magnet covered 'Three King Fishers' on 2013's 'Last Patrol'. Their lead vocalist was exploring psychedelia and found this song to be a perfect example. The unmistakable drone here is highly seductive - it moves slowly like film noir, triggering a mesmerizing sensation, likewise 'The Trip' induces a haze of emotion and exemplifies the tune-in, turn-on ethos of that time. I loved that insidious suspension of time that the drone invites. I feel like the universe slows when I give this one a good listen. I actually didn't discover it until I heard Monster Magnet's version and compared the original with that one and was amazed at how moving and other worldly both versions were. After all, this song was the original prototype for psychedelia and Monster Magnet was clever enough to appreciate its authenticity. 7. Wear Your Love Like Heaven'('A Gift from a Flower to a Garden', 1967) 1967's 'Wear Your Love Like Heaven' was awash with many fragrant offerings. A Gift from a Flower to a Garden' was one of the most awe-inspiring. Donovan packs an incredible amount of tenderness into this two minute and twenty-seven second tune. "Lord, kiss me once more, fill me with song…" It's a simple A B arrangement but absolutely stunning in its execution. It was then that Donovan came out with the worlds' first double album. 8. 'Hurdy Gurdy Man'('The Hurdy Gurdy Man', 1968) "Down through all eternity, the crying of humanity," was another fantastic hook that resonated from 'Hurdy Gurdy Man'. Towards the end of the song, he double-times the rhythmic lyric, getting an incredible amount of activity out of a few simple phrases. His voice barely rises above a whisper yet he conjures up the image of this lonely, misunderstood character, trying hard to eke out a living. Or that's my interpretation. Maybe that's not what he intended to say at all, but that's the magic of those early ballads, there was always this undercurrent of suspense. Donovan's voice quivers and trembles here. I find it hard to describe how it affects me. It's almost frightening at times, but it's also filled with compassion. 9. 'Season of the Witch' ('Sunshine Superman', 1966) 'Season of the Witch' was another classic. Donovan's voice is much more forceful and bluesy. He blasts it above the fluid organ and static guitar: "You've got to pick up every stitch / beatniks out to make it rich, the rapid's running in the ditch", etc. In an exasperated moan, he concludes: "Oh, no, must be the season of the witch." The instrumental pieces of the song clack along with a dizzying array of dynamic diversity, but Donovan's voice is so clear, expressive and brassy that the street-savvy lyrics trump all. 10. 'To Susan on the West Coast Waiting' ('Barabajal', 1969) 1969 was another turbulent year in world history and the Vietnam War triggered many protest songs, however, Donovan in his gentle way, made it a point to vent his feelings with directness and restraint rather than misguided anger. A great example of this was: 'To Susan on the West Coast Waiting' from 'Barabajal'. Donovan sang, "Our fathers have painfully lost their way / That's why, my love, I'm here today." The easy-to-repeat chorus was "To Susan on the West Coast waiting from Andy in Vietnam fighting." Yet, in its simplicity, it managed to strike a personal, poignant chord. The story involved two characters torn apart by violence, yet oddly resilient in their hope to come back together. Donovan doesn't dress up this song. It doesn't come off as fake. It's what it is. A soldier coming to terms with his plight, missing the love of his life. I can't think of any other anti-war songs that accomplished this goal without sounding preachy, aggressive or in your face, politically Honouring Donovan with a mere ten songs from his vast catalogue, as you can see, was quite a task. Excuse me for going a bit overboard, but his discography demanded it. If you have not pored through his records, do yourself a favour and do so. You'll discover elements of yourself that you didn't know existed and evidence of other worlds that so needed to be navigated. I believe Donovan set the bar very high as a poet and as a vocalist/arranger. I feel that he grew as a person with each recording. I feel his songs reflected the youthfulness of the times. But the timelessness is what is most impressive. There are still widows, soldiers and beautiful maidens in our current world. The characters he created could be living amongst us now. Mostly, I feel that I have grown as a person because of Donovan's philosophies and artistic abilities. He is a mirror to many generations.
Band Links:-
http://www.donovan.ie/en/
https://www.facebook.com/DonovanOfficial
https://twitter.com/donovanofficial
Pennyblackmusic Regular Contributors
---