---
Miscellaneous

-

Ten Songs That Made Me Love...
published: 11 / 3 / 2019
---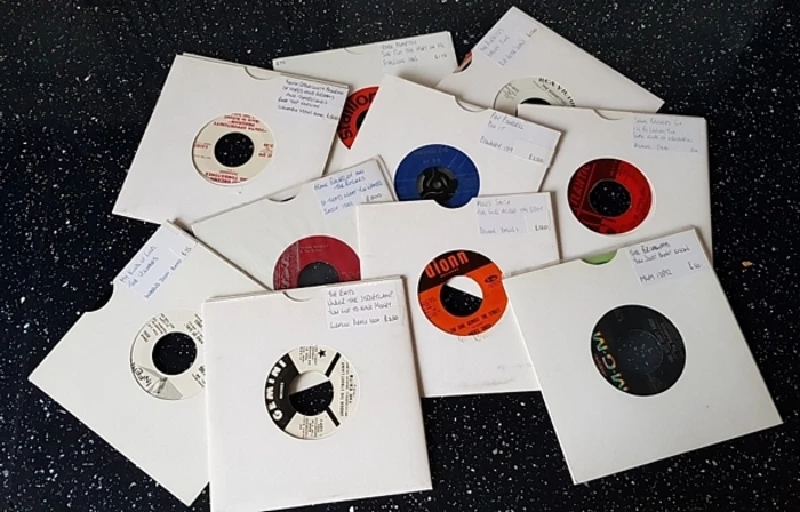 intro
Dave Goodwin, in our 'Ten Songs That Made Me Love...' series, reflects on his ten favourite Northern Soul songs.
Around 20 years ago, I met my future wife and she introduced me to the wonderful world of Northern Soul. I started collecting, and still do, to this day. I started my own soul club in the local town, but eventually it had to close for being too loud. I realised that I had being buying records even if I didn't like them myself so I sold quite a few and broadened my horizons in black music of all genres including early rocksteady, ska and reggae. BUT I still have the records i bought that I cherish and always will. Trying to pin down ten of my favourites in say 300,000 tracks is hard work, but I've managed ten here. It's okay reading about the records, but as with most things, you really need to hear them to appreciate what I'm telling you. All of these tracks are on YouTube. Give them a listen and I'm sure you will be converted as i was as soon as the soul kicks in. 1. The Exits - 'Under the Streetlamp' - Gemini I really don't know how to describe this little black disc of perfection to you other than it's a little black disc of perfection. Can you remember the times when you stood with your mates after school just kicking around and having a laugh and dreaming about the life of discovery we were all just about to start? This is the account of that time. The harmonies and the soul are there to savour. Possibly my favourite record of all time? 2. Soul Brothers Six - 'I'll Be Loving You' - Atlantic One of, if not the, best tracks of all time in any genre of soul whether it be Northern, R&B or classic soul, etc. So smooth and danceable, it's unreal. Many of the Northern/Rare Soul records were written about love and relationships and this is just about as sincere as it gets with the lead singer of the New York-based band on this track letting his girl know that she's the one and only. Released in 1967 on the popular Atlantic label and written by the great John Ellison, a lot of mainstream collectors passed this by and chose the more popular, 'Some Kind of Wonderful' on the A side, equally a great soul track in it's own right. But it's the B side that did it for me from the first time I heard it. "I remember a time when i was all alone/I used sit and cry/I didn't think I had a friend in the world/Then you came walking by/Your love lifted me up/You eased my troubled mind/That's why I'm gonna stick by you, baby/Oh, oh, 'til the end of time..." Pure genius. 3. Bettye Swann - 'Make Me Yours' - Money Another of the most soul-laden tracks there is. Betty Barton, born Betty Jean Champion, in October, 1944, is better known by her stage name, Bettye Swann, and it's this, also from 1967 hit song, 'Make Me Yours' that makes it into my ten reasons. There's no shouting and ranting on this cool customer, just Bettye letting us males know that if you're looking for a love that you'll never get tired of, she's just saying, "Make me yours." But it's the simple beat and soulful melody on this 45 of wonderment that hooked me line and sinker. 4. Jackie Wilson - 'Whispers' - Brunswick This singer will need no introduction with tracks in his armoury like 'Reet Petite' and 'I Get the Sweetest Feeling,' but it's this one, 'Whispers' (Gettin' Louder), released in 1966 and which found it's way to Number 11 on the Billboard Hot 100 singles chart that is my favourite by him. It features instrumentation by the Funk Brothers and backing vocals by the Andantes. The ultra cool and smooth sounding 'Whispers' was originally released as the 'B' side originally intended for Ray Charles to sing, but, as good as he is, I don't think he could have done a better job than Mr. Wilson's version of this, which is one to get totally lost to in your own space. 5. The Ivories - 'Please Stay' - Dispenza Now, complete and utter dynamite that was, thankfully released on Soul City and numerous other labels in it's time. Right from the drumbeat intro. to the lifting and soaring piano parts, this is Northern Soul at its very best. The Chicago trio of Marilyn McThune, Carol Samuel and Angela Sanford performed locally as the Simplistics and were signed by Jerry Butler who recorded them on this phenomenal track which was released on Despanza Records circa 1966. Also released on Wand, it carries a hefty price tag of over £1,500! Ouch! 6. The Originals - 'Suspicion' - unreleased Tamla Included in the vast genre of Northern Soul is the wonderful music output from the Motown stables. Many songs recorded on tapes at Motown and its subsidiaries like Soul, Tamla, VIP and Gordy never made it on to disc until the Motown vaults gave up their mysteries. One of those mysteries was this... This is a sublime track from a band that many an afficionado rate as the best band ever to grace the label. The Originals fronted by Freddie Gorman released a few albums and had the massive disco release 'Down to Love Town', but 'Suspicion' is, for me, the pinnacle of their work and it never got to see light of day until a few years ago! You know this is quality as soon as you hear the guitar solo intro. and then the rolling signature of Marvin on those Tamla drums. 7. Jimmy Frazier - 'Of Hopes and Dreams and Tombstones' - Columbia. A track that featured in one of my 'Vinyl Stories' a while back is this harmonica driven beast from the boxing world. Yep, it's not other than world heavyweight Jimmy Crazier, recording a track that was used by the then-president of the USA in a promotion for keeping kids in school and out of trouble. Another track with a distinct R&B sound to it, I heard this very early on and chased it like a crazy mad thing until I found a demo white label copy accredited to the Youth Opportunites Programmer featuring Frazier that set me back around £350 back then. This is a proper thumper of biblical proportions and gets the dance floor busy every time it's played. I've not seen another like this to this day. "Yeah, I made my own rules/Whoa, playin it cool/Lord what a fool, for stayin' outta' school." 8. The Broadways - 'You Just Don't Know' - MGM A mid-tempo, finger snapper, if ever I heard one, but one with added soul and one of the most uplifting tracks I have ever heard. The group harmonies here are sublime and along with the strings it makes this gem, from one of the big labels of the time, a joy to listen to. The only problem, is that once you've heard it, I guarantee you will be putting it on again and again and again and.... 9. Ruby Andrews - 'Just Loving You' - Zodiac Bordering on what is classed as Modern Soul, this Northern Crossover floor filler is a 100% dance fest. Some folk struggle with the Northern Dance style, but in my humble opinion, if you don't want to dance to this there must be something seriously wrong with you. Ruby was born in 1947 as the great Ruby Stackhouse in Mississippi, and sang originally with the Vondells. Recorded in 1968 on the Zodiac label, a nice, minty copy of this would set you back around £250. Once you've heard this one, if you haven't yet, it has the ability to stay in your head for very, long periods of time and also has the ability to get you floating around the kitchen floor, humming away to yourself. In the immortal words of the lady herself "Sweet baby yeah..." 10. The Volumes - 'My Kind of Girl' - Inferno, Probably my favourite soul band of all time, as well as about 20 others! But seriously, this piece of magic cut in 1967 in Duke Browner's back yard on his own Inferno label is immense. The Volumes, Eddie Union, Elijah "Teenie" Davies, Larry Wright, Joe Truvillion and Ernest Newson, were all from Michigan and cut some wonderful soul tracks in their time on labels like American Arts and Impact, but it was the few they cut for Inferno, 'You Got it Baby' (such a Nighter sound if ever you heard one) and 'Aint that Lovin You' (a mid-tempo classic to croon your way through), that were amongst their very best. It was this one above all that got me all unnecessary. Starting with an entrance of brass and then a lead in of strings to get the feet moving it quickly gives away to some dirty bongos and a sort of Tamla rolling drum beat kicks in and the the Volumes are in your head. "Oh Girl, she' s so sweet and beautiful, and wonderful, she's wonderful..." The key changes are sublime and there's only one band that can harmonise better than Gladys's Pips and it's these boys.
Pennyblackmusic Regular Contributors
---