---
Sebadoh
-

Ten Songs That Made Me Love...
published: 3 / 5 / 2014
---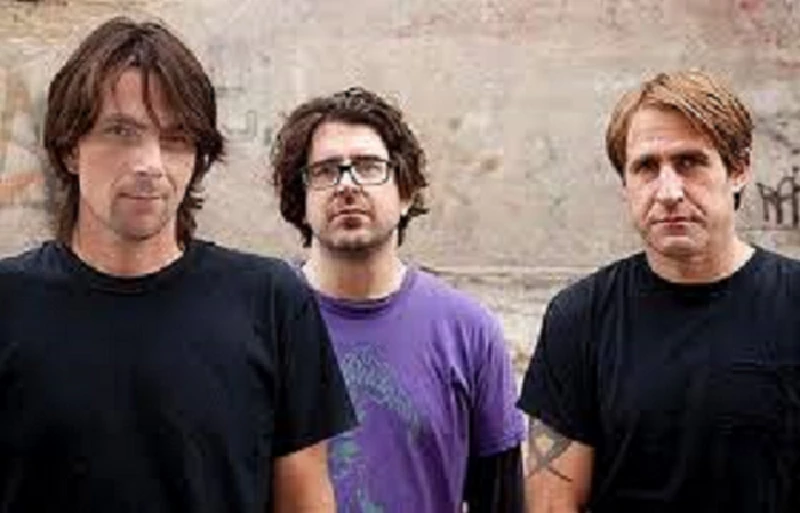 intro
In our series, in which our writers write about ten songs that made them love a favourite band or artist, Mark Rowland reflects on his favourite songs by the American alternative rockers Sebadoh
Sebadoh are a band that I stumbled onto, buying one of their records on a whim, without knowing anything about them. I wasn't aware of the Dinosaur Jr. connection (Lou Barlow played bass on Dinosaur's first three albums) until some time later. Thinking about it, that is unusual for me – I've always been the kind of person who absorbed a band's history; tracing their origins and influences, getting to know as much of their story as I possibly could. I suppose it is the way I discovered them – picked out at random in a record store, with no context apart from the genre section it was sitting in, that perhaps cut them off from their history for me. My other big musical discoveries of the time – Slint, Jeff Buckley, Nick Drake – stemmed from articles I'd read in magazines that sent me almost mad with excitement at the idea of hearing them. Sebadoh was the kind of discovery for me that is harder and harder to make now. The internet allows us to hear any album before we buy it, and it's much easier to discover something new now. But Sebadoh really felt like it was my band at the time, and I'm not sure if you'd get that listening to random tracks on the internet. My opinion is, however, most likely coloured by nostalgia. 'Gimme Indie Rock' (From 'Rocking the Forest' EP, 1992) The first song I heard by Sebadoh is not really typical of the band, but in their early period, it's hard to say what was typical. By the mid-1990s, they'd settled into something more conventional, but their early releases were chaotic. This song is a humorous statement of intent for the band – both celebrating and mocking the indie rock label. The song has appeared on a couple of releases, but I heard it on the EP Rocking the Forest, which was on CD backed with Sebadoh vs Helmet, the other EP the band released in 1992. I bought it from a long-defunct independent record shop in Maidstone, when I was 16 or 17. I spent so much time in that shop that almost all of the staff knew me by name. I was coming out of a formative punk and grunge phase. My taste was diversifying, but I still wanted music with a bit of bite. This record was a perfect bridge – noisy in places, not needlessly angry, unmacho. And the opening song was essentially a musical history of a genre. Pretty much perfect for the 17 year-old me. 'Pink Moon' (From 'Sebadoh vs Helmet', 1992) I was getting into Nick Drake around the same time as Sebadoh, through my usual route of discovering overlooked classics ¬¬¬– an article in a magazine. It is hard to recall now, but it's possible that this cover was part of the reason why I decided to buy the album in the first place. This cover isn't a million miles away from the original, but it's probably a few thousand. If you weren't aware that it was a Nick Drake song, it wouldn't necessarily stand out among the other tracks on the EP – it's sporadically noisy, sped up a little, it takes the slightly mournful piano melody of the original and turns it into something bolder, more triumphant. 'The Freed Pig' (From 'Sebadoh III', 1991) As mentioned earlier, I was unaware of the Dinosaur Jr. connection when I first got into Sebadoh. This song is about Barlow and J Mascis' tense relationship, a common subject for Barlow at the time, who was angry at the way in which he was kicked out of the band (they told him the band was breaking up, then carried on without him). Despite the bitterness of the lyrics, the song is rather upbeat; a catchy pop song on an album that for the most part skips between quiet introspection and skewed art-rock. Barlow takes responsibility for some of the tensions between him and Mascis ("You were right/I was just battling you/Trying to prove myself") but he also takes a few pot shots at his former bandmate ("Your big head has that more room to grow"). 'Violet Execution' (From 'Sebadoh III', 1991) The other pop number on 'III', this time by Sebadoh's other founder, Eric Gaffney. Gaffney was always responsible for the odder songs on the early Sebadoh records, and the difference in songwriting style between him and Barlow gave early Sebadoh the loose, unconventional set up that made them so initially appealing to a certain kind of person. This song is probably Gaffney's most accessible – it reminds me of the Violent Femmes a little, with its bleated vocals and its gorgeous ascending and descending chord progression. 'License To Confuse' (From 'Bakesale', 1994) By the time of 'Bakesale', Gaffney had left the band, and Sebadoh became a more conventional indie rock band, recording in studios with Barlow as the sort of front man (though Jason Lowenstein wrote and sang five songs on the album). With the more conventional set up came greater accessibility, however, and 'Bakesale' saw the band flirting with more mainstream success. 'Bakesale' is full of great songs, but 'License to Confuse' is concrete-set in my mind as the defining moment of that album. The album's opener, it's all about the guitar riff, which, as with all great riffs, is distinctive, simple, and hooks you instantly. This is not a big, thick rock riff – this is a spindly, melodic riff, but no less powerful for it. It sounds urgent and slightly anxious as Lou Barlow sings about his insecurities in a hurried, staccato voice. I was never particularly sure of myself as a teenager. My self-confidence was low, and I was insecure about a lot of things. There was definitely an emotional resonance, particularly in Barlow's songs, that rang very true for me. 'Not Too Amused' (From 'Bakesale', 1994) One of Lowenstein's songs from 'Bakesale', it's a song about irritation, a grinding, grumble of a song. The guitars are a little grungy, but not particularly loud, and certainly not fast – it's slow, tense, and built around a single (great) riff. I love the minimalism of it, the way it builds towards its crescendo without diverting very far from its original riff. It takes a lot of confidence as a songwriter to use repetition to that extent. 'Soul and Fire' (From 'Bubble and Scrape', 1993) I'm not sure what to say about the opener from 'Bubble and Scrape', except that it's a really nice song about the end of a relationship. Lou Barlow wears his heart on his sleeve as a songwriter, willing to put himself in a position of emotional vulnerability for the sake of the song. I find that a very admirable trait that not many songwriters can pull off. 'Elixir Is Zog' (From 'Bubble and Scrape', 1993) In stark contrast to Barlow's songwriting, Eric Gaffney's work is often surreal, distant and downright odd. Their songs are like chalk and cheese and shouldn't work together at all, and yet it sort of holds together. Although the band found a bigger audience when Gaffney left, it was the looseness of their early albums that attracted me to the band in the first place. 'Bubble and Scrape' is perhaps the best example of that – by that point, Barlow and Gaffney had moved in such different directions that their songs almost don't sound like the same band. Inevitably, Gaffney left the band after the album was released. 'Think (Let Tomorrow Bee)' (From 'Bubble and Scrape', 1993) Barlow doesn't get much more vulnerable sounding than on this song. Barlow performs the song unaccompanied by his bandmates, just him and an acoustic guitar. Barlow was going through a difficult period with his wife at the time, and the sadness that the relationship could falter fed into most of his songs on 'Bubble and Scrape'. They did reconcile, and were happily married for some time after that. 'State of Mine' ('From 'Defend Yourself', 2013) Sebadoh re-emerged with a digital EP after 13 years' absence as a recording band. The album 'Defend Yourself' came out the year after. I heard Barlow perform this song on the Marc Maron podcast, which led me to revisit my old Sebadoh albums for the first time in ages. 'Defend Yourself' is not the best Sebadoh record, but it does contain several great songs, including this one. Sadly, most of Barlow's songs are about the break-up of his marriage (which was instigated by him). The songs aren't as tinged with sadness as his 'Bubble and Scrape' era songs, but the anxiety he feels about the effect it will have on his children is palpable in this song. That said, it has an upbeat, vaguely optimistic feel that suggests that somehow, everything's going to be alright.
interviews
---
Interview (2013)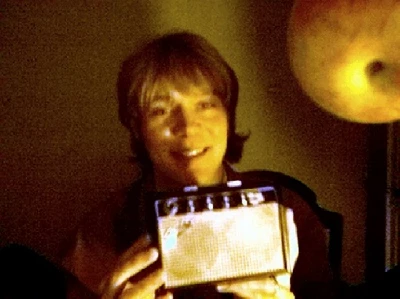 Paul Waller talks to Sebadoh co-founder and drummer Eric Gaffney about his years in the band, his veganism and recent split single with Alasadir Roberts which he has released on new label, Happy Soul Records
live reviews
---
KOKO, London, 7/5/2008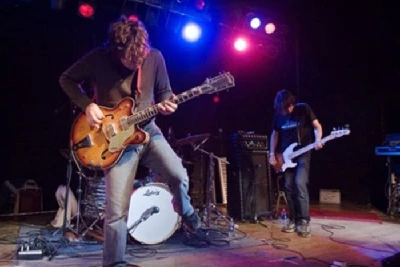 Sebadoh are not known for being a dynamic live force, but Mark Rowland finds the reformed American indie rockers compelling at a Don't Look Back gig at the KOKO in London in which they revisited their 1993 album, 'Bubble and Scrape'
favourite album
---
Bakesale (2011)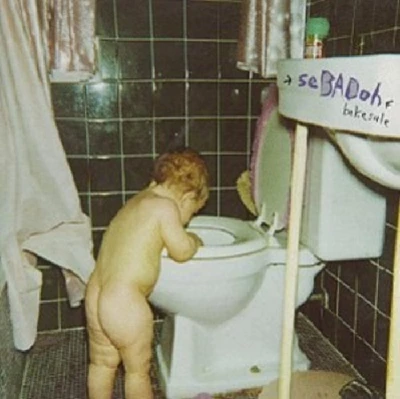 Richard Lewis examines ex-Dinosaur Jr. guitarist Lou Barlow's band Sebadoh's 1994 fourth album, 'Bakesale'
Pennyblackmusic Regular Contributors
---