---
Pulp
-

Ten Songs That Made Me Love...
published: 4 / 2 / 2019
---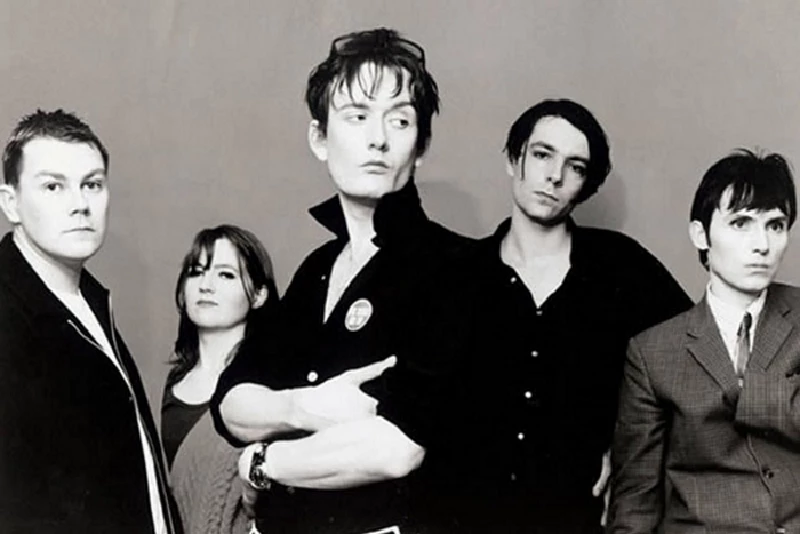 intro
In our series, in which our writers write about ten songs that made them love a favourite band or artist, Cila Warncke writes about her favourite songs by Sheffield indie pop iconoclasts Pulp.
"It's not chocolate boxes and roses/ It's something darker/ Like a small animal that only comes out at night". Jarvis Cocker's memorable assessment of the titular emotion in 'F.E.E.L.I.N.G.C.A.L.L.E.D.L.O.V.E' (surely one of the Top 10 most awkwardly titled songs pop history) is a perfect epithet for the bands' oeuvre. The magic of Pulp is the mingling of sharp, danceable guitar pop with lyrics that veer from cynical to downright sinister. Their most radio-friendly hits are rife with violence ('Joyriders' "Mister, we just want your car/ 'Cos we're taking a girl to the reservoir") and voyeurism ("I wanted to see as well as hear and so I hid inside her wardrobe," in 'Babies'). Love songs in Pulp world include lyrics like: "You are the last drink I should have ever drunk/ You are the body hidden in the trunk" ('Like a Friend'). Studying the arc of their career, it's clear 'Different Class's' arrival in Cool Britannia was coincidence; the subsequent lumping of Pulp with Britpop a music journalists' convenience. Pulp never shared Blur's mockney smuggery nor Oasis' apolitical performance of working classness. Pulp was on a different trajectory: one that began in Sheffield in 1978, contained more than a decade of obscurity, and survived Britpop notoriety to deliver an acerbic welcome to the new millennium. Its curve is marked by a rare, unflinching insight into the human psyche. Pulp takes love as a subject but, unlike most pop confectioners, doesn't sugar-coat it. Cocker sees love as a slippery amalgam of baser needs: status, self-worth, revenge, amusement, actualisation, to see the darkest parts of ourselves reflected in another. Attraction doesn't lead through flower-dappled fields at sunset but down gnarled alleys stale with fag smoke, booze and latent violence. Rarer still, Cocker understands that society is an echo chamber of our dark hearts: it isn't just individuals who behave in warped, self-defeating ways, but our whole culture. 1. 'I Want You' ('Freaks', 1987) Released almost a decade into their existence, this marked Pulp's unsteady progress from post-punk acolytes to popstars. Early on, they could have been The Fall's slightly more socially adept younger sibling. While this is still true of 'Freaks' portentous opener 'Fairground', 'I Want You' has all the raw material of a lo-fi pop hit, laced with Cocker's cyanide romanticism. Melodic guitars provide a distractingly pretty backdrop to the declaration: "I'll break you because I lose myself inside you… Yes, you're all that I ever desired/ Still I'll kill you in the end." 2. 'Do You Remember the First Time' ('His 'n' Hers', 1994) What saved Pulp from permanent obscurity was a realisation (conscious or not) that matching the music to the dissonance of the lyrics made them inaccessible, to say the least. Polished pop chords were the Trojan Horse that could carry Cocker's devastating aperçus into halls of residence and suburban discos. The diatribe of a man watching his ex-lover (?) go home to someone else ("You bought a toy that can reach/ The places he never goes… At least you never have to face up to the night on your own") comes wrapped in layers of chiming guitar and a danceable groove. 3. 'Mis-Shapes' ('Different Class', 1995) The opening track of 'Different Class' is Cocker spitting the accumulated bile of a decade and half of Tory rule. The opening phrase: "Raised on a diet of broken biscuits" attests to his talent for evoking the circumstances of a life in a single stark image. The embittered, bright working class protagonists of the song "learned to much at school now… We can't help but see that the future that you've got mapped out is nothing much to shout about." Tellingly, the words still speak for Britain's (young) people struggling with debt, gutted public services, and the crass Conservative war against social cohesion. 4. 'Common People' ('Different Class', 1995) Pulp's biggest hit, the evergreen indie disco floorfiller 'Common People', drips with Maoist levels of vitriolic class consciousness. The (presumably autobiographic) account of a working-class kid who becomes the object of an art school student's urge to slum it reeks with pent frustration, envy, longing and a paradoxical sense of superiority. "Everybody hates a tourist," Cocker sneers. "Especially one who thinks it all such a laugh/ And the chip stains and grease will come out in the bath." But he still drinks the rum 'n' coca cola. 5. 'Pencil Skirt' ('Different Class', 1995) It is a testimony to Pulp's genius that a song that disturbed my mother when I was a teenager is as tantalizingly twisted two decades later. (It is also supports the strong argument that the first five tracks of 'Different Class' is one of the greatest sustained opening album sequences in 20th Century pop.) Cocker renders scenes with novelistic precision, using simple statements and objects to evoke dark knots of emotion. From the moment "You raise your pencil skirt, like a veil before my eyes" through the point where the adulterous lover declares "I've kissed your mother twice, and I'm working on your dad" the whole greedy, sordid, ignoble (in other words, ordinary) affair unfolds like exquisite tapestry. 6. 'Sorted for Es and Wizz' ('Different Class', 1995) The original single artwork was a premeditated equivalent of Cocker's subsequent bum-wagging stage invasion of the Brits in 1996. That the cheeky 'Here's how to make a wrap kids' got the predictable response from the red tops, merely affirmed the incisiveness of Jarvis' social sensibility. 'Sorted for Es and Wizz' is so relentlessly specific that it attains to the universal. You don't have to have ever "Lost an important part of your brain somewhere in a field in Hampshire" to appreciate the youthful recklessness and yearning it evokes. 7. 'The Fear' ('This is Hardcore', 1998) Other bands might have clung to their moment in the sun, retreading the formula, but not Pulp. As the '90s waned they released the ultimate comedown album (the only one I know, anyway, that reeks with the jaded wisdom and lack of regret of those who are able to give up chemical indulgences without disavowing them). Cocker isn't naive enough to think repentance will buy off The Fear. He studies it, inviting the listener along with the minor-key reassurance: "When you're no longer searching for beauty or love/ Just some kind of life with the edges taken off/ When you can't even define what it/ is that you are frightened of/ This song will be here." 8. 'Glory Days' ('This is Hardcore', 1998) The apotheosis of Pulp's genius for making the borderline tragic sound bright, 'Glory Days' is a sing-along anthem that captures 'Mis-Shapes' broken-biscuit eaters a decade later – undefeated but far from triumphant. "We were brought up on the space race/Now they expect you to clean toilets/ When you've seen how big the world is/ How can you make do with this?" Cocker rails. Then adds: "If you want me, I'll be sleeping in." It is righteous outrage against The System tempered by the mature realisation that The System is also us. No one is innocent. (We never, were. Were we, Jarvis?) 9. 'Weeds, ('We Love Life', 2001) Arguably, every song he's ever written was a protest song, but 'Weeds' is a rare example of Jarvis tackling capital-P politics with his usual lacerating observations. Narrated from the perspective of refugees, it snarls with frustration and a loathing of smug privilege. "Make believe you're turned on by planting trees and shrubs/ But you come round to visit us when you fancy booze 'n' drugs." 10. 'Cunts are Still Running the World' ('Jarvis', 2006) Technically not a Pulp song but possibly the greatest Pulp song ever written. Jarvis' censor-baiting analysis of modern 'meritocratic' Britain is par with Leonard Cohen's 'You Want it Darker' as a coda for our times. The only thing tarnishing the splendour of his cutting couplets ("The working classes are obsolete/ Surplus to society's needs/ So let them all kill each other/ And get it made overseas") is the fact that the song is more documentary than fiction. It would be unfair to end on a down-note because Pulp is a fundamentally joy-making band – but I don't believe Jarvis would see 'C**ts...' as a downer. The world may be, to put it politely, screwed but Pulp proved it can't steal our spirit unless we let it. Be dumb, be furious, be disappointed, be fatalistic; even if you never set your sights higher than avoiding the dog turd outside the corner shop, be proud. As Henry David Thoreau advised: "However mean your life is, meet and live it."
Band Links:-
https://www.facebook.com/pulppeople
https://twitter.com/pulp2011
http://www.pulppeople.com/
favourite album
---
This is Hardcore (2008)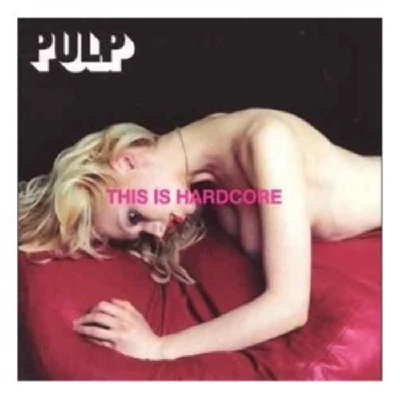 In the latest in our 'Re : View' series, in which our writers look back at albums from the past, new writer Sophie Hall examines Pulp's 1998 ultimate hangover album 'This is Hardcore', which spelled the end of Britpop
related articles
---
: Profile (2022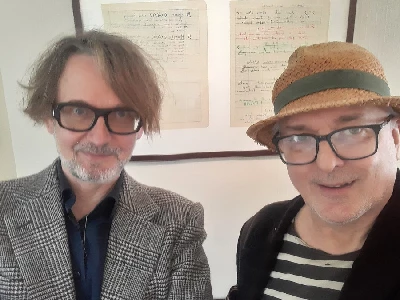 Steev Burgess visits an exhibition of Jarvis Cocker's memorabilia at The Gallery of Everything in London to celebrate the publication of his new book 'Good Pop, Bad Pop' and has a chance meeting with the man himself.
Pennyblackmusic Regular Contributors
---