---
Miscellaneous

-

Ten Songs That Made Me Love...
published: 9 / 8 / 2014
---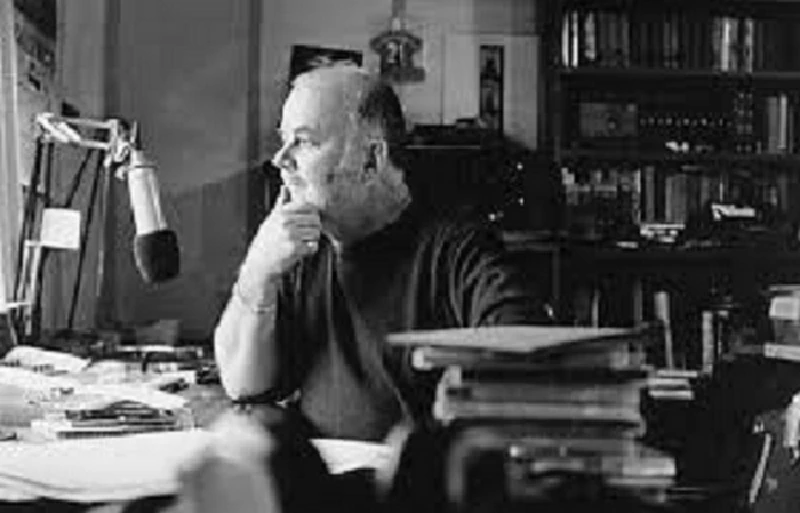 intro
In 'Ten Songs That Made Me Love...', Jamie Rowland writes of ten songs that he first heard listening to John Peel's late night Radio 1 show
There are four main architects of my musical taste; people who I would say significantly shaped who, how and what I listen to. Those would be my parents (of course), my older brother (also obvious), Mike Patton (much less obvious) and John Peel. Through my early love of Faith No More, Patton got me interested in more experimental, strange and extreme sounds in his side-projects and bands like Fantomas, Mr Bungle and Tomahawk. But the person who really opened my ears to the wider world of music was undoubtedly John Peel. Not only did he introduce me to contemporary genres and artists I'd otherwise never have even heard of, he took me back in time and gave me a foundation of knowledge on all the music that influenced what we listen to today, right back to old 78s recorded in the early 1900s. He gave me my first listen to some of my favourite bands, inspired me to pursue a career in radio and influenced years-worth of Christmas presents from my uncle (If there is a book on Peel I don't have, I'm sure I'll be opening it come December 25th). It'll be ten years since he died come October, and so when I was asked to contribute to this feature it seemed only right that I should pay tribute to the man with my list of ten songs that made me love John Peel. 1. Cat Power – 'Maybe Not' The first time I ever listened to John Peel's radio programme was kind of accidental. I had been listening to Colin Murray's programme earlier in the evening and had wandered out of the room – probably for a pre-bedtime packet of crisps or something. Being sixteen at the time, I was inclined to leave as many electronics going at any one time as I possibly could, usually while I was off in another part of the house eating something unhealthy. When I came back to my room to go to bed, I went to switch off the radio but was stopped in my tracks by the song playing out. It was just piano and vocals; a haunting female voice that was so beautiful, fragile and melancholic it hit me like a slap in the face. I sat down and listened through to the end, totally captivated, and then this quite soft, friendly and instantly familiar voice came on and told me I'd been listening to Cat Power. "Now here's the next track from tonight's session by Norfolk group, Hyper Kinako," said the voice, cuing in the strangest cacophony of noise I'd ever heard in all my young years. That was my first ever Peel Session. I made an appointment to listen every night after that. 2. Bearsuit – 'Itsuko Got Married' Talking of Norfolk, there was a bit of a scene there in the early 2000s – really interesting, experimental, twisted pop with dashes of Sonic Youth, sci-fi and school instruments like recorders and glockenspiels. By far the best – and certainly one of Peel's latter-day favourites – were Bearsuit, who I think were about an eight-piece when I first heard them (their size and members would fluctuate over the years). I'd only really been exposed to mainstream music up to this point, but my tastes were already a bit more fringe than most of my friends. I think one of the things that appealed to me about Peel's show was that promise of hearing something totally different every night, of never knowing what to expect. Bearsuit were one of those bands; totally original, fun, exciting and with catchy tunes to back it up and keep you hooked. 'Itsuko Got Married' is the first song I heard by them, and it got quite major airplay on Peel's show as I recall. It's happy and clappy, but also thrashy and abrasive – they never sounded like they were musical prodigies, and that raw quality to the music made it all the more appealing. Such a brilliant band, and this song in particular sums up everything about them that appealed to me. 3. Ballboy – 'The Sash My Father Wore' Another band that was a mainstay of the early-2000s era Peel was Ballboy. Hailing from Edinburgh, they have a similar lo-fi quality to Bearsuit, but they take their influence more from Springsteen and are lyrically less abstract. Singer/guitarist Gordon McIntyre writes with a brilliant mix of melancholy and wit that makes their songs so human – funny, touching and infinitely enjoyable. 'The Sash My Father Wore' is a brilliant example of that. Featuring just McIntyre with his guitar – I believe only plucking two strings throughout – the song describes a man who is a drunk, racist, misogynistic oaf: "Page 3 girls get you excited/You support Rangers and Man United/All you do all day is take up space with that stupid look on your stupid face." On first listen, the directness of the lyrics within this sweet-sounding melody is funny (the chorus repeats "Cos you're a big, fat bigoted arsehole"), but for me the title also makes the song seem quite sad – is this the narrator's father he is talking to? The idea of a father-son relationship completely destroyed by ignorance, political and generational differences is quite a tragic idea to me, and gives the song another layer beneath the obvious humour. It's a song I love listening to, and another I first heard a decade ago playing out on Radio 1 (the fact all of these bands were on Radio 1 at all seems kind of unbelievable now!) 4. of Arrowe Hill – 'Gadfly Adolescence' There was something of community feel to the Peel Show. You'd get to know the names of regular listeners through their emails and messages, and if you met another listener it felt like they were a member of the same club. I was lucky enough to make some friends through the show – some for a short time, some for longer – and in some cases those were bands as well as listeners. One such group was of Arrowe Hill. I first heard them on Peel's show around 2003. They came in – as I think every band on this list did at one time or another – to do a session and I noted down their name on the little bit of paper I kept by the radio, reminding me to order some of their stuff. Shortly afterwards I got 'Gadfly Adolescence' (one of their session tracks) as a seven inch single; possibly the first vinyl I ever bought. Fast-forward several years later! Peel was long gone, and I was in my last year of university in Lancaster. I had a student radio show by then and was looking for guests to come on and pick some records to play. I put out a message on MySpace (MySpace! Haha! The Past!) and very quickly received a response, from none other than of Arrowe Hill. I met up with the band's front-man, Adam Easterbrook (who one could argue is of Arrowe Hill), and we have remained friends ever since. I remember telling him about listening to his Peel session and buying the single and then his album all those years ago, when I was just sixteen. I think that made him feel quite depressed, which is as good a way to start a friendship as any. 5. The Thermals – 'It's Trivia' The Thermals are a great band. That's really the only reason I put them on this list, and I think it's as good a reason as any. John Peel played 'It's Trivia' a lot when it came out, to the point where it eventually burrowed so deeply into my brain I found myself singing it all the time and basically had to buy the album. I've bought every record they released since. What more could you ask for from a radio programme than to start you off on long-term relationships with brilliant bands? It's such a significant thing to contribute to the soundtrack to someone's life, and Peel gave me so many songs and bands that will stay with me forever. This is one of them. 6. Steveless – 'Fool' John Peel is known for picking up unsigned and little-known artists and giving them airplay and sessions. Steveless was one of those acts, and arguably the last one that the DJ really took a shine to. Named for the lack of anyone called Steve in the band, Steveless was the musical name of Dan Newman and a number of different collaborators, who blasted out Fall-esque, noisey pop songs, usually of about a minute in length. The people who sent demos in to Peel were people just like me; music lovers, nerds and weirdos who found a friendly, fatherly figure coming out of their radio three evenings a week. It added to that familial, community feeling that built up around the show to have such a significant number of the bands featured coming out of the audience – including people like Jarvis Cocker and Billy Bragg. 7. Melt Banana – 'Shield For Your Eyes' The John Peel programme was about as eclectic as you could get, so it seems only right to mention a couple of the more out-there acts featured on the show. First off, Melt Banana – a Japanese speed-punk band who specialise in thumping bass, squeaky, barked vocals and incredible, otherworldly guitar sounds, usually all pounded out in under a minute (a usual Peel session would feature four tracks, Melt Banana fitted in twenty-two). This particular track is a bit longer, and features one of the best intros to any song, ever. That is a solid gold guarantee. 8. Shitmat – 'There's No Business Like Propa' Rungleclotted Mashup Bizznizz' If ever you want to annoy neighbours, family, friends – anyone really – this is the stuff to go for. One reason I love Shitmat is because he was so wilfully obnoxious, but past that there was a lot of humour in his frantic, insane mashups (often quite a dark, sinister humour) and if you're in the right frame of mind you can have a jolly good rave up to it, as well. Stick this on in the car, turn the volume right up and try not to have a good time - I dare you (n.b. there is a fairly good chance you won't have a good time). Again, it's amazing to think that just ten years ago, this sort of thing was playing shortly after 10 p.m. on Radio 1. But then I'm amazed Fearne Cotton is even allowed out of the house, let alone on the air, so what do I know. 9. The Fall – 'Theme From Sparta FC #2' I don't think you can talk about John Peel without mentioning the Fall – one goes hand-in-hand with the other. Peel's most significant, long-standing relationship with an artist was with Mark E. Smith (as much as anyone can have a relationship with Mark E. Smith), as evidence by the fact that the Fall did more sessions than anyone else. On more than one occasion Peel said that the one thing that really made him feel depressed about dying was that he'd never get to hear the next Fall record. Before I started listening to the show, I'd heard of the Fall but never really listened to them (I was young and foolish at the time; I've since grown to be old and jaded, but at least I've recognized that The Fall are a very good band). 'Theme From Sparta FC #2' was the song that made me think, "Yes, this is a band worth investigating". It's powerfully good, a suitably brilliant song from the band's last album before Peel died. 10. The Undertones – 'Thrill Me' Most people who know about John Peel will know his favourite song of all time was the Undertones' Teenage Kicks (he asked for a lyric from the song to be put on his gravestone). But his affection for the band generally lasted right through his life – and many years into their career. The band reformed (sans Feargal Sharkey) in 1999, and in 2003 released the album 'Get What You Need', their first in 20 years. Undoubtedly top of their list for promo recipients would have been John Peel, and he obliged them by playing the album's lead track, 'Thrill Me'. It's an absolute stonker of a tune, as good as any of their best work. Indeed, when it finished Peel said something along the line of, "That was fantastic. In fact, I liked it so much I'm going to play it again." And he did. One of the things that was so appealing about John was his child-like enthusiasm for music, his love for all these sounds. That he could get so excited about a song he simply had to play it again, immediately was incredibly endearing, and to all the music nerds like me – huddled by their radios, noting down the tracks and albums they wanted to buy – it made him seem like one of us. Because that's exactly what he was.
Pennyblackmusic Regular Contributors
---