---
Van Morrison
-

Ten Songs That Made Me Love...
published: 17 / 3 / 2017
---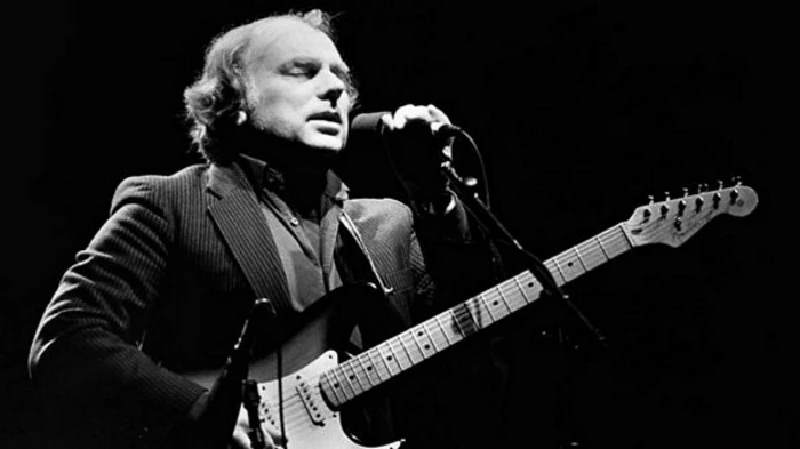 intro
In 'Ten Songs That Made Me Love...' Keith How writes of some of his favourite songs by Van Morrison
After Crosby,Stills and Nash there was only one name left on the list. Van Morrison. A regular topic of conversation with fellow Pennyblack contributor Nicky Crewe who had seen the great one a couple of times before with varying results.I would always end up by confirming Van Morrison as the one artist who I love but would not take the chance to see and have the myth dispelled. That was until last Spring when an email from Nicky confirmed Van was to play Glastonbury Abbey in the summer. So, it was decided.I mean if you were going to a Van Morrison concert this had to be the one.It was the venue that swung it for me. The rest is history. Not only did we share the same cafe with Van at lunch time,his performance was magnificent on that Midsummer's evening. Choosing ten songs that encapsulate the essence of Van Morrison's genius (in my opinion) is a difficult task so, taking a deep breath, here we go.This selection is not in order of favouritism, in the words of the great man "It Just Is". 1. 'No Guru, No Method, No Teacher' released in 1985 (one of the great records of our time) revealed ten tracks that could easily be the ten tracks that would satisfy this article. A sense of longing and searching echo through the whole album and the opening song 'Got to Go Back' finds Morrison reflecting on simpler times, rhythm and blues and healing. These themes do recur in Van Morrison's works. It is a lovely gentle composition that invites the listener to step away from the busy world and seek some solace. The album revolves around track five 'In the Garden'.'Garden' is an uplifting story of transformation and freedom and is guaranteed to bring a tear to my eye. I think in these lyrics Van Morrison channels the deep longing of the human soul. Van's delivery is totally stunning. In hushed tones he almost whispers 'No Guru, No Method, No Teacher'. In the garden? Van takes you there. 2. 1979's 'Into the Music' proved to be a glorious stepping stone in Morrison's career, the set kicking off with the joyous 'Bright Side of the Road' but track nine finds Van Morrison pulling out all the stops on the classic 'It's All in the Game'. The version I prefer is found on the wonderful 'Live at the Grand Opera House, Belfast'. It is 1984, he is on home ground and the performance is electric. Having burned the house down with 'Dweller on the Threshold', Morrison hit a soulful groove directing the band as he delivers the heartfelt lyrics. A truly magnificent arrangement that reflects the wide pallet of creativity in Morrison's armament. At 2:58 the band drop right out in classic style, the dynamic is stunning. Take a listen if you haven't had the pleasure. 3 and 4. 'Veedon Fleece' (1974) is often overlooked but this stripped back affair contains some absolute gems. Van Morrison is in fine form vocally and this album ('Veedon Fleece') carries a mystery all of its own as the tempo rises and falls with lovely piano, bass and acoustic guitar. Track four 'Streets of Arklow' is magical, bluesy and atmospheric. Morrison tells a tale of gypsy rovers, poetry and wonder. A flute weaves its way through the song echoing the vocal stream. Orchestration is introduced after a couple of minutes to dramatic effect. The effect is breathtaking, as is the whole record. 5. On the cover of 1997's 'The Healing Game' Van looks like a Mafia boss with business on his mind. All the images that adorn the artwork are black and white. It's that kind of album. Bluesy and quite dark. The man is on form. In the midst of all these shades of grey comes a shaft of light. 'Piper at the Gates of Dawn' appears totally out of nowhere and seemingly out of place. One of Morrison's great songs is based on a passage from 'The Wind in the Willows' with simple acoustic guitar, Uillean Pipes and whistle. The lyrics are delivered in hushed, reverent tones calling up the God Pan and the awe and wonder of nature. Three minutes of pure magic in the midst of the all the jazz and blues, this moment is transportation from the city to a forgotten time of other worldly mystery and comes as a total surprise. 6. 'Ancient Highway' appears near the end of 'Days Like These' and is one of Van Morrison's overlooked triumphs. Moody, soulful and spiritual, 'Highway' is almost a biography of his life so far. There are references to a sense of wonder,spiritual seeking, prayer and keeping your feet on the ground. The vocal delivery is transcendent, full of soul and scat singing. He moans and growls totally lost in the music. Musically there are moments of 'Veedon Fleece' and 'Common One' to catch as the track flows like an eternal river. Morrison takes a Hammond Organ break at 5:15 lifting his composition to a higher plane. Wonderful. 7 and 8. Mention of 'Common One' brings me to probably my favourite Van Morrison album. Comprising of six tracks 'Common One' is filled with mystical references to everything from England , The Holy Grail, T.S.Eliot, Blake, Glastonbury and love. Simply an album to defy a category 'Common One' is, for me, mind expanding. I am selecting two tracks although I love all six! Firstly I have picked 'Summertime in England' for its pure audacity and invitation. Morrison is rapping over a funky hammond organ and spiritual orchestration. Is it gospel? Probably. Van is inviting us to Avalon, inviting us to get our heads around Yeats and Coleridge. At fifteen minutes this is work of true genius, poetry, blues and gospel wrapped up in one glorious and uplifting package. 'Satisfied' is pure joy. Van is happy with his lot. It has a funky tune that really grooves in an understated manner. The brass section lifts a call and response chorus 'Satisfied' into another realm while a guitar lick twists and turns underneath. A lovely sax solo breaks things up. Dynamically 'Satisfied' is masterful. 9. Vanlose is a suburb of Copenhagen where Morrison lived for a while during the 1970s. 'Vanlose Stairway' (on 'Beautiful Vision') was written there and is an emotional gospel song with a magnificent vocal performance full of longing from Morrison. A slow paced composition. it is highlighted by wonderful backing vocals that just draws you into the mood. The live version on the 'Belfast' album really captures an almost heartbroken Morrison. 10. Nine down.A controversial selection to finish. 'Inarticulate Speech of the Heart' is Van's fourteenth album and his last for Warners. At this time he was interested in communicating more simply and was working with instrumentals. This album was not received particularly well and track five 'Rave On John Donne' caused some confusion. The Celtic-tinged album finds Van in a soulful mind and 'Rave On' seemed to baffle the listener. A million miles away from Buddy Holly, Morrison easily slips into a stream of consciousness that becomes a tone poem,a psalm if you like, that takes on a transcendent nature as Van recites his homage to many of his heroes and influences. A gentle backing provides the perfect setting for this jewel in Morrison's crown. 'Rave On' is groundbreaking and daring. The saxophone ending is perfect. A masterpiece that like many of his works has stood the test of time. I could now go back and choose another ten compositions that are equally satisfying. I'm sorry no 'Astral Weeks', 'Moondance' or 'Gloria' but "it just is" Rave On.
Band Links:-
https://www.vanmorrison.com/
https://www.facebook.com/vanmorrisonofficial
https://twitter.com/vanmorrison
Have a Listen:-
profiles
---
Van Morrison (2012)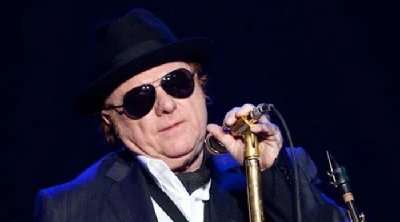 With his new album 'Born to Sing: No Plan B' having just been released, Carl Bookstein reflects on the career of Van Morrison
live reviews
---
New Theatre, Oxford, 27/10/2019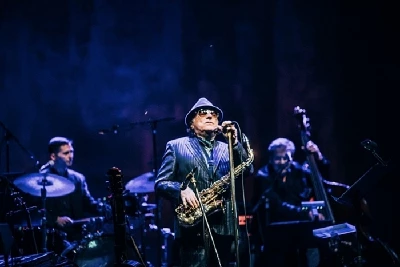 Nick Dent-Robinson enjoys a diverse, career-spanning set of blues/rock from Van Morrison at the New Theatre in Oxford.
Pennyblackmusic Regular Contributors
---