---
Pennyblackmusic
-

Ten Songs That Made Me Love....
published: 29 / 6 / 2018
---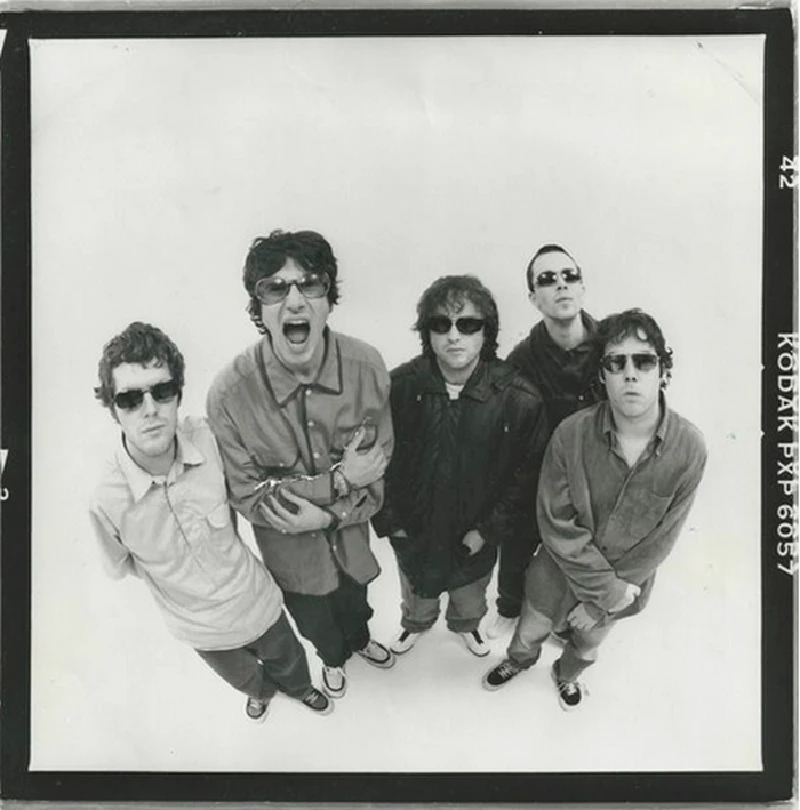 intro
Adrian Huggins looks at ten of his favourite bands and songs during his thirteen years writing for Pennyblackmusic.
I began writing for Pennyblackmusic a good while ago now, I believe it was around July 2005 when I was fresh out of university - Jesus, that is a long time ago. I have learned a lot since then and am happy to report that my musical tastes have broadened, developed and been challenged so much since my first introduction to Pennyblackmusic courtesy of my good friendb, former bandmate and one-time work friend Jonjo McNeill, who was writing for Penny Black at the time. I am very happy to still be involved with Pennyblackmusic here in 2018, albeit not contributing as often as I would like due to the constraints of work, parenthood and my own band. But I am still involved, and my love of music and all that comes with it has grown so much over the years, and that is in no small part thanks to John Clarkson and Pennyblackmusic. When I first began writing I was very much a post-hardcore/metal type, not so much all I liked but definitely all I really knew about. Since then I've had so many chances to listen to a fantastic array of bands, artists and genres, both old and new, and have been given the chance to interview some bands I was a massive fan of. I really have discovered so much music and learned about so many new and old artists compared to what I knew (or thought I knew) back in 2005. 1. Super Furry Animals – 'The Man Don't Give A Fuck' I had a realisation upon reviewing the 2015 book 'The Rise Of The Super Furry Animals': they are my favourite band of all time. 'The Man Don't Give A Fuck' is easily one of my favourite songs of all time. Aside from just getting the chance to write about it while writing '10 songs that made me love Super Furry Animals', it gave me the chance to revisit my first gig which was Super Furry Animals at the Octagon in Sheffield way back in 1998. This was my first real taste of live music and this was the last song they played. It was a pleasure to be able to write about a song and band I love so much and also to have been given the opportunity to delve into my own musical discovery once again and draw some conclusions. I pretty much listened to Super Furry Animals 6 months straight after reading the book. I feel this song sums the band's music up so well, it's catchy, odd, not what you'd expect and it goes on slightly too long without sounding like it's gone on too long. 2. Eagulls – 'Nerve Endings' A good and very musically-informed friend of mine invited me to a gig in Sheffield back in 2014, one of the bands playing was Eagulls. By the time the Leeds-based four-piece finished their set I knew I'd witnessed something pretty special. I followed the band after seeing them and was so excited when I saw that their debut album was on the promos list so grabbed the chance to get it (I did also buy the album on vinyl on the official release date). 'Nerve Endings' is the album opener and to me is the song that best sums up the band's noisy, euphoric, intense, post-punk sound and attitude. Lead singer George Mitchell spits the vocals out and is such a fantastic frontman, which is a rarity these days. It was genuinely exciting to see a band in a smaller venue and get that feeling of 'These guys are definitely going on to bigger things' and actually see it happen. The next time I saw them they were playing the Academy in Newcastle with Franz Ferdinand and at that point had just come back from a US tour including an appearance at SXSW Festival and an appearance on David Letterman. So cheers Eagulls for helping me to be right about something for once. 3. Gaslight Anthem – ''59 Sound' "Ain't supposed to die on a Saturday night", what a great line. I reviewed the New Jersey band's single '59 Sound' back in 2009, and even though the band are still pretty active today, save for a few years off around 2014, and have a loyal worldwide fanbase this song is still one of their best-loved and known tracks. It was instantly recognisable as a hit and 'standout' song, and that is saying something for a band who really have the craft of songwriting down. Lead singer Brian Fallon is a real icon of his generation and you can already see a crop of up and coming musicians that have been influenced by Fallon and his band. To me this is the band's 'go to' song if I had to recommend something for someone that had never heard them. I honestly never get sick of hearing it. 4. MoHa! – 'Daily Four' MoHa! sound absolutely mental. The Norwegian duo play a sort of tech-jazz-experimental-rock-madness that sounds like robots having a caffeine and speed binge meltdown and it is so good. I reviewed their album 'Nowegianism' in 2007 and it was a real head-turning eye-opener. Part of me enjoyed the pure madness of it all and how you need to just let it take over your brain, and part of me enjoyed trying to convey this in the written form, partly because I was able to use phrases like: 'Moha! sound like a mix of metal, jazz, Bjork, science fiction film special effects all put in a blender, then microwaved with the fork left in by mistake.' That was a fun line to come up with and one that was only befitting such an odyssey of an album. MoHa! are definitely one of the bands that I've reviewed down the years that really opened my mind and ears to new things, which is probably the greatest pleasure to be had by someone writing about music. 5. Gratitude – 'This Is The Part' I was lucky enough to get to review Gratitude's self-titled 2005 album and 'This Is The Part' was the lead single and anthem of the time, it still shines through all these years later. Gratitude is the brainchild of Jonah Matranga who previously fronted emo gods Far, who played alongside and influenced bands like Weezer, Deftones, My Chemical Romance, Jimmy Eat World and many more around the world. Apart from the album, interviewing Jonah when Gratitude came to play Newcastle was the first interview I ever did for Pennyblack and it was fantastic. For those unfamiliar with Matranga and his work I would urge you to track him down. He is very vocal in his music and from the platform of social media, and spreads a message of tolerance, love and understanding which sadly appears to be trampled on daily in 2018. He also seems to tour relentlessly, going between small and larger venues and people's houses, he is a true musician of the people and was an incredibly warm and inspirational person to interview. It's so good to see him still going strong. 6. Calvin Harris - 'It was Acceptable In The 80's' I reviewed this single relatively early on in my Pennyblack career. Harris was an unknown at the time and hadn't even been picked up by the likes of NME and Radio 1. This was his breakthrough hit. I thought it would do well but had no idea just how big he would get, and although I have paid pretty much no attention to the super DJ Scot since it is pretty exciting to look back and see that I was fortunate to hear something before it took off so to speak. I did shudder reading my review back when I made a slight slate against Kraftwerk for being part of the bad part of the '80's. I have to put this right – Kraftwerk are and were always brilliant. Hey, I was right about Calvin Harris going on to be popular, so one out of two isn't bad, right? 7. Wives – 'Babies' I went to interview and review a live gig for the Californian 3-piece Wives way back in 2005 at a venue in Sunderland that was usually a really low budget strip club. 'Babies' is probably the stand-out track, although the full set blew my then tiny mind. It is still one of the most enjoyable and entertaining gigs I have ever attended and I have followed the band members in their pursuits in other bands with great enthusiasm. This particular track catches their off-kilter and unhinged yet instantly enjoyable sound at its best. 8. Incubus – 'New Skin' The very first piece I wrote for Pennyblackusmic was a 'Re:View' piece where I had to write about one of my favourite albums. My younger self chose to write about 'S.C.I.E.N.C.E.', by US band Incubus. I still do love this album, but will admit I've probably not listened to it for quite some years now. Incubus were probably my favourite band for a long time, and while I confess to not really paying much attention to them anymore they are definitely a 'gateway' to other bands they cite as influences, bands they've toured with, covered and played with have led me down some brilliant musical paths, and for that reason alone I still have a lot of love for them. 'New Skin' was the first song of theirs that I heard back in 1999 (it was a couple of years old then), and listening back to it now I still think it holds up and still has a 'new sound' to it even though their style and the style of many of their contemporaries was milked and killed off by the year 2001. Anyone that has more than a passing interest in music will tell you the joy of finding bands that lead you down different paths and avenues and really open your musical mind to stuff that probably would have either passed you by or sometimes just have been completely baffling without another band/album/song giving you a feel for a style or genre. This band really opened my mind when I first heard them and swung the doors wide open for my previously very secluded and non-adventurous self. 9. Alexisonfire – 'You Burn First' Another one from the past, I was lucky enough to interview and see Alexisonfire a few times courtesy of Pennyblackmusic. The interviews were always fun, friendly and very entertaining, and I've yet to see them do a bad set. When watching the band at the Middlesbrough Empire in November of 2007 they opened with 'You Burn First' and it was something pretty special. Singer/Guitarist Dallas Green played half of the song solo before the rest of the band joined him as the song kicked off and the place exploded. I distinctly remember watching it and smiling at how fun it would be to write about the start of this gig. 10. Cave In – 'Trepanning' I wrote about Cave In's fourth studio album 'Perfect Pitch Black' in 2005, I still love this band and the many bands that have come about from various of their members. As a bass player myself one of my favourite elements of the band's sound was the bass lines and sound of Caleb Scofield who sadly died this year, so it feels fitting that my final choice is that of a band I admire so much and have been lucky enough to be able to write about in my time with Pennyblackmusic. This song is loud, driving, melodic, groovy, pounding and a little bit 'sweary' which is pretty much all of my favourite things in music rolled into one song. I sincerely hope you have enjoyed reading my list, around half of the songs were instantly on my mind to go into it when I first said I'd do this piece and the other half were an utter joy to rediscover as I sifted through my reviews from many, many years, sometimes laughing out loud at either my complete cluelessness or the odd line that I'd forgotten I'd come up with and still find funny. I really have learned so much writing for Pennyblackmusic, and hope that I have helped some people discover some great bands.
Pennyblackmusic Regular Contributors
---