---
Pennyblackmusic
-

Ten Songs That Made Me Love....
published: 24 / 8 / 2018
---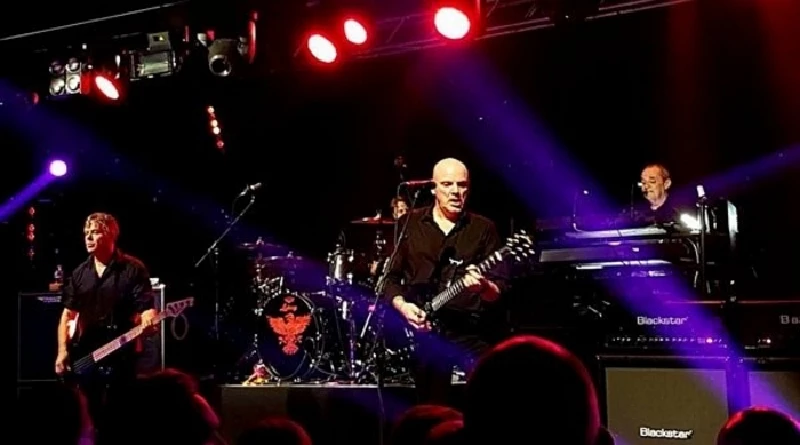 intro
Denzil Watson in celebration of our forthcoming 20th anniversary looks back over his time with Pennyblackmusic by reflecting upon some of the bands he has interviewed or reviewed during his eighteen years writing for us.
Pennyblackmusic is celebrating its 20-year anniversary - a genuine milestone. I have been writing for the site for 18 of those 20 years when invited to do so by a very keen and supportive John Clarkson. Where did all the time go? I was a complete rookie when I started but under John's supportive wing I took my first steps as an amateur music journalist and fell in love with Pennyblack and writing for it right from the start. All of a sudden, I was going to gigs on the guest list that I used to have to buy tickets for and, soon after, interviewing the very bands and artists that had rocked my world. For all of these opportunities I am truly grateful to Pennyblackmusic. It's hard to pick just ten songs from the last eighteen years. Hence the criterion I've applied here are songs by bands I've interviewed or reviewed over my eighteen-year tenure at the magazine. 1. British Sea Power – No Lucifer Although I've not had the pleasure of interviewing this fantastically British and eccentric band, I've reviewed them live twice for Penny Black. First in the depths of 2004 just after the release of their debut LP, 'The Decline of', and more recently at their astonishing Albert Hall gig in Manchester last November. This is my fave track of theirs. It's an up-lifting anthemic song with sing-a-long wrestling-chant chorus. Inevitably it is also accompanied live by those two wonderful BSP bears, one brown, one polar. 2. The Stranglers – Peaches I've loved The Stranglers ever since the late seventies. Pennyblack Music has given me the opportunity to interview both of my childhood heroes Hugh Cornwell and Jean-Jacques Burnell and current front-man Baz Warne on no less than four occasions, add to that three live reviews and they are the band I've written about the most. They remain one of my favourite bands. It's hard to pick one song from their incredible back-catalogue but I'm plumping for one of the first singles I ever bought and their seminal single that peaked at no.8 in the charts back in May 1977. 3. That Petrol Emotion – It's a Good Thing In the '80's I frequently went down to London to watch alt rockers That Petrol Emotion. Those nights crammed into a very sweaty Town and Country Club are still fresh in my memory. At the back end of that decade no one could touch them live and they went on to release five fine albums. One such gig featured as my "Gig of a lifetime" on the site and I also reviewed their comeback gig at the Dirty Water Club in London in August 2008. A year later I had the fortune to interview their likeable frontman Steve Mack and engaging guitarist Ray Gorman prior to their Rescue Rooms gig in Nottingham. It's hard to pick one from this vastly under-rated band but I've gone for the feel-good "It's a good thing" from their astonishing debut album, 'Manic Pop Thrill'. 4. Theatre of Hate – Do you believe in the Westworld? Kirk Brandon, with both his goth-rockers Theatre of Hate and the more commercial anthems of Spear of Destiny, has, arguably, been one of the UK's most consistent and prolific song-writers over the last three or four decades. He's provided me with one of my favourite-ever albums (Spear's @Grapes of Wrath') and some unforgettable gigs. I've reviewed records and gigs of Spear and Theatre of Hate for Penny Black but imagine my delight when I finally got the chance to interview the man himself last year. I'm pleased to report that Mr Brandon is every bit as compelling as his songs and an absolute gent to boot. I know my choice of song here is obvious, but what a song. 5. The Dead Kennedys – Holiday in Cambodia One of the interviews I was most in awe of doing was with Jello Biafra, the legendary ex-frontman of San Francisco punk band, The Dead Kennedys. I needn't have had any such reservations. Jello was in talkative form and my hour-long interview still ranks as the most enlightening interview I've done, with nothing off the agenda. I remember it taking me absolutely ages to transcribe but it was worth every last word. Another obvious choice song-wise but the surf guitar work on this song by East Bay Ray is a good as it gets. 6. Joy Division – Decades Although I've never seen Joy Division or interviewed any of the three surviving members I've always grasped any chance to write about them retrospectively for Pennyblack. Hearing them for the first time in my life back in 1982 had a massive impact on me and inspired me to form a band. Fittingly it was John Peel's Festive 50 that got me hooked. I remember hearing 'Decades' on his show and being moved to tears by the song, there's an other-worldly and timeless feel to this song and it still makes me well up with emotion to this day when I hear it. It remains one of my favourite songs of all time. 7. Sleaford Mods – Tied up in Nottz I can remember the exact moment in time I heard my first Sleaford Mod's track. It was 'Air Conditioning' from their breakthrough album 'Divide and Exit' in December 2014. I'd never heard anything like it. The idea of fusing hip-hop beats with punk attitude and completely unfiltered lyrics blew the doors off for me. I was hooked. Four months later in April 2015 I was in their dressing-room interviewing them before a show in a venue that time had forgot in Doncaster. My love of the band has only grown with time. Williamson continues to be the most significant lyricist the UK has produced over the last decade. It's also great to see a fellow Granthamian doing well for himself. I'm plumping for 'Tied up in Nottz' from the aforementioned 'Divide and Exit' album. 8. The Undertones – You've Got My Number There had to be a place in here for Derry's finest. They weren't one of John Peel's favourite bands for no reason. Still going strong despite their polo-neck sweatered frontman Fergal Sharkey calling it a day many moons ago, the band with a new singer, Paul McLoone, have continued to wow the crowds and release new material. I've had the privilege of interviewing bassist Michael Bradley and the band's guitarist brothers Sean and (most recently) Damian O'Neill on three different occasions. Talent and modesty are rare bed-fellows but the unassuming nature of the band made them a pleasure to speak to. For that and their wonderfully melodic new-wave, The Undertones will always have a place in my heart. 9. Fat White Family – Whitest Boy on the Beach Only two albums into their career and the Fat Whites are already one of my favourite bands of recent times. When I recently penned a "10 songs that made me love…" feature on them for Pennyblack Music it wasn't hard to pick ten tracks. Their riotous live shows, well-documented dabbling with various substances and a no-compromise attitude to their art makes for an exciting ride. Clearly Sean Lennon was impressed with them. With album number three ready to drop later in the year, the band remain one of the few dangerous and unpredictable talents in the tired carcass of rock'n'roll in 2018. 10. Cabbage – Uber-Capitalist Death Trade OK – so I've made an exception with my last choice. I'm yet to pen a word about Mossley five-piece for the magazine. So this is one for the future and the reason why I try and keep up with new music. Their discordant neo post-punk undeniably draws on The Dead Kennedys and other American hardcore bands. With plenty to say on a number of important issues many young bands seem to ignore, they are wise heads on young shoulders. Debut album 'Nihilistic Glamour Shots' won them plaudits from what's left of the music press and hopefully represents what will be a long and fruitful career.
Pennyblackmusic Regular Contributors
---