---
Deacon Blue
-

Ten Songs That Made Me Love...
published: 22 / 12 / 2016
---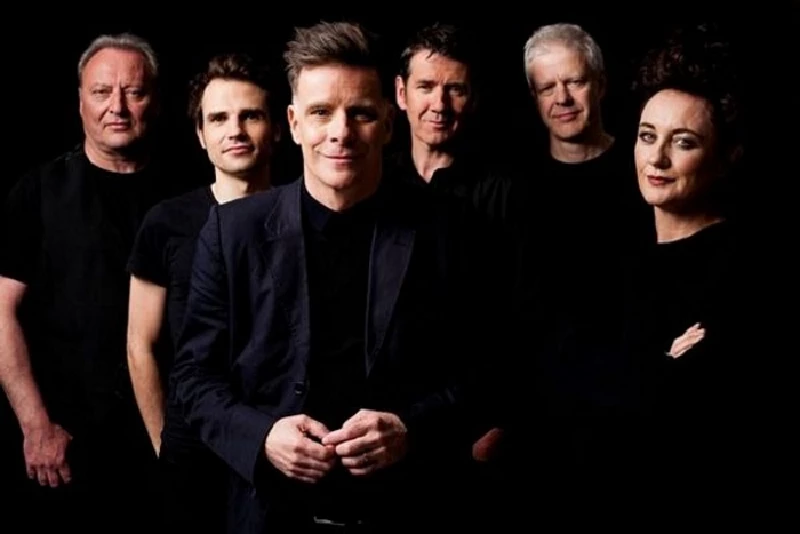 intro
Despite being uninspired by their earlier records, Malcolm Carter in 'Ten Songs That Made Me Love...' finds much to recommend on Deacon Blue's three recent albums
Oay, so I've taken a few liberties maybe, but for a band that I just didn't get when they started out and whose early music still, for the most part, leaves me cold, it's pretty near impossible for me to pick just ten songs from the three albums the band have produced since their resurgence in 2012. So maybe 'Three Albums That Made Me Love Deacon Blue' is a more appropriate title. For any child of the '60s or '70s, the '80s were a bit of a disappointment musically, especially 1987 when Deacon Blue's 'Raintown' was released. Admittedly for many, the music we heard when growing up is the music that means most to us throughout life, so I'm pleased that my taste was formed when music really came of age and changed everything. With so many changes happening in the '60s, I think it set me up for being able to appreciate many different forms of music. I tried to like Deacon Blue; stored somewhere in the house are copies of 'Raintown' and 'Fellow Hoodlums', but they've rarely been played. The soulfulness in the vocals of Ricky Ross was the one thing that made me want to like them (Okay, the sight of Lorraine McIntosh was no hindrance I must admit and apart from her vocal interjections which were always the highlight of any of their songs, her energetic presence made them a band worth watching, too) but, as a band, the songs always seemed to be reaching for a place they never quite arrived at. But time changes a lot of things and I can now listen to songs such as 'Dignity' and 'Chocolate Girl' and appreciate that they are well-written and performed pop songs, but they still don't move me, and the only reason that I'd listen to 'Real Gone Kid' is for McIntosh's contribution. When the band released an EP of Bacharach and David songs in 1990, I'd completely given up. Who could ever better Bobbie Gentry's breathy version of 'I'll Never Fall in Love Again'? I found them more than a little boring. Their name, taken apparently from a Steely Dan song, should have been sufficient really to warn me off in the very beginning. But still, there was something in Ricky Ross' vocals, and by having a shot at the Bacharach and David catalogue, they surely showed there was something lurking in there. Fast-forward to 2012 and a record on the radio caught my attention, which is not an everyday occurrence. 'The Hipsters' blasted out, a string-driven thing that was so full of energy it actually stopped me in my tracks. The vocals sounded familiar but it was when those female backing vocals arrived that it clicked; surely that was Ricky Ross singing lead on an old Deacon Blue song - he sounded younger and his vocals more passionate than I remembered. McIntosh, of course, sounded as enthusiastic as usual and the song was immediately catchy. I'd obviously missed a brilliant song, probably tucked away on one of their albums way back then. The next day, the same song tore through the radio fog again so I checked it out and discovered that it was the title song of a new album from the band I'd ignored for some twenty years. So unimpressed was I with their previous work that I'd taken no notice of what the band or its members had been doing during the last two decades. Thinking that there was only a slim chance that any other song of the new album could match the thrill displayed in that song didn't stop me from checking out another track. 'Stars' followed the same pattern. It had a catchy melody, both Ross and McIntosh turning in impressive vocal performances and a positivity to the song that I'd never heard from the band before. The two outstanding songs on an album from a band I'd have crossed the road to avoid years earlier, made me rethink. Ross always seemed to be aiming for a place in his songwriting that was just out of his reach to these ears, now he was hitting it…and then some. I took a chance, as after all two brilliant songs on an album was a brace more than I found on some other albums I'd spent money on, and if they could keep this pace up over a whole album then this might just be the first Deacon Blue album I'd play more than a couple of times. 'Here I Am in London Town', the first song on the album, was a little worrying; it was almost the Deacon Blue of old that I remembered, a slow, piano-based ballad, but blessed with a gorgeous tune. Again it sounded like Ross hadn't aged vocally, his voice seemed lighter, less of the forced emotion of his earlier work. It was, simply, more believable and blessed with an honesty that hadn't touched this listener before. It was the slower songs that failed to move me all those years ago and the couple of more upbeat songs that got me interested now but here was a ballad that fulfilled the promise which Ross showed all those years ago. So the first three songs on this new album from Deacon Blue touched me instantly, something I never thought would happen. The band literally tear through songs like 'The Rest' with a new-found passion and there's not a song on the album that doesn't move me in one way or another. Each song has a tune that is impossible to forget, it's the kind of album to play whenever you're feeling down, an album to lift the spirit, in fact. 'That's What We Can Do' was simply one of the most uplifting songs of 2012, the perfect pop song. Once again the passion in both Ross' and McIntosh's vocals is undeniable and addictive. So Deacon Blue finally made an album that I got. It moved the head and the heart and pushed me to listen again to the earlier albums. For sure, there were moments of magic and beauty but nothing to match 'The Hipsters' which was a perfect album from start to finish. A couple of years later, 2014, and a new Deacon Blue album was released. 'A New House', the title track, was introduced to me via the radio again. This time there was no doubt that the song playing was from Deacon Blue: another pounding, up-tempo song, displaying all that was good about the whole of the previous album, another stunning vocal performance from Ross and McIntosh and yet another instantly catchy tune, brilliantly performed and produced. While this song might well be looking to a new future lyrically, musically it was more of the same; it carried on in the same vein as 'The Hipsters' and, for once, I was thankful there was little change. It was another collection of intelligent pop songs, Ross really showing that his vocals have improved through the years. That soulful side, that was always lurking around the corner, finally comes out of the shadows here. 'The Living' is proof of this. Even McIntosh's brilliant vocal contributions on this particular song are overshadowed by Ross' emotive vocals. Again there isn't a dud track on the album, not one that won't immediately register with the listener. Where Ross plucks these melodies from is anybody's guess, but he's a master of melodies. The latter part of this year saw the release of 'The Believers', the third album in four years that makes one wonder if Ross had some kind of trilogy in mind back in 2012 when he released 'The Hipsters'. While there's not an obvious theme connecting the albums, they do feel like they belong together. Again, there's little change from what Ross started in 2012: melodic pop music, thought-provoking lyrics (the opening, title-track taking in the plight of refugees, being particularly topical) offering hope; touching love songs, 'I Will And I Won't,' once again showcasing just how well Ross and McIntosh are suited vocally, and those melodies, which, while not tooth-rottenly sweet, will stay with you from the very first listen. In-between all of this there was also a Christmas single 'You'll Know It's Christmas' in 2013, which continued in the same vein as this trilogy of albums. So Deacon Blue have made the giant step of being a band I had no time for, to releasing three albums in close succession, where it's impossible to pick just a few songs from each one for special mention although I have named ten songs here. I'm hoping that Ross and company keep releasing albums of this calibre every couple years. I can still live without those early albums, but just try to pry these three latest ones from my hands.
Band Links:-
http://www.deaconblue.com/
https://www.facebook.com/deaconbluemusic
https://twitter.com/deaconbluemusic
photography
---
Photoscapes (2016)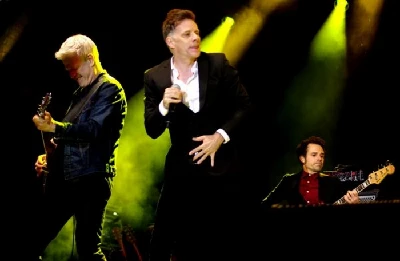 Darren Aston photographs pop rock group Deacon Blue at a gig at Aintree Racecourse in Liverpool
Pennyblackmusic Regular Contributors
---