---
Deacon Blue
-

De Montfort Hall, Leicester, 12/10/2012
published: 7 / 10 / 2012
---
intro
At a show to promote 'The Hipsters' their first album in eleven years, Dave Goodwin at the Leicester De Montfort Hall watches Deacon Blue play an exuberant set of both their new songs and classic hits
I had this mate at school that when everybody else was moving with military precision from one fad to another was two things and two things only. While we strategically leapt from being mods to ska and two-tone or going in the completely opposite way and following the way of the synth, this chap was initially an Ant. He'd come to school with a crew cut and an aggressively thin ponytail with small feathers in it. But after a while he lost that image and started to come to school in turned-up jeans and a denim jacket. So, I asked him. I said "Now then, bud, what's with the.. well... the normal sort of look with the jeans and shit?" He just smiled, and looked himself up and down smiling and said "Me dad bought me Deacon Blue.".... Arriving late, I've not got long to check De Montfort Hall out for vantage points for photos. I am just making a last adjustment when the hall becomes dark and the crowd are in an instant on their feet, even before a note has been struck!! The lights come up, and there in front of us are Deacon Blue, just as if they have never been away. Ricky Ross has a bit of grey in his hair and a shorter crop, but Lorraine McIntosh hasn't changed a jot. Most of all they sound exactly the same. Ross's voice is sometimes a little deeper in places, but again Lorraine's soaring harmonies meander around his exactly as they always did and play melancholic games with it. They play most of their first album in eleven years, 'The Hipsters', and nearly all of the hits that made them such big artists in the 80's as well as dropping in several crowd favourites. This must be easy for Deacon Blue. They reel off song after song, and the adoring crowd clamour for more. But still they aren't happy with just doing that. We get treated to Ross's wonderful ability to tell a story. On a couple of occasions he takes us on a journey back into the past. He's not afraid to take us there though or to laugh at himself, even though getting old is getting a grip on him. All these stories are told with a fondness and charm that make the audience cheer and shout for yet more and more of the same. There are exquisite performances of 'Chocolate Girl', 'Raintown', 'Dignity', 'Queen of the New Year', 'Wages Day, 'Sad Loved Girl', 'Fergus Sings the Blues', which bring home to me that I had forgotten the immense output of these guys. The highlights for me, however, include a great 'Real Gone Kid', a fantastic 'When Will You Make My Phone Ring?' and at the end of a massive encore a brilliant rendition of Dylan's 'Forever Young' which sends everyone home with a smiling tear in the eye. This really has been one of those gigs to see before you die! A very special evening. ..."Deacon Blue", I said with a smirk on my face. "Never heard of 'em". To get myself a bit of cash when I was at school I used to go to town on a Saturday morning and collect trolleys at Tesco's. That week I spent the entire pay packet on their debut album, 'Raintown'. Enough said..
Band Links:-
http://www.deaconblue.com/
https://www.facebook.com/deaconbluemusic
https://twitter.com/deaconbluemusic
live reviews
---
City Hall, Sheffield, 11/12/2018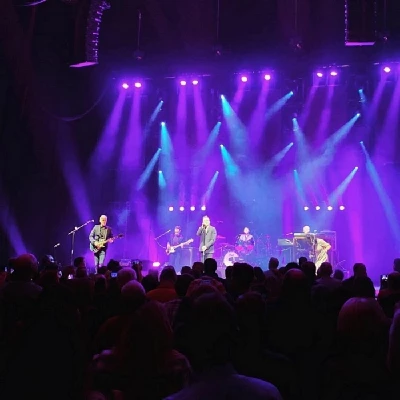 NIcky Crewe watches Deacon Blue celebrate thirty years of fantastic music on their recent tour and give an excited Sheffield audience a night to remember.
features
---
Ten Songs That Made Me Love... (2016)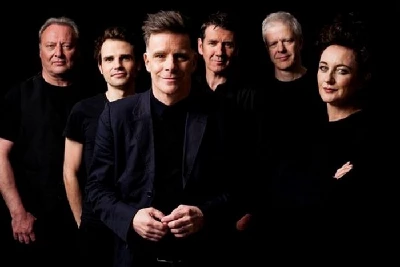 Despite being uninspired by their earlier records, Malcolm Carter in 'Ten Songs That Made Me Love...' finds much to recommend on Deacon Blue's three recent albums
photography
---
Photoscapes (2016)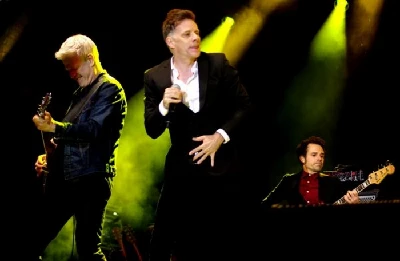 Darren Aston photographs pop rock group Deacon Blue at a gig at Aintree Racecourse in Liverpool
Pennyblackmusic Regular Contributors
---