---
Blondie
-

Chris Stein - Negative: Me, Blondie and the Advent of Punk, Somerset Hous
published: 9 / 2 / 2015
---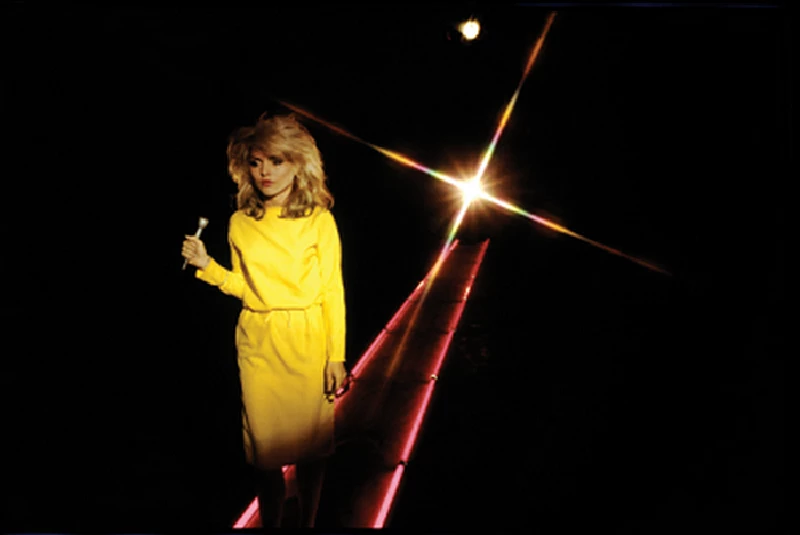 intro
Adrian Janes enjoys Blondie guitarist Chris Stein's evocative recent exhibition at Somerset House in London, which documents the 70's New York punk/new wave scene and his band's forty year career
Fascinated by photography from boyhood, then studying it at New York's School of Visual Arts and carrying it on during his musical career with Blondie, Chris Stein's 'Negative' was a richly evocative exhibition. Primarily documenting the 70's New York scene, its scope broadens as the band's horizons broadened, reaching out to include both fellow American outsiders (such as Devo, the Runaways and the B-52s) and England, a country which was among the first to rapturously receive their punky pop. Stein's pictures are often of an impressively large size that makes for real impact, for example a group portrait of the Ramones' original line-up. This, as at least half the exhibition, was in black and white, conjuring up memories not only of their debut album cover but the rock press and fanzines of the period, and how we in Britain first saw faces to fit to the strange names drifting over the ocean. An especially outstanding example of how effectively Stein employs this 'noir' mode is a shot from the night Richard Hell left the Heartbreakers. Hell is in shades, slumped on the floor with an arm (said to be Walter Lure's) reaching down to him, the scene a mixture of exhaustion and compassion that is somehow heightened by its contrasting tones of black, grey and white. As expected, Debbie Harry is featured as Stein's chief subject. But what the exhibition makes clear is how many were her faces. If she's the glamorous Marilyn Monroeish figure who can actually sing, she's also fragile-looking in a simple sweater, sat by a window and looking into the camera with a hint of melancholy. Elsewhere, a richly ironic picture has her holding a 1979 copy of 'The Sun' with the headline 'Women Are Just Slaves', a story about a government pronouncement after the then recent Iranian Revolution. Here her unsmiling expression, black beret and leather coat more than suggest a woman who wouldn't comply with such views. (On a side-note, this must be the only time that Ingmar Bergman also made the front page of 'The Sun'. For those expecting cultural commentary, it's in fact a piece about his break-up with Liv Ullmann.) This is just one example of the mutual fascination exhibited between Blondie and Britain. A very early 1974 shot of the band has one of them displaying a fine head of curls, which Stein describes as him "channelling Ian Hunter", Mott the Hoople being just one of the bands they liked. Later, on a visit to Britain, a sharp-suited Clem Burke is caught posing on the street. Tellingly, this is not just any street, but the King's Road in Chelsea. This Anglophile tendency, and a basically unusual sensibility outside of New York's cross-pollinating music and art scenes, is summed up beautifully in a picture of Harry and Burke walking down a New York street. Amongst the humdrum t-shirts and jeans of the throng around them, Stein amusingly catches a number of people in their wake gazing at the almost entirely black-clad pair, vaguely aware that something more than a fashion statement has just passed them by. The exhibition also has a certain poignancy, Stein's captions noting with personal affection figures who have since died, such as Joey Ramone and Stiv Bators, the latter pictured in Paris just weeks before a fatal accident. But the shock one feels is not just at a premature passing; even more, it's the realisation that these pictures are often three or four decades old. If in retrospect Blondie seem a sure-fire, calculatedly commercial bet, this exhibition corrects that notion. It shows that Stein, Harry and the rest were fully part of the New York and New Wave scene. -And if some pictures graphically portray the seediness of CBGBs, nonetheless to see the array of young innovators, eccentrics and cult heroes who passed and posed before Stein's camera is to experience something of the excitement of that era, when no-one knew what the future held for them but created their posterity anyway.
Band Links:-
https://www.facebook.com/Blondie/
http://www.blondie.net/
https://twitter.com/BlondieOfficial
https://www.youtube.com/user/BlondieVEVO
https://www.instagram.com/blondieofficial/
Have a Listen:-
Visitor Comments:-
734

Posted By: Dave Goodwin, Pennyblackmusic on 11 Feb 2015
I have this as a hardback book along with others that include Steins photography. Many folk don't realise what a good eye he had. You could say he was lucky being the partner (at that time) of one of the music industry's pin up's ( I had a life size pic on my bedroom wall) but some of his shots were not just snaps but works of art. I had the chance to chat to Sheila Rock who was around also at that time and as you say, there was an abundance of subject back then but that doesn't detract from an expert behind the lens. Great article and great photos.
---
features
---
Ten Songs That Made Me Love... (2014)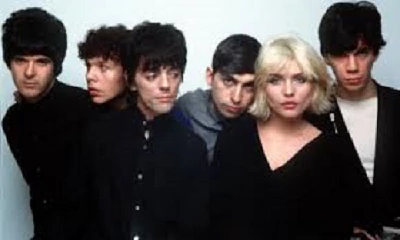 In our series, in which our writers write about ten songs that made them love a particular band or artist, Mary O'Meara reflects on her favourite Blondie songs
Pennyblackmusic Regular Contributors
---