---
Sam Brown
-

Interview Part 2
published: 24 / 2 / 2014
---
intro
...while in the second part she chats about her other solo albums and relationship with her father, 60's musician Joe Brown
"I do like to collaborate with others sometimes like David Rotheray or Jools or Jon Lord. But more often I work alone. For me, passion and truth in a song is important. My best work does come from the heart. The songs on my 'Of the Moment' album are very personal and truthful and I think that shows. But women and many men of my age will connect with what I am saying. It is a strong album and it features some of the best musicians anywhere." 'Of the Moment' does have some stunningly powerful tracks.'Do Right By Her' is almost chillingly painful and honest. It is performed with real passion by Sam. She is supported on the album by Herbie Flowers, one of the best bassists in the business with the hauntingly beautiful clarinet of Julian Marc Stringle and the slide guitar of Melvin Duffy. Sam's brother Pete has produced the record. 'Show Me Your Love' is another potent, edgy, blues-influenced track, and Over the Moon provides a lighter, lyrically happy and pretty contrast. Listening to the album again reminded me of what one of the UK's top rock performers had said to me about Sam. "She has stunning stylistic range and virtuosity both as a performer and a songwriter which is a rare combination. And she is so passionate, committed and professional too". This virtuosity across a range of styles does make Sam hard to pigeon-hole. She always had the ability to transcend musical genres with ease. She could switch from silken-voiced to smoky, from soft to tumultuous and she was always too sophisticated to simply belt out a song. But did this professional versatility count against her commercially, as some commentators have suggested? Maybe some music critics are less comfortable when they can't simply assign someone to a particular slot? "Well, I always liked singing different kinds of music. And it's a shame if people have a problem with that. Musicians admire and respect versatility but perhaps it can make marketing more of a challenge. Sad if that's true, though." 'Of the Moment' was the creative response to several difficult years for Sam, personally. It was made just after the end of her marriage to record producer Robin Evans. She managed to work throughout all this trauma, and now feels stronger for suffering the whole experience. The music that emerged was positive too, and 'Of the Moment' has won much acclaim from music professionals. Yet, as several commentators have observed, such passion in music is not very fashionable in this post-modern era of irony, cynicism and smug superficiality. "I know that's true. But what has always mattered to me is touching people with my music. I would rather a hundred people buy an album who will connect with what I am saying than a million who don't really get it at all. With 'Stop' which sold almost three million internationally and was A & M Records' biggest ever success, one of the horrors of the promotional circus for me was the huge volume of fan mail. Because almost none of it ever mentioned the music. To most fans the celebrity aspect was everything. All I wanted was to reach out to people with the best music I could make; to really connect with them in a way that means something. 'Stop' was a good song and a huge commercial success but it never really achieved this. "I believe my third album, '43 Minutes', which I wrote when my mother was dying in 1991, was a far better work. Yet at the time it was a commercial catastrophe, only selling 4,000 copies initially. I bought back the rights from A & M who said the album was 'creatively brilliant' but would be 'commercially disastrous'. My brother Pete did a superb job of producing that album. Now it is seen as almost a collector's item - though it is still available. And some of the biggest names in music have lavished praise on it." And what happened to Sam's second album, 'April Moon'? "Well, A & M did release that one. But the band and I used to act a bit outrageously sometimes, back then. And one day we managed to moon Jerry Moss who ran A & M with Herb Alpert. American record executives don't always see the funny side of things or appreciate a bit of British bawdiness. And, from that moment on, A & M didn't really push 'April Moon' - yes, I see the irony in the name - as hard as they might have. It did okay but was never in the same sales league as 'Stop' had been." Is Sam still outrageous? Sam's blue grey eyes twinkle momentarily. "Only in a rather low key way, I'm afraid. I do say what I think though. And I like the occasional glass or two of wine or a gin. I have never smoked cigarettes or been much interested in drugs. I am probably too busy being a mum (to daughter Vicki, now 20 and son Mohan, 19) for too much outrage." Has Sam enjoyed being a mum? Sam's face softens. "Yes, I really have. One of the best things about having to rest my voice and not tour is that I got to spend more time with my children. I enjoy family things. I like to knit, cook, do the garden and am surprisingly domesticated really. Both my children are musical. Mohan sings and plays guitar and can also play drums – he has made a few records and videos plus performs locally quite a bit...look out for Mo Evans. And Vicki can piano and guitar. They've both written songs too. Though Vicki is now a professional photographer, Vicki Rose Evans. I think she'll definitely opt out of a professional musical career. But Mo may well go that route. He's very good and seems keen to go for it. We'll have to see. When I had to take a break from working, it was great having more time with the two of them to do ordinary things though. Like walking through the beautiful woods near here. I have really valued that." Was Sam a firm disciplinarian? "I was soft, actually. Well, I think I was. I do believe in some boundaries, though. And in open discussion and mutual respect. The main thing is that children are happy and confident in themselves. When I left my husband after fifteen years together, we were living in rural Scotland. We had a perfect house and our own commercial recording studio. It should have been an idyllic existence, but it hadn't quite worked out like that and Robin and I had fallen out of love. The move away was tough. But we all got through it, and Robin, the kids and I have a good relationship now which is important for everyone. I am pleased Vicki and Mo can see more of my own family now too. My dad and his second wife, her two daughters and my brother Pete and his wife and children all live quite close by and we do spend time together. My foster brother Richard Newman lives locally with his family in another local Oxfordshire village too." Although Sam left home at 17 to find her own way with her musical career, she works closely with both her brother and her dad now. She has sometimes toured with them. "And I really enjoy it. But when I was young I didn't get on particularly well with my dad. Despite his friendly cockney stage image he was a strict father with old-fashioned values. He has mellowed now though, and we have a strong relationship. Music has drawn us together too. I have the greatest respect for what he has achieved. Like me he has never had much interest in fame. It is just the price you have to pay for performing live which is what all good musicians live for. Sometimes though I do wish my dad had more recognition. He's achieved so much in fifty-five years in the business. He's composed some beautiful songs, starred in West End musicals and is accepted by many in the music world as one of the country's best guitarists. He does have an MBE and has won some awards. Yet, because he is so unassuming in that traditional working class British sort of way, the wider public are not aware of the great talent he has." Like most artists, Joe Brown has been known to make some errors of judgment over the commercial potential of songs. Perhaps the best example was just after Sam was born. The songwriter Trevor Peacock, later better known as the actor who played Jim Trott in 'The Vicar of Dibley' TV series, wrote a song 'Mrs Brown, You've Got a Lovely Daughter'. He was keen for Joe to record it as a celebration of Sam's arrival in the world. As Joe, however, told Steve Wright recently on BBC Radio 2, he felt this was all a bit "naff", and that the song wouldn't ever sell. So, Herman's Hermits recorded it instead and immediately achieved their first US number one with it! Sam grins at the story. Did she ever reflect that as a new born baby she had in a way been responsible for a huge hit in the USA? "Yes, well, the story is true. I had forgotten about that. Not one of Dad's better judgments. A shame for him!" How was it being raised in a music family? When Sam was a child both her parents were household names. What was that like? "Well, they were away a lot touring so we were largely raised by nannies. Though I saw quite a bit of my dad's mum, Ma Brown. She was a real character; six feet and an inch tall, a staunchly working class Londoner, tough but with a heart of gold. She had run a pub in the East End. The singer Billy Fury used to lodge with her in the 60s. She took pity on him because he was so homesick for Liverpool." "My mum was more like a good friend to me in many ways. Occasionally my mum and dad would be outrageous and crazy, like firing cap guns at each other. They had a deep relationship though. There were always musicians around when we lived near Chigwell in Essex. But when I was 11 or so we moved out to Oxfordshire. Despite the grotesque cartoon image many people have of rock musicians as riotous and disreputable, actually most of them I have known have been gentle and caring with real insight into human nature. There are always exceptions, and excesses of drugs and drink obviously cause problems sometimes." "One of the best things about my childhood was that it showed me that making a living from music was not some impossible dream. It could be a reality, provided you worked hard enough and committed totally to it. That gave me a basic professional confidence from a young age though I still had to face the world and develop my own musical style. Later it was a shock though to find other people believed the way you looked was so important. In my family the music came first, always. Image was not something people cared about much." Looking back, does Sam have any regrets about her younger years? "Not many. My brother and I went to a posh private school in Essex. With our strong London accents and working class attitudes we stood out a bit, but it wasn't too bad. I had passed my 11 plus exam a year early, and when we moved to Oxfordshire I went to a state school. Again my brothers soon joined me. I have no memory of being bullied or teased about our parents' career. In fact I made some good friends. School work was always easy for me, but I was involved in the Jack Good TV show 'Let's Rock' and doing some session work singing with my mum. I was also invited to perform as a vocalist with the National Youth Jazz Orchestra and I toured in Turkey with them. So, sadly, I missed out on quite a few lessons. I also regret not reading more. In fact just a few years ago I started to read myself through some of the classic English literature. I do envy those who are better read than me." Did Sam shine in music at school? "No, not particularly. It really isn't very well taught in Britain - or it wasn't in my day. I have been a patron of the London Vocal Tech School for college age students, and I've done some occasional master classes there. It is good to see music being taught well. I have also done a master class in Russia, arranged through the British Council. I do enjoy doing that and hope to do more in the future, if there is ever the time." Looking ahead, what ambitions does Sam still have? "There are so many things. I've sometimes imagined I'd like to go to a good music college myself and study the piano and singing properly, formally. Another wish is to learn about the psychology of musical performance. What works and why and whether and how commitment and truth in a performance can be detected by an audience. I do find all that fascinating. There is just so much I'd like to learn about so many things." What are Sam's own favourite album tracks? "That's easy. I'll give you three. 'Stay with Me' by Lorraine Ellison; 'In Germany before the War' by Randy Newman and 'Blame It on the Sun' by Stevie Wonder." And her major influences? "Funnily enough, I think my main singing influence was Stevie Wonder. But I liked Thelma Houston, Kate Bush and, sometimes, Blondie. And of course Aretha Franklin." Sam has been called "the white Aretha Franklin". I mention that I'd recently been told that in the UK charts, Sam's single 'Stop' actually outperformed Aretha Franklin's biggest (1968) UK hit 'I Say a Little Prayer'. "Did it really? Well, it is flattering even to be compared with Aretha. She is such a huge talent." Has Sam suffered embarrassments or made major mistakes over the years? "I'll tell you one. I opened a performance at a women's prison with one of my favourite songs called 'One Candle'. It is from my '43 Minutes' album. That was an error. With that title it got a pretty ribald reaction!" And working with all those top rock performers what are the best tips she has been given? "Again, I can think of three - 'Never apologise and never make excuses' from David Gilmour.'Remember you are there to entertain, not to educate' from my dad. And, most important of all, 'You must always be able to believe what you are singing' from my mum." And what matters most professionally? "Self-respect. You must be happy with what you are doing and have the confidence to do what you believe in". And personally? "Don't be too self-important. We are all just specks of dust. And try to take the time to be kind to others. Plus remember the power of music to do good in the world." The top two photographs that accompany this article were taken by Vicki Rose Evans, and the bottom photograph by Amanda Brown. For more information about Sam Brown see www.onecandle.co.uk and also www.thefabulousukuleleclub.com.
Article Links:-
http://www.onecandle.co.uk
http://www.thefabulousukuleleclub.com
Band Links:-
http://www.misssambrown.com
https://www.facebook.com/MsSamBrownSinger
https://en.wikipedia.org/wiki/Sam_Brown_(singer)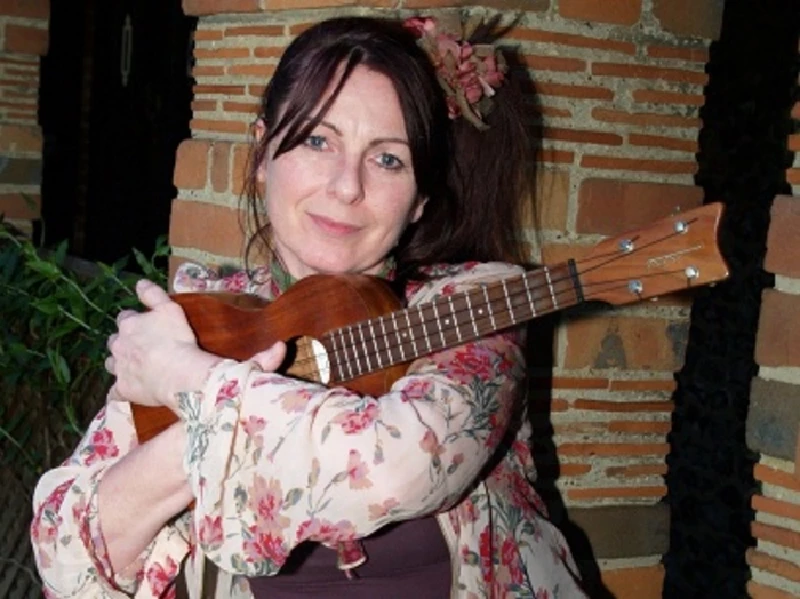 interviews
---
Interview 2008 (2021)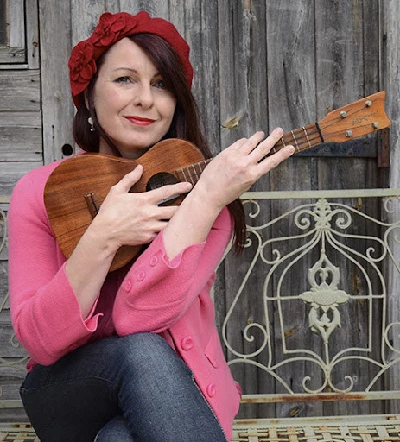 In this 2008 archival interview, which she believes to be definitive,, renowned singer-songwriter Sam Brown chats to Nick Dent-Robinson about some of the highlights of her thirty year career, including working with George Harrison, Jools Holland and Pink Floyd, the massive success of her 80's single 'Stop' and her then recently released fourth album 'Of The Moment'.
Interview (2014)
Interview Part 1 (2014)
Interview (2012)
related articles
---
Pete Brown: Interview (2015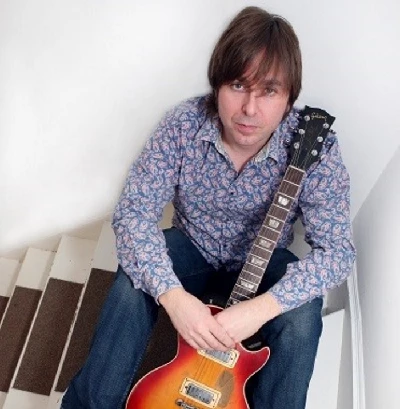 Nick Dent-Robinson talks to acclaimed producer and musician Pete Brown, who is the son of Joe Brown and the brother of Sam Brown, about his acclaimed new band the NewGrass Cutters, who play bluegrass covers of classic rock songs
Pennyblackmusic Regular Contributors
---