---
Clash
-

Ten Songs That Made Me Love
published: 29 / 10 / 2020
---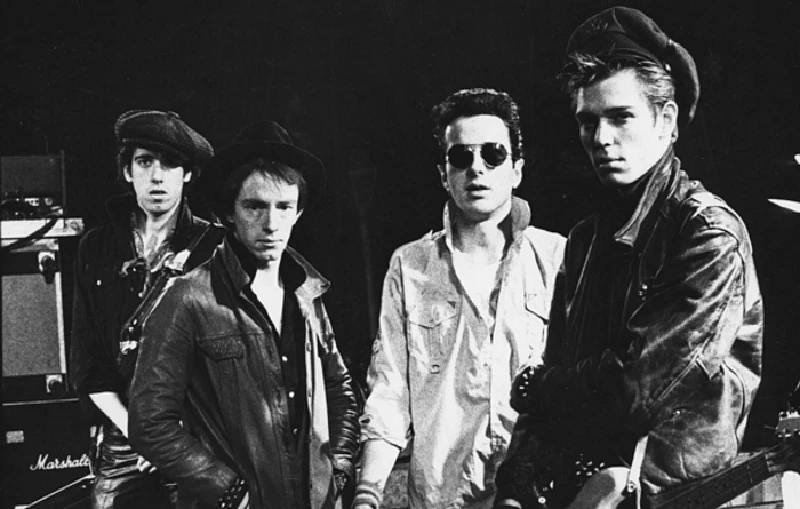 intro
Eoghan Lyng selects tracks by punk legends The Clash for this month's edition of 'Ten Songs That Made Me Love...' Following the band's progress, the cuts chart the outfit's progress from London upstarts to their incorporation of many of the musical trends that came to define the 1980s.
Writing this piece was tricky. Adequate wasn't good enough; satisfactory wasn't good enough. This piece, much like its subject, had to matter. That The Clash created a back catalogue that mattered, matters and will always matter, in the timespan it takes someone to complete a University degree isn't just impressive: it's extraordinary! The Clash's story is filled with extraordinary moments. There's the extraordinary night novice singer/songwriter Joe Strummer met Bernie Rhodes and Mick Jones to start a group; there's the extraordinary guitar sound that explodes from '(White Man) In Hammersmith Palais'; then there's the extraordinary manner in which The Clash fused reggae to their raw rock sound. Extraordinarily for a three-guitar band, The Clash sounded exponentially better once Keith Levene left the outfit just as the addition of chameleon drummer brought speed to a band who were already firing on zestful, anarchic energy. Early albums 'The Clash' and 'Give 'Em Enough Rope' sought to define punk rock; later albums 'London Calling' and 'Sandinista!' set out to distort. 'Combat Rock', a flaming record finished amidst creative differences, stylistic changes and heavy drug usage, could not compete with these earlier efforts, but it too proffered some dazzling moments of fertile ingenuity. By that time, tensions had caused Headon and Jones to leave the group, with just the ever-idealistic Strummer and Paul Simonon to carry the band's unbridled sound on their own. Many of their concerts were staggering, but without the band's most proficient musicians, The Clash were forced to use many of the flavourless studio devices that had so robbed the eighties of any sense of discernible character. For an outfit who excelled in their characters, such a misdemeanour might have robbed them of an album, but couldn't stop them recording one of this writer's favourite tracks. There are nine others to join it! 1. 'White Riot' ('The Clash', 1977) Purportedly written by Joe Strummer after partaking in the Notting Hill Carnival riots in 1976, the track's pounding energy was one that matched the intensity of an angry counter-cultural movement. Anger was the drug that fuelled the punk movement, and it was an emotion that resonated so violently with a young Britain searching for their newly established voice. The song – a liberal repudiation of the kind of falsities that the working classes were forced to wear in daily life-draws its strength from the rollicking energy that burns through the track. Counting his bandmates in, guitarist Mick Jones plays of a more supporting role, blasting listeners with sharp, clear licks that reverberate through the raucous bridge. Because then it's back to Strummer, leading his comrades through the dirty, downtrodden London with his kaleidoscopic vision. 2. 'Safe European Home' ('Give 'Em Enough Rope', 1978): By their second album, The Clash's definitive line-up was in place and the album benefits from an exhibition of muscular and inventive drum patterns. Although undeserving of the 'Tory Crimes' moniker the other members threw at him, Terry Chimes' percussion work could only take the group so far into their career, and he was duly booted from the band. Enter Nicky 'Topper' Headon, a powerhouse player whose technical proficiency furthered the band's ambitions, causes and philosophies. Driven by the urgency of the fiery guitars burning all around him, Headon throws himself into the groove with angry, angular abandon, essaying a soundscape that only gets more and more exciting as the song progresses. 'Safe European Home' remains Headon's most exhilarating drum performance, channelling a thunder comparable only to the mighty John Bonham. Led Zeppelin might have left an imprint on the drummer, but the Clash's bassist held them with great disdain. "I don't have to hear Led Zeppelin," Simonon gloated. "Just looking at their album covers makes me want to throw up." 3. 'Stay Free' ('Give 'Em Enough Rope', 1978) 'Give 'Em Enough Rope' is surfeited with thunderous rockers aching for the wide American stadiums the quartet were loathe to play. Then, in among their thunderous epics and polemically charged epics, The Clash produce their first unexpected pop gem. Guitarist Mick Jones sings this one, and does so with polish, poise and a certain degree of panache. Clocking in at less than four minutes, the song still manages to celebrate the lithe Robin Crocker, a rebellious classmate with whom Jones had grown up with. Strangely Crocker, now The Clash's roadie, nearly cost them the opportunity to work with the venerable Sandy Pearlman when the pair crossed swords at a backstage concert. Pearlman, if not a shrewd judge of character, was a tremendous sounding board, and brought with him a pedigree that served the London quartet on their excellent second album. Wisely, Pearlman chose not to smoulder 'Stay Free' with fiery overdubs, and the choppy, almost Mott-like rocker, sparkles with effortless, infectious energy. 4. 'London Calling' ('London Calling', 1979) Joe Strummer considered this song his dissertation on the human spirit in the face of impending nuclear war, and with lines such as " The ice age is coming, the sun's zooming in, meltdown expected, the wheat is growing thin", the implication was geographical as well geopolitical. Behind these zingers, Strummer's bandmates perform with the tenacity the pounding song deserves. Take Jones' galloping guitar patterns, thundering along to Headon's clear, punchy beats; Simonon's slick bass solo, rushing headfirst with the mighty, metallic guitar licks that carry him; or the brilliant, Beatles-eque harmonies, each voice relishing the chance to tear down the band that had so defined the nineteen sixties with false sense of propriety. Indeed, this rapturous track remains the group's best loved record for a reason and continues to pop up in a million unlikely places. Somehow 'Die Another Day' – Pierce Brosnan's nadir as Ian Fleming's famous sleuth- shoe-horned the energy charged rocker during Bond film's artful montage. Faced with the cruel, cold weather London will bring to him, James Bond is comforted by the lithe, lilted comfort of a lady's raised eyebrow. She's no Roger Moore, but she is (his daughter) Deborah Moore! 5. 'Rudie Can't Fail' ('London Calling', 1979) By 1979, the punk shackles that had kept The Clash bound to their three chord philosophies were broken, liberating the four piece to explore newer forms of musical expression. The work, truthful as it always had been, now made a stylistic shift towards autobiography, as the band displayed themselves with every naked inch of themselves through many exciting song choices. Paul Simonon decorated the Brixton streets with a venom that could only come from life experience, Strummer slammed the many sixties rock stars who declined the opportunity to die on their proverbial sword; while Mick Jones-less obviously political in nature to his bandmates, saluted the Spanish soldiers in their quest for peace. Between these anthems came the jaunty 'Rudie Can't Fail', the quartet's greatest tribute to reggae music and a number that offered each member their own chance to shine. The chord changes, bass patterns and crystal, choirboy vocals are some of the many components that add to the song's euphoric, transcendent nature, revelling in a buoyancy not often heard on a late seventies British rock album. 6. 'Lost In The Supermarket' ('London Calling', 1979) Jones sings this beautiful number, capturing a loneliness unheard of in the world of punk. Jones' sullen, sombre upbringing and commitment to the song's painful message has led many to believe him the tune's sole writer. In fact, 'Lost In The Supermarket' was almost entirely written by Strummer, who imagined his partner's early childhood through the lens of a lowly, lithe shopper. However flattered, offended or indifferent Jones felt by the gesture, it scarcely worried the listeners. With its crisp sound, sparkling guitar patterns and general sense of despondency, the song showed The Clash as a rarity among the post-punk echelons. Mercurial to the last, the group nonetheless prided themselves as craftsmen, eager to avoid the meandering, indulgent art projects that had sickened them during the seventies. Rather than feed the audience an orchestra, The Clash wisely let the drama unfold by itself, and the song-ending as it does with a gasping final guitar note-is all the better for it. 7. 'Ivan Meets G.I. Joe' ('Sandinista!', 1980) Pioneers in almost everything except (oddly) mass commercial success, the four piece had successfully redefined the punk idiom on their 1979 masterpiece 'London Calling'. Artistically fulfilled from a triumvirate of spiky guitar records, the band could now hurl themselves into the throes of complete spontaneous expression, with many startling results. After years of toil, the undying faith invested in them by their fans and managers was beginning to take off, and the four-piece were eager to reward everyone with a sprawling collation of eclectic material. The Clash had a versatility to them their punk rivals could only envy, and on this – one of the most exciting triple albums of the modern era – the band used the opportunity to showcase their familiarity with soul, calypso, dub, jazz and what just might amount to early rap. Then, in among their ambient sound collages, funk jams and batty Eddy Grant covers, The Clash drop their first unexpected disco gem. Constructed around a pounding drum pattern, Topper Headon lunges into the microphone and delivers his first lead vocal on record. Ringo jokes be damned, Headon sings it very well, having invested much of himself into writing the music (Strummer, as ever, wrote the lion's share of the words, but the characteristically generous songwriter offered Headon the chance to sing them). The band as a whole throw their back into the pummelling ballad, with Simonon's bass locking nicely into the groove Headon creates, while Jones's playing is the epitome of brutal economy. Somewhere within the three-minute track, the group finds time to introduce a barrelhouse piano, the instrument of choice for Headon's self-penned 'Rock the Casbah' the following year. 8. 'The Crooked Beat' ('Sandinista!', 1980) Bassist Paul Simonon was always the Clash's most handsome member, the best dressed member and the person who held his principles with greatest fervour. His contributions to the group were many – that's him thrashing an instrument on the 'London Calling' cover – but none proved greater than the lifelong fondness he had for reggae. "Guns of Brixton" cemented him as band doyen of the genre, but "The Crooked Beat" is the more noteworthy composition. With its louche, laid-back sound, and stark, powerful bass performance, this particular track makes no effort to sugar coat the fire that boils from a genre that owes almost as much to Simonon, as Simonon did to it. Apposite for a genre that prides the rhythm section more than a frontman, Headon's snare drum rolls feature high in the shrill, stormy mix. 9. 'Straight to Hell' ('Combat Rock', 1982) The writing was on the wall when the band came together to record their fifth album in November 1981. Bored by what he regarded as "boring professionalism" from managers Blackhill Enterprises, Strummer urged his bandmates to welcome their former colleague Bernie Rhodes back to the fold. Simonon, eager to return the quartet to their more anarchic roots, welcomed the decision, but Jones – now their de facto musical director – prevaricating, before expressing his displeasure at Rhodes' involvement. More than that, Jones had a very different vision for 'Combat Rock', involving longer, dancier mixes than the punchier tracks that were inevitably released in 1982. The newly bolstered and toughened-up sound heard on the album stood at odds with Jones, who'd painstakingly mastered the beefier first mix himself. Designed for a single release, 'Should I Stay Or Should I Go' nevertheless betrays much of the pain Jones felt at this unfortunate point in the band's trajectory. Glyn Johns had taken over as producer, much as he had for The Beatles during their fractured 'Get Back' project. Johns' meticulous work ethic stood at odds with The Clash's more bohemian methods, but professional to the last, both teams put any differences aside to proceed with the biting, but effortlessly commercial, product. However, he felt about the product Jones felt slighted by the process and the album did little to salvage his broken relationship with writing partner and bandmate Strummer. Behind these trappings, then there was Headon's rising drug habit to consider, an addiction which had shattered much of his band rapport and impeccable stickwork. By the time the outfit had readied themselves for their world tour, Headon had vacated the drum stool so that Terry Chimes could sit in it. Chimes tenure was brief, and his departure was soon followed by Jones himself. Much as they had in the beginning, Strummer and Simonon carried the name forward with fire and spirit leading them on, but without Headon's patterns to support them or Jones' melodious guitar work to decorate their mantras, the duo found it harder to translate these ideas to record. Which is what makes 'Straight to Hell' even more extraordinary to listen to, when you realise this was one of the last times these four men could record together. Plastered over Headon's choppy drumbeat, the band serenade over a series of excitingly charged rhythms. Jones, relishing the opportunity to play psychedelic guitar, soundscapes the listener with a series of hypnotic patterns, cementing Strummer's foreboding vocal with surefooted authenticity. Between these men is Simonon, still as impossibly handsome but as strikingly economic as he ever was. It's the most astonishing song The Clash committed to record. 10. 'This Is England' ('Cut the Crap', 1985) "My five years with The Clash were just too intense", Strummer explained to 'Hot Press' in 1999. "After releasing 16 sides of long-playing vinyl in that time, I'd had my say. Imagine it was a party and I'd been talking for five days and five nights straight. At the end of that anybody would go, 'Wooo, I need a breather'. When you're young and your group takes off, you don't really have any life experience. I'd had a bit more than the others 'cos, y'know, I'd worked as a gravedigger and a toilet-cleaner, but there were times when I forgot what the world outside rock 'n' roll was like." Tellingly, Strummer had politely chosen to omit 1986's maudlin 'Cut The Crap' from the above interview, and with good reason too: it's barely a Clash album. Simonon plays on little of it, Jones none of it, while drummers Chimes and Headon were unceremoniously replaced by the robotic precision of an eighties drum machine. And so it has become known for many, including Strummer, that this album is more solo record than band record. Strummer couldn't have chosen a more apt title – the album really is crap! But nothing Strummer produced, inside or outside of the band, lacked merit, and for one dazzling moment, Strummer resurrected the germ that urged him on so courageously in the late seventies. Decorating The Clash's codicil with triumphant pictures of steelworkers, protestors and motorcycle riders, Strummer leads his listeners to their legendary sunset, understanding how much the audience and singer had benefited from each other on their journey to completion. He didn't need to reference Sinatra to let the world know he, Jones, Strummer and Headon had done it their way!
Band Links:-
http://www.theclash.com/
https://www.facebook.com/theclash/
https://twitter.com/theclash
https://en.wikipedia.org/wiki/The_Clash
Play in YouTube:-
favourite album
---
Sandinista (2003)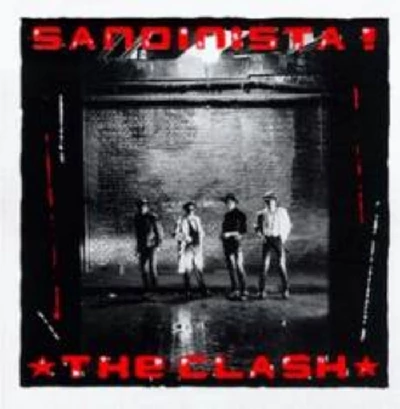 In the last of our Favourite Albums series, in which a different one of our writers each month writes about an album of his or her choice, Richard Mather writes about the impact on him of the Clash's controversial triple-album, 'Sandinista'
features
---
The Image That Made Me Weep (2020)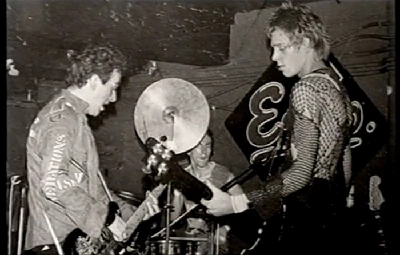 In the first of our new series 'The Image That Made Me Weep', in which a different one of our writers or photographers will be reflecting on a favourite photograph, Andrew Twambley writes of a photo taken at a life-changing Clash gig he attended at the legendary Liverpool venue Eric's.
Pennyblackmusic Regular Contributors
---