---
Miscellaneous

-

Ten Songs That Made Me Love...
published: 6 / 11 / 2019
---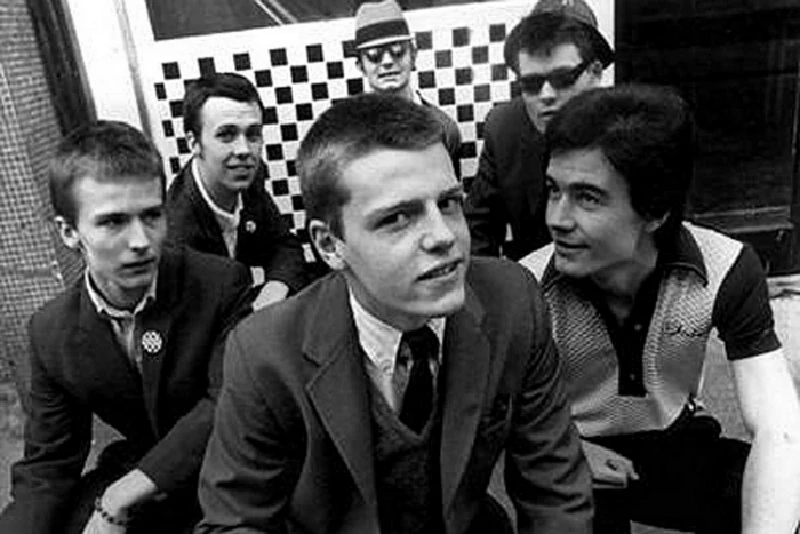 intro
Fiona Hutchings in 'Ten Songs That Made Me Love...' takes us on a tour of the records that mean the most to her from 1979, the year of her birth.
In the final year of the 1970s Margaret Thatcher became Prime Minister, Madness launched their career with their first single and my mother launched me in to the world. I'll leave you to rank those events in order of importance. My older brother was (and still is) a decade older than me so thanks to him and his record collection I can't remember a time I wasn't listening to music, making mix tapes using songs I 'borrowed' from the radio and mentally creating videos for every song I loved. A few years ago I ran a series on my blog where lots of different guests wrote about their all-time favourite albums. Unbeknownst to them they pretty much all confirmed a suspicion I had that your most important musical discovery typically happens in your mid-teens. My choice was actually a free 'Q' magazine 80's complication which included the first Madness track I ever owned. On that basis surely I should pick 1995 or 1996, my husband commented. But while I don't quite remember hearing these tracks first time around, I identify and remain very attached to much of the music that appeared at the same time I did. Madness/The Prince My favourite nutty boys are celebrating their 40th birthday this year too. I've suggested a joint party but I haven't heard anything back from them yet. This, their first single, preceded me by five days. I like the fact that Madness were waiting for me from the start. This is summer and dancing (at a more sustainable pace than required for their next single 'One Step Beyond'). It's about unashamedly loving music and singing along with your mates, misbehaving but in a fun way and not taking anything too seriously. Buggles/Video Killed the Radio Star I was a child who spent several years listening to the radio in her room for very large swathes of time. I heard many songs for the first time with the crackling Tandy speaker pressed to my ear, under the covers, with the music turned up as loud as I dared (ie just about audible). 'Video Killed the Radio Star' stands out. It was a song I so clearly remember hearing for the first time. After all I really was 'intently tuning in' and loved my radio above pretty much everything else. I wasn't getting much access to a TV so ideally I needed video not to kill the radio stars. Even now, several *cough* decades later, I can still remember that feeling of discovering something fantastic for the very first time whenever I hear this song. Pink Floyd/Another Brick in the Wall The idea of not needing no education scandalised me. The sound of a load of kids singing on a record surprised me. The basic rhythms eventually broken down into a soaring solo seduced me. Split Enz/I Got You Crowded House certainly had their moments, even if those moments were often played too often for me to really love the songs after a while. Split Enz will always be the Brothers Finn's finest project. The sound is spiked and staccato, it needles you through the verses before becoming fractionally smoothed out for the plaintive chorus. As is sometimes the way with late 70s/ early 80s new wave, it still sounds fresh. Queen/Crazy Little Thing Called Love Ah, Freddie, in his leathers, dancing with ladies and posing on motorbikes. A rockabilly throwback during a time of punk and new wave. Where members of the band's crew, trapped under a wooden stage, stuck their hands through holes and tried to clap in time to the song, all the while drinking the bottles of whisky they'd brought with them to kill the hours between shots. Video-wise it might have been something of a departure but like so many Queen songs, it has basically been stuck in my brain since birth. Meat Loaf/Bat Out of Hell This is thundering, overblown and alongside his long hair and velvet jacket Mr Loaf sings while clutching a lacy hanky to mope his fevered brow. For all these reasons and more I love this song so much. It also made hell sound like a place with much more potential for fun than the fire and brimstone version I was being instructed in by my father. The only thing that could have improved this song is it it had been released six months later than it was but as it was. I've never got bored of this song, I've never stopped refining the ultimate "motorcycle crashing in a blaze of fiery glory" video I've got in my head for it. And I've never stopped loving Meat Loaf for taking the piss out of himself in Wayne's World, his turn in Fight Club and being so very, very lovely to his fans. Cure/Boys Don't Cry Before anyone gets upset, this single was originally released in '79 even if the 'New Voice - New Mix' 1986 version with the video is the one people are more familiar with. This song fascinated me when I was small. I was familiar with the idea that boys didn't cry (and girls were overly emotional) but it sounded to me like this particular boy did want to cry and that he might even be crying a little bit right now. And then I saw Robert Smith for the first time. His look just meant I couldn't look away. The bird's-nest hair, the smeared lipstick and the almost painfully shy man who styled himself in such an eye-catching way. Squeeze/Cool For Cats When I was still quite small I thought this song was about actual cats. When I was 13 it was used in an ad campaign for milk which I thought made sense until I realised cats can't have cows' milk. By the time I was 15 I finally figured out where giving a dog a bone for in to the overall narrative. It's never not made me dance, though. Boomtown Rats/I Don't Like Mondays On one hand I'm so phobic where rats are concerned that even typing the word makes me feel slightly unwell. On the other hand it is not just a timeless song that captured my imagination the first time I heard it, it was also coming to the end of a four-week stint at the top of the charts when I was born. Another three days and it would have been Cliff Richard. I'm married to someone who was born when Xanadu was number one, and one of us felt much cooler than the other the day we had that conversation. Blondie/Heart Of Glass On my 13th birthday my Auntie and Uncle presented me with a cassette tape called 'Hits of 1979'. Because I was a teenager now and they wanted me to know more songs that were playing when I was born. This was at a point where no one had ever bought me an album of my own before. It contained a lot of songs I'd not heard before and a few such as the Boomtown Rats which I had. I've never forgotten that gift because it was so unexpected but so perfect. When my own eldest reached the same age I got her a compilation of songs released in her birth year too. Not going to lie, I think I got the better deal quality-wise. Debbie Harry always sounds hypnotic to me. Also this song included the words "pain in the ass" which I thought was very risque, little did I know. When the tape eventually snapped, it was due in part to me rewinding and replaying this song so much. I knew exactly when to stop KC and the Sunshine Band on side one so I could flip over to the alien-sounding opening bars of Heart Of Glass on side two. More than any other track this is the one that always reminds me of getting that album.
Play in YouTube:-
Pennyblackmusic Regular Contributors
---