---
Jeff Buckley
-

Ten Songs That Made Me Love...
published: 10 / 4 / 2016
---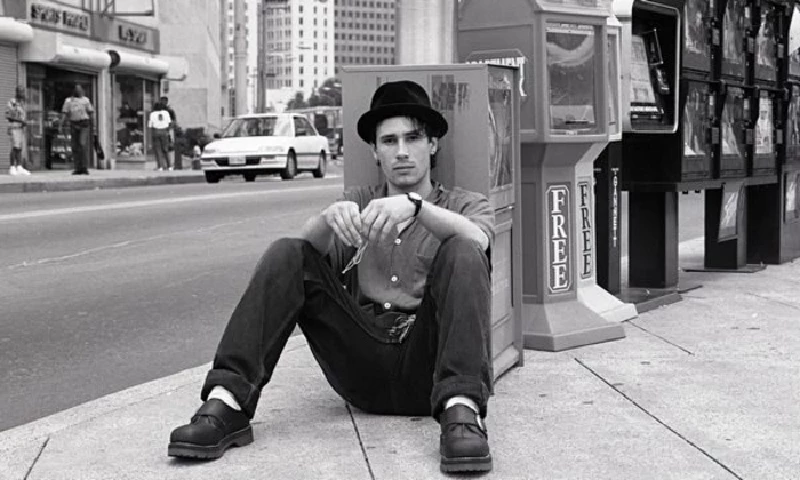 intro
Adrian Janes in 'Ten Songs That Made Me Love...' reflects on his ten favourite songs by Jeff Buckley
As a Tim Buckley fan of many years' standing, news in the early 1990s of a son named Jeff who was also musically gifted was exciting, yet carried the danger of ultimate disappointment. As he well knew, those who remembered his father (who at the age of 19 left his wife and baby son to pursue his budding career) would find the temptation to make comparisons all but irresistible. Jeff himself seemed conflicted, often playing down the connection publicly yet seizing the opportunity to appear in the tribute concert,'Greetings from Tim Buckley' in 1991 at St Ann's Church in New York, which at the same time, served to announce him to the local music scene. That he was able to perform several songs that night both strengthened the connection and suggested close study of his father's work. With a tragically short recording career which centres on one supreme album, picking ten Jeff Buckley recordings would seem to draw upon a limited field, however, there are some other sources which show both the promise that preceded the recording of 'Grace' and suggest the prospect of further greatness to come. 1. 'How Long Will it Take?' ('Songs to No One 1991-1992', 2002) Buckley met guitarist Gary Lucas at the St Ann's concert, and they subsequently collaborated under the name Gods and Monsters. This is a live recording by the duo from CBGB of Pat Kelly's 1969 hit. Retaining a reggae undertone from the original, Buckley sings with a bittersweet yearning while Lucas embroiders and fills out the sound with gently rising chords and a flurry of high notes that beautifully complement Buckley's soaring voice. Despite the song's frustrated longing for love, he also conveys something wonderfully fresh and hopeful. 2. Je N'en Connais Pas La Fin ('Live at Sin-é', 1994) By the time this EP was recorded, Buckley was already signed to CBS but this evokes his early years in New York, playing solo and gaining experience by singing anything he wanted in a venue that was essentially a café, a place which lacked even the semblance of a stage. It was as if he was consciously following the same kind of career path as Bob Dylan and other early '60s folk singers. But while Dylan would sing the folk standards of artists like Woody Guthrie, Buckley cast his net even wider, embracing a range from Dylan to Edith Piaf. Though 'Grace' made the musical ambition and elaboration of which he was capable fully apparent, when nothing else is available he can move the listener with just his high, wistful voice and delicate guitarwork, treating this nostalgic song as tenderly as a lover. 3. Grace ('Grace', 1994) Opening with a beautiful rippling riff, the title track of 'Grace' (which like its opener, 'Mojo Pin', was co-written with Gary Lucas), moves into a strongly strummed, acoustic-led tune. While Buckley begins in a low register, this song showcases his ability to move between and beyond moods, building and building until it reaches an utterly thrilling climax of soaring strings, athletic drumming and the mysterious, passionate incantation "Wait in the fire". He abandons himself to the music and sometimes even words themselves for screams and exultant yelps, his vocal delirium owing a lot to his study of the Pakistani devotional singer Nusrat Fateh Ali Khan, whom he called "my Elvis". It never ceases to astonish and excite how he can so lose himself in the music, before the song is brought to rest on one final expertly pitched vocal phrase. 4, 'Last Goodbye' ('Grace', 1994) It's been suggested that this song is Buckley's farewell to Los Angeles before his move to New York. Equally it can be taken as a summing up of a failed romantic relationship - it's certainly imbued with the deep feeling that is more likely felt for a lover than a location. Founded in a folk-rock manner but with particularly muscular drumming, the touches of Indian-style orchestration also make it a good example of how his world not only moved between West and East Coasts but also, more significantly, musically blended the global West and East. 5. 'Dream Brother' ('Grace', 1994) One of the miraculous aspects of 'Grace' is how within a relatively short space of time Buckley went from playing solo in places like Sin-é, to building a deep musical understanding with the two inexperienced players, bassist Mick Grondahl and drummer Matt Johnson, in order to make his richly varied album. Nowhere is this better demonstrated than here, from its opening, the restrained interplay of guitar, bass, drums and tabla to the collective crescendos that build beneath Buckley's anguished voice, "Don't be like the one who made me so old/ Don't be like the one who left behind his name/ 'Cause they're waiting for you like I waited for mine/ And nobody ever came". The emotion of the singing and the directness of the lyrics make plain the continuing sense of hurt at being abandoned by his father in one of his most affecting songs. 6. 'Hallelujah' ('Live at the Bataclan', 1995) In some ways I wanted to avoid this, as being too well-known and predictable a choice, if anyone knows one Jeff Buckley track, it's surely this. Certainly the 'Grace' version of Leonard Cohen's song (albeit derived from John Cale's interpretation) is a beautiful creation. This one may not be as perfect, but the reverent hush for Buckley, alone with his guitar, is touching and made all the more so when he stops singing and the audience become a congregation as they softly chant the chorus. It's a moment of realisation of that same inseparability of secular and sacred, conveyed by the Biblical and sexual images of Cohen's lyrics. There's an extra reason for picking this particular version, as a reminder of the Bataclan as a place of music and joy, unvanquished by the purveyors of pious violence. 7. 'Lost Highway' (The Legacy edition of 'Grace', 2004) Something about the sound of a slide guitar automatically awakens images of an older, rural America, one of dust, baking sun, the Depression and the blues. By coupling his sharp slide playing with a Hank Williams classic, Buckley links himself into that history, his voice cracking and rougher-edged than is often the case, aptly evoking the hard-bitten traveller gone wrong on life's road who now bitterly regrets his choices. 8. 'The Other Woman' (The Legacy edition of 'Grace', 2004) Buckley's range spans several octaves. This, with an attitude that reversed the Rolling Stones' dictum of 'The Singer Not the Song', meant that he had the ability to credibly sing songs popularised by women and drawn from a female sensibility. Originally performed by Nina Simone, his version of this song, with its theme of feeling defective by comparison with another, more attractive woman, not only makes you feel he understands its pain from within - he makes you understand it too. 9. 'Eternal Life' ('Mystery White Boy', 2000) Although 'Eternal Life' was already one of the heavier contributions to 'Grace', over the ensuing period of touring, Buckley and his band, now including guitarist Michael Tighe, grew in mutual confidence and made it even more so. The sound is like a collision between Led Zeppelin and Bad Brains, or simply their own slant on contemporary grunge. If the studio version is fiery, the blazing guitars and paint peeling vocals on this concert rendition from Melbourne in 1996 make it incandescent. 10. 'Everybody Here Wants You' ('Sketches for My Sweetheart the Drunk',1998) Preparations for the follow-up to 'Grace' took place in Memphis. The sultry rhythm, subtle guitar licks and soft soul falsetto Buckley achieves, all suggest the Southern atmosphere seeping into this track. Coolly sensual and seductive for the most part, "Coffee smell and lilac skin, your flame in me", by the end the impassioned, string-heightened vocals confirm the fact that, though he says "Everybody here thinks he needs you", he ultimately sings of himself. The album is diffidently labelled 'sketches' as the songs were still considered to be at the demo stage. However, this track, for example, was a remix by 'Grace' producer Andy Wallace of a Tom Verlaine production, so was surely not far off what would have been the final approved version. In any event, it shows other influences intriguingly and movingly emerging, a new phase of grace. When Tim Buckley died he was only 28 but in that time had released a series of fine albums that spanned an extraordinary range of musical styles; Jeff, however, was already nearly that age when recording his great debut, 30 years old when he drowned. Possible intimations of mortality, "I'm not afraid to die" from 'Grace' itself, or "Got my red glitter coffin man, just need one last nail" on 'Eternal Life', are surely outweighed by the overwhelming feeling communicated that he lived for music and now, at last, had the chance to express it. Perhaps it's this acute sense of potential, finally getting its chance to flower, being so cruelly cut down that makes his tragedy seem the greater. But both father and son left us much music to be grateful for, and if comparisons between them are best avoided, in the end it's because they are both inimitable.
Band Links:-
http://jeffbuckley.com/
https://www.facebook.com/JeffBuckley
https://twitter.com/JeffBuckley
favourite album
---
Grace (2002)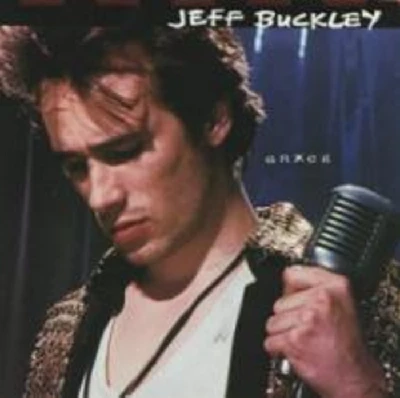 I haven't really had this album for very long, just a couple of months, but it's still up there with my all time favourite albums. It's really hard for me to find one album that I can consider the best in my CD collection, so I'm not going to call this my
Pennyblackmusic Regular Contributors
---