---
published: 15 / 1 / 2014
---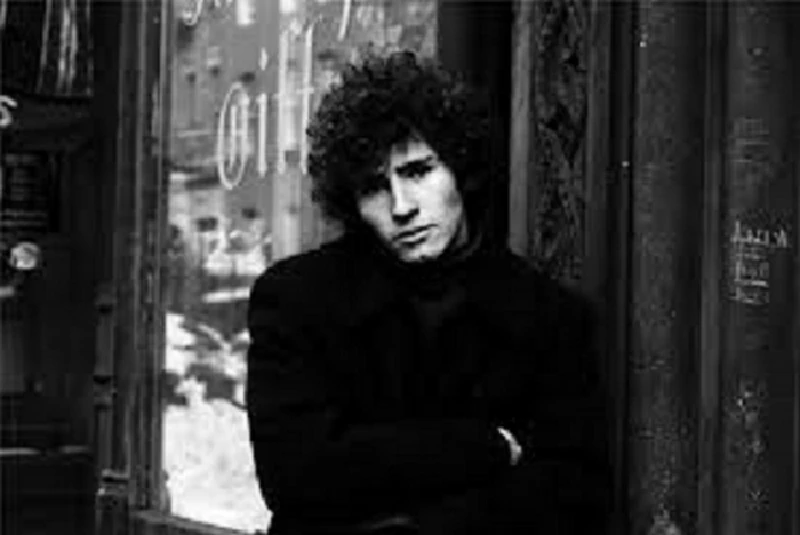 intro
In our series, in which our writers write about ten songs that made them love a favourite band or artist, Adrian Janes reflects on some of his favourite songs by Tim Buckley
Tim Buckley was born on Valentine's Day, 1947. But while love is indeed a major theme of his songs, he is no romantic in the debased sense of the word. His romanticism is instead expressed in deeply emotional singing and often poetic lyrics, exploring a universe of feeling. He matched this in his musical voracity, at different phases in his career blending folk, rock, jazz, soul and funk influences, always with that extraordinary voice commanding each new musical environment. He died of an accidental drug overdose in 1975 at the age of 28. It makes his achievement all the more impressive to realise that he had ventured so widely in so short a time. In 1991, a tribute concert entitled 'Greetings from Tim Buckley' took place in New York. One of the singers was an up-and-coming singer named Jeff Buckley, the son who Tim abandoned after a shortlived marriage.The prodigious talent he showed in his own brief life was at least partly nurtured through study of his father's recordings, and helped to revive interest in them. 'Sweet Surrender' (From 'Greetings from L.A.', 1972) Late one night in 1977, I'm listening to a special programme on London's Capital Radio called 'Johnny Rotten: A Punk and His Music'.Unexpectedly, out of the darkness a sinuous blend of Leslied guitar and congas starts to emerge, before a commanding tenor baldly declares: "Now you want to know the reason/Why I cheated on you". Over nearly seven minutes the song builds, strings shadowing a voice which manages to climb from a mood of sombre reflection through an Al Green-style tenderness to reach a peak of regret, yearning and desire, all somehow expressed at once. It produces the kind of pleasure you want to go on forever, at the same time as knowing such pleasure would be unendurable. I've listened to the song many times since that night, and remain in awe of how Buckley manages to convey so many emotions (guilt, anger, lust, sorrow and above all, a desperate hope for reconciliation) in the space of a few minutes, sometimes in fact within a few bars. But it was love at first listen. 'Once I Was' (From 'Goodbye and Hello', 1967) My next unwitting encounter with Buckley was the following year, via Hal Ashby's anti-Vietnam War film 'Coming Home'. This ballad, sung from a soldier's viewpoint, fits with sad exactitude the scene of Bruce Dern's dislocated veteran swimming out to sea to commit suicide. The words were by regular collaborator Larry Beckett; their partnership was later to be disrupted by Beckett himself being drafted.) Much of Buckley's early work is a bit too florid for my taste, but here the lyrics, music and above all the voice achieve an emotional impact that's all the greater for the restraint shown. Even at this stage his voice already more than hints at the depths it can convey. 'Come Here Woman' (From 'Starsailor', 1970) It wasn't until 1979 that I was able to buy my first Tim Buckley album, secondhand. The cover is a simple photograph of a smiling young man, head cocked slightly to the side. Nothing suggested the staggering experience to come when needle hit vinyl on the opening track. Guitars fade in, playing agitated phrases, joined by cymbals and rolling timpani, before Buckley's low-pitched "You caught me staring/So gently you tease me/Then turn away",his voice both seductive and seduced. The title phrase, with the syllables of the word 'woman' stretched out with seemingly effortless power, signals the change of the song to a sort of uptempo jazz-rock of cool guitar runs and scuttling drums. It concludes with a beautiful coda of voice and pipe organ, the third startling shift within the same song. As with so many of Buckley's songs, the underlying theme is desire, but musically and lyrically it's especially expressive of both the simplicity and complexity of love. 'Song to the Siren' (From 'Starsailor', 1970) This is probably Buckley's most famous song, as a result of the cover version by This Mortal Coil. His own is a solo effort, simply voice and effects-drenched guitar, but they are all that is needed to evoke a mood of profound yearning. And while on one hand it is using the mythological theme of the sirens whose singing could lure men to their doom, the poetic lyrics and his intimate vocal (he is singing to one siren alone) equally suggest his attempt to entice her. 'Down by the Borderline' (From 'Starsailor', 1970) I've chosen this song as a final example of the amazing versatility Buckley and band display on this album, based on outstanding musicianship. This same versatility over the course of his career is what, to me, keeps his music so fresh, but in his lifetime he alienated fans who couldn't or wouldn't accept his constant urge to try new styles. 'Down by the Borderline' has a Mexican theme, and is dominated by Buzz Gardner's blazing trumpet which Buckley's voice reflects in his high, sustained notes, while underneath Maury Baker's busy drumming and cowbell work completes the effect of especially fiery salsa. Intoxicated by sound, Buckley runs together words like "Sun beats so hot", till we're not clear where the delirium of his desire ends and that from the heat begins. 'Buzzin' Fly' (From Happy Sad', 1969) Stepping back just a year, this is a delightful love song which, with Buckley's acoustic guitar prominent, harks back to his folk roots. At the same time an increasing jazz influence is apparent, with excellent bass from John Miller, Lee Underwood's ringing guitar and David Friedman's chiming vibes: a wonderfully flowing solo from him evokes a stream running through a wood, like that in which Buckley is pictured on the album cover. Unlike later songs which are more aware of love's complications, here he can sing lyrics like "You're the one I think about/You're the one I talk about/Everywhere I go" and conveys perfectly the feeling of the first phase of a romance. The song is cleansing, a release from all cynicism. 'Lorca' (From 'Lorca', 1970) By this point, the jazz and improvisational inclinations emerging in 1969 were being given much freer rein. Although Buckley was never a band member as such, he tried to surround himself with musicians who shared his own level of ability and creativity. Electric piano and pipe organ are embedded with Buckley's sensuous, intensely romantic lyrics ("Let your woman's voice/Run through your veins"). He is the anchor around which the other players atmospherically drift, always pulling them back before the song completely goes astray. After their excursions he repeats the first lines in a higher key at the end to give a satisfying conclusion, finally plunging to rest on a sonorous "Love". 'Blue Melody' (From 'Blue Afternoon', 1969) The earlier voice of Tim Buckley is pitched high and pure, but although he never lost his range he tended, as the years went on and troubles in his career and private life mounted, to sing from a deeper place. This song, dominated by Lee Underwood's tender piano, is one of his most poignant. Whether true or not, the lyric claims that the "blue melody" is something "My momma sang to me", but this track totally avoids sentimentality. He sounds bereft and deeply nostalgic for what the song and its associations mean to him. In fact he pleads with the listener, "Won't you please send it home to me?", the song "a blue you've never seen". Or heard, come to that. 'Make it Right' (From 'Greetings from L.A.', 1972) The poetic troubadour figure that he had cut five years before is long gone by this point. Exploring the whole gamut of his sexual desires as he does on this album, Buckley here is looking for an S/M experience with a prostitute. Older and tougher, on the verses his voice is appropriately grittier, that of a man of experience. The accompaniment is that of a smoothly-produced orthodox line-up (guitar, bass, drums), but played with such energy and skill as to lift it well above the average. As with 'Sweet Surrender', this song is a tangle of emotions, a chorus of "She's gonna beat me/Whip me/Spank me/Make it right again" sung in a higher register that mixes desperation and guilt in contrast to the tough guy of the verses. By the end his voice is spiralling to extraordinary heights where the words have all but collapsed into screams and weeping, while the band, heightened by soaring strings, maintain a driving support that prevents the song from losing shape. 'Bring It on Up' (From 'Look at the Fool', 1974) The standard summary of Tim Buckley's career is something like this: early years of folk-rock promise, an experimental middle phase, and final years of increasingly desperate efforts to make a living through ever-more commercial albums which ironically also didn't sell in large numbers. There is truth in this account, but I am not so dismissive of his later work. The fascination of the 'Look at the Fool' album is precisely the audible battle between what is basically simple funk-rock material and that voice, struggling to burst out of these restrictions. So here, though starting with a soft soul vocal, he soon switches to his grittiest style, then on the chorus leaps back upwards, doing the same again on the fade-out. Perhaps it's knowing something of the odds he was facing by this point that makes me warm to songs like this. It's not his best by any means, but there is still a groove and a character to it that I cherish. Note Once in a while you discover a compilation so close to your own taste it seems you might have dreamed it into being. I recommend Rhino's 2011 'Starsailor: The Anthology', a 2 CD-set which includes almost all of the above selection as well as many other great songs.
Visitor Comments:-
689

Posted By: Adrian Janes, UK on 06 Apr 2014
Hi Geoffrey, Many thanks for your comment. I'm glad you liked the article, and appreciate you taking the time to say so.
---
686

Posted By: Geoffrey Heys, Dorset UK on 01 Apr 2014
This is easily one of the best pieces I have ever read on Tim Buckley. Nice one, Adrian
---
Pennyblackmusic Regular Contributors
---