---
Brian Eno
-

Ten Songs That Made Me Love...
published: 23 / 2 / 2020
---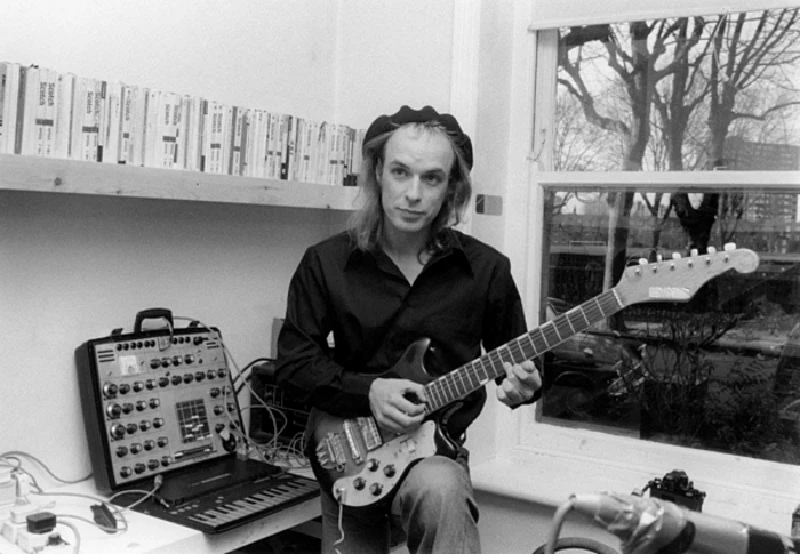 intro
In 'Ten Songs That Made Me Love' Keith How writes of his ten favourite Brian Eno songs between the ten year period of 1973 to 1983,
It is a few years ago now, in the days when "Record Fairs" were a slightly dull affair, CDs were still the media to have, MP3 was unheard of and in our dusty old town hall on a Sunday old guys like me would pass an hour looking at LPs we now had on CD. It was a rare occasion at such events that my hand strayed into my wallet to part with any English. But on this typically ordinary Sunday my eye looked beyond the crates of vinyl to the stallholder's table holding his flask of tea and sandwiches, to a few oddments that seemed not worthy of sale. It was there that my eye fell upon a rather worn dark blue box with "BRIAN ENO Working Backwards 1983/1973" inscribed on the front. "What is that?" I enquired. "Not really sure," says the vendor. "How much?" was the obvious question and "I dunno, mate. £15?" was the uneducated answer. Five minutes later I am having a quiet coffee looking at this amazing ten LP plus one EP boxed set of Eno's works from '73-'83, and even though I had them individually on CD this was an absolute treasure to obtain. To my added delight, in the collection is a special edition of 'Music for Films Vol. 2'. Result! My 'Ten Songs' choice then is one track each from this classic period of the great man's canon found in the 'Working Backwards' vinyl boxed set. 1.'Baby's on Fire' ('Here Come the Warm Jets', 1974) Eno's first solo album is experimental art pop with mashed up lyrics, strange guitars and often a quite retro feel. Certainly miles away from Roxy Music. 'Baby's on Fire' is dark and brooding and features Robert Fripp on guitar. I love Eno's almost "snotty" vocal delivery on this art rock classic that nearly defies categorisation. 2. 'Third Uncle' ('Taking Tiger Mountain by Strategy', 1974) My goodness, punk before punk arrived. Frenetic and edgy, 'Third Uncle' comes on like an express train with Eno 'rapping' the lyrics in a flat monotone while the band steam along. The whole album hangs together well and it is here that Eno first uses his 'Oblique Strategy' cards in the development of each track. A sense of real experimentation and adventure runs through these early records. 3. 'Another Green World' ('Another Green World' 1975) Eno seems to have moved away from spiky art rock on this record. 'Another Green World' feels almost refined. Here the title track is a dreamy sound painting, that at 1:42 is far too short. In a sequence with 'Sombre Reptiles' and 'Little Fishes' these tracks become a hypnotic experience. 4. 'Discreet Music' ('Discreet Music', 1975) Brian Eno's discovery that opened a whole new listening experience we all now know as Ambient is well documented. On the back of the LP cover and in the book 'On Some Faraway Beach', Eno recounts his revelation: a distorted record at low volume along with muted light and the sound of falling rain presented him with a whole new way of listening. 'Discreet Music'at 31 minutes is revolutionary and beautiful. This fragile and gentle composition is simply wonderful. Welcome to a new world! 5. 'No One Receiving' ('Before and After Science', 1977) Two years in the making, Eno's third "rock" album is an elegant and mature slice of art. Eclectic and brilliant, 'Science' was critically acclaimed. Side Two meanders towards quieter and more reflective moments, but the opening track I have chosen is jittery and exciting and gives the album real impetus. A timeless record. 6. '1/1' ('Ambient 1 - Music for Airports', 1978) Eno's legendary first album to use the term 'Ambient' consists of four tracks of phased tape loops. Without doubt a classic of minimalism, after 40 years it is still a regular visitor to my turntable. Calming and having the consistency of sunlight and air, this whole album is truly wonderful. 7. 'Sparrowfall 1' ('Music For Films', 1978) A collection of short pieces recorded between 1975/78 was originally recorded and sent out to film makers for consideration. The album reemerges in different forms and track listings. Here in this box set are eighteen sequenced tracks revealing some exquisite synthesiser work and found sounds. Perhaps overlooked, there is much to treasure here. 'Sparrowfall 1' is a delightfully gentle composition, and when linked to 'Sparrowfall 2 and 3' makes a superb trilogy. 8. 'Dunwich Beach, Autumn 1960' ('Ambient 4 - On Land', 1982) Although more brooding and dark than previous offerings, '4' is a riveting listen. Strange rumblings and field recordings conjure up a rather threatening atmosphere that is compelling. Truly "sound paintings", this album creates an abstract landscape that enfolds you in mystery. 'Dunwich Beach' closes the album, the sepia-tinged drones leave a slightly unsettled atmosphere. Derek Jarman in his cottage at Dungeness wrote: "Eno's 'On Land' is the music of my view. Crescent moon under a dog star, clouds scudding in the grey dawn." ( Modern Nature: the journals of Derek Jarman). 9. 'Deep Blue Day' ('Apollo, Atmospheres and Soundtracks', 1983) Recorded with Daniel Lanois for the 'Apollo' art house film, Eno's is the perfect music for this wordless film and describes a sense of weightlessness and vastness. 'Deep Blue Day' features some lovely guitar work from Lanois. The album sounds very polished and "smooth" compared to Eno's earlier works - this is probably down to Lanois' studio expertise, but it is still a major work. 10. 'Always Returning 2' ('Music for Films Volume 2', 1983) Volume 2 completes the 'Working Backwards' box set. Eno compiles further unused fragments and tracks from the 1975-78 period . It is incredible how these compositions carry a sense of timelessness and meditative beauty. There is a later expanded version but here on this LP there are thirteen atmospheric pieces, some of which appear to be templates for 'Apollo' tracks. 'Always Returning 2' gently shimmers and floats like an incoming tide, and Brian is ably assisted by his brother Roger who often collaborates with him. Brian Eno's catalogue is ever-expanding, even during this period he is collaborating with other experimenters such as Cluster, Robert Fripp and Jon Hassell. He is without doubt a National Treasure!!
Play in YouTube:-
Have a Listen:-
interviews
---
Interview (2011)
Poet and lyricist Rick Holland speaks to Lisa Torem about his collaboration with Brian Eno on his latest album, 'Drums Between the Bells'
Pennyblackmusic Regular Contributors
---