---
Miscellaneous

-

Ten Songs That Made Me Love...
published: 8 / 11 / 2019
---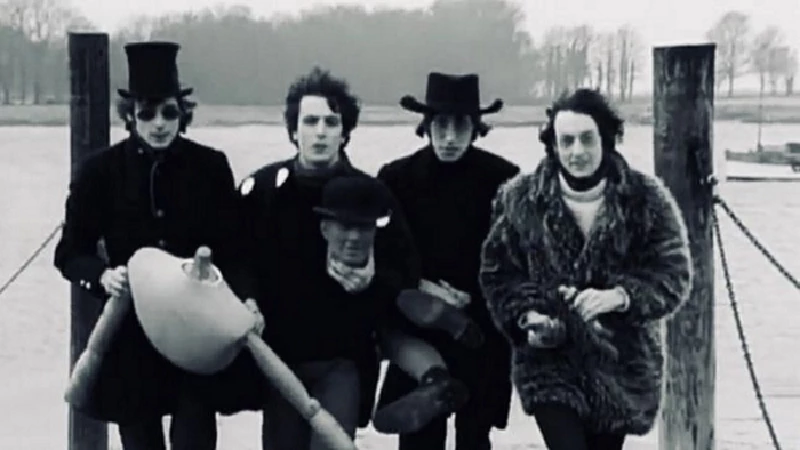 intro
In 'Ten Songs That Made Me Love...'Keith How reflects on ten of his favourite songs from 1967.
New Year's Eve 1966. I'm making my way home from Graham Ollerenshaw's party. I had managed to commandeer the Dansette and had been playing the music of 1966. The year had given us some great singles. The Easybeats' 'Friday on my Mind', Spencer Davis 'Gimme Some Lovin', the Kinks, the Beatles, the Small Faces…Cream....I mean, could music be any better? I settled in my bed, transistor radio under my pillow tuned to Radio Luxembourg (208, the Station of the Stars) and waited for 1967. Back then if you lived a long way from London the only way to keep in touch was by radio or "pop" papers like 'New Musical Express' and 'Disc and Music Echo', and of course word of mouth, but when we woke up on January 1st 1967 no one had any idea what was coming! For a start the Monkees were about to take over Number One, dislodging Tom Jones' 'Green Green Grass of Home' with 'I'm a Believer'. Not a bad start. On February 2nd 1967 I was 17 years old: this is a selection of ten personal favourites from that magical year. 1.February : Jimi Hendrix Experience - 'Hey Joe' .The appearance of the mysterious unknown guitarist completely blew everyone away, including Eric Clapton of Cream. He was about to change our musical horizons! 2.March: The Beatles - 'Penny Lane/ Strawberry Fields'. Predictable choice? Maybe, but seriously in 1967 this was a harbinger of a new world.'Penny Lane'- a novel told in three minutes! 'Strawberry Fields'? "Let Me Take You Down"...two songs of pure genius from the great ones. 3.April: Pink Floyd - 'Arnold Layne'. In the Spring of 1967 romantic ballads dominated the radio and the charts with the odd exception, but underground things were stirring with myriads of young musicians looking for new sounds. A song about stealing clothes off washing-lines hit the charts and eyebrows were raised…. 4. May: Procol Harum - 'A Whiter Shade of Pale'. The charts in May still reflected a middle of the road record-buying public although Hendrix's 'Wind Cried Mary' quickly followed 'Purple Haze' into the charts. At the end of May,' A Whiter Shade of Pale' entered the charts at Number 11 before hitting Number 1 and staying there for five weeks, ushering in the Summer of Love . 5. June: Tomorrow - 'My White Bicycle'. Although the Beatles were about to dominate 1967 with 'Sgt. Pepper', bands like Tomorrow were creating exciting psychedelia of their own, though much of this music was destined to sadly go unnoticed in the mainstream. This great track was inspired by bike sharing in Amsterdam and is both catchy and weird. 6.July: The Beatles - 'Within You Without You'. There were no teasers or hints as to what sounds 'Sgt Pepper' might hold. Imagine listening for the first time in a darkened room. A mono copy on an old record player. Side 1 had finished leaving you stunned. Then you turn it over and… another universe opened up. 7. August: Pink Floyd - ' Interstellar Overdrive'. Pink Floyd recorded the album 'Piper at the Gates of Dawn' at the same time as the Beatles created Sgt. Pepper at Abbey Road. This groundbreaking slice of cosmic space music perfectly encapsulated the wind of change that was blowing through "pop" music. 8.September: David McWilliams - 'The Days of Pearly Spencer' typifies the growth of songwriting and production that was happening. Clever, atmospheric and hypnotic, this is a classic! 9.October : The Herd - 'From the Underworld'. Featuring a young Peter Frampton on vocals, the song's lyrics are based around the Greek myth of Orpheus fleeing from Hades. There was nothing quite like this hitting the airwaves, with its dark choir and anxious presentation. A fine single that lodges itself in your ears. 10.November : Keith West - 'Excerpt from a Teenage Opera' was intended to be part of a bigger project and didn't really make a lot of sense but its innocence and whimsy encapsulated the late 1967 mood of experimentation and hope. Orchestration and a children's choir melted the coolest of hearts !! Ten songs and personal favourites. There could easily be another twenty, such was the explosion of creativity. How could I miss out The Kinks? The Small Faces? Traffic? The observant among you will notice there are no American bands. That, I think, is another story and probably Part 2. Footnote. By December 1967 our hair was longer ,our clothes more flamboyant and our minds expanded (or so we thought). One Saturday evening, late on in the month, my friend Peter and I called at our friend's house ready for a night out. Mick wasn't ready to go out so he sat us on the sofa and dropped the stylus in the groove . As he left the room he muttered something like "Try this". It was'EXP'" the opening track on the just released 'Axis: Bold as Love'. Everything was about to change again in 1968….the beat goes on.
Pennyblackmusic Regular Contributors
---