---
Andy Sumners
-

Ten Songs That Made Me Love...
published: 31 / 10 / 2017
---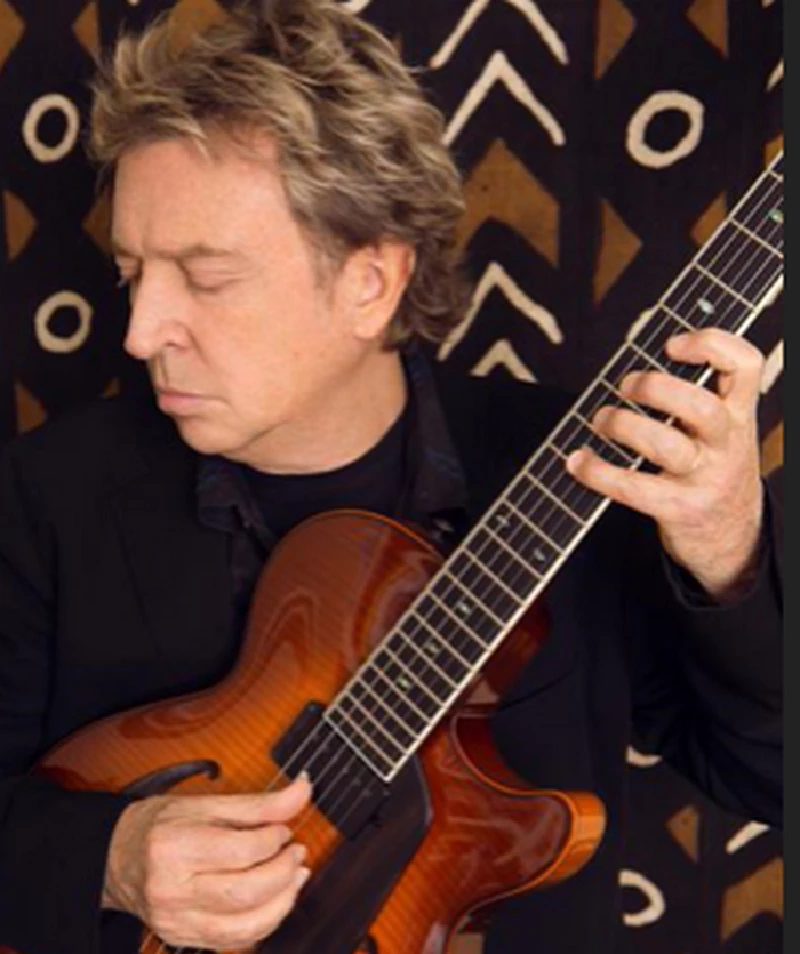 intro
In 'Ten Songs That Made Me Love…' Kimberly Bright looks back at ten of her favourite Andy Summers songs, including pre-and post-Police, solo, and collaborations
Guitarist Andy Summers is a fascinating if elusive character in rock history. He clearly lost the great ego wars that dominated the Police's career, and the fact that the band lasted as long as it did is probably due to Andy's easy-going manner, sense of humor, and equilibrium/balanced outlook/down-to-earth attitude as much as anything else. For all that his guitar playing held the music together like mortar, he didn't feature in interviews as much as Sting and Stewart did, his songs were shoved onto B-sides and the occasional album track, the camera doesn't rest on him for long in the Synchronicity concert video, and he was always the shortest one in photos, where he sometimes appeared impish (and well dressed) but more often than not a bit long-suffering (and well dressed), as though he dearly wished he did not have to deal with these two overbearing personalities today. When the Police tragically broke up, it soon became clear how important Andy clearly was to the whole structure. I followed Andy's winding and wandering career far more closely than the others'. These are ten of my favorite songs that feature his playing. 1. ZOOT MONEY'S BIG ROLL BAND: ALONG CAME JOHN (1965) Zoot's band played rollicking piano- or organ-driven soul, jazz, and R&B, with the guitar very much in the background until Andy stepped into the spotlight for solos. He fits in so nicely in between everything else going on throughout this very mod instrumental track, with his soulful guitar claiming all the attention for a concise, spacious solo before going back to weaving around Zoot's Hammond organ lines. 2. DANTALIAN'S CHARIOT: THE MADMAN RUNNING THROUGH THE FIELDS (1967) Dantalian's Chariot emerged from what was left of Zoot Money's Big Roll Band in the late '60s. This song, about the effects of an acid trip being narrated in first and second person, was included on the Nuggets II: Original Artyfacts from the British Empire and Beyond (1964-1969) compilation. Even though Zoot and Andy don't look on this period of their careers with much pride, and in fact seem embarrassed by it, it is a fine piece of psychedelia. When you hear neo-psych bands trying to approximate this kind of sound, it makes Andy's seemingly effortless originality even more striking. 3. ERIC BURDON AND THE ANIMALS: I'M AN ANIMAL (1968) Andy and Zoot went from Dantalian's Chariot to the Animals Mark III, so it's not surprising that they work so well together on this song. There are enjoyable interludes of Andy's atmospheric guitar (with extensive use of a wah pedal), along with very silly panting and grunting behind Eric Burdon's macho posturing. 4. THE POLICE: FRIENDS (1980) US B-side to "De Do Do Do, De Da Da Da" single I first heard "Friends" on The Dr. Demento Show, a weekly national radio show curating not just novelty songs and comedy from the past and present but also anything weird and offbeat. Where else would you hear Pink Floyd's "Several Species of Small Furry Animals Gathered Together in a Cave and Grooving with a Pict," for instance? Among the usual Napoleon XIV, Bonzo Dog Band/Neil Innes, Benny Bell, Wild Man Fischer, Zappa, and Spike Jones, one night host Dr. Demento, ethnomusicologist Barret Eugene Hansen, added this darkly humorous, deadpan song about cannibalism to the playlist. The fact that it was about eating people was hilarious, and it had Andy's shimmery guitar style. Not, however, an easy thing to explain to other ten- and eleven-year-olds at school the following Monday. 5. THE POLICE: I BURN FOR YOU (1982) Brimstone and Treacle soundtrack I purchased the disturbing film version of Dennis Potter's play Brimstone and Treacle on VHS just to hear snippets of this song – and tape them off the TV on cassette -- until I could get my hands on the soundtrack. This song is a distillation of sexy, painful longing that Andy conveys flawlessly with his increasingly insistent, passionate playing. Sting included it in his set for his solo concert film Bring On the Night, and to me, there's something vital missing without Andy. 6. ANDY SUMMERS AND ROBERT FRIPP: BEGIN THE DAY (1984) This song, heavy on synths and drum machines, is from Andy's second collaboration with Robert Fripp, Bewitched, a much more accessible record than its predecessor, I Advance Masked. With Andy's diverse influences and experience working with an unusual variety of musicians and bands in and out of the studio (Soft Machine, Neil Sedaka, Kevin Coyne), it's a treat to hear him let loose with Fripp, trading guitar licks. How easily bored they must be and how much fun they must have when working together. 7. ANDY SUMMERS: LOVE IS THE STRANGEST WAY (1987) This charming song still echoes the Police, still only a few years after New Wave and the New Romantic movements. XYZ retains some of that dreamy, atmospheric guitar sound. He decided to stop singing on later solo albums, which on one hand is exciting, since his acclaimed instrumentals with the Police ("Behind My Camel," "Regatta de Blanc," "Shambala") were some of the most musically exciting songs they did. On the other hand it is a shame that he stopped singing, because his lyrics tend to be witty, and his voice is interesting. 8. ANDY SUMMERS: STRANGE EARTH (1997) This melancholy, spacious song reminds me of "Tea in the Sahara" and other Chorus effect-laden Police songs. Andy's instrumental solo album The Last Dance of Mr. X was released after many of his forays into creating film soundtracks (2010, Down and Out in Beverly Hills, etc), and includes jazz standards and originals. Interestingly his playing on this record was most often compared to fusion guitarist Allan Holdsworth's. He's experimental but never self-indulgent (OK, we'll overlook the 4+ minute solo he did on the Animals' cover of "Coloured Rain") in the way an instrumental guitarist can be after about the fifteen-minute mark. He even throws in a tongue-in-cheek "Sunshine of Your Love" riff on "Big Thing." "Strange Earth" 9. CIRCA ZERO: UNDERGROUND (2014) Since Circa Zero was a pop-rock power trio with Rob Giles from the Rescues, and Andy thrives in those, this song is my juvenile fantasy of what the Police might have sounded like if they had stayed together. Of course, I said that about Sting's new album 57th & 9th too. Andy's style is far less jangly and sparse on this album. I would go as far as to say that the guitar work on their one and only (sadly) release, and particularly on this song, contains some of the hardest rock guitar heroics he has ever recorded. I have no evidence to back me up on this, but I suspect Dave Grohl would like it. 10. ANDY SUMMERS: TRIBOLUMINESCENCE (2017) Andy certainly isn't the only white artist to experiment with world music and exotic rhythms, but he's better at creating listenable fusions than most. His most recent album, described by him as "new exotic," in the manner of his 2016 album Metal Dog, is layered with prog rock, avant-garde vision quests, and jazz. This New Agey, ambient jazz title track leads into a kind of meditative drone toward the end. The word "triboluminescence" means creating light from darkness, and that's what this song sounds like. P.S. The reason I didn't add "Every Breath You Take" to the list, even though it contains my favorite Andy Summers riff, is the unhappy association with seeing my crush Mike K. slow dancing to it with another girl while our class was setting up for the homecoming dance in 7th grade (age 12). Also the lyrics strike me as creepy as an adult and remind me uncomfortably of the stalker-kidnapper in the novel The Collector by John Fowles. I was told that Mike is now a middle-aged bank teller in Portland, Oregon with a very long graying Scott Ian beard. All is forgiven, Mike!
Band Links:-
http://andysummers.com/
https://twitter.com/asummersmusic
Play in YouTube:-
Pennyblackmusic Regular Contributors
---