---
published: 27 / 5 / 2020
---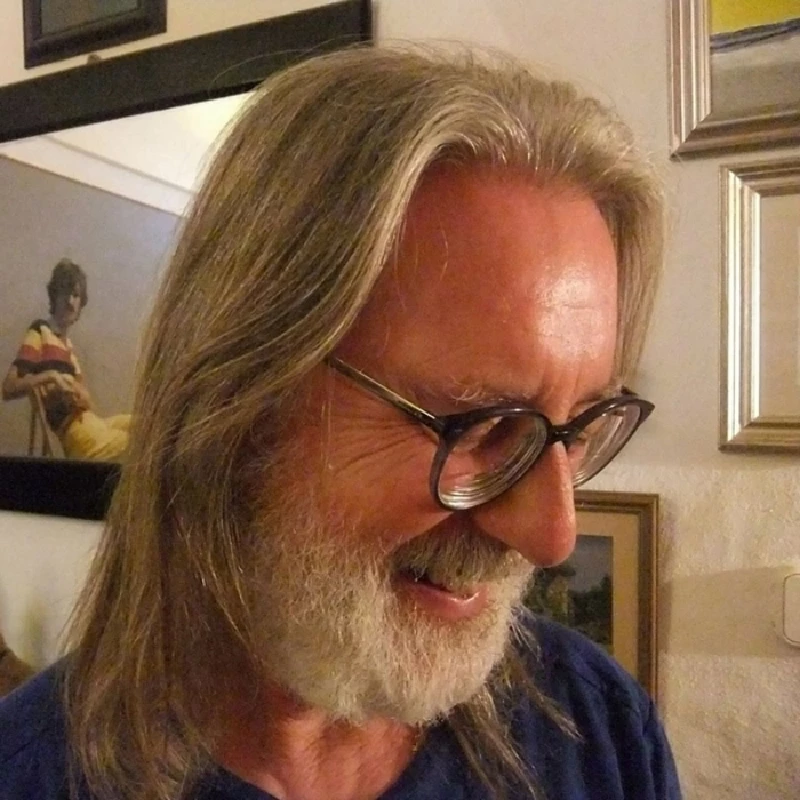 intro
John Howard speaks to Ben Howarth about his as-yet-untitled new album, the benefits of home recording and the next two volumes of his memoir.
Later this year, John Howard plans to release his seventeenth album – the fourteenth since his unexpected comeback in 2003. Discovering his music has been a real highlight of my music listening in recent years. Stylistically, Howard's albums are rooted in the 60s and the 70s. They could conceivably have all been made in the 1970s, if he had continued to record for CBS (instead of having to wait another two decades to have his music fully appreciated). But the combination of a fresh and unique lyrical perspective and a deft ear for melody has made albums like 'Storeys' and last year's 'Cut The Wire' sound timeless. Similarly, his collaboration with three other songwriters as 'John Howard and the Night Mail' resulted in the album the mid-seventies was missing. I caught up with him a few weeks before lockdown kicked in across most of Europe. John lives in Spain with his husband Neil France (who often takes the photos on the sleeve art for his albums) and a menagerie of rescued animals. We didn't know it then, but he was about to enter into a period of strict lockdown. While that lockdown has been a horrible time for people in Spain, Howard has remained productive within his home studio set-up – writing, recording and releasing his second new single of 2020 ('In The Stillbeat of A Silent Day'), officially released on 15 May. Howard has also contributed to a number of online fundraising endeavours during the crisis, including Life Is A Minestrone's tribute to the Beatles and Shindig Magazine's online festival (appearing alongside a number of other Pennyblackmusic favourites in both cases). Often, we interview bands shortly before an album's release. This means they can confirm the release date and how you can hear it, but they are often hazier on how the record was made. After all, it can be many months or even years since they wrote and recorded it. Their minds are already on their next project. This interview is a bit different – we spoke only a week after the album was finished, before John was able to reveal its title or release date. While we don't have the procedural detail, we are much closer to the action. At the moment, many of our plans are uncertain and we don't quite know when music releases will resume as normal. Until then, enjoy John Howard's reflections; we will hopefully be able to catch up with him again later in the year when the album is ready for release. PB: I wanted to talk about your plans and what you have ahead of you in the next few months. The obvious place to start is with the single you released to kick off this year – which is a cover. Where did you find that song and what made you want to record your own version of it? JH: Daniel McGeever, who wrote 'It's Not All Over Yet', is signed to You Are The Cosmos, the label, run by Pedro Vizcaino, that released my last album, 'Cut The Wire' and reissued some of my albums on vinyl. When I first signed to the label in 2017, Pedro sent me Daniel's album, which had come out a few months earlier. He was sure I would really like it, as he's such a good songwriter. And I did. It's got quite McCartney-esque touches to it. It's really up my street. That song, 'It's Not Over Yet', which finishes the album, really affected me quite a lot, because at the time my Dad, who had Alzheimer's, was not doing well. I thought then that I might cover it, and a few months later, Pedro told me he'd imagined me covering it as well, so that seemed to seal the deal. At that point, I was still working on 'Cut The Wire'. Once things were clear and before I'd started working on the new album, it seemed like the right time to pop into my studio here and work on my own arrangement of the song. Daniel's version is a band recording, a rock-pop ballad if you like. So, what I did initially was to routine it with the piano, to work the arrangement out, At that point, I decided it didn't really need any backing, it works as it stands. So, I recorded it like that, and although I thought about adding strings or percussion, but it really doesn't need it. I mean, it's pretty long – seven minutes. But then, so was Hey Jude! PB: And that was quite a big hit, after all. JH: Absolutely! PB: Do you know if Daniel has heard your version? JH: Yes, I sent it to him. We've not met yet, there has been some talk about us doing some gigs together in Spain, but he's pretty busy – he has his own band as well, and when the 'White Album' was reissued, he did a whole series of concerts playing the whole 'White Album' through with a band. So, he's a pretty busy chap. But we've talked online quite a lot, as he is keen to record one of my songs, 'Loving You', which is a song I demoed in the 70s. Daniel was really sweet about my song, he said that he'd found it very moving that I'd taken a song that was very personal to him and made it my own. It's always a worry if you take a song that is very personal to the original artist – are you hijacking it? He said that it reminded him of the original Brian Wilson demo for 'Surf's Up', which is, first of all, a great compliment, but also quite spooky, as that's what I had in mind when I was first routining it. PB: You've done this as just a one-off release, not part of an album or EP – am I right? Because in the past you've done a series of covers EPs. JH: Yes, that's right, this was just a one-off. In the past, I've done a series of four or five-track EPs of covers. That's my little avenue, if you like, to do something different in between the albums. I did one of Randy Newman covers, for example. But also, every now and then, I just do a one-off single. Sadly, these days, you can't do singles as physical releases, they just don't sell – unless they are by Ed Sheeran or something. I find doing covers a great release. After I've done one of my own albums, which is quite intense, it's nice to look at someone else's song and see how you can interpret it yourself. I'm thinking of doing an EP of Marc Bolan songs next. It's a different creative process – I don't go out of my way to make the songs my own, but it seems to happen naturally. PB: This may sound like a stupid question, but what's the process for doing these covers. Obviously, if it's a famous song, the music will all be online anyway, but for lesser-known artists, do you contact them to confirm how the song goes? JH: I tend to work it out for myself – sometimes if they give you the chords, it will take you down a route you might not naturally go yourself. When other people have covered my songs – not many people have, sadly – they usually ask me for the chords. I think that's because they tend to be guitarists, so they find my piano keys quite odd. I tend to write in E♭ or F#, and they never do, guitarists tend to write in G, A or D, so my chords fascinate them, but they find it hard to work out. If anything, when I interpret a guitarist's song, my chords tend to take over, so – musically anyway – it gets a little more complicated, perhaps. PB: So that single was a one-off. Next up is a new album – how far along the road are you with that? JH: I've finished it! I started writing the songs last summer and then recorded demo versions – just piano and voice at that stage. Then, what I always do is live with them for a while, before I began work on the recordings for the album in October time, and I finished it last week. Ian Button has just mastered the album for me – as ever, he's done a great job. He's got wonderful ears. I also love working with Ian, because it keeps that connection going from the Night Mail album we did together. The next stage is deciding when and how it will come out – I don't know yet. PB: Do you have any preferences for the format it will be released on? JH: The market is changing quite a lot at the moment. There has been a real boom in vinyl sales, which at first was great for the smaller labels, like the ones I've worked with on my recent albums. But now it has got so popular, the major labels have cottoned on to it and all the pressing plants are full with Led Zeppelin box sets or whatever! I'm not so sure vinyl is coming back in the same way for unknown artists with niche followings, like myself! My last album 'Cut The Wire' came out just on CD and, certainly for my releases, CD still seems to be selling well compared to vinyl. I have some fans who will always stream it on Spotify first and then buy the CD. A lot of people put Spotify down, for various reasons, but I treat it like a shop window to get my stuff out there. It's free for people to stream, which is not a problem for me – thank goodness, this is not my living! I'm doing it because I love doing it, so if anyone downloads or streams it, that's great. PB: Tell me a bit about the new record: how does it compare to what you have done before? JH: It seems to have developed into a mid- to late-60s style acoustic pop album – not piano-based, so that is the main change compared to my other albums. There isn't a big piano ballad, though I did write one which I didn't use. If I was going to describe it, I'd call it a northern bloke's version of late-60s West Coast acoustic pop. The people I had in mind were Crosby, Stills and Nash, The Association, The Lovin Spoonful, The Mama's and the Papa's. They were in my head when I was writing the songs. Everyone who has heard it so far – for example, Paul Phillips, my producer from the 70s, I always send him a copy of what I have just done – has picked up on the acoustic and summery feel. I cut down on the 'oohs' and 'aahs' this time; that Beach Boys/Nilsson type sound with the backing vocals tends to be my speciality, but this time, I've focussed on harmonising the lyrics themselves, much more like the way Crosby, Stills and Nash will do their harmonies. So, it is different from 'Cut The Wire' – as different as it can be for one person who has recorded both albums in their own at home. PB: Is it always a conscious choice at the outset over what direction an album would take? How much do decisions taken at the outset of a project drive the approach you take as you write and record? I am thinking of 'Across The Door Sill', which was quite a big shift from your earlier music, with the long freeform style. JH: Well, it is always a bit 'suck it and see' with me – mainly because I always start each song with the lyrics first. I will have notes everywhere, all around the house, but I then put them together and see which ones fit – and that is always the starting point before I then take the lyrics into my studio space and start putting them to music. Depending on how I am feeling, the lyrics will come in a different way. There is a slight nostalgia on this album for our old life in UK – not that we are leaving Spain! But those slightly pastoral memories of living in Pembrokeshire and Oxfordshire came to me and I think then also drove the feel of the music. But the lyrics are always decided before I sit at the piano and drive the songs. You mentioned the 'Across the Door Sill' album, and those were long form poems before they became songs, so that was always going to come through on the music. What I don't have, working on my own, is the impact of working with other musicians, which can often determine what direction you go in. I think that's why the lyrics are so important for my music. It was different when I worked with Robert Rotifer, Andy Lewis and Ian Button on the Night Mail album; that sounds the way it does because it was the four of us in a studio working as a band, almost as if we were back in the 70s. PB: Now that you say the album is finished, I'm interested in how you reach that point – how do you know something is finished and you don't need to do any other work to it? At this point, you could, in theory, keep changing it. JH: Basically, I know it's right when I put a mix on and I can stop listening to the little details – a particular piano line or the volume of the bassline, or whatever – and suddenly I am listening to it in the same way that I would a song by any other artist. That's when I know it's finished; when I can completely objectively listen. The other test comes the next day. I know that the song is finished if it is in my head as a finished track – so, an example is on a Beatles album, say 'It Won't Be Long' from 'With The Beatles', that comes in my head as a finished track, with all the parts fitting into the song. I want the same thing for the songs I am working on, for them to come into my head and my memory of them to be a finished track. I work on them as albums – I don't think of them as a collection of tracks – and I will normally have a collection of 16 or 17 demos, which I then whittle down to between 10 or 12 for the finished album. I will typically finish each track one at a time, but after I have three or four, I will go back to them. Often, I will realise I need to change the way the first one sounds, change the bass sound or whatever. So, I will go back and work on the earlier track, so they fit better with the others. And it goes on… often it is just the mix, rather than having to go back and play something again. That's the joy of having my own little studio, there are no limitations, time-wise. PB: As well as the album, you have been working on a second volume of your autobiography. How is that going? JH: It's now going to be a second and third volume, and both of them are finished. I planned to do a second book, but it was so huge, that when I sent it to Fisher King, Rick Armstrong said: "Love the book – but I think it's two books, would you mind splitting it?" And, in fact, that worked out quite well. The second volume picks up just after my accident, which is the final chapter of the first volume. It covers my recovery, and working with Trevor Horn and Steve Levine, then beginning to work in the music industry. It ends when I meet Neil. The third book covers the period up to when I finished working in the music industry and up to just before the rediscovery and re-release of 'Kid In A Big World'. PB: So, everything that happened before your comeback. JH: Yes. I have an idea for a little book – just a fun book, not a big read – covering the 18 months I spent working as a piano player on Brittany Ferries. Some really funny incidents happened while doing the boats. It was almost an interim between leaving the music industry and moving to Pembrokeshire, then suddenly 'Kid In A Big World' gets reissued just as I am about to stop doing the boats. After that, I was free to start promoting the album when it was reissued by RPM. I'm waiting on the proofs and we are talking about cover photographs – so there is quite a lot to do before it comes out, not least because I know the publishers are working on a lot of books at the same time. So, I am not expecting that until later in the year, at the earliest. It would be serendipitous if the book and the album ended up arriving at a similar time – there is, in fact, a song on the album that has the same title as the second book. Last time, the cover of the first volume ended up having the same photograph as Pedro chose for vinyl release of 'The Hidden Beauty'. It was a total coincidence, I hadn't planned it, so it would be great if something like that happened again. There are definitely links between what I have written about in the books and some of the songs. For example, 'Believe Me Richard' from my 'Storeys' album, is a story from my past. There was actually never a real-life Richard, but the song is an amalgam of about four different characters, so you do get songs that perhaps are reminiscent of incidents I recount in the books. It's one of these things – Paul McCartney did an album called 'Memory Almost Full' and mine's just not. Neil can never understand how I can remember all these dates, but I just seem to have this bank of details. Like when I told him it was the 25th anniversary of one of our cats dying – "how do you know that?!" I can even remember phone numbers from growing up in Lancashire – it's weird, definitely! PB: Finally, after the show that you did in London last year, do you envisage doing any more shows this year? JH: Nobody's mentioned it. I usually wait to be asked. The gigs I have done in the UK have been really lovely – but I am finding that, because we have all these animals, rescue dogs and rescue cats, it is an awful lot to plan for at this end. We have a dog sitter that we trust implicitly, but because he's so good, he's also so busy! All the planning cascades into my head more than the gig does, but if the right situation comes up and it is something I fancy, then I will always consider it. Last year, I had never done a full gig at the Lexington and it was great to play with Vinny Peculiar. We had talked about playing together during the time when my reissues were first coming out, but we never managed to make it happen. I loved being able to watch him perform, and I'm much happier if I am on a bill with a few other artists rather than being the sole headliner. But I don't have an interest in touring now. You know, I am very settled here, with a lovely house and all our animals. I have done all that, sleeping on people's floors and travelling around. I'm 67 this year, so I don't think sleeping on the floor is even physically possible anymore! PB: Thank you.
Band Links:-
http://kidinabigworld.co.uk/
https://www.facebook.com/johnhowardsongs/
Play in YouTube:-
Picture Gallery:-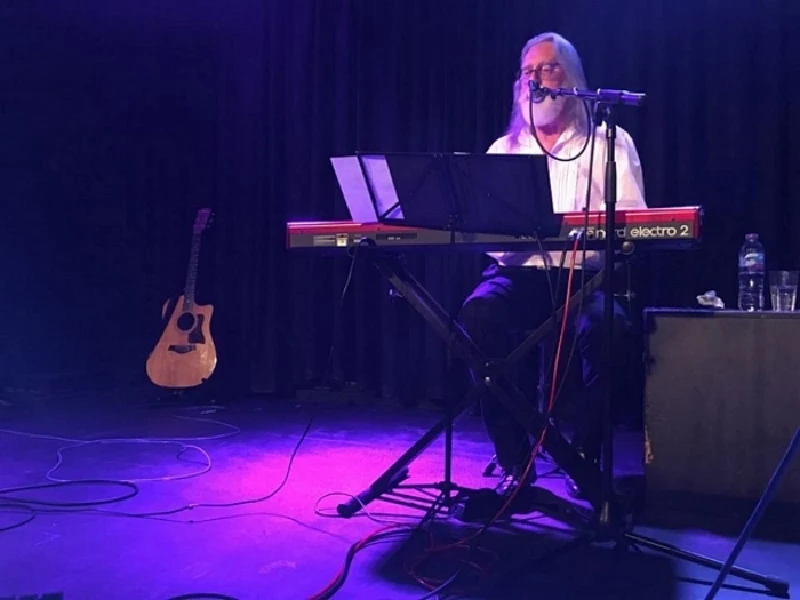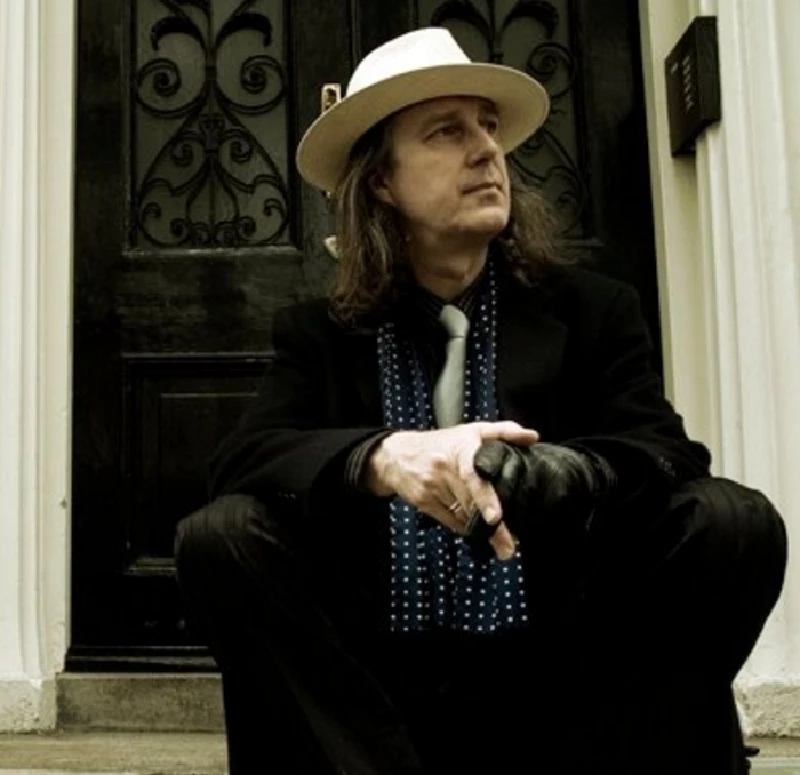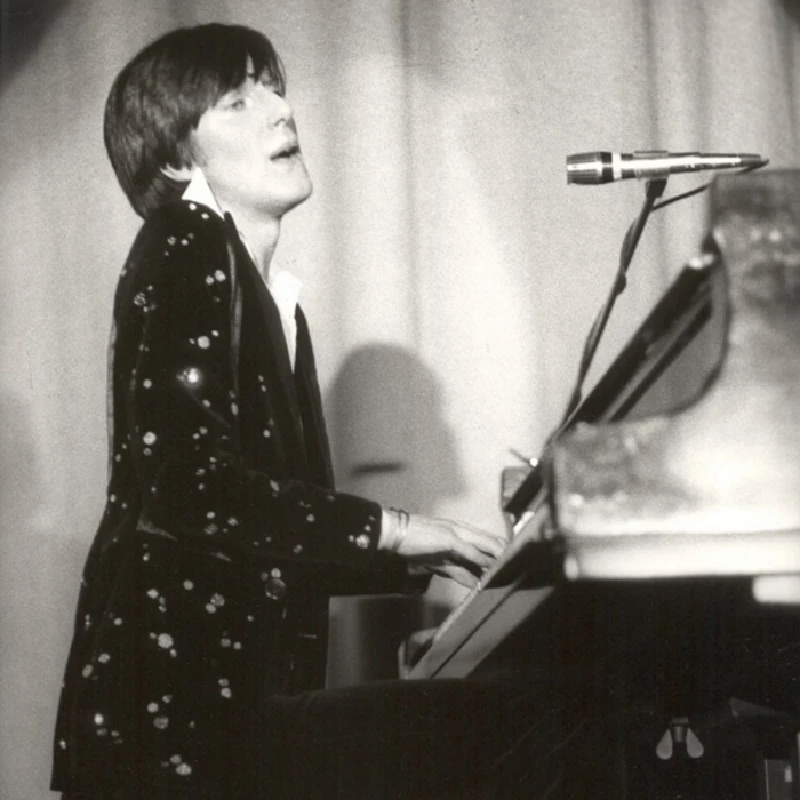 interviews
---
Interview (2018)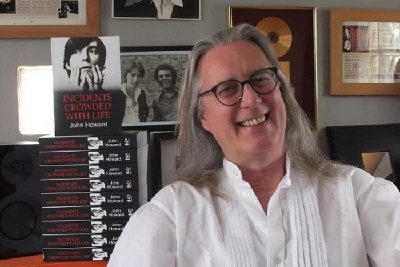 Singer songwriter John Howard has published his autobiography, a heartbreaking and hilarious tale of how to nearly become a pop star in the 70s. He tells Ben Howarth how he wanted to be 100% honest but non-judgemental.
profiles
---
Illusions of Happiness (2020)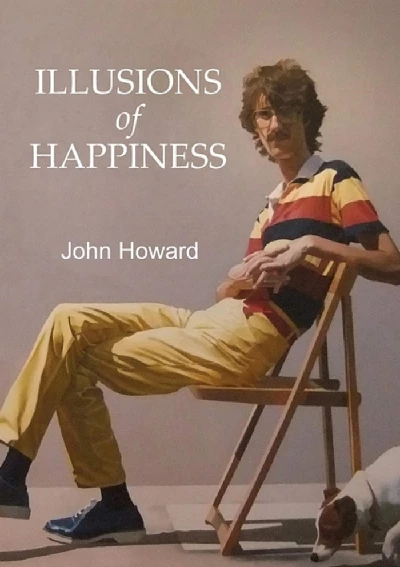 Returning with the second volume of a three-part autobiography, John Howard takes Ben Howarth and John Clarkson on a compelling guided tour of the fringes of the late-70s, early 80s music industry, while also navigating an increasingly complex personal life in the shadow of the Aids crisis.
Profile (2018)
related articles
---
Rotifer: Live Review (2014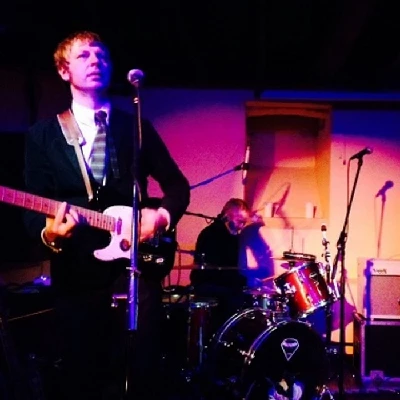 In the second of two showcases from record label and collective Gare du Nord, Ben Howarth at the Servant Jazz Quarters in London enjoys sets from indie trio Rotifer, rediscovered 70's singer-songwriter John Howard and Austrian singer-songwriter Mel Mayr who was playing her first British gig
Pennyblackmusic Regular Contributors
---