---
John Howard
-

Illusions of Happiness
published: 9 / 9 / 2020
---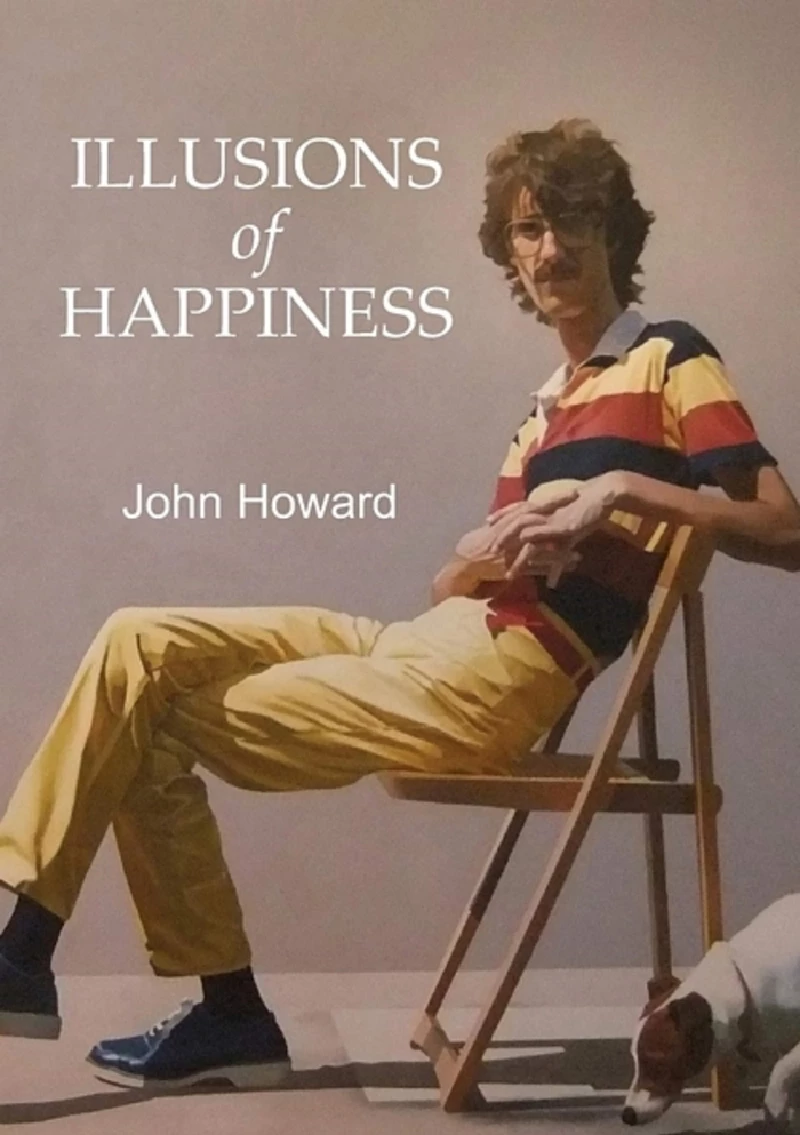 intro
Returning with the second volume of a three-part autobiography, John Howard takes Ben Howarth and John Clarkson on a compelling guided tour of the fringes of the late-70s, early 80s music industry, while also navigating an increasingly complex personal life in the shadow of the Aids crisis.
In 2017, John Howard began publishing his memoirs, chapter by chapter on his website. He hoped that would be of interest to those who had supported his music since his remarkable 'comeback' in 2005, thirty years after his debut album 'Kid in a Big World' sank without trace on its original release. It quickly became clear that the stories were too compelling to exist only as blog posts and in 2018, 'Incidents Crowded With Life' was published by Fisher King, to much deserved acclaim. That volume took the then Howard Jones from a Catholic upbringing in Bury, Lancashire to London, where he is re-christened John Howard and primed for stardom by his loyal manager Stuart Reid and his wife Patsy. The book takes a downward turn when the resulting album goes almost completely unpromoted and he loses his record contract, with two further albums sitting unreleased on the shelf. By this time immersed in London's gay scene, John replaces music with an increasingly hedonistic lifestyle, but comes crashing to earth – literally – as he is hospitalised after attempting to escape an attacker by jumping from his flat window. Fans of that first volume have had an agonising wait to find out what happened next. But now we have a second volume in a planned trilogy, 'Illusions of Happiness'. It is no less incident packed than its predecessor. After recovering from a serious back injury, Howard jumps straight into a new relationship and a new musical partnership with a pre-fame Trevor Horn. Further attempts to find musical stardom include adopting a new Gary Numan inspired persona and seeking the UK's Eurovision nomination, but are ultimately no more successful than his stints behind the counter in a local café and as a photocopier. Both myself and Pennyblackmusic's editor John Clarkson found ourselves reading the book at the same time during the tail-end of lockdown and, as we both thoroughly enjoyed it, we opted to compare notes with each other over e-mail, rather than fight over who got to write the review. BEN: The question that was occurring to me when I read through was whether this could be fairly described as a music book. With the first book ends, John has been dropped by CBS, so you could see that as the end of his music scene adventures. Here we are at the very edge of the music scene, recording one off singles. JOHN: It could be described as a book about music as John spends so much time moving from one short-term deal to the next, and eventually finds success on the other side of the record industry using his immense pop knowledge to create budget price compilations LPs and cassettes. He, however, spends an equal time out of the industry. The first part of the book, for example, tells of his recovery in hospital after he has fallen out of his flat's window. There is also a hilarious couple of chapters in which money runs low, and he ends up working in the slightly unlikely setting of a deli. I see it as much more than a book about music. 'Illusions of Happiness' would perhaps be best described as being about an openly gay man's odyssey through the hedonistic late '70s and into the terrifying world of the '80s and AIDS. BEN: Yet there are still all these tantalising walk in parts, the Sex Pistols happening to be in the audience at one of his gigs. But it's also interesting how you see the fickle nature of fame come to life - one minute he is at a party feeling very alienated from the world of Biddu, who he had made an album with, and then he's looking after Trevor Horn after his girlfriend runs off to Paris. The irony is that Biddu is a bit of a forgotten name now, one who I had only heard of because of his work on John Howard's albums. While Trevor Horn was on his way to genuine stardom. JOHN: John is, of course, much more intelligent, but he is almost like a Forrest Gump figure, someone who is there at several pivotal moments in music history. There is that funny encounter with the Sex Pistols who become fans of his. Jill Sinclair, Trevor Horn's wife, offers him a job with ZTT, soon to be one of the biggest labels of the '80s, and he turns it down, and he is there with producer Steve Levine on the afternoon that Steve agrees to work with Culture Club on their phenomenally successful debut album, 'Kissing to Be Clever'. BEN: John's memory for dialogue is a real strength of the book, and you feel like you are right here with them all. But, there is actually very little commentary or retrospective judgment - no editing to account for what would happen later. If it were a novel, the focus would be on his manager Stuart. The fact that the book is dedicated to him and his wife in the introduction makes you look at it all from his side, I think, and be suspicious when others question him. What did you make of him? JOHN: I think that dedication speaks volumes about the way John perceives him. Stuart makes a lot of mistakes. There a few dubious things he does, especially not letting John sing on anything which Stuart doesn't own the publishing rights for, which costs them both dearly. He is, however, very loyal to John, probably managing him for longer than he should and he genuinely loves his music. Stuart's last scene in 'Illusions of Happiness' is his retirement party, and, as Patsy says to John there, it is time for him to retire. He is someone who was once very successful in his career, but for whom the phone has stopped ringing and has not been able to move on while the rest of the world has. He is a man out of time. John, however, is refreshingly clear of recrimination about everyone in 'Illusions of Happiness'. It says a lot for him that he maintains such dignity. He always looks for and is interested in what what makes people tick and why they are the way they are. Bayliss, his boyfriend of eight years, might be charitably described as 'flawed'. He is never violent with John, but regularly gets into fights on nights out, and is openly promiscuous. John comes back to their flat after going back to Bury when his grandmother dies and finds that someone else has been in their bed. Bayliss also thinks nothing of having sex openly with strangers in toilets even after the Aids epidemic starts, something which finally gets him dumped. John, concludes that Bayliss, for all his awful behaviour, loathes himself, and he ends up as someone to be as much pitied as despised. BEN: Bayliss is another character in the book who could have been worthy of their own novel. Perhaps an editor would see him as too far fetched, even! There are a lot of characters who have brief walk in parts, and, when he arrived, I assumed he would be another one. I was surprised when it became clear that he would the eight-year relationship that we are told about in the introduction. John's previous on-off relationship seemed much more significant, until its sudden final ending. I think you are right that Stuart made mistakes, and there were instances in the first volume where his vision for John's career was overruled as well. I am not sure he was always wrong though - John was an established songwriter by the point he started working with Trevor Horn, so it's hard to see that becoming a front man singing other people's songs would have been a good idea. Likewise, he was probably correct to say that John should aim higher than playing covers in bars. However, with his background in publishing, that probably explains what I see as the big mistake they made, not encouraging John to tour outside of London more, a big mistake when it is clear from his time playing restaurants and clubs that he was adept at winning over audiences. Compared to the first volume of the autobiography, where after he moves to London, is largely set in a fairly narrow world of recording studios and restaurants, the range of people he meets is much wider as he moves to the fringes of the music world. I think on this second volume of autobiography he has become a more confident writer, too. Even people with walk in parts are vividly described and come alive on the page. I think you can tell that, whereas the first volume was originally intended to be published as a series of blog posts, he now knows he is writing for an audience. I think you would be quite safe recommending this to someone who had no interest in listening to John Howard's music. JOHN: I do agree with you that this book would be a safe bet for someone who has no interest in John's music. I do like John's music a lot, but, as someone who grew up in the 1970s and early '80s, I was as fascinated with his account and evocative memories of that time, not just of the pop music, but of the whole era. Like yourself, I was initially blindsided by the part that Bayliss comes to play in his life. John starts going out with commitment-phobic Thomas while he is still in hospital and with whom he had a brief fling just before his accident. Thomas moves down from Liverpool to be with him, and I thought that their relationship was going to dominate this 500-page memoir, but he is soon gone. The reason for Thomas's inability to be with John when it is revealed is both shocking as it is heartbreaking. John does do the walk-in parts very well - the Manchester guest house owner who attempts a murder while John is staying there; his new stepmother Sybil who is so concerned with maintaining the pretence of lower middle class nicety and blandness that she is in a permanent state of hyper-tension, and his brother-in-law's brother who comes with him for a visit and can't handle John or his friends' gay lifestyle at all. I thought Bayliss was going to be another brief boyfriend and would be there for a few pages, not the rest of the book, but that so accurately captures life though. The people who are not initially that significant to us often go on to hold the biggest roles in our lives. I was intrigued by the book's title of 'Illusions of Happiness'. John sees much of the humour of life, but he is never really happy other than for the briefest moments in time. His attempts to make it as a singer-songwriter for all his talent are constantly thwarted. His relationships with Thomas and Bayliss don't work out, and while he comes successful behind the scenes in the music industry he is restless, always moving on, and takes a job at Pickwick in the last few pages of the book despite being recommended not to. There is a very big hint as the book closes that dark times lie ahead. The same could be said about most of the book's characters. A lot of the characters he meets, especially in the record industry are larger than life, constantly 'shouting' loudly, but don't seem that happy either, and Bayliss, Thomas, even Stuart, as he becomes lost to the passage of time, are all absolutely miserable. I was wondering if John is making a broader statement about life in general with the title. BEN: I completely agree with you. There is a lot of humour in the book, but very little actual happiness. The occasions when he seems truly happy are few and far between. He does seem happy when his recovery in hospital at the beginning of the book starts to go well and various friends rally round (the scenes with his exuberant former flatmates visiting the ward are hilarious) and there is a brief glimpse of the life he wanted to lead in the recording studio. But these all come with dark clouds on the horizon. It is actually quite a contrast to the first volume. While he has difficulties in that volume and the loss of his mother is heartbreaking, John's identity as a songwriter gives him purpose and, for most of the book, contentment. For most of this book, he seems to be drifting, without an identity of his own and somewhat at the mercy of others. Alongside this, the Aids crisis begins to haunt John and his friends as we move further into the book, which certainly makes this book a darker read than its predecessor. In the first volume, the London gay scene is certainly presented as edgy and potentially dangerous, but more often it is made to look thrilling. It is clear that homophobia held John's music career back, but he doesn't encounter hatred face-to-face until this book. That element means that the book is more than just a memoir, but a compelling and often shocking volume of social history. John's vivid memory and unflinching honesty do justice to the subject matter. The best complement you can pay is that neither of us were able to put the thing down!
Band Links:-
http://kidinabigworld.co.uk/
https://www.facebook.com/johnhowardsongs/
Play in YouTube:-
interviews
---
Interview (2020)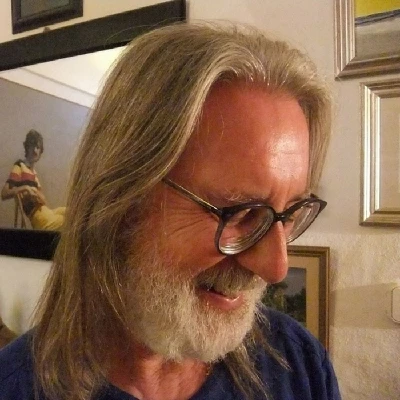 John Howard speaks to Ben Howarth about his as-yet-untitled new album, the benefits of home recording and the next two volumes of his memoir.
Interview (2018)
profiles
---
Profile (2018)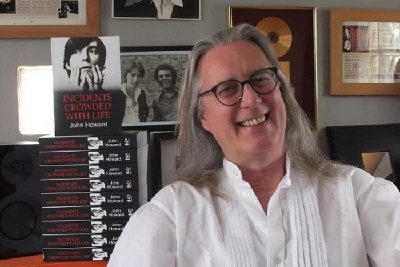 While he waits for a new studio album from rediscovered 70's songwriter John Howard, Ben Howarth enjoys a trilogy of vinyl pressings of his overlooked early work, an ideal companion to the recently-published autobiography.
related articles
---
Rotifer: Live Review (2014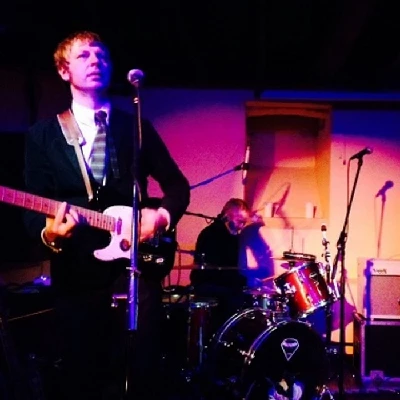 In the second of two showcases from record label and collective Gare du Nord, Ben Howarth at the Servant Jazz Quarters in London enjoys sets from indie trio Rotifer, rediscovered 70's singer-songwriter John Howard and Austrian singer-songwriter Mel Mayr who was playing her first British gig
Pennyblackmusic Regular Contributors
---