---
Alice Cooper
-

Snakes! Guillotines! Electric Chairs! My Adventures in the Alice Cooper Group
published: 22 / 7 / 2015
---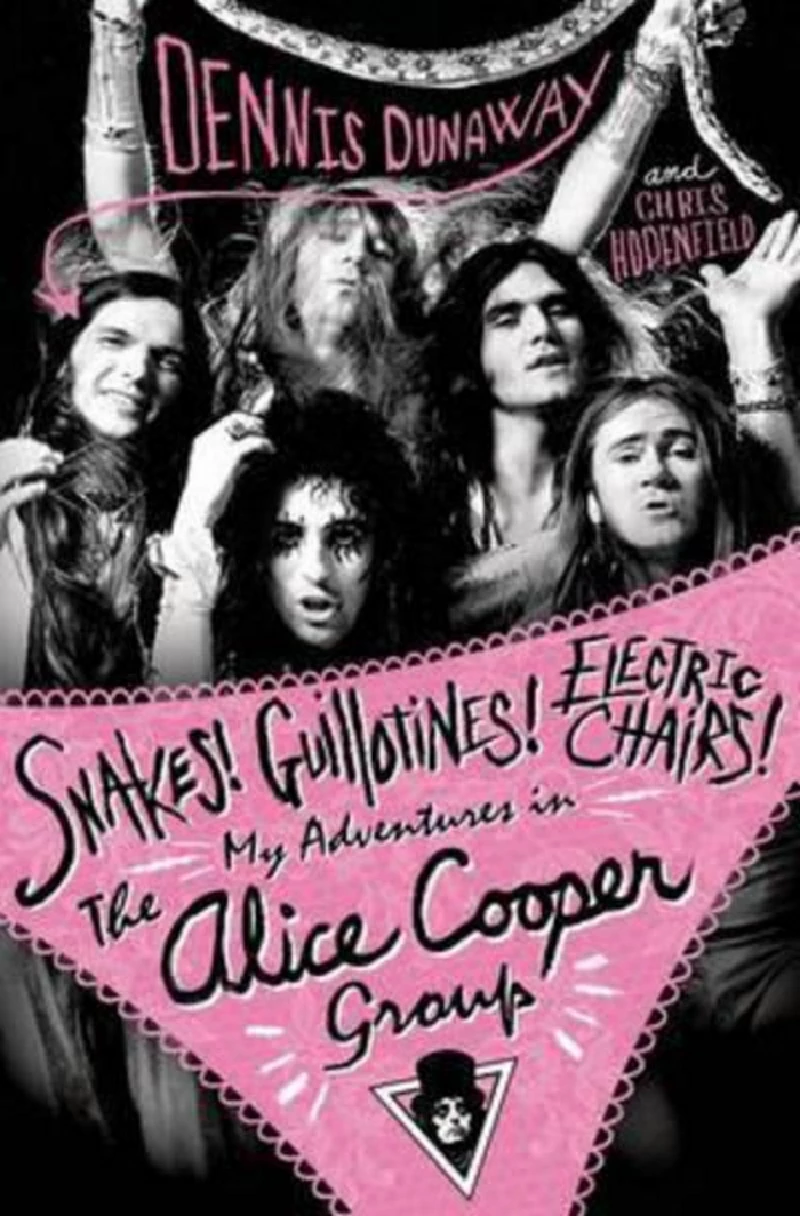 intro
Lisa Torem, in her 'Raging Pages' book column, reflects on the new autobiography of Dennis Dunaway, who co-wrote many of Alice Cooper's greatest hits and was the American rock/metal band's original bassist in the late 1960s and early 1970s
There are few things that inspire 'Raging Pages' more than an engrossing read about a unique bunch of characters. Dennis Dunaway and Chris Hodenfield's,'Snakes! Guillotines! Electric Chairs! My Adventures in the Alice Cooper Group' is a deliriously, quirky triumph. Dunaway was the throbbing bassist in Alice Cooper, who also co-wrote many of their greatest hits and conceptualized many of their stage shows. He was inducted into the Rock and Roll Hall of Fame in 2011. Hodenfield was staff writer at 'Rolling Stone' magazine for more than a decade. The memoir traces Dunaway's formative years, leading up to the forging of his Phoenix friendship with Vince Furnier (future shock-rock front man, Alice Cooper). He explains, "When I was a teenager, I got the idea to apply the weird inventions of my art world to a rock band. My best friend shared my enthusiasm for the notion, and we got together to talk others into joining us." That was the essential formula that would lead to the culmination of their collective dream, which also included Glen Buxton, Michael Bruce and Neal Smith. Dunaway surrendered any free time to his electric bass. It's locker room antics that he and the Alice Cooper band members enjoy on the road. There were the archetypal groupies, drugs and alcohol as expected. But with shrewd Shep Gordon and Joe Greenburg, as management team, they would create their own unprecedented path, originate outlandish stage shows and hire a magic man, Amazing Randi, to act as caretaker of an actual working guillotine. Their saloon brawls and concert performances would take them from gritty, fist-fighting Detroit to world-weary Hollywood. They'd have run ins with bikers, rednecks and impresarios and influence everyone from the New York Dolls to the Sex Pistols, Their love/hate relationship with the press is picked through with a fine toothcomb. Myths surrounding Alice Cooper were multiple. They did not tear the head off of a chicken, for example, although they did invite one on stage and had no intention of harming it. And, sure, John Lennon did covet their feather pillow and, coyly, refused to return it when the stakes were mighty high. This book sets the record straight. Although the original concept of the Alice Cooper band was that it would entail the talent and identities of the whole band, that concept went on to create a life force all of its own. Vince Furnier would become better known as the Alice Cooper, the individual rock star and, ultimately, that meant the other band members would be often left in the dark as fame increased. Some of the best stories take place during the hungry studio years when Jack Richardson protégé, record producer Bob Ezrin offers his expertise on songs like cult anthem 'Eighteen', which he deciphered initially as 'Edgy!' Dunaway, on one hand, appreciates Ezrin's commercial opinions of their arrangements and his instrumental help, strategies that help shoot the band to success, but also bristles at the thought of outsiders messing with their homegrown arrangements. What starts as a balancing act, though, becomes a fast-moving formula. Dunaway's girlfriend and future wife, Cindy Smith Dunaway, comes to the rescue often. She is the all-around good sport, existing with little or no privacy, along with the rest of the entourage, in temporary housing arrangements. Cindy, with her souped up sewing machine, whips up signature, designer style clothing with the flair of a fairy godmother, contributing greatly to Alice Cooper's ahead-of-its time controversial image. Dunaway suggests that post Alice Cooper rock bands borrowed or stole heavily from their ideas, especially in regards to stage make-up and avant garde theatrics. Look at a Kiss poster and it's hard to argue. But he doesn't complain bitterly it just seems like something he's got to get off his chest, to remedy a wrong. The stories are very entertaining, but it's interesting to note that not everyone understood their insider banter and sarcastic, backstage humour. When a 'Chicago Tribune' writer was given the green light to tour with the band in order to pen his book, based on the title of their album, 'Billion Dollar Babies', the band was surprised to see that the columnist mistook much of their casual repartee for insensitive barbs. Yet, as Dunaway hints, it wouldn't be the first time Alice Cooper, the band, would make those surrounding them scratch their heads. The books covers in great detail the production of their best-loved albums and the youth culture that they so deeply influenced. It's funny, touching, outrageous and well researched. There are some bad business ideas that come into play: films that make a mockery of their talents. A few tragedies occur, which Dunaway sensitively handles. It's not a "tell-all," but the core relationships are examined colourfully and with perspective and levity. Dunaway also discusses his post Alice Cooper career. The mysterious ending of their Alice Cooper line-up created confusion and some ill will, but friendships that developed so fiercely in childhood don't quickly slip away regardless of fame. Vince Furnier appears on Dunaway's new album, and the memories shared seem to give all concerned a great sense of satisfaction. This is a very enjoyable read for the Alice Cooper contingent and a brilliant shock rock course through the '60s and '70s for the newbies. You'll remember what made songs like 'School's Out' so blissfully fun and you'll wonder why the generally savvy Frank Zappa didn't see it coming, when this band's multi-tiered talent landed in the palm of his hands.
Band Links:-
http://www.alicecooper.com/
https://www.facebook.com/AliceCooper/
https://twitter.com/realalicecooper
interviews
---
Interview (2021)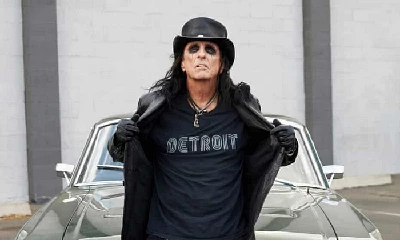 Alice Cooper talks to Nick Dent-Robinson about his new album 'Detroit Stories,' which, in homage to the infamous blue-collar city and his home town, includes new and classic covers, and features original band members.
Pennyblackmusic Regular Contributors
---