---
published: 23 / 10 / 2015
---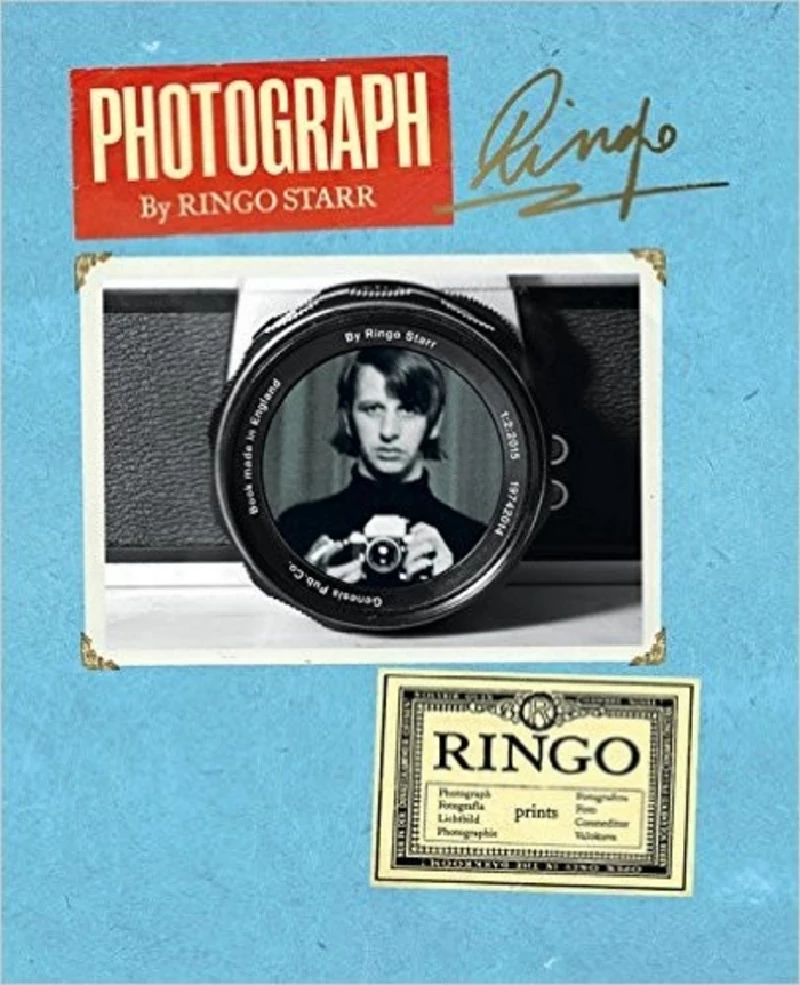 intro
Lisa Torem, in the second part of a two part edition of her book column 'Raging Pages', looks at Ringo Starr's new book, 'Photograph', which reveals never-seen-before pictures of his youth, rise to stardom and leisurely moments with loved ones.
These are archival documents we would all love to come across in our mum's attic. Well, Ringo Starr discovered such a treasure trove after searching through his late mother's boxes in his own family attic and what a find! "My mum loved every second of my life, and remembered every second of my life," Starr prints as an engaging caption. His mum, Elsie, had scrupulously saved for years photos that Ritchie knew nothing about. But Ringo also had his own precious stash of photographs and memorabilia, culled from years as one of the Beatles, as an ambitious lad growing up in post-war Liverpool and with his many friends, musical colleagues and, of course, his wife, Barbara Bach. With Starr's signature on the title page, he curries favour from the first glance. "There's a lot of pictures in this book, shots of 'the boys' that only I could have taken," he confides. It goes without saying that Starr had amazing foresight coupled with an amazing eye. Early on, there's one in which Starr curiously peeks over John Lennon's shoulder. Lennon wears his granny cap. George Harrison balances a cigarette in one hand and rests the other one tentatively on the sofa's edge. The photos leave us asking, "What was going on? What's going to happen next?"# Then, "This is me as a baby." In this one, an adorable Ringo in a white dressing gown, beams up with those bittersweet, blue eyes. It's on to the Admiral Grove community, where he and his family moved when he was only five. Pairs of chimney pots flank the roof as three boys survey the stark horizon line. The composition of this black and white is superb. The sky is a muted, dreary grey; the brick facades ache desperately for a reflecting ray of sun, but, as Ringo explains, his home is special. It's the one boasting a "V for victory", signifying the end of World War II. In his school photo, Ringo chides: "It's up to you to find me." Is he one of the cross-legged kids in the first row or in the one flanked by a severe looking professor? I can see why Ritchie detested school. Under the caption, 'Me and My Mum', he prints: "I love that picture." Ritchie's fingers rest on Elsie's tweed(?) jacket. His face is softly cushioned on one cheek. They both look incredibly grounded. Then he stands next to 'Nurse Edge' during his second, hospital visit — Ringo was hospitalized twice during his early adolescence. In a contrasting photo, he is "patting the Horse Guard's horse" and then standing proudly next to Harry Grave's father (his stepfather's father) on Tower Bridge in London. His youthful exuberance shows throughout, but this time it's when he mugs for the camera with pal, Davy Patterson, during a summer outing. They both look a bit gangly, but confident. He then lures us to a more solitary moment where he cradles drum sticks in his hands and then, sporting fancy clothes, dances away with a brunette named "Geri." Skiffle is well represented. The Ed Clayton Skiffle Group was later renamed for Rory Storm and the Hurricanes. Promo materials abound. There's a beauty — a Starr profile shows him playing at the Cavern with exuberant Johnny Guitar, lost in thought, displaying a stubborn streak of grey around his temples. Ringo Starr loved his early cars. He posed haughtily against the hood of his Standard Vanguard, but it's when Starr is surrounded by members of other Liverpool bands that you really see the youthful spirit blossom. Facial expressions range from self-serving to imperious. Even their haircuts evoke history. With humour he states: "Oh, another night out, thank you, Lord!" With a pretty girl slung over his shoulder, Ringo looks happy, but a bit dazed. There's Rory Storm shots taken in a Roman arena — "We've all got Roman laurel wreaths on our heads!" and a larger-than-life shot of Ringo on a riser, playing against a scalloped backdrop. Over-sized gear, too, brings us back to a simpler time. There are Brian Epstein business letters that transition between band member shots. John Lennon, in shades and a turtleneck, scrapes food against his plate, whilst George Harrison broods behind a bottle of catsup. There are wonderful portraits of McCartney and Lennon dressed to the nines, looking a bit startled by it all and Lennon, staring blankly through his looped acoustic guitar strap. "Paul was always playing the piano," Ringo prints. A beaming Macca holds court in front of those 88 keys. Harrison bends over him, whispering "something"… "America was the dream of a lifetime," Ringo recalls. There are crowds on the rooftop and crammed against vehicles. Then he's manning his beloved kit and the tempo shifts to gregarious DJ, Murray the K, and a cunning Harrison, barring his chest to show a quirky T-shirt caption. There's the very young Phil Spector and comical shots of Brian Epstein and George Martin in Beatles wigs. "And John in God knows what…" Here Lennon looks like he just shoplifted a Russian hat from a Siberian thrift shop. Ringo loves to take photographs of people taking photographs — you'll find his shots of those snappers, too, and there are lovely, panoramic shots of endless train stations en route to Washington D.C. Ringo explains that he saw the world out of a car window for so much of his famous existence. He supports that statement with shots of vintage cars. Priceless, too, are the recording studio shots. The bulbous mic hangs mercilessly overhead as Lennon and McCartney await instructions. Lennon's stance suggests some wariness. Harrison presses his nose, pig-like, against a hard surface, when not quipping with producer George Martin. Hmmm. I wonder what they were recording. The movies also play a part. 'A Hard Day's Night' is revealed through the planning and execution stages. It's especially entertaining when Paul's fictional "clean" grandfather scolds Ringo (who is not in the shot.) There's a memorable one of Ringo in bold red and white stripes, caressing a wad of cash, whilst Lennon's face breaks into a huge grin. And in another carefree moment, Starr goes fishing with friends. They stand there holding the specimen by their shiny, silver tails. Starr depicts the loneliness of international touring in "A shot of Japan from our hotel window." And it was surprising to note that there was a photo of "Two laughing Manilan cops" — after all, the Beatles withstood a frightening experience in Manila. I guess not everyone felt that way. Under the caption, 'Substances came into play in the Sixties', there are a series of loopy shots. 'Angry cat' is one. By all accounts, this feline must have endured a very strange afternoon. There was a rare shot of Starr, standing back to back with good friend and mentor, Peter Sellers, and of a huge table surrounded by a canopy of trees, entitled 'Breakfast in the middle of the jungle'. The folks were fighting the monkey "because they'd steal our food." That camera did not just roost above ground. McCartney looks blissfully content in water up to his ears and an odd octopus " not in his garden" seems to erupt out of nowhere. There are ample nods to Starr's movie career. He's wearing the iconic, shaggy coat from 'Magic Christian' (where he appeared with Sellers) as well as 'Son of Dracula' where, although he is dressed as Merlin the musician, he could be mistaken as a doppelganger for the biblical Moses. Towards the end there are intimate shots of Starr with good friend, Harry Nilsson; Starr posing, toreador-like, strumming a wooden guitar; with his beloved All-Starr Band as he pounds on his Ludwig kit and, most alluring, with his devoted wife, Barbara. 'Photograph' is a deeply personal and gloriously detailed book. Love pours out of every page, revealing Ringo Starr's keen, visual acuity, incredible history, and fondness for pop culture and friendship. True — many of the hundreds of photographs/artifacts were taken from his mum's attic, but your own copy should be safely displayed on your finest, spill-proof coffee table, as this is one rare bird whose feathers shouldn't be frumpled. Photograph, by Ringo Starr, was released on September 21st 2015 www.RingoPhotoBook.com.
Band Links:-
https://www.facebook.com/ringostarrmusic
https://twitter.com/ringostarrmusic
http://www.ringostarr.com/
http://www.ringotour.com/
http://en.wikipedia.org/wiki/Ringo_Starr
http://www.RingoPhotoBook.com
profiles
---
Photograph (2007)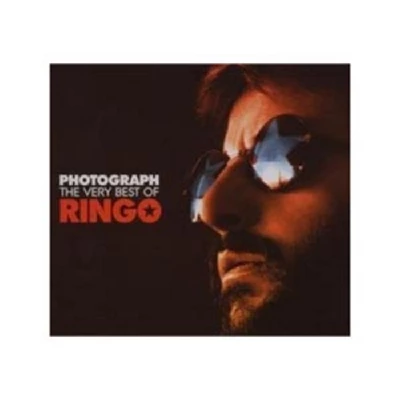 Anthony Strutt profiles 'Photograph', ex-Beatles Ringo Starr's new greatest hits record, which, appearaing in several different formats, spans over his entire solo career
live reviews
---
BMO Harris Pavilion, Milwaukee, 8/9/2018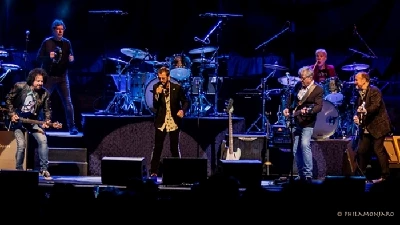 Lisa Torem watches Ringo Starr and His All-Starr Band entertain a multi-generational crowd at Milwaukee's BMO Harris Pavilion for two exhilarating hours.
features
---
Michael Seth Starr/Ringo: With a Little Help (2015)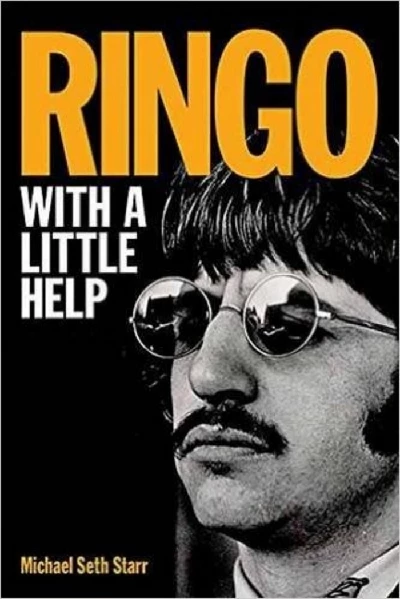 In the first part of a two part edition of her book column 'Raging Pages' , Lisa Torem examines Michael Starr's unauthorized biography 'Ringo : With a Little Help From My Friends' which shows many sides of the iconic drummer
Pennyblackmusic Regular Contributors
---