---
Gene Simmons
-

Me, Inc: Build an Army of One, Unleash Your Inner Rock God,
published: 9 / 2 / 2015
---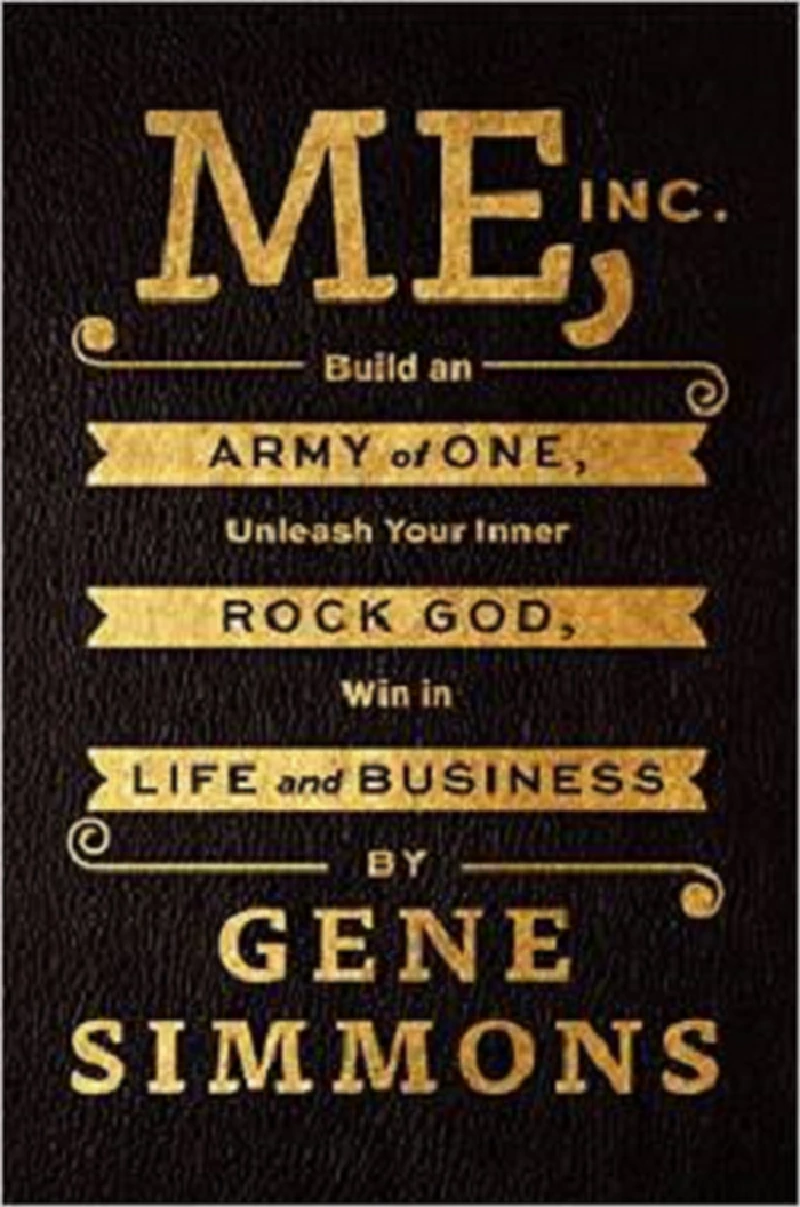 intro
In her book column 'Raging Pages' Lisa Torem reflects on Kiss front man Gene Simmons' new self-help manual, 'Me, Inc: Build an Army of One, Unleash Your Inner Rock God, Win in Life and Business'
Gene Simmons is front man of one of America's most financially successful rock bands, Kiss, but when you look at his formative years it's almost uncanny that he was able to achieve such phenomenal success. Raised by a single mother, Florence, a Hungarian concentration camp survivor, who "witnessed her mother and her grandmother walk into the gas chamber together" and who fled to Israel only to live in primitive conditions without the benefit of even tap water, was incredibly challenging. They lived "in a one-bedroom apartment, with bullet holes in the walls" from 1949 to 1958. Yet his modest upbringing may have been the very thing that spurred his ingenuity and entrepreneurial spirit. Early on, he and a friend, Schlomo, gathered cactus fruit from Mount Carmel, and sold it to people coming home from work. They turned a profit. The smile on his mother's face when she saw extra spending money on the table made the all-day affair working in the hot sun worth it. Self-sufficiency was the answer; the only way to escape abject poverty and forge a future. By the age of fourteen, he was committed to helping his mother financially. It goes without saying that he exceeded those early and humble expectations. You can read about Simmon's formula in 'Me, Inc: Build an Army of One, Unleash Your Inner Rock God, Win in Life and Business'. Some of his ethos includes keeping expenses down to a bare minimum and taking public transportation. One chapter, 'Vacations, Holidays, and Other Wastes of Time' gets right to the point. There are thirteen parts to this formula in total, which he came by honestly. By the time he and Paul Stanley became serious about forming their band, Simmons had already accumulated enough seed money to rent monthly rehearsal space come hell or high water even if the other original band members could hardly scrape together enough money for meals or rent. The book is written primarily as a how-to book, not as a memoir. Simmons is a very established author and there was no need to rehash what's been done. His books include 'Nothin' to Lose: The Making of Kiss (1972-1975)' with Ken Sharp and Paul Stanley; 'Kiss Compendium' with Paul Stanley; 'Kiss: The Early Years' with Paul Stanley; 'Sex, Money, Kiss'; 'Behind the Mask' and 'Kiss and Make-Up' but this time his focal point centres on building success as a musician and creating a brand in the reader's chosen field even if it has nothing to do with music. He's rubbed shoulders with Chrysler, John Varvatos, Leslie Greif, A & E producer of Gene Simmons Family Jewels (2006-2011), which "became the longest-running celebrity reality show of all time" and has supported children in Zimbabwe. He's well-connected and definitely lurches beyond his comfort zone and, Gene, I guess, you're saying we should too. There are times when the reader may feel like he's back doing high school detention and being scolded by his guidance counsellor when the copy reads: "You know you shouldn't smoke, use drugs or drink, or get married young, or do any of the other stupid things you do. But the majority of you keep doing it anyway." But if you have a sense of humour, you'll have fun with this book. It's written informally and it may just jolt you into action if you're in a rut. Simmons, after all, has been and continues to be hugely successful, so it wouldn't hurt to follow his lead if you want to do the same. Simmons is quick to point out that his strategies may be offensive or politically incorrect but he insists that to build success in America there are certain ways of acting, dressing, observing and communicating that work and that one must conform to them. At first, this sounds surreal. After all, isn't Kiss a band that screams rebellion and irreverence? Isn't that what rock and roll is all about? And now he's asserting his opinion that one must follow a distinct set of rules: wear a tie if you have to or speak the King's English? Yet, through intelligent and often comical examples, he illustrates very clearly the band's rise to the top of the charts through not just hard work, but through practices derived from "gut" feelings, and how they took control of merchandising and publishing to secure that lucrative future. Simmons discovered that through building success the band could give back, but only if one's primary needs are first adhered to. He uses this example of a parent on an airplane: "If there is turbulence on your flight, the crew will tell you to take the life-sustaining oxygen mask that just fell in front of your face and put it on YOUR face first. Not your child's face." Simmons pounds the idea of self-sufficiency and putting "me" first into our dim-witted heads, but admittedly, many of the bold points he drives home with a sledge hammer make perfect sense. Now some chapters like 'Woman Entrepreneurs' and 'Speak English' may rattle your bones and Simmons is well aware of it — still, he doesn't mince words, so you have to give him credit for honesty. But Simmons' book has a lot of value. After all, many musicians could benefit from having the floor plan played out so succinctly. It's common knowledge that thousands of very talented bands dissolve because of poor management or lack of business acumen. They could use some help. There is an emotional edge to the book too. Even though Simmons had a reputation in the past for womanizing and having an overblown ego — he has insulted more than a few female journalists with inappropriate comments, for example — here he examines his past mistakes — treating his longtime lady friend, Shannon, carelessly, for example, and practically begs her and the reader for forgiveness. (He and Shannon got married a few years ago after a lengthy common law relationship.). If your band already writes great material and you have a string of virtuosic players but your pockets are empty, it might be a good idea to check this book out. You'll be amazed at Simmons' accomplishments and how he attained his goals without the proverbial silver spoon in his mouth, but with a good head on his shoulders and an unexplainable, almost mystical "gut" level comprehension of how the world works. He also made plenty of mistakes along the way but consistently brushed himself off. Simmons didn't always have a Kiss army or a reputation as a multi-platinum recording artist to boost his ego or leverage his sales, but he achieved the unbelievable when all odds were against him and that's really something. 'Raging Pages' says read it.
Pennyblackmusic Regular Contributors
---