---
published: 13 / 10 / 2018
---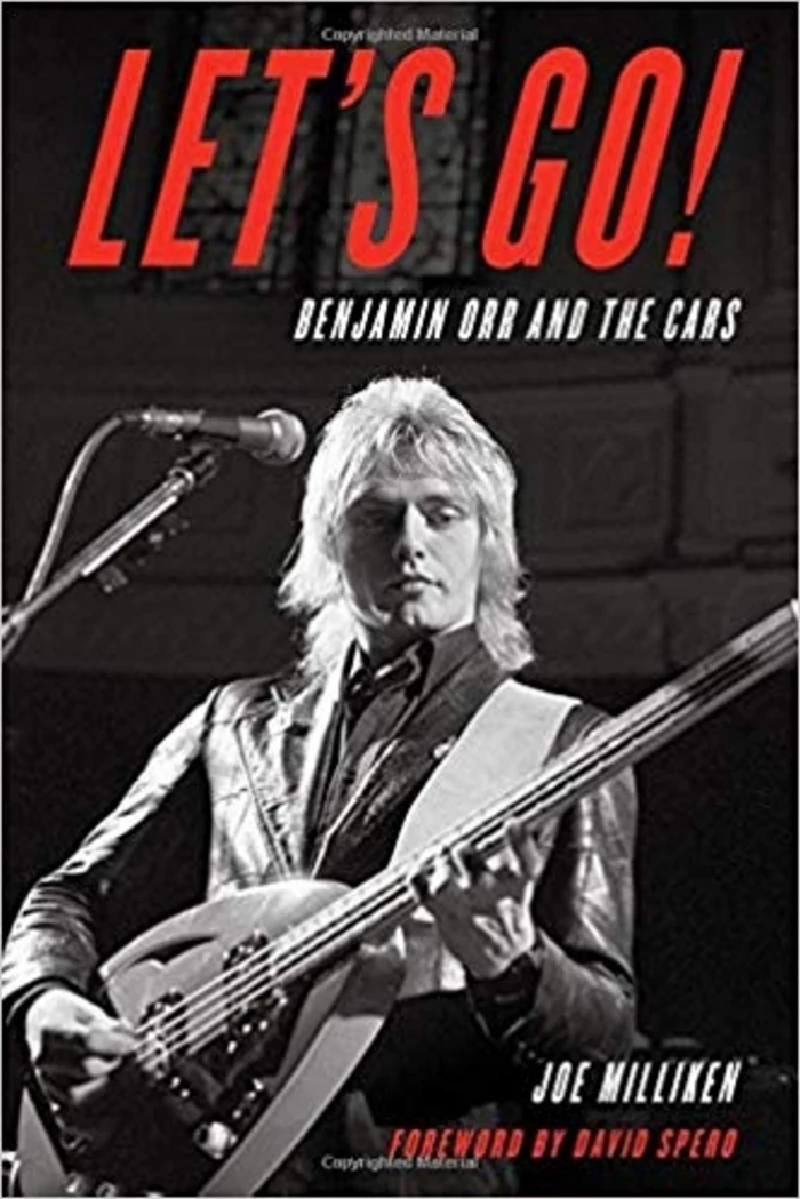 intro
Lisa Torem finds that 'Let's Go!', Joe Milliken's comprehensive book about the late singer/bassist Ben Orr and his career with The Cars is well-researched and peppered with insight.
Music journalist/web editor/writer Joe Milliken's career has spanned twenty years, but 'Let's Go! Benjamin Orr and The Cars' is his first rock and roll book. The author has constructed a 21-chapter read about the late Orr, whose charisma and alluring voice played a big role in the success of the American group, The Cars. Sadly, Ben Orr died unexpectedly of pancreatic cancer in 2000. Mr. Milliken relied a great deal on interviews conducted with approximately 100 friends, family members, former girlfriends, ex-wives, studio engineers and other industry professionals to make Ben Orr's story compelling. Cleveland DJ David Spero in his foreword describes the front man as "always giving a shout-out to his hometown and never forgetting where he comes from." That endorsement is echoed by many other individuals throughout the book—Ben Orzechowksi AKA 'Benny Eleven Letters' to those who could not pronounce his name was the only child of the over-protective, musically inclined Betty and Charles Orzechowski who hailed from Eastern Europe before settling in Ohio. The author spent eleven years "following a very long trail of leads" and ultimately "interviewed well over one hundred friends, family members and music associates." The book is well-structured and begins with 'The Timeline of Bands' which underscores Ben's evolution as a multi-dimensional musician. Ben's childhood basement and garage spilled over with neighboring kids, as he flaunted his drumming skills during frequent rehearsals. In the 1960s, Ben joined the all-instrumental Skylighters which would become The Cyclones. Although he was the youngest member, he was a quick study and earned respect easily. Two years later, fellow musician Bob Paris bought him his first guitar, a "1962 Kay Arch-top." With his "long hair, hip clothes, and those heavy-lidded blue eyes," Ben's youthful image was already beginning to take shape and impress. He went on to double as a vocalist with the Del-Fi's. By the mid 1960's he found himself strumming rhythm guitar with the Grasshoppers, although he only "knew about three chords at the time." That said, the band's energy caught on like a house on fire. Mr. Milliken points out that at that time the legal drinking age in the U.S. was eighteen. American teens had full access to their beloved acts and the bands could rely on a steady stream of followers. The Grasshoppers grew popular with local TV programmes. Meanwhile, Ben, still in high school, refused to cut his hair and even had his manager come to school on his behalf. Such authoritarian annoyances led to his dropping out of Valley Forge High. 'Pink Champagne' ('And Red Roses') was penned by Ben and became one of the band's first successful recordings, but despite this fact, Ben decided "to move in another direction with his music career" in 1965," and the Grasshoppers sought a new line-up. Meanwhile, Ben enjoyed comparisons to the androgynous David Bowie. Bassist John Matuska observed, "Ben had that appeal long before glam rock ever hit the scene." With the Proof Set/Mixed Emotions, Ben organically switched over to lead guitar and back to rhythm in 1967 with The Rush and Colours. By the end of this decade, and with ID Nirvana and Leatherwood, Ben had focused his energies on lead singing, and by 1972, he had become the band's bona fide bassist. Coupled with a classic look and sense of style, which earned him the nickname, "The Elvis of Cleveland," Ben easily convinced fans and band members alike that he would become a star. Besides Ben, the other original members of the group which made him that star were vocalist/ guitarist/songwriter Ric Ocasek, multi-instrumentalist Greg Hawkes, percussionist David Robinson and guitarist Elliot Easton. Ric and Orr parted ways in 1988 and would not reunite publicly for another twelve years, at which time The Cars got together to promote a live DVD; Ben had already been diagnosed with the terminal disease. In 1975, Ben and Ric Ocasek formed Cap 'n Swing. That line-up included Ben on vocals and Ric on rhythm guitar. The band's jazzy sound would invite comparisons to Steely Dan. They played premiere Boston clubs to a growing fan base, but despite their obvious talent, their musical leanings were not always appreciated or understood. More specifically, they got shot down while performing at New York's Max's Kansas City when told that their "music and visual image was 'all over the place.'" They were "one-part jazz, one-part hippie granola, one part avant garde, one-part Velvet Underground…" exclaimed a drummer who had attended their performance in 1976 at the Cambridge Armory. After the Max's Kansas City mishap, Ric made the decision to keep Ben on bass, retain Elliot on guitar, ask Hawkes to rejoin, bring in drummer David Robinson and eliminate the other players. This line-up would soon become known as The Cars. In the chapter entitled 'Creating Cars', Mr. Milliken explains that Ben "returned to playing bass onstage." Their new moniker, The Cars, was "sharp, sleek and precise like a brand new sports car." The brand new name was dreamt up by their new drummer. When The Cars debuted at The Rat in Boston in the winter of 1977, they garnered positive acclaim from the dailies. But it was clearly their talent, not the ambience, that defined them. Photographer Robert Post described the scene: "It was dark, dingy and smelly. The carpets were patched with duct-tape and the tables and chairs were mis-matched junk. I loved it!" "They took the stage, and I knew right away that this band was different. They were polished, tight and having fun!" Post divulged. Mr. Milliken also points the reader to the recording studio, flashing back to sessions with Queen producer Roy Thomas Baker, who worked with The Cars on their first four albums. Baker's ahead-of-its time equipment was a "forty-track recording machine" which was perfect for multi-layering Ric Ocasek and Ben Orr's golden voices. But the author is quick to point out that the band continued to face challenges when performing live. For example, at Chicago's Park West, they became targets for flying beer cans after opening for a Southern act. Although they fared exceedingly well in most American cities, their first (and only) European tour of 1978 did not curry favour with the British press. Mr. Milliken makes some solid guesses as to why, but appears to remain mystified. Prior to the making of the iconic 'Heartbeat City', band members worked on various solo projects. When it became time to re-enter the studio, they chose Mutt Lange as their new producer, as Baker was tied up with other obligations. This meant returning to London, however, "which they hadn't done since that brief, somewhat disappointing tour back in 1978." On one hand, the new environment at Battery Studios "created a renewed excitement" and "produced fewer distractions." On the other hand, the process proved to be grueling. Lange micromanaged the players, "exploring every avenue and detail of each song in search of that perfect take." The players, prior to that time, came in with well-rehearsed songs, and weren't accustomed to such scrutiny. "The entire project took over a year to complete, compared to their previous albums that would only take a month or two." Despite the challenges, 'Heartbeat City', which was released in 1984 "was a huge hit," inspiring a record five video productions and four hit songs. 'Drive' "featured a haunting, memorable lead vocal from Ben and was, arguably, his finest moment as a vocalist." Besides charting enviably high in the U.S., Mr Milliken is quick to point out a curious cultural point, that the ballad "cracked the Top 10 in Britain, where huge success had always seemed to elude The Cars." Whilst the author describes the overall projects of the other members, Ben's solo career is specifically laid bare. For the making of his first and only solo album, 'The Lace', Ben cheerfully co-writes with then-partner/lyricist Diane Grey Page. Working as a co-writer was a unique undertaking, something that, as a member of The Cars, he barely experienced. But when the sixth and final record, 'Door to Door' is recorded in 1987, with Ocasek acting as producer, Ben and other members feel squeezed out; tensions mount—Mr. Milliken keenly observes the resulting dynamic: "This did not leave as much room for input from the rest of the band." Ben goes on to express his dissatisfaction during an interview with 'Goldmine' magazine in 1995, "…it wasn't a group effort." The author inhabits these tensions—the writing remains mindful but strong. Along the way and over the course of the rest of the book, Ben's life is discussed respectfully through the lens of loved ones. Ben Orr was a multi-talented performer and also a devoted father, mentor and philanthropist. In many ways, Mr. Milliken has presented this book as a homage to the city of Cleveland and to one of its most humble, rising stars. Such personalized attention makes this a compelling and authentic read. If one is looking for a "he said/she said" type of book, this will not make the cut. But then again, the author took great pains to honour all angles. 'Let's Go! Benjamin Orr and The Cars' is complex, inspiring and bittersweet. Whilst overall, Ben was seen as generous, ambitious and kind, some close to the singer found him distant, very private, dark and moody. There are times when questions, especially about Ben's disposition, are posed but not answered. Perhaps they never will be, but Mr. Milliken's solid reporting and reflection fill in a ton of blanks and give fans an opportunity to embrace, grieve and celebrate the richness of this charismatic musician's much-too-short life.
Band Links:-
https://en.wikipedia.org/wiki/Benjamin_Orr
https://en-gb.facebook.com/TheCarsBenjaminOrr/
Visitor Comments:-
885

Posted By: Daftar Poker Online, http://daftarpokerabl.club/amp/ on 03 Mar 2019
Nice Information
---
884

Posted By: Ellie, London England on 06 Feb 2019
The eighties was the best decade ever. Benjamin Orr and the Cars one of the great bands of the time. "Drive" makes me feel so nostalgic and calm..he was so lovely looking too. May he rest in peace.
---
Pennyblackmusic Regular Contributors
---