---
published: 21 / 6 / 2022
---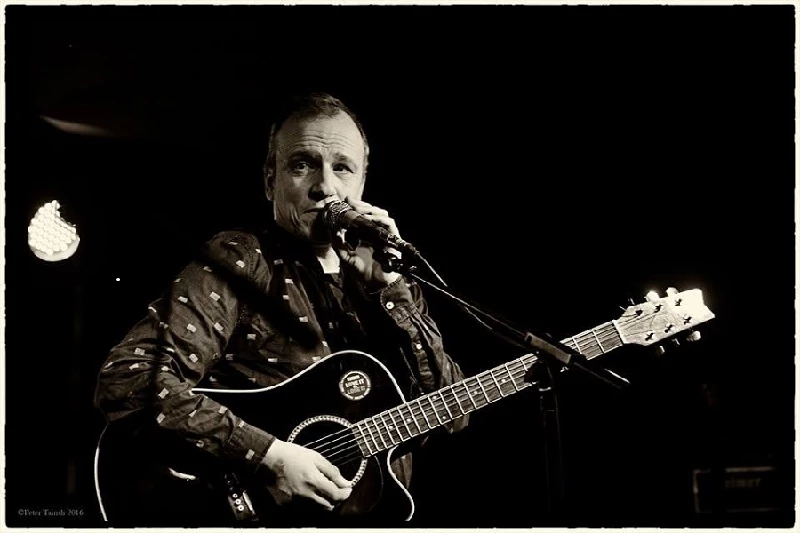 When Lou Reed died in October 2013, Scottish-Canadian singer-songwriter and poet Roy Moller reacted by writing an album of songs, 'My Week Beats Your Year', about the influence and impact that the New York star and Velvet Underground frontman had had on him. The adopted son of an office worker and sewing teacher, Moller, who was born in 1963, was raised in Edinburgh near its Port of Leith, and has released six albums and two collections of poetry to date. 'My Week Beats Your Year' was written and recorded in a frenzy of activity that Christmas in Moller's home in the seaside town of Dunbar, thirty miles south of Edinburgh. It tells of the sixteen year old Moller's discovery of The Velvet Underground listening to the radio in his teenage bedroom, his purchase of their albums in reverse order in Edinburgh's lost record shops, the parallels between Edinburgh and New York in the 1970s, and of Moller going to see The Velvet Underground a mile from where he was brought up at the Edinburgh Playhouse on the first two nights of their ill-fated 1993 reunion tour. Its lo-fi, raw ambience does much to enhance 'My Week Beats Your Year', having on some of its tracks the primitive feel and discordance of the early Velvet Underground, and heightening as well the reflective, sometimes confessional nature of Moller's lyrics. 'My Week Beats Your Year', which was Moller's fifth album, was originally released digitally on the Edinburgh-based label Stereogram Recordings in the summer of 2014. It has just been reissued on tape on the German cassette label Thokei Tapes in a new edition, with four extra songs on top of its original twelve tracks and its track listing heavily restructured. It will be the first of two releases this year for Moller, who is putting out his seventh album, 'Be My Baby'. It shares a title and a theme with Moller's 2019 second collection of poetry, and is about Moller's discovery at the age of 52 that his birth parents were Canadians, his father was an older married man, war hero and photo-journalist and his mother a younger newspaper reporter who had had an affair, and after becoming pregnant she had flown from Toronto to Edinburgh to give birth to and put him up for adoption. The album is appropriately being released on the fine Canadian label The Beautiful Music, which also put out Moller's last album, 'There's a Thousand Untold Stories', in 2016.. In our fourth interview with him, we spoke to Roy Moller about the reissue of 'My Week Beats Your Year' and the 'Be My Baby' album. PB: You first became aware of Lou Reed and the Velvet Underground in your teenage bedroom in 1979 after hearing David Bowie play 'Sweet Jane' when he was acting as a guest DJ on Radio 1. Was the impact instantaneous? ROY MOLLER: Pretty much so, yes. While listening I taped the show on my cassette player so I had '96 Tears' by ? & The Mysterions, 'Love Street' by The Doors, even 'Einstein On The Beach' by Philip Glass to replay but I kept spooling back to 'Sweet Jane'. A few months later, Tim Curry hosted the same show, 'Star Special', and played 'Rock And Roll'. A few episodes on, Frank Zappa hosted and featured 'All Tomorrow's Parties'. PB: You began buying records by Lou and the Velvet Underground. Victor Bockris' book 'Uptight' about The Velvet Underground was still some years off being published, and the Velvets hadn't yet received the full critical reappraisal in the late 1970s and early 1980s that they have received now. How easy was it to find their records in the Edinburgh of that time? RM: I had to have 'Sweet Jane' in some physical format and one late afternoon in The Other Record Shop on the Royal Mile I spotted a recently released Lou Reed live double album, a Dutch import on coloured vinyl called 'Take No Prisoners', which opened with a match being struck, a cigarette inhaled, the sound of a tape being very obviously cued in, a raucous club crowd and Lou deadpanning, "Sorry we're late but we were just tooning," leading into what turned out to be an irreverent, speed jive, trash talking version of 'Sweet Jane# as an offhand four chord rant – like Lenny Bruce marching in a battalion of wooden soldiers. I loved this version but still had to get 'Loaded' and have a good time and a few months later I spotted a second-hand copy from Europe's second-largest record store, Ezy Ryder in Forest Road. One of 10,000 albums they had available. I think I made a good choice. The song 'Electrify Me' details my buying The Velvet Underground and Nico further up the Royal Mile about a year later. We were on a history class outing to see 'The Triumph of the Will', but when we showed up the film was cancelled so I drifted up to Phoenix record shop and they had it in new condition. First time I'd seen a copy, and it was pretty cheap, so I snapped it up. I waited till my folks had gone to bed before I played that one and I dug the hell out of it. I remember laughing out loud when a toilet gets flushed on the closing track. PB: You have called the album 'My Week Beats Your Year'. The Velvet Underground were clearly absolutely magnetic to you. How much of the appeal to you as a teenager was their music and how much their image? Why do you think their image resonated with you so much as a teenager? Did New York just seem a much more exciting place to be than Edinburgh? RM: Edinburgh was pretty exciting, school was pretty wild, we had proper riots in class, and there was a buzz around Leith, at least in my head, as a timid misfit in a lower middle-class household. Was life like 'Trainspotting'? No, but it certainly wasn't Alexander McCall Smith either. My dad had a low-grade office job, my mum was a part-time sewing teacher and I had no idea what I was going to do. I had just ditched the idea of joining the Royal Navy, which I'd embarked on purely because I loved the sea and visualised sailing into far-off ports on sunny mornings.. Ironically, the guy who had beaten me up from day one at primary school right through to fourth form ended up as a top cadet so I dodged a bullet there. The sleazy sidewalk sound of 'Sweet Jane' did suggest more possibilities, for sure, while the name Jane tickled me as my childhood crush had been a girl called Jane Tiller. I was and remain just as much into Elvis, The Beatles and Dylan as the Velvets but I think the sleazy hot concrete summertime vibe I got from 'Sweet Jane' connected with me in the way that 'Spanish Stroll' by Mink DeVille and 'Low Rider' by War and 'Wild in the Streets' by Garland Jefferys would. It turns out I was conceived in Toronto. Maybe it's in my North American blood. As for image, 'Revolver'-era Beatles, 'Highway 61' Dylan and the VU all had a penchant for shades and my teenage self thought that was very cool. As I delved into the VU, I detected a sonic spook in their first records that chimed in my head with Edinburgh's murky past, a candlelight flicker of its coal holes and arches and contraband stashes in the primitive throb of drums and guitars and the screech of Cale's electric viola, like it could have soundtracked a film on Burke and Hare. PB: You imply on 'Captivity', however, that Lou was in some ways a victim of his own image and making. Why do you think that? RM: I think Lou caught the zeitgeist and the zeitgeist caught him. I picked up Anthony DeCurtis' biography of Reed the other day for a couple of quid and his keyboard player was saying that Lou knew that if he went onstage totally straight audiences would feel they'd been short-changed. I guess I'd tuned into that idea from a few sources such as photos of him in the mid-70s with peroxide hair and an Iron Cross shaved into it. Shock for shock's sake. PB: You describe in 'Reality' going to see the Velvet Underground on their ill-fated reunion tour of 1993 at the Edinburgh Playhouse. Those concerts have really divided fans. For some it was like the second coming, and for others a bitter disappointment. Pat Kane from Hue and Cry wrote a particularly scathing review in 'The Scotsman'. Which side did you fall on? RM: I would naturally fall on the other side from Pat Kane on any topic under the sun and this is no exception. Sure, there were flaws and they all came from Lou. The others all looked great and Lou came on with a Steinberger guitar with no headstock on it and a permed mullet, talking his way through songs that deserved better, such as 'Venus in Furs'. But that aside, the sound was there and it's not for me nor Pat Kane to pass sartorial judgement. I remember when Lou died, the next day on Facebook, someone was going to start a petition requesting Glasgow City Council to name a street after him "in recognition of his influence on the music and culture of the city" or some such nonsense, It hit me how insular and detached from reality some people in the Glasgow indie scene were that someone could actually propose this on the back of a few faux-fey white boy guitar bands with semi-solid guitars. Scotland currently holds the record highest drug deaths in Europ. Maybe we could name that statistic after Lou, too. PB: Lou had been at the Playhouse the year before on the 'Magic and Loss' tour, and John Cale had also toured widely. Had you seen either of them before and how did those gigs compare? RM: My pal Mark and I had seen Nico in early 1982 at a club above The Playhouse with a band called The Blue Orchids. and I went to the 'Magic and Loss' gig with some friends. We were drunk for that and sober for the VU reunion which was probably the wrong way around, but I still really appreciated the intimacy he created with the 'Magic and Loss' material. To see Lou sing 'Sweet Jane' a mile from where I grew up was one of the most thrilling moments I'd had in a concert hall, almost as good as seeing the Stones in the same venue a decade earlier. Elements of the reunion gigs were unique, incredible and transcendent, though, the rendition of 'The Gift' in particular - be it 1967 or 1993, only the Velvet Underground could have made that sound. PB: Most of the songs on 'My Week Beats Your Year' are sparse in length and very few last much beyond two minutes. Was that a conscious decision? RM: Not a conscious decision as such but I recorded most of the songs using virtual instruments from a program called Band in a Box which I still use, programming a backing around the chords I had come up with and then adding my guitar and voice. In those days I didn't have the storage space to save each track so I layered everything and that method seemed to suit shorter running times because a longer track risked overloading the song and the sentiment getting lost. PB: Many of the songs lift or abridge lines from Lou's lyrics, 'Small Town' on 'Songs for Drella on 'Capital City'', the line about the clipper ship on 'Heroin' on 'Hello Lou' and the line about not being able to get past page 17 of a book on 'Kill Your Sons' on 'Don't Understand'. There is always a danger when songwriters do that that they may fall into parody. Was that something which concerned you? RM: It always does, though often I can't help myself. Pastiche has led me down far too many rabbit holes in my song writing and recording but somehow 'My Week Beats Your Year' and my forthcoming collection, 'Be My Baby', escape that for me because I know what I'm singing about is derived from lived experience and not a whim. There's lots of sly lifts in Reed's material from 'There She Goes Again' to 'The Bells' where he lovingly references his favourite R&B records so the nods to Lou Reed's own songs felt in keeping. PB: The new tape version of the album opens and closes with 'Capital City', but beyond that you have radically restructured the track listing, with some tracks that were originally at the beginning now near the end and vice versa. Why did you decide to do that? RM: That was Thomas from Thokei Tapes' suggestion. I had tried to sequence the tracks chronologically but when he proposed a different order, I was more than happy to run with it. Working on my own so much it's good to have another view. PB: The new version of the album contains four new songs, 'Fault', 'Nico is Here', 'Lou Hear Us' and 'Here Lies Lou'. They are the more abstract, experimental tracks and were also written at the time. The original album, however, ran to less than half an hour and you could have easily added them then. Why did you decide to exclude them at the time and add them now? RM: The additional tracks were on my Bandcamp site, which is where Thomas heard them. I had the lyrics of those tracks around at the same time as the original release as they were part of a small stage show I did, also called 'My Week Beats Your Year'. They were spoken word pieces. 'Lou Hear Us' is based on an invocation I heard while attending Mass with my wife and son. The music came slightly later. I think that's the only reason they didn't go on the original album. I wouldn't perform them that way now with the exaggerated east coast brogue and all that. At the time I was misguidedly trying to fit in with the performance poetry scene in Edinburgh just as I had flailed around for years with the indie scene in Glasgow. PB: The original album featured a photo taken by yourself as a teenager of Leith Docks. The new album features a painting of a young yourself looking like Lou with your shades and leather jacket. Why again did you decide to change things? RM: The new cover was a suggestion by Thomas. The Leith Docks photo made sense to me because as a teenager I had twinned my environment and New York in my head. New decade, new cover was fine by me, though. When I look at it, I can pretend I was cool at 23. I wasn't, but in that photo booth I looked it for a second PB: Who are Thokei Tapes who have put out the new version of the album? Why were they so keen to reissue it? RM: The name Thokei is derived from Thomas Keitsch, who has a tape label in Hamburg. He contacted me before Lou passed in 2013 wondering if I would be interested in doing a covers cassette of an entire album. I chose 'Loaded' but didn't get past recording 'Who Loves the Sun'. Last year, having browsed my Bandcamp site, he got back in touch and proposed issuing an expanded 'My Week Beats Your Year'. I guess the Lou Reed connection remained from the abandoned reloading of 'Loaded'. 'My Week'… had been issued by Stereogram only as a download release so having a physical version appealed to me. PB: You are going to be releasing a new album 'Be My Baby' on the Canadian label The Beautiful Music later this year. What are its main lyrical themes and what is it going to sound like? RM: The title, 'Be My Baby', shares its name with a collection of poems I had published about the background to my adoption. In essence, music suits my temperament whereas I found the poetry scene didn't suit me at all, not in Scotland, anyway. Also I admitted to myself I didn't understand most of the poems I came across, and I realised my own words would connect better when served by melody, chord changes and singing rather than on the page or delivered in my stilted reading style. After 'Be My Baby' came out I realised that the act of writing poems that didn't provide the catharsis of telling this story was depressing me, so I stopped completely. During lockdown music became a lifeline for me in a way it hadn't since I was a teenager. I'd begun setting a few of those autobiographical poems to music and that became a song cycle, 23 of them, some or all of which will be released later this year, depending on what's made available as a download and what makes it out as some form of physical copy. I'm still using Band in a Box but now have the space to save the elements of each track, so I think it will be a more satisfying listen than previous collections of mine, enhanced by collaborating with a Swiss-based friend, Stevie Walker, who's been an invaluable sounding board and plays on or co-produces the majority of the tunes. It's by far the most personal set of songs I've come up with and they span a timeframe from my conception in 1962 to me here now. Not knowing who you are is a big deal, and it's amplified when as a baby and still today at almost sixty years old you're clumsy and distracted, can't stand balloons popping and dogs barking and can barely sleep without waking startled and unable to catch your breath because you have dyspraxia and Attention Deficit Disorder and some other neuro diversities you never knew existed. It's embarrassing to talk about and hardly anyone gets it when I do but singing about it helps. Those differences have marked every day of my life and I avoided them in my work for far too long. Then again, I didn't know about my birth story for 52 years. I still feel lost and I still feel like a little boy way more than I can ever let on but I have at last found a way to share, and if that makes the music sound worthy and depressing, I can honestly say it's far from that There's quite a backstory involving my birth mother's secret escape from Toronto to Edinburgh to give birth and have me adopted. I don't yet know all the details and I hope that a sense of continuing discovery is apparent in the music. I hope, too, listeners will hear the love for my adopted parents, Peter and Mollie, who I owe so much to, for my birth parents, Carol and Jim, whose affair led to my existence, and for the close relatives I've met in Canada who help me feel way less lost. At the risk of sounding like an acceptance speech, I must add that the love of my wife and son here in Dunbar has sustained me on this mammoth project. I hope the time I've spent squirrelled away from them working on this has been worth it. At the very least this album is something that feels true to me. PB: Thank you.
Band Links:-
https://www.facebook.com/RoyMoller1963
https://roymoller.bandcamp.com/
Play in YouTube:-
Picture Gallery:-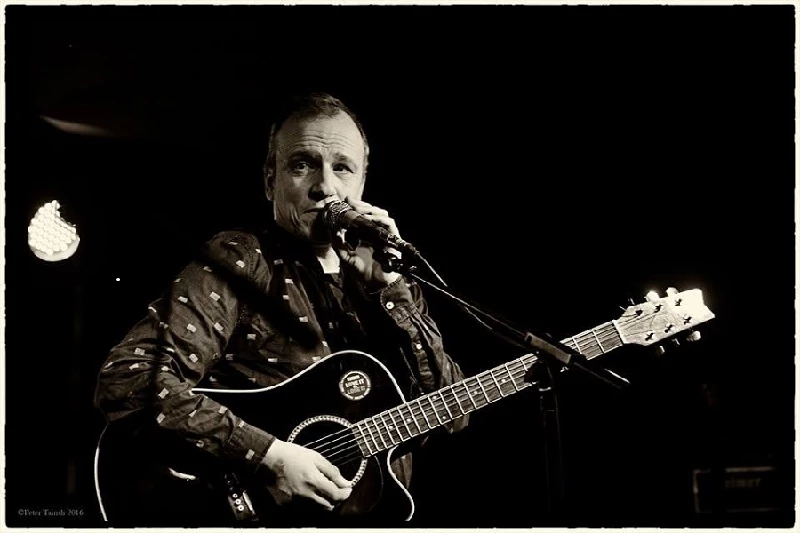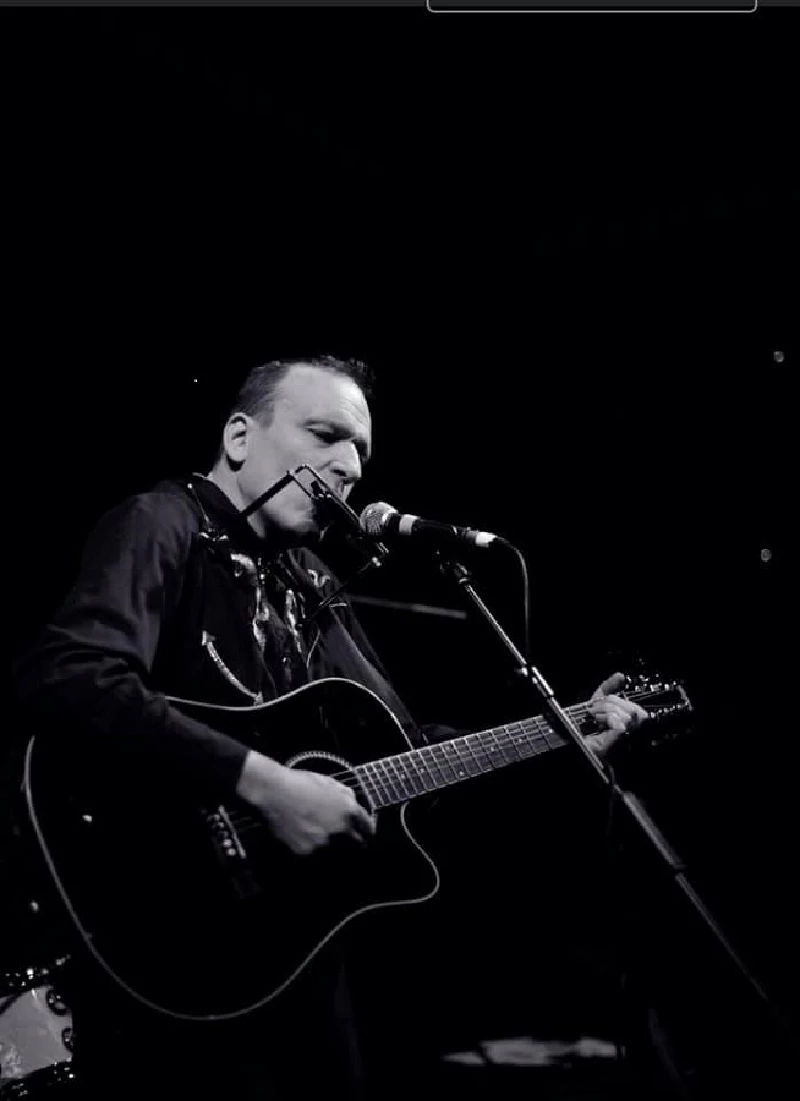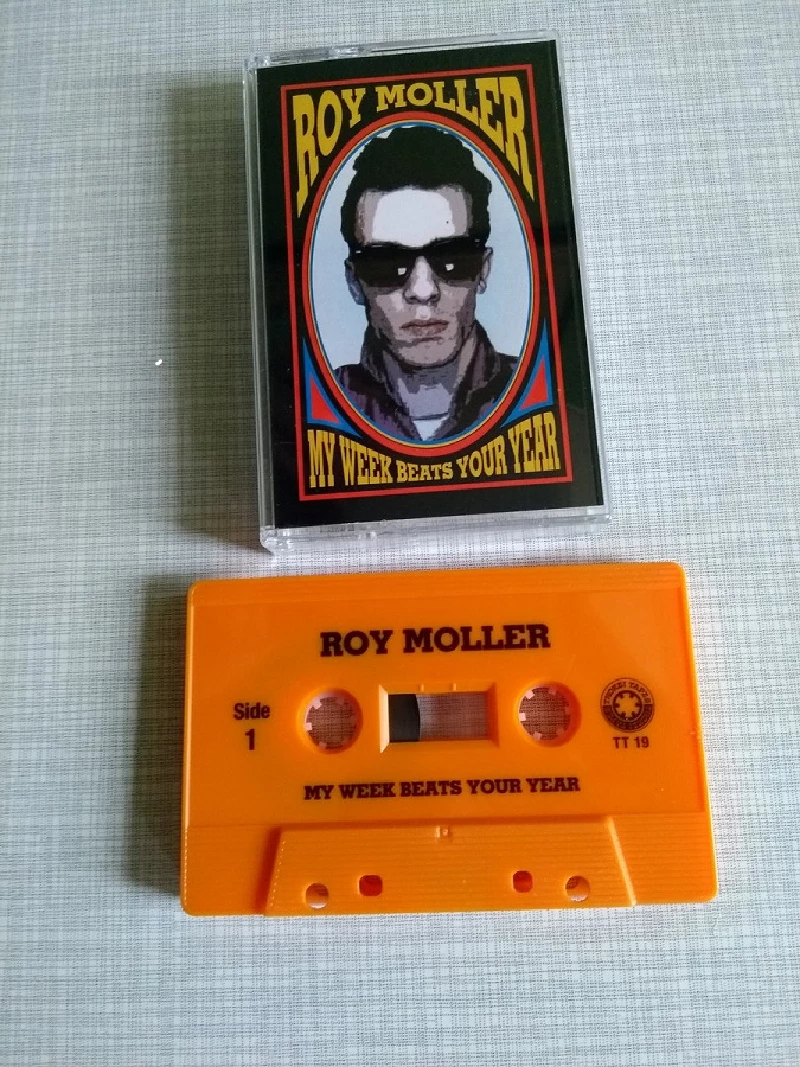 intro
John Clarkson speaks to Edinburgh-born singer-songwriter Roy Moller about the reissue of his 2014 album, 'My Week Beats Your Year', which is about the influence on him of Lou Reed, and his forthcoming new album 'Be My Baby',which is about his discovery that his birth parents were Canadian and that his mother flew from Toronto to Edinburgh to give birth to and put him up for adoption.
interviews
---
Interview (2019)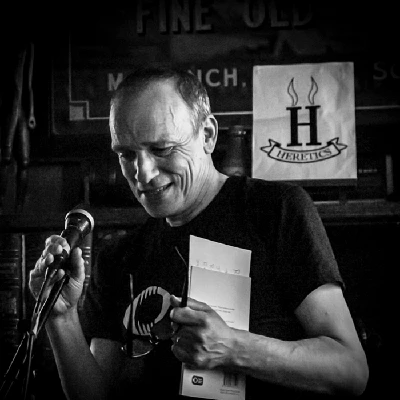 Scottish singer-songwriter and poet Roy Moller talks to John Clarkson about his new poetry collection 'Be My Baby', which was inspired by the story of his adoption and which saw his birth mother travel from Toronto to Edinburgh to give birth to him.
Interview (2015)
Interview (2012)
features
---
Competition (2016)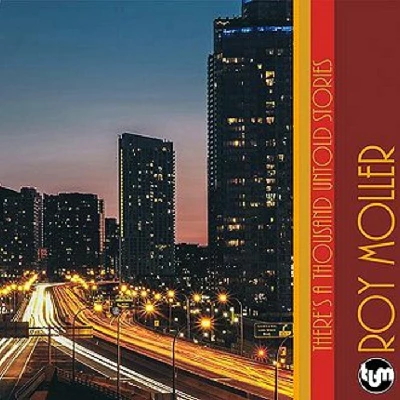 We have five copies of Scottish singer-songwriter's 'There's a Thousand Untold Stories' (with 'There's a Thousand More Untold Stories' to give away as competition prizes.)
related articles
---
Band of Holy Joy/Cathode Ray: Feature (2016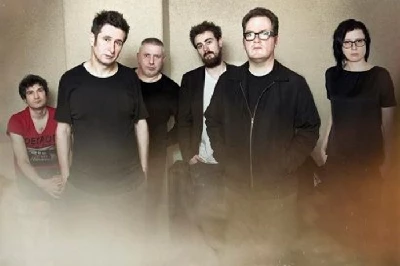 Pennyblackmusic presents three acts from the Edinburgh-based label – The Band of Holy Joy, The Cathode Ray and Roy Moller – at the Sebright Arms on April 15th
Pennyblackmusic Regular Contributors
---