---
Peter Doherty
-

(Raging Pages) Peter Doherty From Albion to Shangri-La
published: 9 / 8 / 2014
---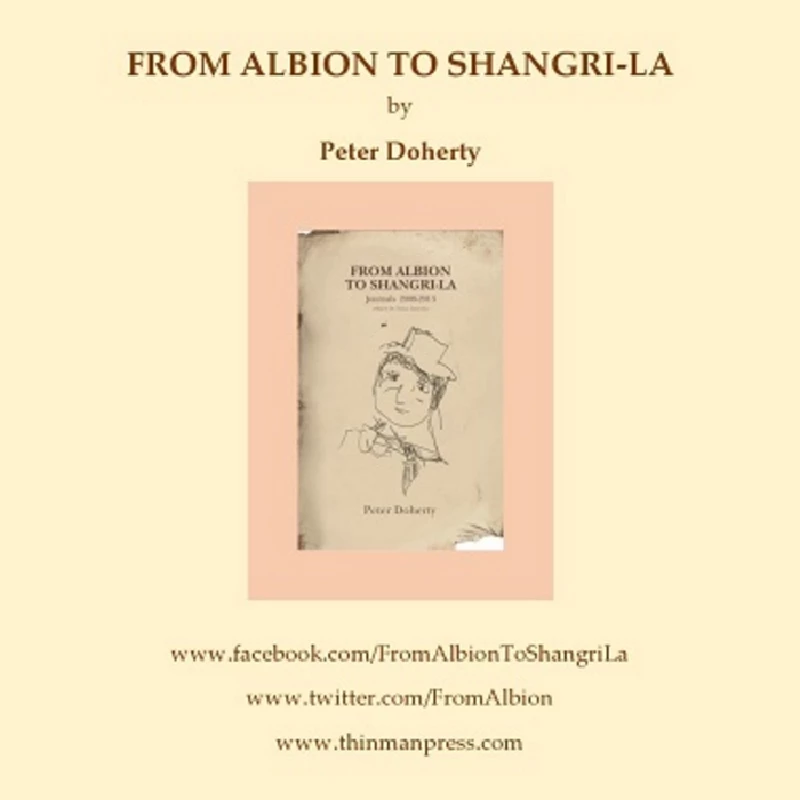 intro
Lisa Torem examines the Libertines' Pete Doherty's recently published diaries and journals, 'From Albion to Shangri-La'
Prolific music biographer Nina Antonia has written about Johnny Thunders, Peter Perrett and the Only Ones, the New York Dolls and vocalist Brett Smiley. A friend for seven years, she undertook the project of editing British icon Pete Doherty's recollections, 'From Albion to Shangri-La', which was written between the years 2008-2014. In a recent Pennyblackmusic interview, Antonia said it took four months to transcribe and put in order Doherty's journals, and she confirmed that his influences include Rimbaud, Emily Dickinson, and Ray Galton and Alan Simpson. Doherty's earlier book, 'The Books of Albion: The Collected Writings of Peter Doherty', revealed his younger, scrappier self. But even then he was fuelled by a fascination for free-style verse and the hopes of starting his own band. The current book is rife with stream of consciousness and could be compared to one of Doherty's other influences, French nineteenth century poet and philosopher Arthur Rimbaud. Both share a fetish for describing grotesque body images, repellent scents and hyperbole. But Doherty also celebrates pure and often fleeting moments of lust and also draws comparisons to American writer, Charles Bukowski, because he settles in on a solitary physical gesture or image. Doherty was raised by a military father, whose approval he craved. When his father pops up several times in verses, you can sense a tinge of sadness. Despite his father's disapproval, the soul-searching musician left home at sixteen and went on to form the Libertines and then the side project, which became his main band, Babyshambles. Unfortunately, Doherty succumbed to drugs, which seriously affected his reliability and the press had a field day reporting on his short prison sentences, questionable life style choices and visits to rehab institutes, such as the lush center in Chang Mai, Thailand, where he would, invariably, be asked to leave. The bad press often leaves Doherty's true talents in the shadows, which is a shame considering his plaintive voice, vulnerable stage persona and haunting lyrics are deserving of much acclaim. Yet, despite his insecurities and setbacks, Doherty has been absolutely idolised in the UK. In one documentary, two female fans write a note, "Let us in" and press it against the window of his touring vehicle. Although he seems unphased at that moment and we don't know what will transpire, he does, in this new book, "let us in." He even says, "I will be found a stranger in my own skin, wonder how I ever let me in." Interspersed are acknowledgements to inspirational Beatles songs and rote to do lists. The book is often whimsical and begins with a list of characters, including his offbeat alter egos, ballerinas and fellow musos and actors. He rambles on about the actual tours, sometimes focusing on feelings of disappointment at audience reactions and other times revelling in the heady fever of the moment. He touches on the fickleness of fame, and devotes a healthy number of pages to the art of getting high. Antonia concedes in her introduction that Doherty's diary entries were "sometimes months or even years apart." But that aside, others were also invited to chime in, such as the now late Amy Winehouse, who was one of Doherty's closest companions. And in a chilling moment Peaches Geldof signs her name in her own blood, and we can almost hear her shaky words in the written statement, "I solemnly swear I'm not going to die." Doherty chronicles travels through Paris, Madrid and Barcelona, citing the vacuous nature of it all – "Only the blank covers of the morning, evening, afternoon." Under an entry entitled 'Pink Town, Homerton', gripping passages, such as "The wolfman in his night shirt and tracksuit bottoms aghast in opiate – barren agonies as the top half of the flat is open", are spellbinding. Doherty floods the reader with druggy prose reminiscent of Bukowski or William Burroughs, "Blood blots all over the fluffy white toweling of the bath robe"; "Bombed out mouth and crippled colourless tongue;" "My chest heaves and hacks up slumps of snotty black lung soil"; but balances it out with references to jazz saxophonist Cannonball Adderley, scenes from American detective series 'Columbo', glimpses of Audrey Hepburn, excerpts of Wordsworth and sonnets by Shakespeare. You'll need some patience to plow through the book, but you'll be rewarded with Doherty's magical imagination and the stark and lyrical way he expresses himself.
Band Links:-
https://www.albionrooms.com/
https://www.facebook.com/peterdohertyofficial
https://twitter.com/petedoherty
live reviews
---
Hangar 34, Liverpool, 27/1/2018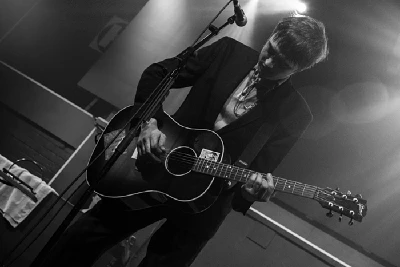 Andy Gordon at Hangar 34 in Liverpool enjoys an improvised set from Libertines' and Babyshambles' Peter Doherty. Photos from Amanda J Window.
Pennyblackmusic Regular Contributors
---