---
Beatles
-

Beatles Part 2
published: 13 / 1 / 2010
---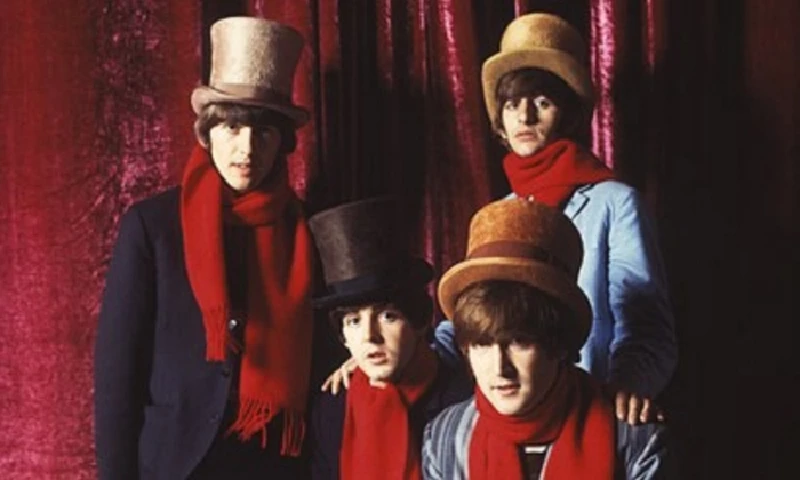 intro
In the second part of his occasional series and history of the Beatles, Anthony Strutt examines the years between 1964-1965
By 1964, the Beatles were world famous. On February 9th they performed for the first time on 'The Ed Sullivan Show'. Sullivan was one of the most influential hosts ever on American TV and the Beatles were watched by a mere 74 million people. This was at a time, when not everyone could afford a television set as well. The Beatles spent most of the month of June performing in America. Before they returned home, they were very famously introduced to poet and folk hero Bob Dylan, who introduced them to dope. They made two films in two years. The first was made in black and white, while the second was released a year later in colour. Two of the Beatles were now married with kids, while a third met his future wife on set. In 1965 the band were made MBEs, while in August of that year they infamously played Shea Stadium to a crowd of 55,600 fans. This was again filmed. Towards the end of that tour they met Elvis Presley, a hero to them all and both the Beatles and Elvis jammed together. By now the band were getting bored of playing live, as they couldn't even hear themselves in concert because of all their screaming fans. From 1966 onwards, they became a much more experimental band in the studio and on their records. It was during those two years of 1964-1965 that the Beatles, however, grew into legends and their influence, which has continued to have an effect on everyone ever since, started to have a real impact. 'A Hard Day's Night'(1964) 'A Hard Day's Night' took the Fab Four into 1964, and, shot in black and white, was their first film and introduction to the cinema, The film tells of basically a day in the life of the Beatles. The group played themselves in it and Ringo Starr with his moody portrait of himself was acclaimed as a great natural actor in it. With John Lennon and Ringo already married, George Harrison met his future wife, Pattie Boyd, on set. The album that accompanied it was a soundtrack album. The title track was a Ringoism, 'A Hard Day's Night' pretty much described the Beatles 'crazy world and lifestyle at the time, as also did the term 'Beatlemania'. 'A Hard Day's Night' is not a love song. It is a work song with a great raspy lead from Lennon, John tells us he has to work hard all day but his lover makes it all worthwhile for him in the evening when he gets home. This universal message forty five years has an abiding theme even today. 'I Should Have Known Better' is one of John's love songs and features smooth acoustic guitar playing and some heavy Dylan-influenced mouth organ all the way through. 'If I Fell' is a classic Beatles love song, sung by both John and Paul, while 'I'm Happy When You Dance with Me' is a beat-based number, sung by George with backing by Paul and John. The latter is fairly twee in sound and very much a record of its time. 'And I Love Her,' is a classic early McCartney number. It is a true love song and Paul has absolutely nailed it here. 'Tell Me Why' is a beat-based number about relationship hassles. 'Can't Buy Me Love' is a classic song in every way. Very much of its time, it was a massive hit single, with a lead by Paul and is a decent solid early 60s rock 'n' roll number. 'Any Time at All' is an r and b flavoured rocker, while 'So I Cry Instead' is a quirky number by John, with a strong American rock 'n' roll flavour to it. 'Things We Said Today' is again a classic early Paul track and another number that secured the Beatles legend. 'When I Get Home' is a love song about what waits in store when you get home, and really a re-write of 'A Hard Day's Night'.'You Can't Do That'is sung by John and is about a girlfriend talking to the wrong boy when she should be talking to him. 'I'll Be Back, is a gorgeous acoustic folk-based number, which is sung as a duet between John and Paul and closes the album. 'Beatles for Sale' (1965) 'Beatles for Sale' features a moody photograph shot in a park of the Fab Four. 'No Reply' opens it up with a John lead and is a song about relationship hassles. 'I'm a Loser', which is also sung by John, is about losing your girl. It has a great lead mouth organ solo and is backed by an American flavoured r and b beat. 'Baby's in Black' is about a girl who has lost her man and is again American flavoured. 'Roll and Roll Music' is a Chuck Berry original and, a standard in the Beatles live set, is delivered in a 50's rock 'n 'roll manner. It is a song to dance to or if you were a girl at the time to scream too. 'I'll Follow the Sun' is a McCartney song. Short and sweet, it is mostly acoustic and is a song about following those sunny rays. Mr Moonlight' is delivered slowly by John and is a cover. 'Kansas City' is again a rock 'n 'roll cover, which remains in McCartney's live set to this day. Most people want to love their other halves for seven days a week, but the Beatles prove on 'Eight Days a Week' that they can love you for eight, as only they can. 'Words of Love' is the only standard issued cover from the Beatles of a song by Buddy Holly. McCartney did a whole album of Holly songs with Denny Laine in 1977, which is credited as 'Holly Days'. McCartney only provided the backing vocals while Laine did the lead vocals on this project, but he owns the copyright on all of Holly's material and a pair of his original glasses. Holly was one of Paul's heroes and he queued up at the Liverpool Empire in 1957 to meet him and get his autograph. He sings on this in the same way as Holly. 'Honey Don't 'is a Ringo-sung cover, while 'Every Little Thing' she does is a lovely John-sung number. 'I Don't Want to Spoil the Party' is a number about attending a party but at which the girl of your dreams isn't there. 'What You're Doing to Me'is a lovely ditty which works well.'Everybody's Trying to Be My Baby' is a Carl Perkins original and, sung by George, is a solid rocker. 'Help' (1965). 'Help' was the soundtrack to the Beatles' second film, which was this time shot in colour and had a proper storyline. The infamous title track is a song about growing up and needing a lover. 'The Night Before' is a song about a woman's change of mind, but how everything was great the night before. It is sung by Paul with some lovely harmonies from George Harrison. 'You Got to Hide Your Love Away' is very Bob Dylan-influenced and has John on lead vocals. It is beautifully performed and, featuring a gorgeous flute solo, is a song about being rejected by a girl. 'I Need You' is a personal love song by George Harrison with a graceful lead guitar on it. 'Girl' is a master class of song writing technique and is also well performed in the film, while 'You're Gonna Lose That Girl' is a song about how to treat your girlfriend. 'Ticket to Ride' was a massive hit single and brilliantly performed in the film is a classic of all time. 'Act Naturally' is a cover sung by Ringo, and, redone by Ringo many years later, is perfect for his vocal range and delivery and his personality. 'It's Only Love' is a John-penned number and shows his romantic side to full shine. 'You Like Me Too Much' is a George Harrison sung number and is a gentle sing-a-long number. 'Tell Me What You See' has an experimental feel while 'I've Just Seen a Face' is a McCartney number, sung very fast, and quite folky. Sir Paul has recently done a hip hop version of this number. 'Yesterday', or 'Scrambled Eggs', as it was originally titled is the most covered song of all time. It goes beyond a master class. It is a short and sweet love song, a falling out song, the ultimate love song and we owe Jane Asher, who Paul was dating at the time, a lot for this alone. 'Dizzy Miss Lizzy' was a personal favourite of the band and is another rock 'n' roll cover. 'Rubber Soul' (1966). The front cover photograph of 'Rubber Soul', which was taken at a distorted and unusual angle, has a druggy feel, 'Drive My Car' is a song about a girl's dreams of fame. Until then Paul, with fine backing harmonies from John, says that she can drive his car. 'Norwegian Wood (This bird has flown)' is a song sung by John about him meeting a girl, going back to her flat and not having sex. It captures the era when people of the opposite sex were just exchanging ideas. By this time George was playing Sitar under the eye of Ravi Shankar, and he plays it on this track. 'You Won't See Me' is a song about love and its hassles and is sung by Paul. 'Nowhere Man', which jangles well, is a song about a dreamer, just like you or me. 'Think for Yourself' is a George number about standing up for yourself, while 'The Word' has an odd rhythm, and shows the band going into the new openness of ideas. It is a song about love and peace before the hippy movement really kicked in. 'Michele' is sung in English and French by Paul, while 'What Goes On' is a fun song sung by Ringo. 'Girl', which has John on lead vocals, is a love song of the highest order, while ' I'm Looking Through You' is a top class number from Paul of the kind he has continued to knock out regularly ever since. 'In My Life' is John being reflective, possibly about his mother Julia. 'Wait' is a head bopper, while 'If I Needed Someone', is a George–sung rocker, which with its Rickenbacker guitars recalls the Byrds. 'Run for Your Life' is a fast love song and features some great guitar work from John and Paul.
Have a Listen:-
Picture Gallery:-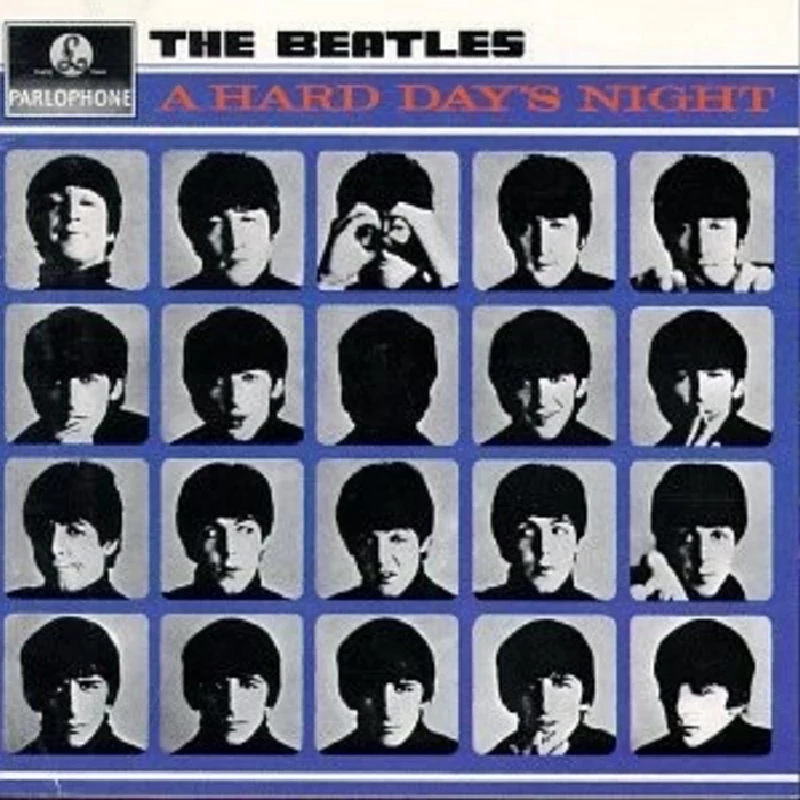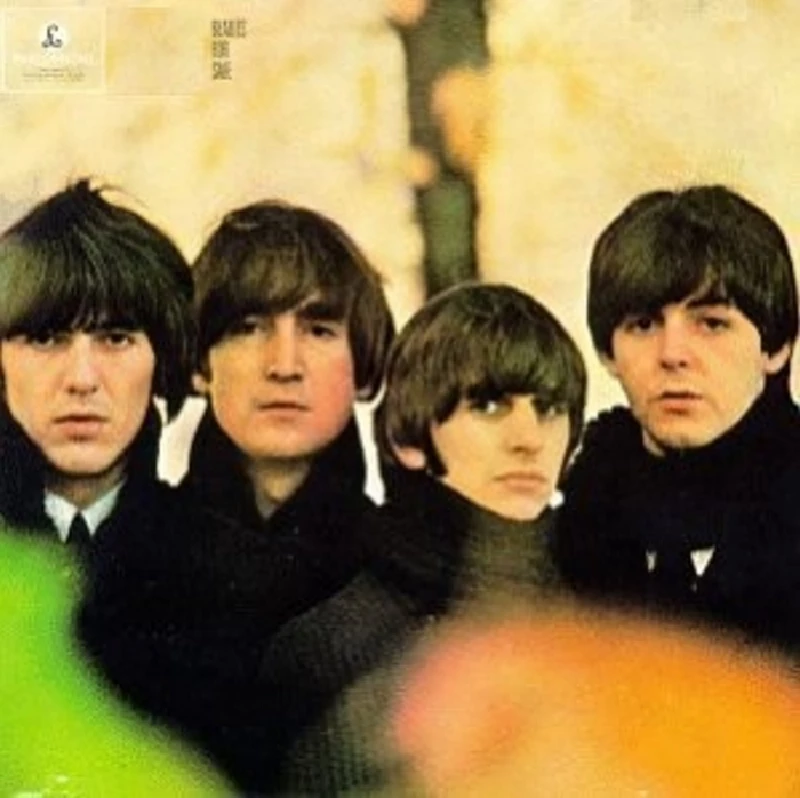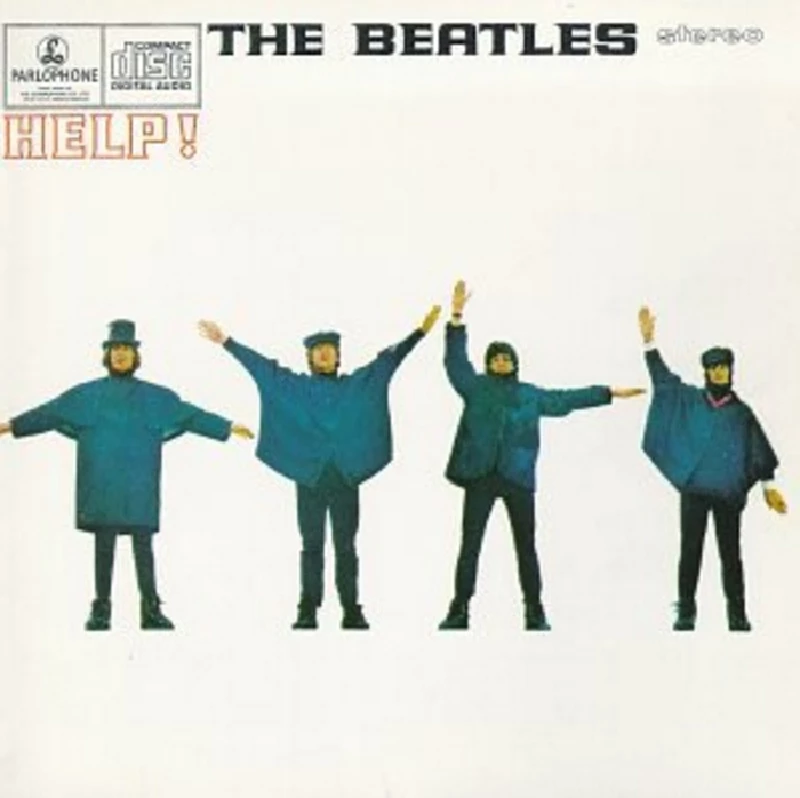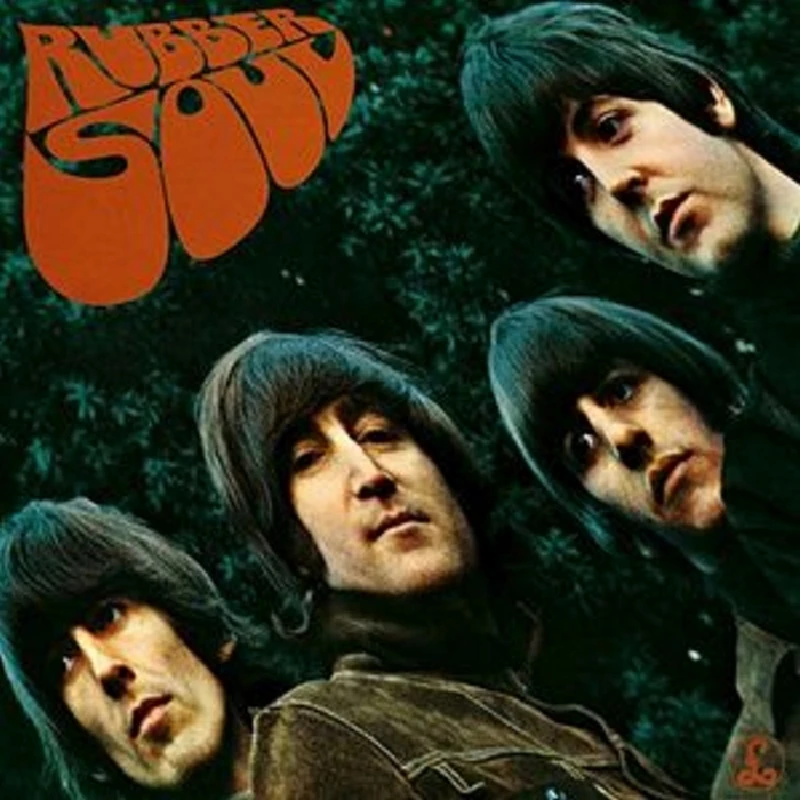 features
---
The Image That Made Me Weep (2021)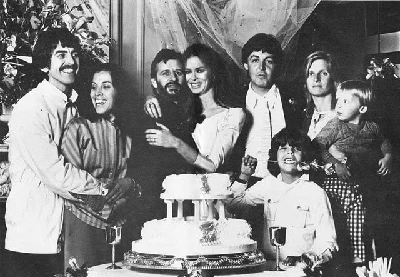 In 'The Image That Made You Weep', in which our writers write of the personal impact of a photo or image on them, Eoghan Lyng writes of a photo taken at Ringo Starr and Barbara Bach's wedding in 1981.
reviews
---
Love (2006)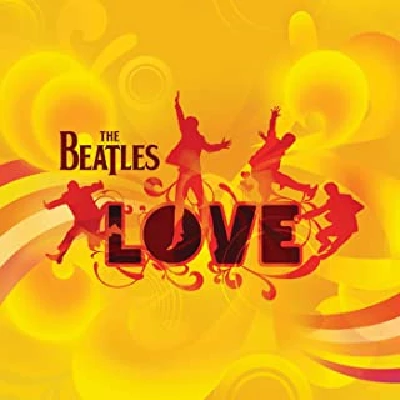 Excellent remixed and reworked collection of Beatles classics by their fromer producer George Martin and his son
Pennyblackmusic Regular Contributors
---