---
Beatles
-

Hyatt Regency O'Hare, Rosemont, Illinois
published: 6 / 9 / 2010
---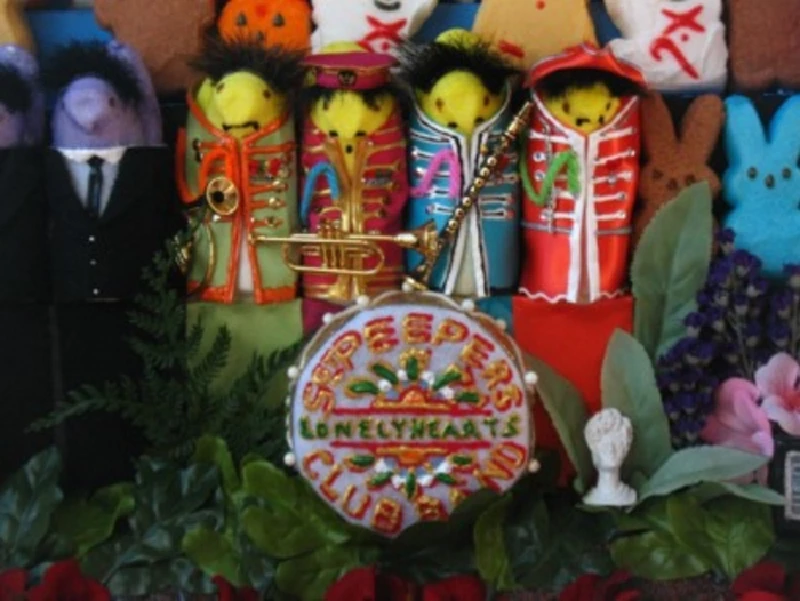 intro
Lisa Torem attends a remarkable annual festival in Chicago for fans of the Beatles, and which is now in its 34th year
"I get high with a little help from my friends," was the Beatles lyric which best describes the phenomenon witnessed by hundreds of fans milling around the Hyatt Regency O'Hare Hotel, steps from one of the world's busiest airports, to honour the Liverpudlians; past and present. But, that high was a completely natural one, save the occasional bottle of Miller Lite. Friendships formed easily; two men struck up a lively discussion about which model of Rickenbacker guitar was the most efficient. Others struggled to define the perfect drum stick and why Ringo's backbeat spearheaded so many subsequent styles. It was an amazing experience to take the escalator downstairs and immediately feel the enthusiasm of the stalwart guitarists who spread out sheet music and played until 4 a.m. Intergenerational admirers gathered around; many had memorized every nuance of certain Beatles songs, whether it was a whistle, handclap or tuba solo. The power and sanctity of the crowd far outweighed most other hotel-based, social or business gatherings. After all, one could go to a religious gathering and feel left out if he/she wasn't well-versed in the dogma, or didn't believe in a central deity. But, here, there was a feeling of absolute acceptance that superseded age, race, religion and class. I mean, even if you didn't know all the lyrics to 'Abbey Road', it was okay. No pressure, it was enough that you just wanted to be there. WXRT radio DJ Terri Hemmert and MC of the Fest since its inception happily walked by, carrying cartons from the memorabilia marketplace. She waved enthusiastically to the musicians and fans. "This is the heart and soul of the Fest right here. If I could MC under the stairs, I would," she glistened, and then explained that the escalator hadn't always cut across the area where handfuls of heavy-weight listeners sat. More towards 3 a.m., Fest organiser Mark Lapidos announced that he had loaded the last truck. He grabbed a guitar and encouraged a sing-a-long to 'Here Comes the Sun' after waving to all and greeting some guests that were repeat customers. "Just one more day, Mark," pleaded one bright-eyed veteran. The onslaught of marauders and strummers included a bass player with shiny, black hair, around the age of eleven. He finessed the mentor standing alongside him, who was shouting out chord changes. Somehow the thought of the loyal string section on the Titanic came to mind. Escaping into the video room, I watched concert footage of Sir Paul McCartney wailing, "In this godforsaken town…" during a charming rendition of 'Only Mama Knows.' Then, on 'C Moon' he eagerly sat down to play reggae-style piano. Scanning the ocean of faces, and fixating on a sign that read: "Two California girls love you," Sir laughed and exclaimed, "Only two?" The fest has been going on for 34 years and appeals to all of the senses. There is a Beatles trivia session and the endless rooms of memorabilia, which attract first-time and fanatical collectors, include posters, album covers, tee shirts, obscure historical data, buttons and 60s' garb. Each evening a band called Liverpool, a tribute band, plays favourites and this evening the luminaries who have already performed and served on panels - artist/guitarist Klaus Voormann, Gary Wright, Mark Hudson, Danny Seiwell and Denny Laine - gear up for a final performance. But, what really set this event apart from a typical convention is the unique characteristics of individuals that leave their worries at home and travel from Vegas, Pennsylvania, Michigan, Wisconsin and outlying suburbs to celebrate the Beatles legacy. Besides having discovered music as being their lingua franca, these Beatles lovers have poured their creative impulses into the appreciation of lyrics that speak to them as profoundly today as when they were written. And, in that way, they have formed a type of cult; albeit one which feeds off the virtues of kindness and non-exclusion. Nicole Nigh was carting around a large, slender box. "First Prize" was scrawled over the part that faced me, as she headed towards the door. Dying to see what was inside, but too embarrassed to actually ask, I had her describe her art project. "I made a collage of marshmallow peeps of the 'Sgt. Pepper' album cover. It took a year to collect all the peeps from the different holidays. Right after Valentine's Day, they finally put out the Easter peeps. The audience is all the other holidays; teddy bears, black cats, Christmas trees. I tried to actually represent people in the audience. I was using pink hearts," she explained. "I started putting it together in February. I believe it took about two months. There was a lot of pausing in-between. Connecting the dots, I was hoping to win. I'd been wanting to do this piece for three years. I built it for another contest. I wanted to share it with everybody. "All she did was glue together marshmallows in a box" is what Nigh did not want people to say. In a statement attached to her project, Nigh had said, "I hope I did this famous album cover and peeps proper homage." On further examination, I discovered that Nigh is also a manager for a Beatles tribute band and quite knowledgeable about the history of the Fab Four. 'The Chicago Tribune' was planning to run a story about the project, but Nigh had already planned her vacation. "I was going to wake up at the bottom of the Grand Canyon," she said. Once navigating her way out, and logging on to the internet, she found out that this daily would have done a story about her, if only she had been reachable. Nigh explains her ties with Beatlemania, "I've been a Beatles fan all my life. They were just the only band that had broken up. Everybody else went on and on forever," she explains. "Maybe they were forty or maybe five when they picked up the guitar…" she said, sweeping her hand across an invisible horizon line towards the all-ages crowd. But, let's get back to the savoury project. The "Peeps" Nigh was referring to are spongy, coloured bits that have the consistency of marshmallows. She had painstakingly glued each one to her large canvas to replicate that breathtaking cover. Imagine a large, red window box; marshmallow chicks lovingly stuffed into black, Beatles suits, adorned with thin, black ties. The four mop-tops were psychedelically recast; bright yellow, red, aquamarine and orange "Pepper" attire. Assorted flowers garnished the foreground. Etched on a drum set were these words: "SGT. PEEPERS LONELY HEARTS CLUB BAND." Nigh, an Indiana resident has been to 15 fests. With her long, bronze, pony- tail draped over her shoulder, and her travel guitar swinging from her back, her silhouette was as stunning as that of a Roman Goddess. But, grace and composure aside, the introspective artist explained why the people at this fest were so unique and so unlike the average pedestrian. "Not your typical businessman…'I bought a candle from Pier 1.' is the biggest thing in their life. They became defined by the job they do. Whatever you really wanted to do, it goes away. 'Hi, I work in a cubicle,'" she imitated. ************************************************************************ At a late afternoon forum moderated by UK Beatles scholar Martin Lewis, Gary Wright (Dream Weaver), Denny Laine and Denny Seiwell (former Wings members) and musical director/producer/performer Mark Hudson (Ringo Starr, Aerosmith) explored the history of skiffle music and its influence on the repertoire of the early Beatles. But, this was not your typical college professors, keep your eyelids open with a clothespin lecture. Laine played vigorous hammer-ons, strumming voraciously during a version of 'Rock Island Line' on a black, well-nurtured guitar. "It's bluegrass really," he shrugged, his straight, black locks whispering past his face. Alternatively, Hudson, strands of white, green and red commingling within the boundaries of his goatee, sparkling under the lights, ruminated about the hit, 'That's Alright.' He shovelled one hand across the strings and physically emphasised dramatic metre changes, concluding, "To me, being an American, I had to study that transition." Seiwell joined in, explaining how the British backbeat reflected James Brown, while Wright explained that, "Little Richard's earlier records had these early sax solos." Hudson expressed, "All of a sudden you have a new genre based on jazz and country and it became true rock and roll. It wasn't just rock and roll with standard blues changes." Martin Lewis reminisced about the Beatles, who joked about only knowing three guitar chords, running off to find another legendary musician. "They heard a rumour that a guy heard a fourth chord," he recollected. The discussion also delved into the fact that the Beatles seemed to innately create striking harmonies and unique melodies without benefit of musical training or theory. "George floated in the melody, all these gorgeous harmonies," recounted Hudson. "They were just singing because it sounded good," he stated, but, as an aside, explained that they were constructing sophisticated harmonies. "Listen to 'Inner Light.' Just listen to the construction of that tune," Lewis exclaimed. "That melody was incredible," added Wright. Laine agreed that the hybrid of genres the Beatles brought to the fore was exceptionally inspirational. "Blackbird was a major influence on me," Laine explained, after describing the classical nature of the piece and how McCartney was equally inspired by Bach. The panel chatted about McCartney's appreciation of American show tunes courtesy of Gershwin and Rodgers and Hart, and Hudson pointed out that it was truly remarkable that the same band could have written both 'Helter Skelter' and 'When I'm 64.' Lewis described the British term "magpie" and explained that the Beatles were listening and absorbing influences all the time." Starr inspired many accolades. Said Hudson, "He would let me play his kit. He would play throughout the entire riff." "He didn't listen to it as just a beat and a track," added Wright. Hudson recalled that after asking Ringo how he polished off some of his most notable solos, even during songs with complex rhythmic transitions, the poker-faced percussionist would answer, "We were lost." Laine spoke fondly of Carl Perkins, recapping how Perkins had waxed poetic about an unforgettable island, only to forget about the very same lyrics. "He was really a great guy to meet and hang out with," added Danny Seiwell. Hudson claimed that a sense of musical history seems to be lost to a current generation. "When we look back, we have to have a seminal understanding of where we were and what we've been through." Seiwell talked about the evolution of Wings as a band that redefined itself many times over. "Wings were one of the first groups to do reggae when we did 'Love is Strange.' Hudson rammed into a raucous, reggae version of 'I Call Your Name', and to further underscore the point Laine performed a calypso-driven version of the 50's hit, 'My Boy Lollipop.' Riveted by these comments were three young men. I wanted to know how they felt about these bands, this music, and the panelists. I had to know why they were here, instead of sipping 7 Up at an all-ages venue. 18 year old Jeremy, with his grey fedora, and two 15 year olds, Arthur, donning a red bandana and Ian, from Elk Grove, Village, Illinois, were first time festers and had this to say: Arthur: I came here to connect with Beatles fans and look at memorabilia, admire work and have fun. Ian: Jeremy told me about it. It's real fun. I like the sitar things. I like the noise it makes, a lot. It's more unique than a guitar. Jeremy: The Beatles are my dad's favorite band. I've seen Paul in concert. I've been listening to the Beatles my whole life. Arthur: Everyone's going to hear the Beatles. My step-mom has every single Beatles song on a CD. We're redoing our basement and it's going to be a Beatles theme. Jeremy: I recognized pictures from Shea Stadium. It's not like we lived the history. It stinks. Arthur: I missed out. Arthur's favorite Beatle is Ringo and here's why: Arthur: Ringo going off and making trouble (referring to 'A Hard Day's Night). Asked about his favorite Beatles song; Jeremy: 'In My Life'. It has an amazing feel to it. Arthur: It's not really the lyrics incorporating the feeling in my life. Ian: When I listen to music, I'm going to hear the Beatles. If I hear it, I'm going to think of the day I was here. Jeremy: You're all about older music, the blues and Jimi Hendrix. Arthur: The time we're in. It's the middle-child of all eras. We're going to form a band. (Jeremy will play lead, Ian/bass and Mark will play rhythm guitar). When asked about today's music as compared to the legacy of the Beatles, Arthur replied: "It's not as special. No great war, no youth movement. Maybe its tech society is immaturing. Back then, lives were being set and now it's superficial. We're just pushing it back. Kids are at home playing video games. Kids are actually playing fake wars on their video games and are scared of real wars. Ian: We're doing 'The Wind Cries Mary' and 'Wonderful Tonight.' Jeremy exclaimed, about the overall feel of the Fest: "I've never been in the era where there are so many Beatles fans. Everyone shares the same taste of music. It's nice to interact and listen to the music." Noting that times like these are rare, times in which kids their age can interact with adults as their peer group, enjoying the same music, vibe and wordplay, in a safe haven, reminded me that outside these walls, another world existed in which kids their age are constantly shut aside. The reason is that under 21 year olds are not allowed to drink in the US, which would be fine, if it didn't also mean limited access to live indie music. But, in Jeremy's words, the divide becomes even more severe. Jeremy: "It stinks that you have to be able to be 21 to go into bars and casinos and stuff to just listen to music. We want to go to Indiana to experience watching BB King play, but since it's in a casino our chance to see him may be taken away because of our age." Comprised of members, Drew Hill (keys, rhythm guitar), Glen Burtnik (bass), Chris Camilleri (drums) and John Merjave (lead guitar), the Beatles tribute band, Liverpool, has played the Fest for years. Sharing the stage with the illustrious panellists looked more like play than work. Trading licks on songs like 'Kansas City', sharing backing vocals, and launching into a more serene 'Hey Jude' than the bass-heavy 'Money', the musicians imitated each other's moves and kept activity feverish between vocal phrases. Hudson sang a stunning rendition of Lennon's 'Working Class Hero.' Accompanied by the transcendental comping of Wright, Hudson made his voice go up when Lennon's traditionally went down. He turned what was considered a drone, folk-dirge into a fascinating bluesy-tipped, spasmodic eulogy devoid of Lennon's caustic commentary. "We'll stay here until they kick us out," he screamed. 'Long Tall Sally' found Laine doing a screeching lead guitar, as the whole crowd crooned, "woo ooh ooh" between dueling piano riffs and undulating runs. A "Pig Light Show" increased its intensity as the set progressed, almost resembling a full-blown fire-works explosion. Hudson rambled into a medley consisting of: 'I Want You', 'Revolution', 'Cold Turkey' and 'Hey, Bulldog.' He had changed from his outfit of screaming, red plaid to a white cap, powder blue jacket and white pants for this part of the performance. Like a fur ball filled with steroids, clawing its way out of a corner, Hudson used every inch of his body to convey emotion and every inch of the stage, rushing from performer to performer, then back again to face the crowd; hovering over a solitary note or scream. When singing, 'Everybody's Got Something to Hide…' the mood shifts. When he sings, "Take it easy," we can relax, if only for a millisecond. Gary Wright has a never-ending smile. He has meditated in India with George Harrison and he wrote his hit, 'Dream Weaver' after perusing spiritual texts. A star-filled, light show surrounds his silhouette as he sincerely sings his song. He looks vulnerable away from the electric keyboard. Wright recorded his last song with Harrison, entitled, 'To Discover Yourself,' which greatly touched him. When the band launches into 'Back off Boogaloo,' Seiwell kicks off with military style drumming. Voormann, looking more sombre, plays a mean solo. 'Live and Let Die' features Laine on guitar. At the end of the set, the entire crew comes up; the Lapidos family, all the entertainers, the volunteers, the authors, all join in for an extended moment of peace and gratitude for a night that should be carefully placed in a time capsule and saved for posterity. Then, before the final curtain call, I noticed the winners of the annual 'Battle of the Beatles Bands' Contest' who are called the Bugs and consisted of four nine-year-olds dressed in black tees and black pants. They had passionately sung Ringo's signature song, 'This Boy.' "The only band that had broken up," according to Nigh, had brought us all fantastically together. The bottom photograph originally appeared on Mark Hudson's website www.markhudsonmusic.com
Have a Listen:-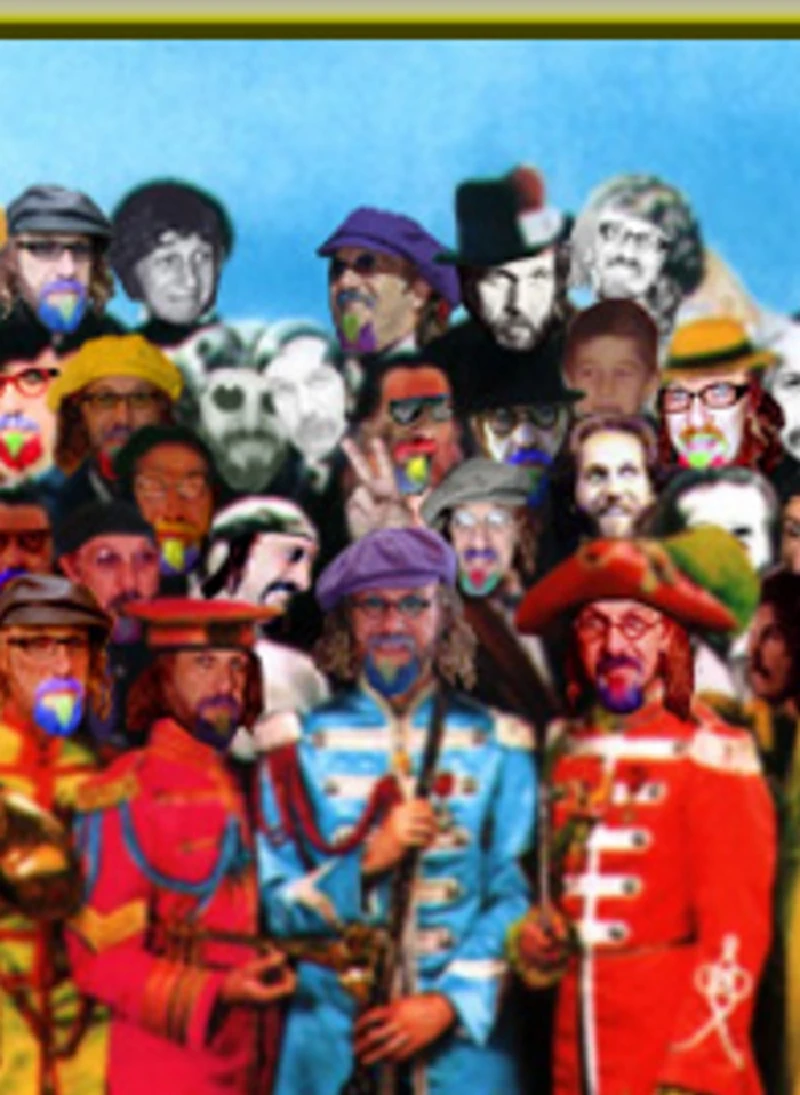 Visitor Comments:-
357

Posted By: Lori Koppel Heath, Newport Beach California on 18 Oct 2010
Lisa Than you for all the effort you put forth in writing this creative article! It is filled with interesting information and it creates a fantastic opportunity to imagine being there with all of the colorful imagery. Lori Koppel Heath
---
351

Posted By: Nicole Nigh, Schererville, IN on 18 Sep 2010
What a wonderful article. I feel like I've traveled back to August and am attending the Fest all over again...which is one of the happiest times and places to be in. Right now I am grinning from ear to ear. Thank you for this great piece of writing.
---
features
---
The Image That Made Me Weep (2021)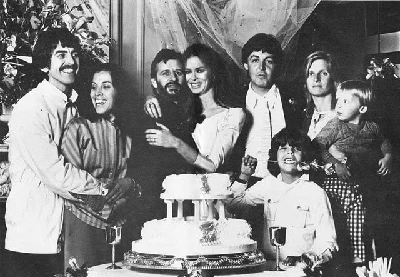 In 'The Image That Made You Weep', in which our writers write of the personal impact of a photo or image on them, Eoghan Lyng writes of a photo taken at Ringo Starr and Barbara Bach's wedding in 1981.
reviews
---
Love (2006)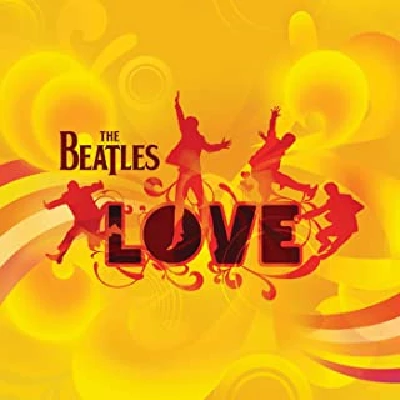 Excellent remixed and reworked collection of Beatles classics by their fromer producer George Martin and his son
Pennyblackmusic Regular Contributors
---