---
published: 8 / 12 / 2021
---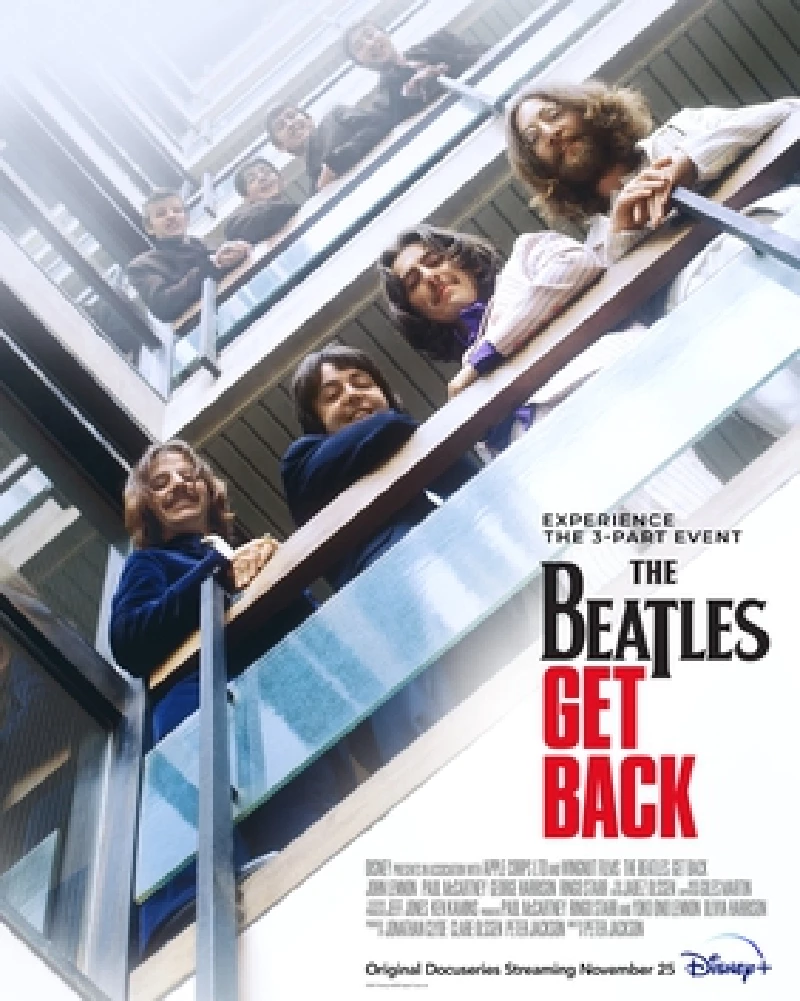 intro
Lisa Torem, in the second of two articles on the Beatles' new epic documentary, that you'd be wise to watch Get Back,' where the Beatles exhibit patience and utter genius.
What doting parent wouldn't spend hours watching footage of their kids unwrapping presents during the holiday season, dancing at their first recitals or playing football at the local park? They're invested. They've shared a life. They're all in. Along those same lines, certain artistic projects yield a built-in audience - 'Get Back,' for instance. The dyed-in-the wool Beatle fan will come to the screen prepared to love every hot minute, but what about the casual fan? Let's table that thought until we get some background. 'Get Back' is director Peter Jackson's seven-hour, three-part documentary. It aired initially on November 25 via the Disney channel, and has created a buzz ever since it was first streamed. Primarily about the nuts and bolts of the 'Let It Be' album, the documentary draws upon approximately 60 hours of footage by director Michael Lindsey-Hogg, who was responsible for the original 1970, 'Let It Be' project. True; Hogg was in the room where it happened, but Jackson had the unenviable task of updating the technology vis a vis audio refinement and colour adaptation and making sense of rough cuts. As a self-professed fan of the beloved mop tops, I was fully prepared to salivate every time Ringo Starr shook his furry head, or George Harrison muttered an uncanny observation. But I was also prepared to see enemy fire in the eyes of a quibbling quartet, as the original documentary focused on such animosity. But what I hadn't expected, was to be invited into the creative den of one of the most prolific bands of the 20th century. Now, I admit there were times that my eyes wandered off the screen, and I wondered if there was any there there, but as a child, I'd been cautioned that, "all good things come to those who wait," or as Harrison would state, "all things must pass." As such, when the dialogues dragged, I took a breath, and got re-glued. I'm glad I did. Ultimately, the delightful aspect of this documentary entailed the process of lying-in-wait for ideas to germinate, and then, magically watching them sprout; sort of a fertile 'Octopus's Garden,' without the, um, octopus. One of the biggest paybacks occurred when Paul McCartney, after struggling with placeholder phrases for a stretch of time over the jangly 'Get Back' chords, completed the lyric, and the band heartily played along. I was also reminded of how natural-sounding these four young men sounded, whether playing early and raucous rock and roll cover tunes or their own tunes. When one got stuck, the other jumped in with a riff, bass line or piano chord. When pianist Billy Preston showed up, the extra pair of hands freed them up further. In another act of genius, McCartney, advised by steadfast friend, former roadie and tour manager, Mal Evans, replaces the word, "waiting" with "standing" on 'The Long and Winding Road'. This was a song I'd often disregarded; after all, McCartney was responsible for so many engaging ballads, and frankly Phil Spector's syrupy strings left me aching to hear a simple, heartfelt progression, but watching the award-winning songwriter puzzle it out and arrange the pianist's harmonies made me appreciate the lyrical and melodic beauty that much more. Of course, with any well-done documentary, there are moments meant to make the audience uncomfortable… At one point, George Harrison gets markedly upset when McCartney seemingly micro-manages his arrangement ideas. As the die-hards know, Harrison, despite being the youngest of the clan, came into the fold as a talented guitarist, brimming with instrumental proficiency, but it was not until the release of Harrison's first solo album that he'd unveil his full-tilt potential. He spent years fighting to get a few songs on each album; he'd been up against a lock-down from the Lennon-McCartney team; no wonder, that in this early episode, he announced he was anxious to do a solo album during a tense dialogue. Yet, in Macca's defense, he was "fixing a hole." The young men could no longer rely on their manager, Brian Epstein, who, having died after the Beatles and their entourage returned from a spiritual retreat with the Maharishi Yoga in India, had left the group rudderless. Epstein took care of business issues and planned out the group objectives. Perhaps he would have had a solid plan in the studio; as it was, you get the feeling, when watching this footage unfurl, that there was little concern about tabulating studio expenditures. And the random conversations about filming a special in Northern Africa lacked vision, and registered little traction from the Liverpudlians at-hand. To be fair, the whole band had reasons to struggle in the aftermath, and in this never-ending slice-of-life, we're privy to the panorama first-hand. And in the end, the studio squabbles were resolved, and the album got done. In fact, after the open-air event, they set to work on 'Abbey Road.' There were endearing pearls meant to savour. Beatles women float in and out. The late Linda McCartney, then, with her young daughter Heather, makes a brief appearance and states that, of all the Beatles, she's most comfortable with Starr. She's also seen clicking her camera at opportune times with a strong sense of purpose. Starr, meanwhile, comes off as an exceptionally agreeable, likeable bloke. He jumps to his kit whenever McCartney scratches his head or wants to further develop an idea. He kids, supplies the infectious beats, and asks for nothing in return. Yoko Ono never leaves John Lennon's side, except to caterwaul during an explosive jam session. Maureen Starkey's (Starr's then-wife) visit could be categorized as a cameo; if you didn't know your Beatles history, you'd miss the smoky-lidded, youthful brunette. There are other insider remarks. McCartney namechecks former girlfriend Jane Asher and dishes about a song that the actor's brother, Peter, with his music partner, Gordon, recorded, which McCartney wrote. It's not a brag, it's just that McCartney's written so much that his everyday recollections would invariably involve such achievements. Some asides the obsessed will immediately get: McCartney's wry comment about replacing Starr with Jimmy Nichols--the drummer replaced Starr for several concerts in 1964, when Starr fell ill, or a comment about the Marcos family, based on an event in 1966, when the Beatles couldn't attend an appointment with First Lady Imelda Marcos at the Presidential Palace in Manila. The president and his wife took the no-show as a slight. Security was called off the following day, causing havoc for the Beatles' trip home. A very likeable aspect of the film comes in the form of constant, carefree mugging. Through clenched teeth, Lennon and McCartney exaggerate the lyrics of 'Two of Us,' coming off like drunken, but innocent school boys. It's refreshing to see that, despite the pressures they were under to monetize their time, they could amuse themselves, without losing sight of the end product. And as we know, despite their tomfoolery, they did complete what they set out to do; they simply enjoyed a few laughs while doing it. As some may know, the documentary ends with the iconic rooftop scene at Apple Studios, where the band, primarily fielded by Lennon and McCartney, with their long hair blowing in the breeze, entertain stunned Londoners far below. Here is where the old-school feel really comes to a head. Despite detailed planning, no one bothered to secure permissions to hold the rooftop concert. With the advent of the Internet, social media and cell phones of today, this act could only be viewed as anachronistic. To that end, a young constable pops up on the split screen, and repeats to a staff member that there have been approximately thirty complaints about the outside noise. A woman-on-the street asserts that she was awakened from her nap by the racket. Bear in mind, that it is still daylight in the frenetic city of London! If she could somnambulate through honking,black cabs, why couldn't she dream peacefully during this one-off event? The upshot: trouble is brewing, and although the minders try their bestt to keep the concert going, we discover that "all things will" not "pass," as Harrison would croon. The irony, of course, is that this cut-short concert will go down in history as the last, live concert the Fabs would play, and yet it was ruined by lax planning, short-sighted bureaucrats and insipid comments. Oh, well… Despite the outcome, however, 'Get Back' is a feel-good documentary. Make a night of it, or several. Tip the pizza delivery man, you'll be texting him again real soon. Crank up the volume in honour of those who preferred taking a nap to hearing the greatest band in the world play their final concert. True-blues will undoubtedly enjoy more innuendo, but any musician, or ally, that is interested in the creative process will gain a great deal of perspective on collaboration and social tolerance by viewing 'Get Back'. The project marked the end of a magnificent era we'll never "get back."
Play in YouTube:-
Have a Listen:-
Picture Gallery:-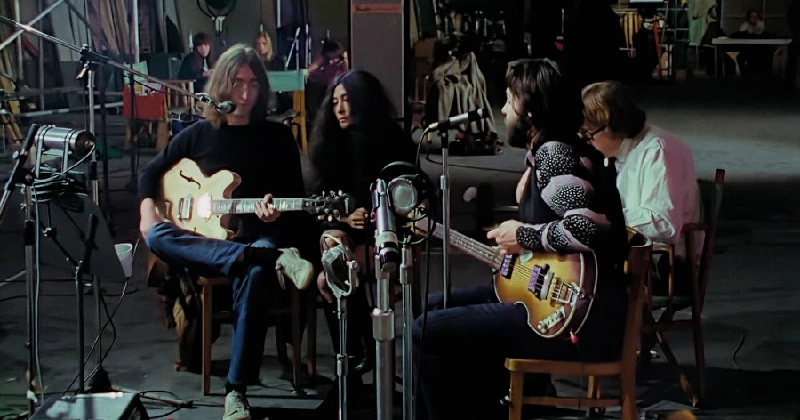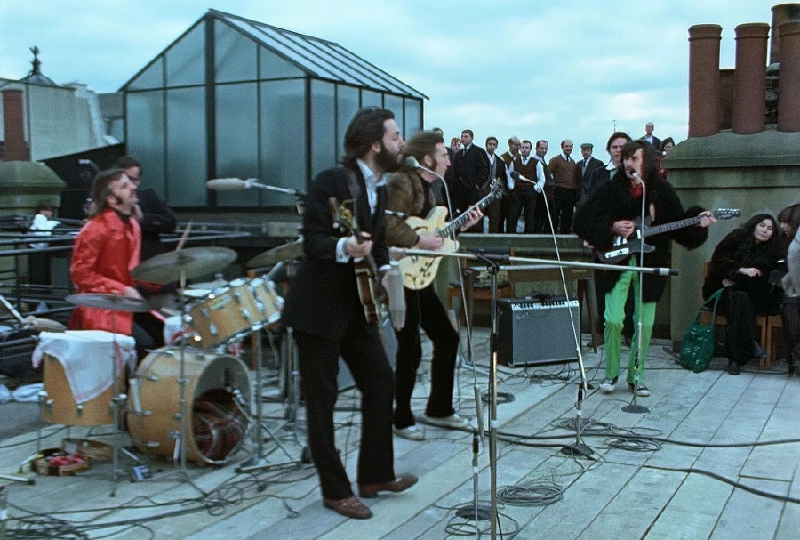 features
---
The Image That Made Me Weep (2021)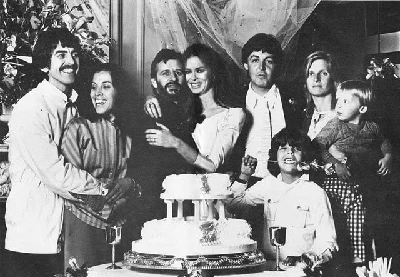 In 'The Image That Made You Weep', in which our writers write of the personal impact of a photo or image on them, Eoghan Lyng writes of a photo taken at Ringo Starr and Barbara Bach's wedding in 1981.
reviews
---
Love (2006)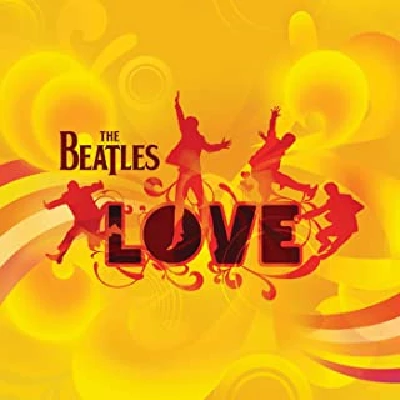 Excellent remixed and reworked collection of Beatles classics by their fromer producer George Martin and his son
Pennyblackmusic Regular Contributors
---