---
published: 24 / 12 / 2015
---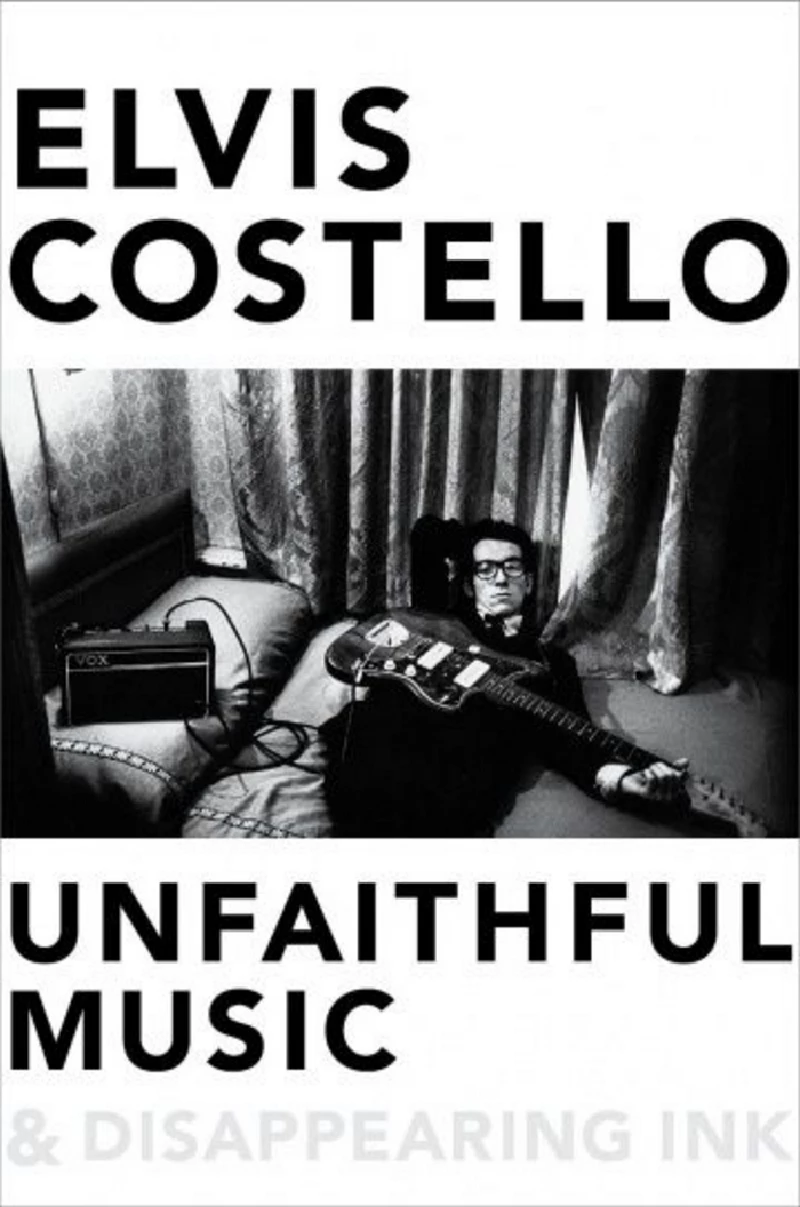 intro
Despite its length, Lisa Torem enjoys reading about British singer/songwriter/producer Elvis Costello's colourful life in his newly released memoir and offers commentary in her monthly column, 'Raging Pages'
With his oversized glasses, quick wit and gift for turning social and political observation into catchy and moving ballads such as: 'Alison', 'My Aim Is True' and 'Shipbuilding', etc., Rock and Roll Hall of Famer and British singer/songwriter Elvis Costello (born Declan Patrick MacManus) has created a unique niche in pop history since the formation of his career in the late 1970s. In his memoir, 'Unfaithful Music and Disappearing Ink', he reveals with great detail how his talents emerged, the role his family members have played in his career and what has kept him grounded and inspired throughout his forty-year reign. With excitement (and often a sense of disbelief), he reminisces about working with his personal heroes: Allen Toussaint, Nick Lowe, Burt Bacharach, Paul McCartney, etc., but he also digs below the surface by examining the charmed benefits and emotional pitfalls of fame — although you get the idea he is still struggling with the phenomenon. He sounds stunned at times, for example, when a simple wish for a specific studio lineup is granted by Yoko Ono. Mr. Costello's reach for personal truth, reflection and stargazing results in a nearly 700-page read, which he wrote entirely himself. His delight at sharing these experiences truly comes through. En route he pokes fun at himself, whilst describing his famous friends and their accomplishments with deep respect and with the exuberance of a fan. It's not surprising that he became a working musician; his grandfather played trumpet on the White Star Line and his father performed with the Joe Loss Orchestra. His early years take place in Liverpool and London and although the time lines are not always drawn clearly, the engaging narrative and lively anecdotes keep the momentum going. But his was not a career formed without the payment of social and artistic dues. The early 1970s found him struggling financially in London. Rising to the challenge, however, he churned out earnest, original music that would ultimately grace his first recording. He worked at a cosmetics company, married for the first time in 1974 and raised a family. It was in his early twenties that he formed The Attractions, with whom he would perform and record nine albums during their decade together. Although that time together was productive, Costello's reputation took a turn when, during a drunken bout in Columbus, Ohio, he was reported to have made racial slurs. Fortunately, he provides a frank account of that event, or at least what he remembers of it, and offers apologies. Musicians will be glad to hear about his dealings with the punk movement bands such as The Sex Pistols and The Clash. He also spends a lot of time discussing his fondness for The Beatles and road life with Bob Dylan. "There you go, I've softened them up for you," he recalls, after Dylan's set and prior to Costello's entrance. He also cites his own lyrics frequently, which allows us an opportunity to get to know him on a deeper, cognitive level. Interestingly, his own songwriting inspirations have not just occurred because of those closest to him — he writes sincerely about the heartfelt music his family members have inspired- but also through personal letters: 'I Thought I'd Written to Juliet' was, for example, inspired by a young female soldier in the Gulf War. He speaks glowingly about what he gleaned by collaborating with composer Burt Bacharach: "Writing those first songs with Burt Bacharach required me to listen to what the music was really saying to me." He explains what it was like actually co-writing with Paul McCartney versus his initial expectations, and finds himself often surprised at how easily things fall into place, although he observes that McCartney has certain standards he expects his collaborators to conform to. Elvis Costello takes it all in his stride, secretly hoping to see (or perhaps, play!) his colleague's iconic Hofner bass. His account of performing 'The Scarlet Tide' after hearing about a loved one's sudden demise brought to mind the constant courage a performer has to muster to remain in the limelight. "At the closing line, the room began to revolve, and I stumbled" he writes, facing his audience during a time of unquestionable grief. He experiments with all kinds of orchestrations. Of an original, classical piece, 'The Edge of Ugly', he dryly comments: "It wasn't so much an overture as an underpass", adding that conductor Gunther Schuller "conducted the piece with rather more élan than the piece strictly deserved". Despite his self-deprecating stance, he deserves credit for his resilience, as he consistently seems willing to compose complex compositions regardless of the genre. In essence, Raging Pages says that if you can plough through a rock memoir of such uncommon length, you'll be rewarded with a candid, heartwarming dosage of Mr. Costello's humour, grace, craftsmanship, humility and sustainability. You'll also get a sneak preview of how his stories will stand up next year when he performs his Elvis Costello Detour Solo Tour in North America, with bold visuals documenting his radiant trajectory.
Band Links:-
http://www.elviscostello.com/
https://en-gb.facebook.com/ElvisCostello/
https://twitter.com/ElvisCostello
Have a Listen:-
favourite album
---
Armed Forces (2005)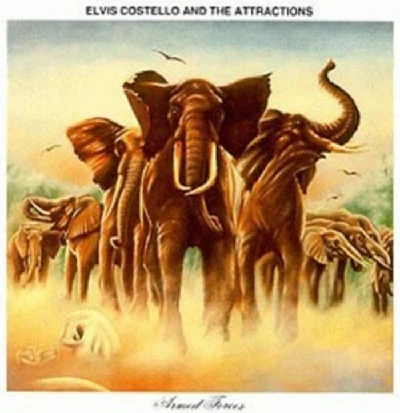 In the latest in our 'Re :View' series, in which our writers re-examine albums from the past, Daniel Cressey looks back on Elvis Costello's classic 1979 album 'Armed Forces'
photography
---
Photoscapes (2021)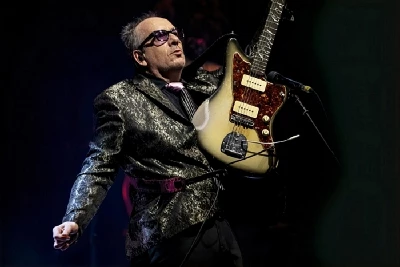 Andrew Twambley photographs Elvis Costello on his recent UK tour at the Blackpool Opera House.
Pennyblackmusic Regular Contributors
---