---
Miles Kane
-

Erics, Liverpool, 3/10/2013
published: 3 / 10 / 2013
---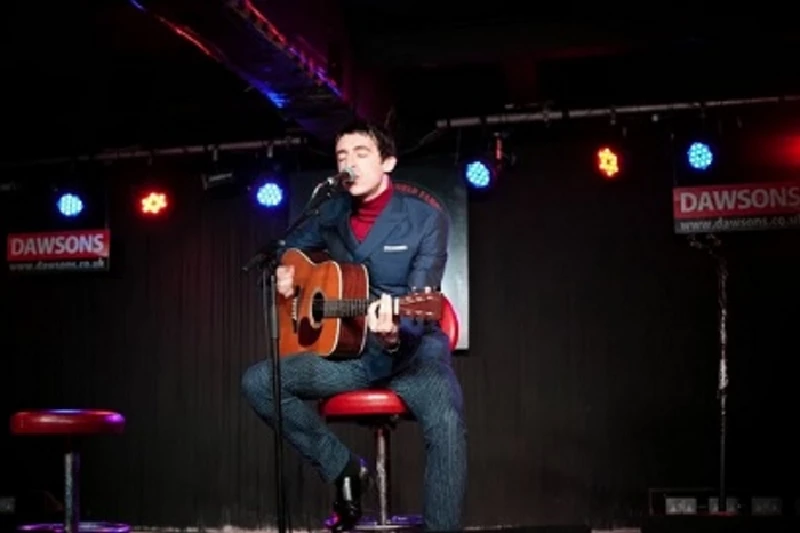 intro
Harry Sherriff attends a press launch at Eric's in Liverpool for two forthcoming intimate shows there in December which local hero Miles Kane chats to Radio Merseyside DJ Billy Butler about his early musical history, his Last Shadow Puppets project and two solo albums to date
It was great to be invited to such a laidback cool event where Miles Kane not only played two songs, one from each of his two solo albums, 2011's 'The Colour of the Trap' and this year's 'Don't Forget Who You Are', but he also gave a really inspiring candid interview with Radio Merseyside DJ Billy Butler asking the questions. Miles hadn't played Liverpool in a while, and when Pennyblack interviewed him at the Liverpool Music Awards where he won Best Album we asked him why wasn't Liverpool on his tour agenda? He responded that he had something planned up his sleeve that would be pretty special, but he couldn't say anything more. It is clear that the trick up his sleeve were two exciting forthcoming intimate gigs here at Eric's on Mathew Street in Liverpool on the 6th and 7th December. Miles was relaxed during this event, and the reason he gives for doing two hometown gigs on a Friday and Saturday is commendable. He's trying to make it meaningful and more unique for the fans. There are a lot of snobby commercial artists that wouldn't dream of playing a smaller venue at the end of their tour. BB: First of all Miles I'd like to apologise that it took me so long to get round to your new album. (Comedically unfolds a very long album) I couldn't find the bloody thing! MK: (Laughs). BB: Miles you've always been on the radar right from your first band the Little Flames. Even when you left for another band the Rascals, you were still on the radar and now you've gone solo. MK: Yeah, it's been a bit of a rollercoaster. Everything I did up to my first album was all a learning curve. There have been ups and certainly downs, but it's made me who I am. BB: So you were born in Birkenhead, grew up in Mills, so you were fourteen in 2001 so you were only a teenager in the noughties. What did you do and where did you go to see bands at that time? MK: When I was about fourteen to fifteen my cousins were in that band the Coral, and I remember seeing them in the Picket, and they were doing a double headline gig with the music and I didn't know what to expect, and I remember seeing my cousins proper rocking out and it really blew my mind to see people I knew really transform. And at that time I was listening to bands like the Strokes and when I saw our James (Skelly-Ed) I thought, "God I'd love to do that," but I never knew how you got there. I never knew how you got on to the stage. BB: It's only nine years though. You've come a long way. MK: That was it. It's just having that self-belief, and I started playing guitar, and I think I got my first break with the Little Flames. BB: Were they your first live gigs with the Little Flames? MK: Yeah, they were. My first gig was at Hannah's Bar in town, and for me that was like Wembley Arena. Then I started writing songs in that band because when I joined I didn't have the confidence to sing. I was just a guitarist. BB: So, it wasn't you leaving the Little Flames. It was more Eva Peterson (Little Flames singer-Ed) not being in the Rascals? MK: Well, there were five of us; there was another lad as well. We made this first record, and it never got put out. I think it's on the internet now, but I was eighteen and we were recording this one album for three years, and it just zapped any life and soul out of us all and it got to a point when we were re-recording these songs because the label said they didn't sound good enough or polished enough, and it just zapped it out of all of us. Then when the Rascals happened it was more out of anger and like a fuck you. I wanted to sing, and we just had this raw energy. And some songs didn't even have a chorus because we wanted to go the other way, and we didn't care about a hit. I love those days because I knew when we made that Rascals record I'd never make a record like it again. It was more of a release of frustration. BB: The Last Shadow Puppets were next, and that was a big thing because obviously you were connected to the Arctic Monkeys guy (Alex Turner-Ed), and that was a prestige thing. Having an orchestra was massive, and that's what really brought Miles Kane to me because I thought the Last Shadow puppets were absolutely brilliant. MK: It was a big step for me because the bands I was in before played little clubs, but when me and Al wrote those tunes and recorded that record I don't think we expected it to be that big. BB: But the sound was so big? MK: Yeah. I think it was more the records we were listening to and we left space for them. It wasn't really thought about, and that's sort of the best thing. BB: Recently when you spoke about influences you mentioned Lee Hazlewood and I thought, "How on earth does Miles Kane know about Lee Hazlewood?". MK: I love Lee Hazlewood, especially his two albums with Nancy Sinatra. It's the sounds and the reverbs. Also the lonely lyrics I'm a big fan of. That 50's sound has always appealed to me. It doesn't matter whether I'm doing a rock and roll tune or a ballad. I'll try and get that in there. BB: What was it like with the Last Shadow Puppets to finally be in the Top Ten charts? I'm talking about singles now. MK: Yeah. It's tough to get singles in the Top Ten now. I know that more than anyone. BB: Does it still mean something to get a number one in the singles chart? MK: I think that it would be massive. But there's so much pop stuff and that other stuff it just clogs it up. With rock and roll artists like me, your album can do well and you can do big gigs, but it's still hard to get singles in there. I don't really know why. BB: Where would you expect to hear Miles Kane on the radio because it's not Radio 2, and Radio 1 is more dance, right? MK: Well it's been a little Radio 1, but for me it's more building the live performance. It's when you go on tour you see how well the songs have travelled. See everyone singing and songs have connected. BB: Now you're going around the world with this tour and new album, how does that feel from the lad who started at Hannah's Bar? MK: It feels weirdly comfortable. And I don't mean that in arrogant way. I just feel comfortable playing live. BB: What hometown bands have influenced you Miles? MK: Loads, a lot of Motown and I think that stems from records being left round by my mum. The Temptations, the Four Tops, Diana Ross. The feeling those records give you even if it's a sad tune you feel up and I try and do that. Even if it's a song about yearning for love it can give you a swagger. BB: The new album is powerful. I love hearing a song and knowing exactly what the singer is talking about and you do that. There are too many artists doing lyrics only they understand. Your songs are very simple. I can see the Motown influence in the short length of the songs. The Beatles as well hardly did anything over three minutes until later on. Mk: That was the whole point of it. Ian Broudie from the Lightning Seeds who produced the album is really good at that. We wanted snappy tunes that made you have it. BB: People in Liverpool love melody, and you always have a melody. MK: And you know I'm a fan of a la-la-la or a wo-wo-wo (Laughs). BB: It's definitely a concert album that gets interaction. MK: Yeah, and there's no better feeling than that. BB: So what's next then? MK: Well we're going to end the year playing these gigs here, which should be nice because I feel I haven't played Liverpool for a while. We played it on the 'NME' tour but I wanted to do something that was its own event. It meant something for me and my friends and the fans. A little world for a couple of nights we can go mental in. I love Echo and the Bunnymen and working with Broudie and all those bands that have influenced me, and when we play here I want it to have that raw punkness. It's going to be mental in here. BB: I asked John Lydon how long he was going to keep making music, and he said, "The fans love it and I love it so I'm going to keep doing it." Do you think you'll be doing it in your 60's? MK: I'd love to. I'd to be sat here talking about my new record. The quest to write a better tune is never ending if it's in you. BB: So when do you start to think of the next album? MK: I'm thinking about it now! BB: Are you going to pack up Miles Kane and be someone else? MK: Like Giles Payne? (laughs) It's on my mind where to go next. I'm getting influenced by a lot of soul lately. Bobby Womack and this singer called Charles Bradley. That's all I can say because I don't really know. BB: If Elvis Costello hears 'Better Than That' he'll sue you. MK: Well don't play him it (Laughs). Whenever he's in town, hide that record. BB: How do you work with the writers? How did you work with Paul Weller? MK: Well, it happened naturally. It was a weird experience. It got built up. We did these interviews about working together and we'd never even worked together. So I went down to his studio, and I went with my drummer Jay and we got there really early, and he was dead late. We were jamming and he came in and there was that nervous tension. BB: "Oh fuck"? MK: Definitely. And if Elvis Costello had turned up I'd be like, "Oh fucking hell" (laughs) – He was such a nice guy and he just joined in with my jamming. And we wrote this chorus that was this really laddy tune. And I had these lyrics for another song but he said put it with this one. BB: Good luck with the rest of the tour. Miles plays 'Colour of the Trap' and leaves the stage. The photographs that accompany this article were taken by Marie Hazelwood for Pennyblackmusic.
Band Links:-
https://www.facebook.com/mileskanemusic
https://twitter.com/mileskanemusic
http://www.last.fm/music/Miles+Kane
http://www.songkick.com/artists/3076541-miles-kane
https://www.youtube.com/user/MilesKaneVEVO
Picture Gallery:-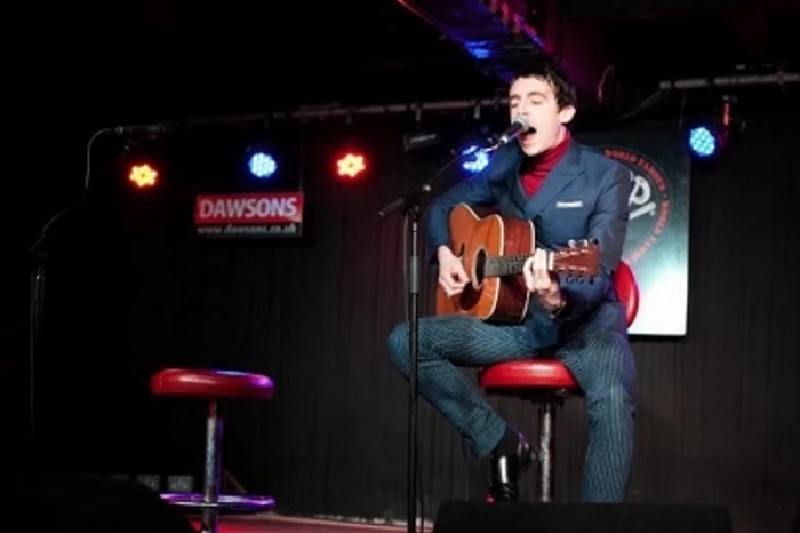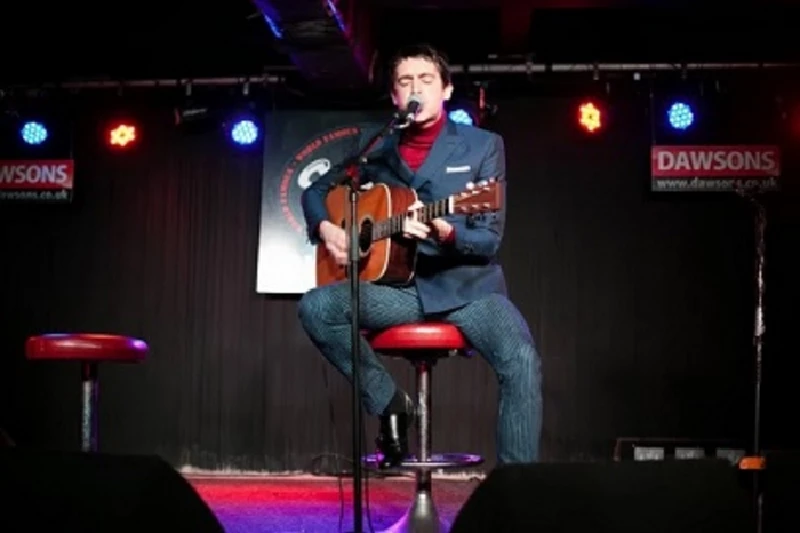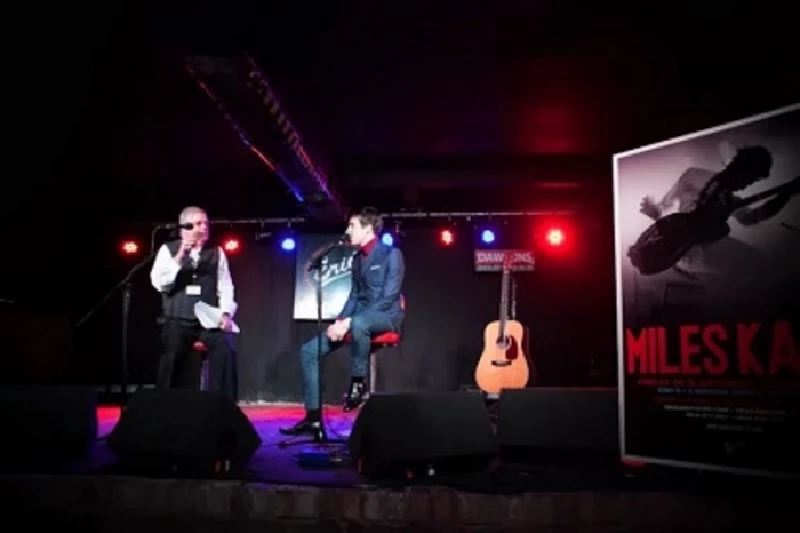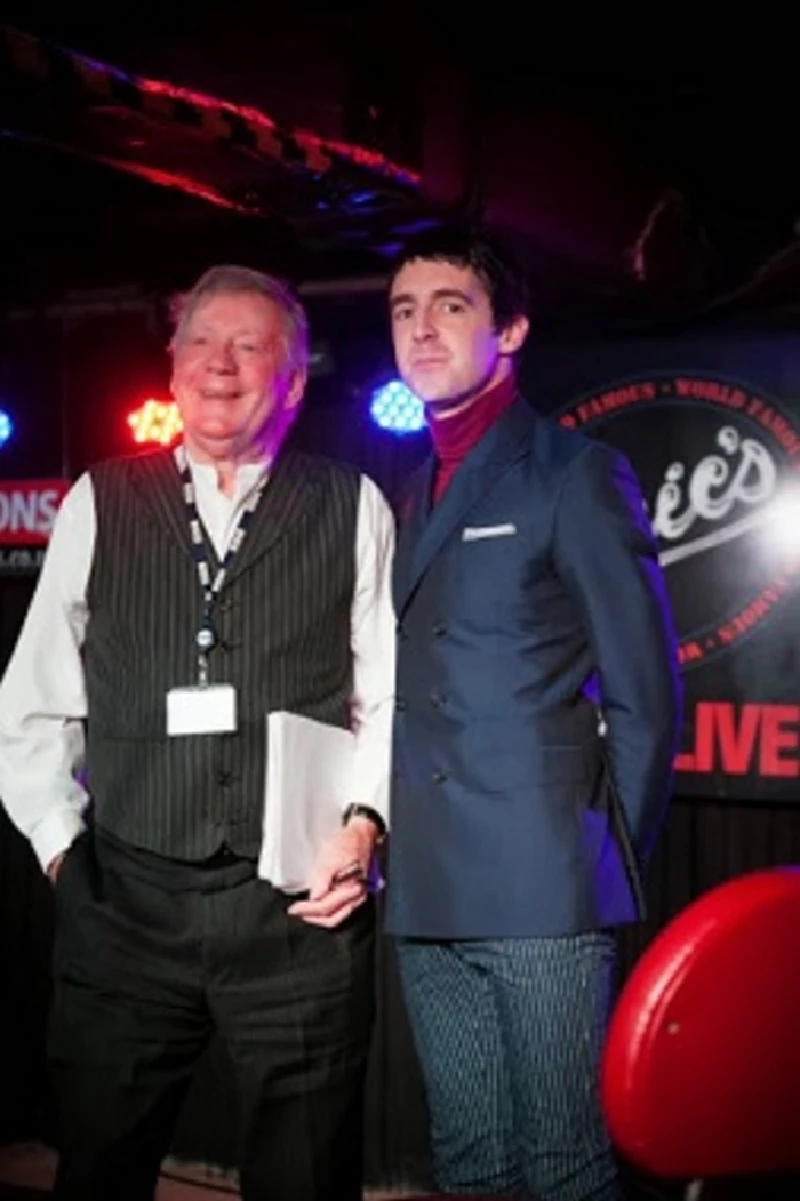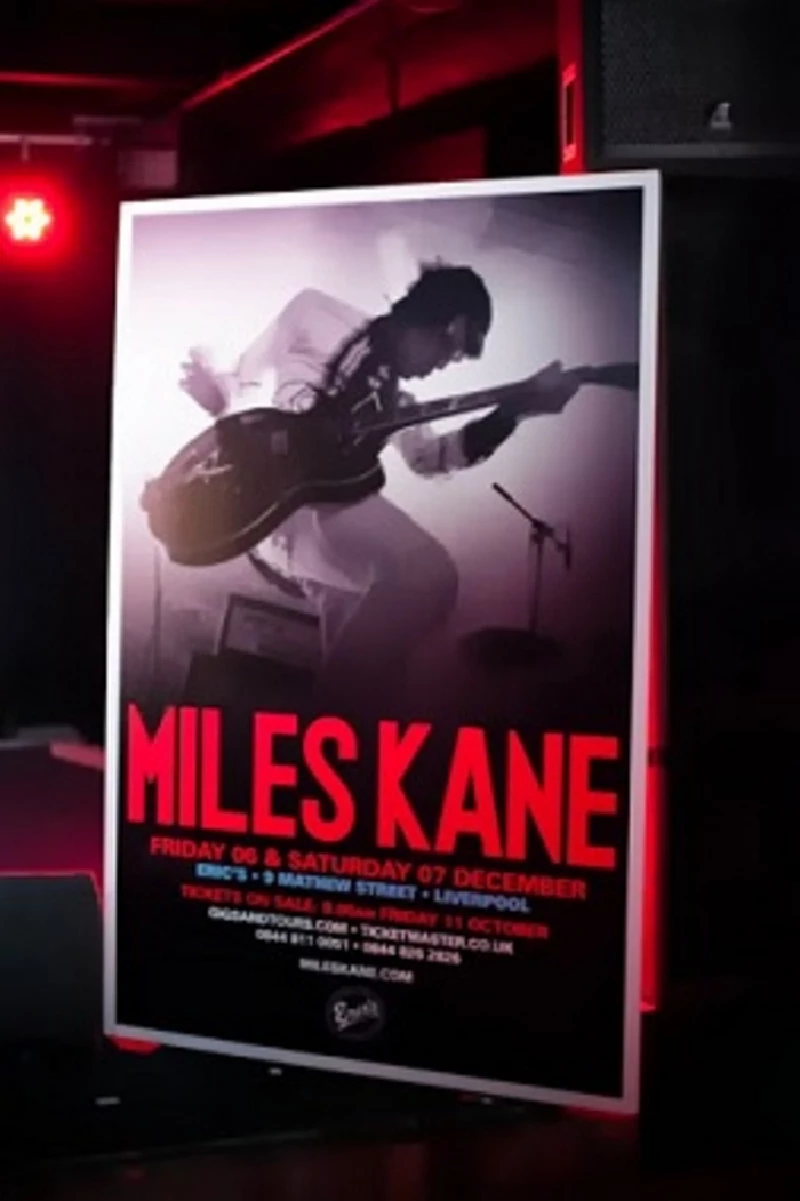 interviews
---
Interview (2013)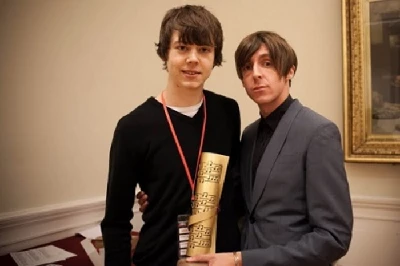 Marie Hazelwood and Harry Sherriff talk to critically acclaimed singer-songwriter Miles Kane at the Liverpool Music Awards about his award-winning second album, 'Don't Forget Who You Are'
live reviews
---
Roadmender, Northampton, 16/5/2022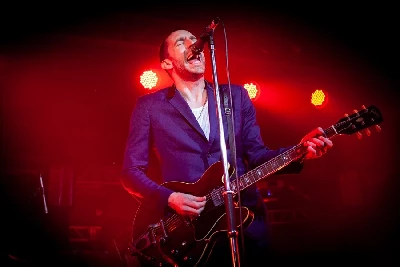 Marie Hazelwood takes photographs of and Harry Sherriff reviews Miles Kane at Roadmender in Northampton.
Academy, Manchester, 23/11/2018
Hangar 34, Liverpool, 4/7/2018
Olympia, Liverpool, 30/3/2014
Academy, Manchester, 28/9/2013
Zanzibar, Liverpool, 15/5/2013
Parr Hall, Warrington, 17/8/2012
Miles Kane
Miles Kane
photography
---
Photoscapes (2022)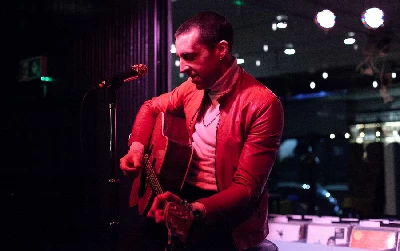 Marie Hazelwood photographs Miles Kane at an in-store gig to promote his recently released fourth album 'Change The Show' at record shop/venue Jacaranda Phase One in Liverpool.
Photoscapes (2018)
reviews
---
Don't Forget Who You Are (2013)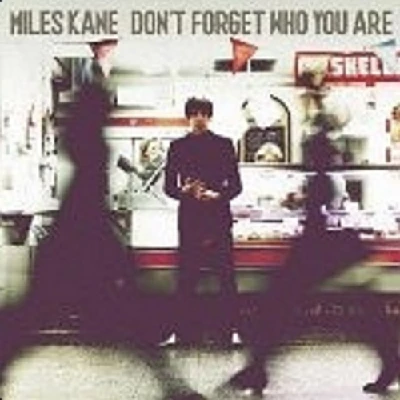 Fine second solo album from Miles Kane, upon which he has co-written songs with Paul Weller, Andy Partridge, Ian Broudie and Guy Chambers
related articles
---
Last Shadow Puppets: Live Review (2016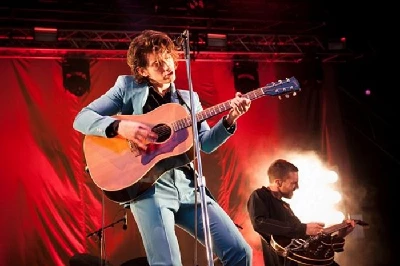 Harry Sherriff watches the Last Shadow Puppets, the side project of Miles Kane and the Arctic Monkeys' Alex Turner, play a n often surprising show at the Castlefield Bowl in Manchester to promote their just released second album, 'Everything You've Come to Expect'
Pennyblackmusic Regular Contributors
---