---
Mary Wilson
-

Dream Girl: My Life as a Supreme
published: 7 / 4 / 2021
---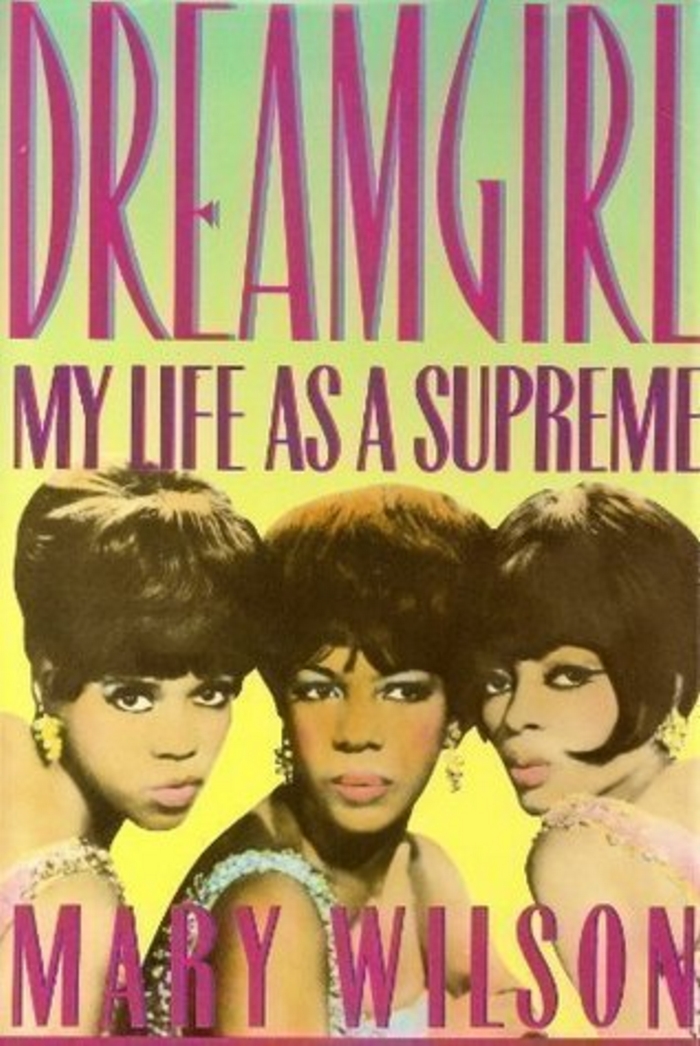 Mary Wilson's sudden death in February 2021, left a gaping hole in the international music community. Had this renowned singer lived, she'd have completed plans to celebrate the 60th anniversary of Motown's most groundbreaking female trio, the Supremes, whose romantic hits topped the charts in the mid-to-late 1960s. In some ways, Wilson's rise to success was nothing short of a miracle. She was born in Greenville, Mississippi with few material resources. With her father and mother, she moved to Chicago. But at three, she became subject to deception when relocating to Detroit to live with an aunt and uncle, whom she was led to believe were her biological parents. Finally, when she was six and her biological mother, Johnnie Mae, moved in with the extended family, Wilson discovered the truth. Fast forward to the 14-year-old's life in a Detroit housing project, where an enthusiastic friend, Florence Ballard, invited Wilson to form a band. A male group, The Primes, was seeking out a "sister group" to perform with them. The male trio included tenor Eddie Kendricks, a future singer in the Temptations. The girls would later include Diane Ross (who would change her first name to Diana). Finally, with Betty McGlown, who would be replaced by Barbara Martin, the Primettes (and ultimately, the Supremes) began their career in 1961. Although they eventually got signed to Motown Records, their start was rocky and their material did not chart. In 1963, Martin left. But with Ross at the helm and under label owner Berry Gordy's tutelage, the mid-60s found the group driven to superstardom. But the glamorous underpinnings and happy-go-lucky smiles hid a dark secret. Although the Supremes were depicted as untouchable princesses, tension existed behind the scenes, which Wilson vividly brought to the fore in 'Dream Girl', published in 1986. This preceded two additional books about her life in the Supremes, 'Supreme Faith' (1990) and then 'Supreme Glamour' (2019). 'Dream Girl' and 'Supreme Faith' were also republished as a joint volume in 1999. The Motown family was a large one which included monstrous talents, the likes of Stevie Wonder, Smokey Robinson and the Miracles, The Temptations and Martha and the Vandellas, but because Gordy tried to keep clients' personal lives under wraps, this book was particularly eye-opening at the time of its publication. Wilson's intent was not to malign the company nor her colleagues. It was merely a way of speaking her truth, and in many ways, giving the readers a more realistic picture of show business life. Wilson made it clear that despite certain slights, she did "love" Diana Ross, but felt she needed to be straightforward about the lead singer's cut-throat tactics used at the expense of her bandmates. For example, the opening chapter reveals the 'Motown 25' television taping in which Ross defiantly pushes Wilson aside during the performance. The aggressive act, while not a total surprise, made Wilson feel that Ross had changed very little over the course of the group's history. Another point of contention was that Ross was linked romantically to Gordy, which created an unequal power dynamic among the girls. Furthermore, that romance may have fuelled another result, that while positive for Ross, was not so for the remaining duo. In 1967, the group was renamed Diana Ross and the Supremes; then in 1970, Ross left to begin a solo career, leaving Wilson to provide backup to Jean Terrell and others until this iteration disbanded in 1977. Throughout the story, Wilson comes off as more of a philosophical soul than an embittered one, although she admits that acting as referee between Ross and Ballard was exhausting. In terms of her role with Ballard, she treated her life-long friend with compassion, but also with professional firmness. Sadly, Ballard was sexually assaulted in high school, after which time Wilson felt that her personality completely changed. Ballard's mother became overprotective, and Ballard eventually fell prey to alcohol abuse which interfered with her professionalism. At the time, counselling was discouraged and she did not have a viable outlet for her depression. Nevertheless, Wilson sincerely offered emotional support. But at one point, Wilson's loyalty was severely tested. Because of Ballard's drinking and outbursts, she'd been called into Gordy's office for a meeting which both the trio and Ballard's mother attended. Gordy was looking to let Ballard go. Mrs. Ballard turned to Wilson in desperation, claiming that Wilson wanted her daughter to remain in the group. But Wilson was also aware that Ballard was depleted and couldn't keep up the pace. Wilson was under pressure to voice her vote. She ultimately faced off with the mother and explained that Ballard wanted out. It was a tough moment, but Wilson felt it was the right move. She later tried for years to get her friend's name on a postage stamp, to no avail. "Flo" Ballard died of a heart attack and in poverty at the age of 32 and was replaced by singer Cindy Birdsong. The unexpected death and aftermath haunted Wilson for years. 'Dream Girl' is beautifully paced, with a sense of profound suspense around every corner. Wilson richly expresses the excitement of being young, catered to and wildly successful, but also her angst at being considered (by some) to be a minor player. The reader can rediscover the Supremes' jubilant roster of hits by brothers Brian and Eddie Holland and Lamont Dozier (Holland-Dozier-Holland) which include: 'Where Did our Love Go,' 'Stop! In the Name of Love' and 'You Keep Me Hangin' On.' Mary Wilson's words reveal a lot about maintaining her humanity in a tough business; she also sheds light on navigating the rigours of success with grace and humility.
Band Links:-
https://en.wikipedia.org/wiki/Mary_Wilson_(singer)
Play in YouTube:-
intro
In 'Raging Pages', her regular book column, Lisa Torem examines 'Dream Girl: My Life as a Supreme', the 1987 autobiography of Motown star and Supremes member Mary Wilson, who died in February.
Pennyblackmusic Regular Contributors
---