---
Ringo Starr
-

Michael Seth Starr/Ringo: With a Little Help
published: 23 / 10 / 2015
---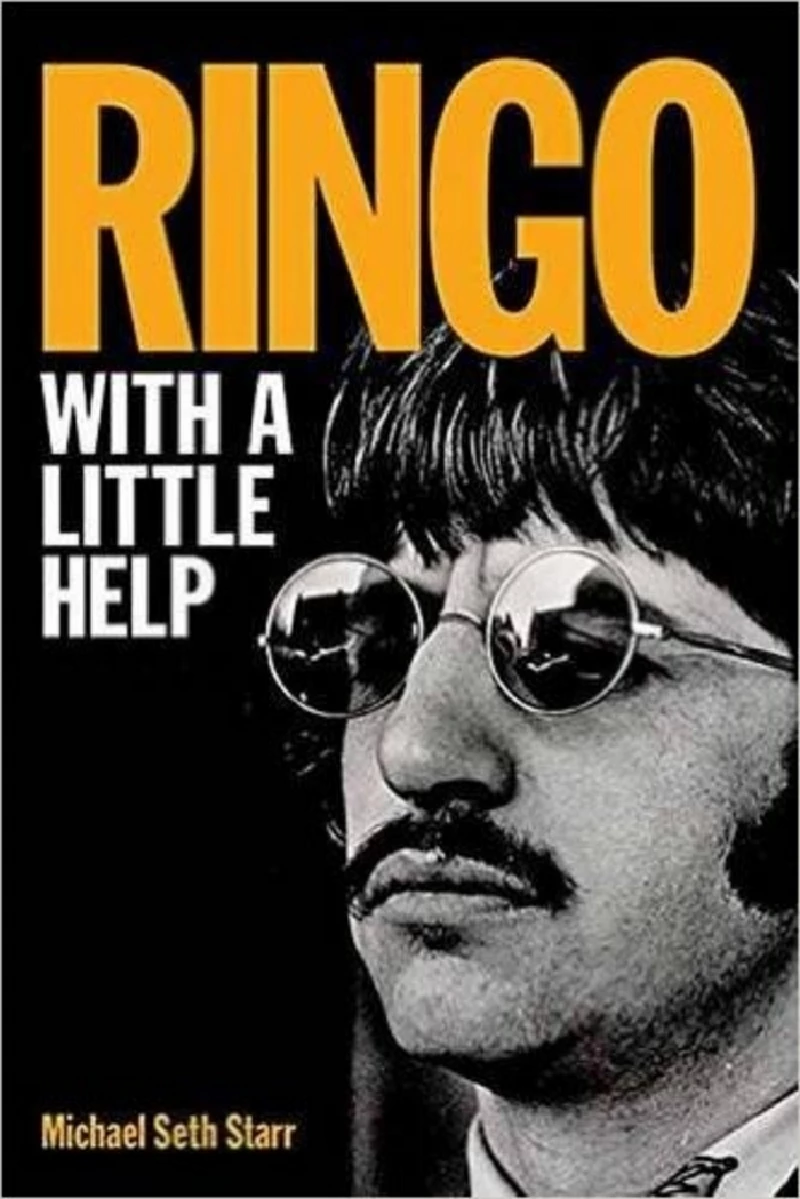 intro
In the first part of a two part edition of her book column 'Raging Pages' , Lisa Torem examines Michael Starr's unauthorized biography 'Ringo : With a Little Help From My Friends' which shows many sides of the iconic drummer
On July 7th, 1940, Richard Starkey was born in the tough Dingle area of Liverpool to Elsie Gleave and Richard Starkey Sr. Three years later, his biological father abandoned his only son, forcing his doting mum to work long hours as a barmaid to keep food on the table. His early childhood was marked by unrelenting illness. At six, Ritchie went into a ten-week coma after experiencing a severe case of peritonitis. Barely escaping death, little Ritchie pulled through only to be brought again to the hospital six months later. Needless to say, he fell drastically behind in his schooling. In 1953, he developed pleurisy and would be ill for two more years, but on the bright side, his mum married the kindly Harry Graves. At fifteen, it was time to find real work and forget about scholastic achievement. Graves was a loving step dad who would greatly impact Ritchie's life path. Ritchie worked and got fired from various jobs, finally securing an apprenticeship as a joiner, but he became pleasantly distracted by the burgeoning skiffle movement. He formed the Eddie Clayton skiffle group, often begging fellow musicians to borrow equipment. It was around Christmas time in 1957 that his dear step dad lugged a cheap drum kit all the way from London to Liverpool by train to surprise his ambitious boy. By 1959, Ritchie had found himself a gig as percussionist in Rory Storm and the Hurricanes, which would become one of Liverpool's most popular bands, known as much for their flashy style as for their surprising stage antics. A turning point occurred when the band was offered a lengthy summer gig in Wales. Agreeing to the gig meant ending his engagement to his current flame and losing his apprenticeship, but the Liverpool lad was hard set on becoming a professional. With the new gig, he received a new stage name, 'Ringo Starr', due to his jewelry fetish and the fact that he could bask in the spotlight during 'Starr Time', showing off his skills as an entertainer and perfecting his repertoire. In 1960, Starr met the Beatles for the first time in Hamburg, where he would sometimes substitute for their drummer, Pete Best. With the popular Hurricanes, Ringo stayed in better accommodations than his colleagues. They became fast friends, sharing a similar sense of humour. The timing was uncanny. Ringo became disenchanted with the Hurricanes after several summers in Wales and was seeking a career change. He would eventually replace the Beatles' own drummer, Pete Best, in 1962, shortly before the Beatles would be signed to EMI Records. He would, in a few years, settle down with Maureen Cox, a Liverpudlian hairdresser and one of the original fans at Liverpool's Cavern Club. They would have three children, Zak, Jason and Lee. Michael Starr illuminates such important facts in his unauthorized biography about one of the most famous drummers in pop history. The author makes it clear that he contacted Ringo, hoping he would oblige with fresh quotes, etc., but didn't get his wish. He displayed the following response, which Ringo wrote on his own website: "This is an unauthorized biography written by Michael Starr and I want my friends and fans to know it has nothing to do with me. I'm not participating with it at all. Peace and Love, Ringo." It's hard to blame Ringo for not complying. His life has been run through the ringer by countless members of the press and he has been misquoted frequently, but, yes, the book would have been enhanced by some heartfelt, timely responses by the man himself - nevertheless, Michael Starr (no, they're not related!) does a great job compiling source material, interviewing many of Ringo's relatives, friends and colleagues and integrating pertinent insights. The book concentrates heavily on Ringo's childhood, Beatles' fame, movie career and charity work, breezing through the more recent decades of Ringo's magical trajectory, when Ringo rises from the fog of addiction and forms (with the help of David Fishoff) his legendary All-Starr Band and becomes deservedly lauded by the French Ministry, the Grammy Foundation and the Rock and Roll Hall of Fame. Ringo comes across as a man still somewhat surprised by his success and as a loyal friend — he and his wife, Barbara Bach, took the first plane to New York to console the grieving Yoko Ono after hearing about John Lennon's assassination during a vacation. Ringo also comes across as the hopeful bridge between warring Beatles' band members. When bitter arguments erupted, he was the one that George Harrison, Paul McCartney and John Lennon trusted to be open-minded and sensitive. The touching moments include the stories about his falling in love with Barbara Bach, during the filming of 'Caveman' and how he tearfully conveyed to the press his shock and sadness after the death of Lennon and then Harrison. He has never lost his enthusiasm for performing and enjoys being down stage away from his kit as well as sharing the stage with his peers; taking care to not overshadow the likes of Edgar Winter or Rod Argent, still reveling in the fact that he's commanded their respect. Obviously, Michael Starr had to make some tough choices about what to include and what to omit. I was hoping he would include more about Ringo's clever computer art towards the end and how through his international exhibits, Ringo Starr shone a needed light on anti-gun legislation through his poignant illustrations. Still, Michael Starr has made darn sure that we see multiple sides of his subject, who comes across as a genuine family man, rushing to the side of his daughter, Lee, when she is diagnosed with a tumour and cancelling a week of touring when Barbara's birthday celebration is on the agenda. And there are times when Ringo Starr appears as delightfully quirky as the rest of us humans, mobilizing international fans for his own annual birthday celebration, flashing the peace sign incessantly in front of the camera and grinning innocently at his concert audiences as though he were still seventeen. But essentially, whether you, the reader, are a Ringo Starr fan or not, this is a well-chronicled and moving story about an only child who rose above severe illness and poverty to become one of the most well-regarded, beloved musicians in the universe. There is even a section in which many of his famous colleagues sound off about how Starr has been a major influence and many intimate glossies to titillate one's visual self. Raging Pages concurs that 'Ringo : With a Little Help From My Friends' will round off your Ringo Starr literacy quotient and deepen your respect for the left-handed, Liverpudlian drummer, whose contagious back beat and unbeatable personality still trigger accolades from far-flung corners of the world.
Band Links:-
https://www.facebook.com/ringostarrmusic
https://twitter.com/ringostarrmusic
http://www.ringostarr.com/
http://www.ringotour.com/
http://en.wikipedia.org/wiki/Ringo_Starr
http://www.RingoPhotoBook.com
profiles
---
Photograph (2007)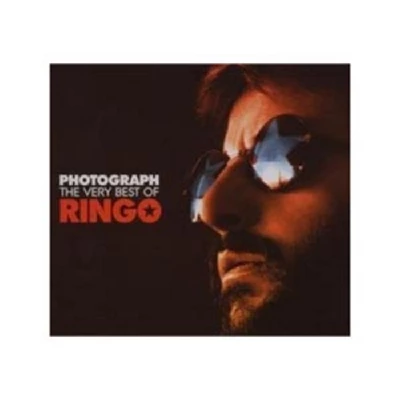 Anthony Strutt profiles 'Photograph', ex-Beatles Ringo Starr's new greatest hits record, which, appearaing in several different formats, spans over his entire solo career
live reviews
---
BMO Harris Pavilion, Milwaukee, 8/9/2018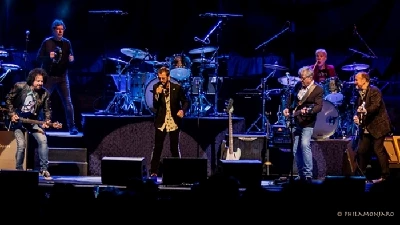 Lisa Torem watches Ringo Starr and His All-Starr Band entertain a multi-generational crowd at Milwaukee's BMO Harris Pavilion for two exhilarating hours.
features
---
Photograph (2015)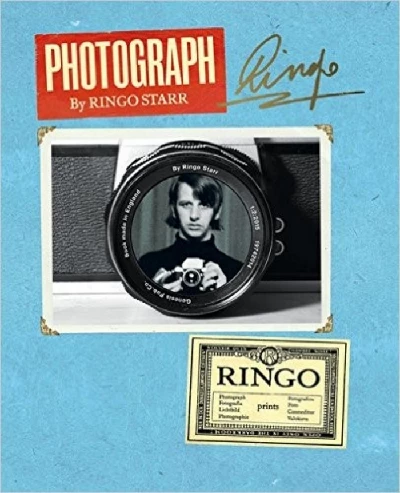 Lisa Torem, in the second part of a two part edition of her book column 'Raging Pages', looks at Ringo Starr's new book, 'Photograph', which reveals never-seen-before pictures of his youth, rise to stardom and leisurely moments with loved ones.
Pennyblackmusic Regular Contributors
---