---
published: 8 / 12 / 2021
---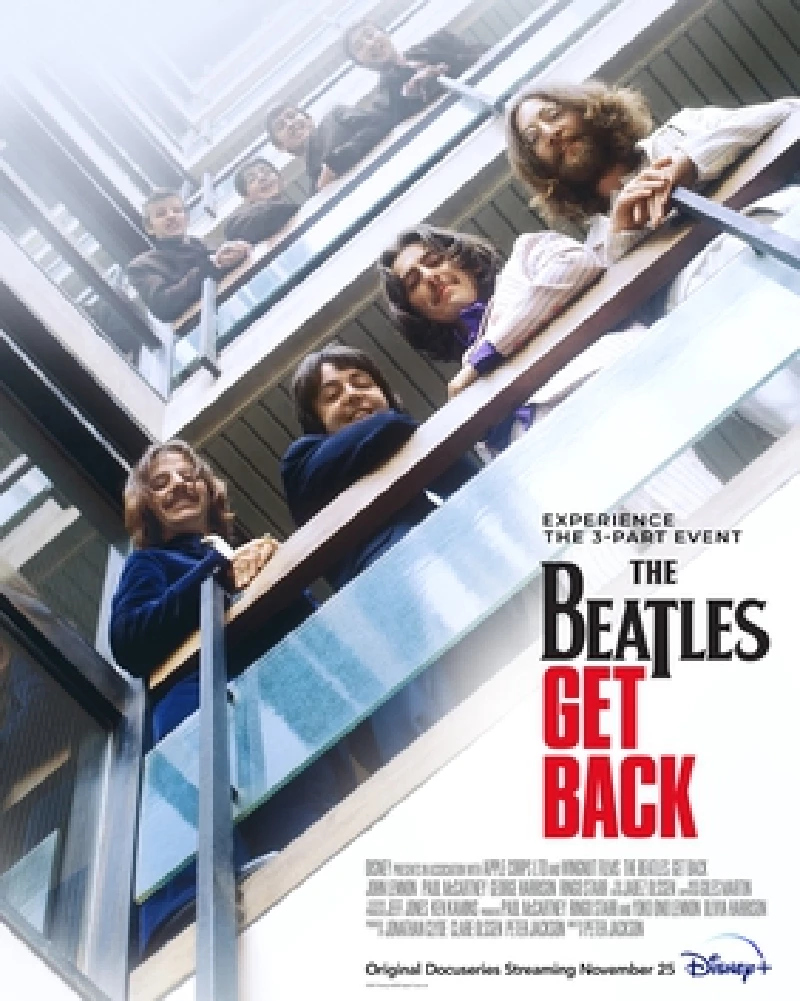 intro
In the first of two articles on the new Beatles documentary 'Get Back', Nick Dent-Robinson finds astonishing its previously unseen footage and enjoys its evocation of a Britain and the world that has now disappeared.
For many, the musical event of this year will be the pre-Christmas release by the Disney Plus Channel of Peter Jackson's three two-hour documentary films of The Beatles at their creative peak, just prior to the break-up of the band. This was, of course, the C20th band who transformed popular music – and whose soundtrack has been a constant in every decade from the Swinging Sixties until now! Jackson's documentaries - titled simply, "Get Back" - contain astonishing and intimate previously unseen footage edited down from over sixty hours of original material which was filmed over the course of four weeks in January 1969. They provide an intimate and epic portrait of a band at its peak against the backdrop of a London that no longer exists. The Beatles were working up songs for a televised concert which John Lennon in his enthusiasm and naivety had hoped would happen in pre-Gaddafi Libya - so the band could play in an ancient amphitheatre. George Harrison had his doubts about this and that project was shelved in favour of a film documentary showing the band working on their twelfth studio album in the basement of 3, Saville Row, London - the HQ of The Beatles' company, Apple. At the end of January, this all led to the unannounced performance on that building's rooftop - which was actually the last time The Beatles ever played together. Some of the footage culminated in the 1970 cinema documentary 'Let It Be' - a film many contemporary observers saw as an exercise in watching a band disintegrate ahead of its official break-up later in 1969. This is also a film that is still widely available in the USA - but for complex legal reasons it has been withdrawn from the UK and European markets for many years. All the material not used in 'Let It Be' has been lying dormant in a locked basement for over fifty years. And it was this huge amount of unseen material that Peter Jackson worked with to produce 'Get Back'. Interestingly, what emerges is a happy antidote to all the pessimism seen in the 1970 film. In fact, 'Get Back' reveals on-going bonds of friendship and much mutual respect. Magically, the four Beatles are suddenly young men again, cheerfully drinking endless cups of tea together and mingling with friends and family who drift in and out of the footage. Linda McCartney is there with her six year-old daughter Heather who is happily dancing as her mother chats cheerfully to Yoko Ono. In another shot, Yoko is looking at the day's newspapers with members of the band as they laugh together - and the mood is clearly celebratory. The band are evidently still collaborating closely, too, helping each other with lyrics and with melody and key changes. At one point George Harrison says he's working on a new love song but is a bit stuck for a second line. The song is 'Something' which for many years was the Beatle song most covered by other artists – only being overtaken by 'Yesterday' well into the 21st Century. And here is George with "Something in the way she moves attracts me like no other lover...." except that he hasn't quite got "no other lover" yet and is using "a pomegranate" as a temporary substitute. "Just say whatever comes into your head each time, George," suggests John helpfully - "and eventually you'll get the word" - which George did, of course! Somehow, the audience's knowledge that this lyrical confusion was soon so beautifully resolved lends a piquant quality to the young Beatles' discussion. There is a sadness to some sections of the new documentary, though. Like the scenes with the late Mal Evans, the Beatles' much-loved roadie who was always treated as an equal by the band. Just seven years later, Mal would be shot dead by LA police when they mistakenly thought he was about to attack them with a powerful machine gun he never possessed. There's also the knowledge that John Lennon was to be assassinated at just 40 and that George Harrison, too, would die prematurely. We, the audience, know all that - but of course the four principal actors in the film do not know what awaits them and somehow this makes the viewing experience all the more poignant. It will be, however, hard for anyone to come away from Peter Jackson's documentaries without feeling uplifted as well as moved. At the previews for the new films the surviving Beatles and their families were out in force including Mary and Stella McCartney. Ringo Starr's son Zak and George Harrison's son Dhani. Others from the Sixties era were there, too - producers, ageing rock stars, some session players and surviving radio and TV presenters of the time. All were hugely enthusiastic. Paul McCartney gave a short introduction saying how meaningful it now was to revisit a time he couldn't always personally experience in all its glory as he was too busy back then focusing on performing. "But now I've had the chance to watch my mates play, I do realise how great they are," he said. Certainly, for most of us lucky enough to be there, it did feel a rare privilege. This was an insider's view of The Beatles creating their own art form - and, thanks to the meticulous restoration of the footage, we could all revel in a pin-sharp, evocative slice of late 1960s London....a city with few skyscrapers, but bobbies on the beat, men wearing hats with natty suits and girls in bright and pretty miniskirts, still a relative novelty. 'Get Back' is a rare chance to visit a world that no longer exists – yet the music lives on!
Play in YouTube:-
Have a Listen:-
Picture Gallery:-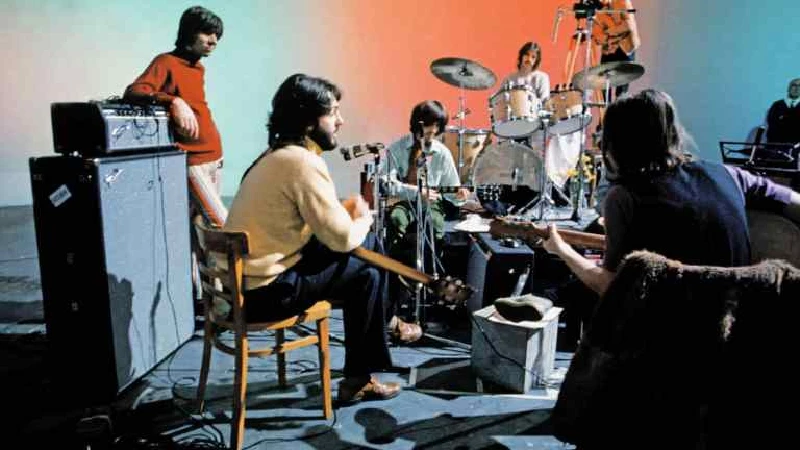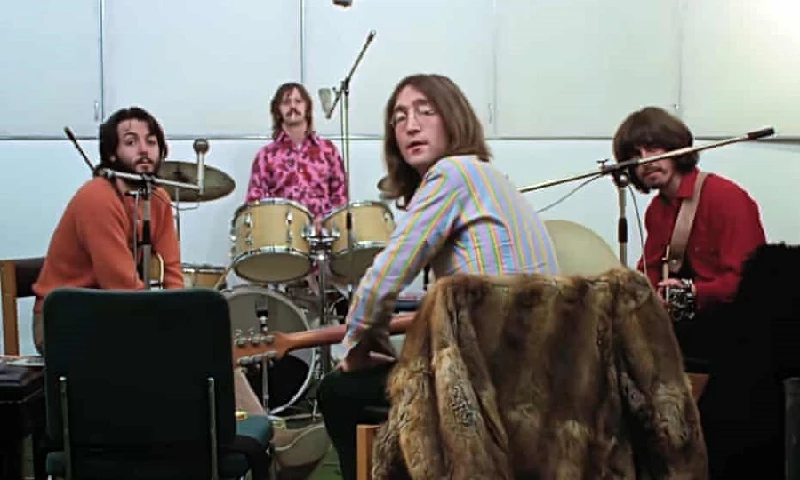 features
---
The Image That Made Me Weep (2021)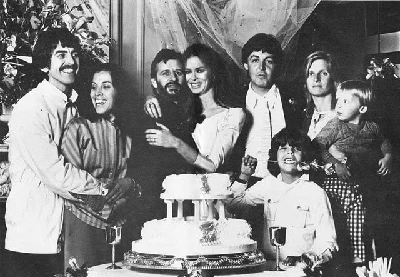 In 'The Image That Made You Weep', in which our writers write of the personal impact of a photo or image on them, Eoghan Lyng writes of a photo taken at Ringo Starr and Barbara Bach's wedding in 1981.
reviews
---
Love (2006)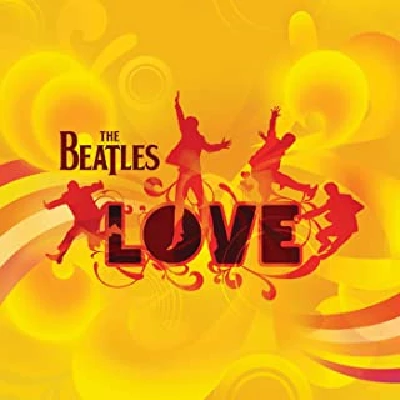 Excellent remixed and reworked collection of Beatles classics by their fromer producer George Martin and his son
Pennyblackmusic Regular Contributors
---