---
published: 27 / 10 / 2011
---
intro
John Clarkson speaks to Jeremy Thoms from Edinburgh-based post-punk guitar act the Cathode Ray about their long delayed debut album, which will come out early next year
When post-punk guitar act the Cathode Ray started out in 2006, it was to an enormous wave of publicity and expectation. A double A-sided single, 'What's It All About?/Mind', was released that year to much acclaim and extensive airplay. The Cathode Ray had begun as a songwriting project between Edinburgh-based musicians Paul Haig and Jeremy Thoms, but, with bassist Neil Baldwin and drummer David Mack also becoming involved, was soon heralded as cult star and solo artist Haig's first group in twenty five years and since his original band, the short-lived but influential Josef K, had broken up in 1981. The notoriously reclusive Haig, however, felt uncomfortable about being in another group and, although he and the Cathode Ray had recorded an album's worth of songs together, decided to quit the project. "It all got out of hand," says Jeremy Thoms simply, who has taken over as leader and front man of the Cathode Ray and whose eponymous debut album will finally be released early next year. A boyishly-exuberant, dryly humorous man in his late forties, he is talking to Pennyblackmusic in a bar in the West End of Edinburgh. It is a few days after the release in early October of 'Train', the Cathode Ray's third single and their first with Thoms on lead vocals. "Paul and I regarded the Cathode Ray initially as a songwriting and studio recording project, but it grew legs. We thought that it would be good to enlist a live rhythm section in it as we decided that our songs really needed that four-guys -in-a-room mentality. A lot of the confusion of what the band is or was started then as Paul decided that the Cathode Ray was simply a writing vehicle for him and he didn't want to be in another band." Haig had spent the last fifteen years focusing on electronic instrumental music and recording 'Cinematique', a trio of albums in an imaginary soundtracks series. This confusion was heightened further when as part of his solo career he returned to making vocal-led and then guitar-driven music and in quick succession fired out three albums, 'Elektronik Audience' (2007), 'Go Out Tonight' (2008) and 'Relive' (2009) and, then after an absence of nineteen years, also decided in 2008 to start playing gigs again. "Paul got the bug to do some gigs under his own name," Thoms laughs, describing the ensuing tour. "And this confused people even further because it was the same line-up of me and Neil Baldwin and David Mack that appeared on the original Cathode Ray recordings except we were called 'Paul Haig'. Those gigs were very much about Paul and, although some reviews called us the Cathode Ray, we deliberately didn't do any Cathode Ray songs. He was doing a lot of Josef K stuff as well as his own material, and to do the Cathode Ray as well would have over extended the spectrum." "In the mean time we didn't know quite what we were going to do. We knew that the songs were really good and Paul was certainly very encouraging about us using the songs, but he didn't want to go on the road with the Cathode Ray or be in another band, so we eventually decided to keep the songs and to do it ourselves." Jeremy Thoms, who is originally from Aberdeen, moved to Edinburgh in 1982 as it had a wider focus for music. As well as playing guitar and keyboards and touring the UK twice with the Revillos under the pseudonym of Fabian Wonderful in 1985 and then guitar off and on for much acclaimed indie band Jesse Garon and the Desperadoes for a year between 1989 and 1990, the versatile Thoms has worked in a variety of other local Edinburgh bands, sometimes as the front man and at other times as a musician. These have included the Pretenders/Blondie-influenced A Girl Called Johnny; electronic/dance act Paparazzi; the Beach Boys and Zombies-inspired Naturals; the country and western-influenced New Leaf with whom he recorded three albums in the mid 1990s, and classic rock act Skyline with whom he also released a further two albums. Neil Baldwin has appeared in several of these bands with Thoms. He was also the bassist in 80's pop act the Bluebells, appearing on their chart album 'Sisters', and until recently was in Edinburgh-based post-punk veterans TV21, who reformed after an absence of over two decades in 2005 and released their second album, 'Forever 22', in 2009 twenty seven years after their debut, 'A Thin Red Line'. David Mack has been another regular on the Edinburgh scene and was the drummer in Skyline. With Paul Haig gone, Thoms enlisted Steve Fraser into the group. Fraser was in early 80's Edinburgh post punk band the Scars and also worked with Mike Scott before he formed the waterboys. "Steve and I had been moving along on parallel lines for years, but we had never actually met each other," Thoms explains. "But then we bumped into each other at a TV21 gig two and a half, three years ago and I said, 'Look. We have got this project which on hold at the moment. Would you be interested?' and he straightaway jumped at it and said yes. He had heard the first single, and the second single, 'Slipping Away', was just out at that point. It came together really quickly after that. We started rehearsing with Neil and Dave and had a new band." "I tend to fall into singing if there is no one else around, and certainly when Paul left I stepped up to it," he says about his decision to take over as front man in the band. "When we started doing the Cathode Ray, Paul was going to do most of the singing, but right at the moment I am enjoying doing the vocals." The Cathode Ray describe themselves on their Facebook and MySpace pages as being informed by acts such as the Velvet Underground, Stooges, Buzzcocks, Wire and Talking Heads. They, however, solder these influences together with the sounds and influences of Thoms' and the other members of the group's previous bands. 'Train', for example, is a breakneck, jangling new wave number that in its last minute throws in a set of Beach Boys harmonies. Forthcoming album track 'Patience is a Virtue', merges its sinister, dirge-like tune with sudden eruptions of chiming Spaghetti Western guitars and spiralling gushes of electronica, and 'Lost and Found', another number from the debut album, mixes together licks of grinding guitar with glistening dance beats. "When Paul and I started the band we talked about how much we liked the music of both Manchester and New York in the late 70's," Thoms reflects. "You had the Buzzcocks and Joy Division at one level and then Television and Richard Hell and the Voidoids at the other. Those two things were in many ways our main influences, but I am also a huge Beach Boys and Beatles fan and like a lot of 60's stuff. I like a lot of 80's electronic stuff too and so a lot of other things have come to the table inevitably. I think that a lot of the best pop music works in that way. You start out with one thing and then it goes adrift." Thoms decided to scrap the original recordings of the group which featured Haig on vocals, and to rework them to represent the new line-up of the band. "There are eight songs of the thirteen on the album which originate from Paul's time in the band, but he appears on just three backing vocals," he says. "Those three songs were recorded maybe five years ago and have survived intact, mainly because I did all the lead vocals and Paul's actual contribution to it was backing vocals." "We decided on the ones where he had done the most noticeable lead vocals to leave them out. The first single, 'What's It All About?/Mind', had been around for a while and so we just took it off it. On the second single, 'Slipping Away', the backing track is the same, but we replaced it with a new vocal. 'Around', another of the tracks, also featured a vocal by Paul, but I re-recorded that too. We looked at it as a way of giving the band an identity. We felt that would confuse things if we had this line-up and there were all these vocals from Paul. He is credited on it as a guest appearance on backing vocals and guitar and obviously for writing some of the tunes, so his presence is still there, but the album is certainly very clearly me, Neil, Dave and Steve." In Steve Fraser, Thoms has found a natural creative counterpart. "I will demo stuff and then we develop it in the rehearsal room," he says, explaining how the new line-up of the Cathode Ray writes their songs. "Steve Fraser has been a great addition in terms of arrangements and embellishing tunes. I will have a few riffs and the lyric and the melody and so on, but he will usually bring in something else to it which I wouldn't have thought of." "He will often make things more angular. We have, for example, got a new song which we have just finished, although it is too late for the album. It sounded like early Floyd, and then Steve threw some stuff on it which was more like what John McGeoch would do and he completely changed it. His way of working with me is probably quite similar to the way that Graham Coxon worked with Damon Albarn. I get the impression that Damon would take a tune and give it its melodic sensibility, and then Graham would mutate and stretch it." There is no animosity between Thoms and Paul Haig and they remain close friends. The Cathode Ray started playing gigs for the first time last year and Haig has been along to shows. "I think that some people think that Paul is going to jump up on stage and join in something like 'Fame'," Thoms quips. "It is not going to happen. I think the Cathode Ray did get him back into the idea of singing and doing guitar stuff though after all the instrumental and soundtrack material that he had been doing. He really didn't like the idea of singing at all at one point or even the sound of his own voice. The process of us doing these tunes, however, got him back into doing that and he also fell in love with the guitar all over again which he wasn't really using at that point. It was an inspiration to him as when we weren't doing the Cathode Ray he started to get back into his own song writing. I think that he would probably agree with that. It gave him a gentle push." "People often leave bands," Thoms concludes. "It is all part of the creative process. People have to be happy and if you are not 100% maybe sometimes it is best to back out. Everyone is happy now. It has really worked out very well for everyone." 'The Cathode Ray' will come out, like 'Train', on Thoms' own label Stereogram Records in March of next year. The group also hope to be playing dates in Edinburgh, Glasgow, Dundee, Aberdeen and London to promote it. It has been a long time coming, but for Jeremy Thoms it has been worth the wait.
Band Links:-
https://www.facebook.com/thecathoderay
http://en.wikipedia.org/wiki/The_Cathode_Ray
interviews
---
Interview (2020)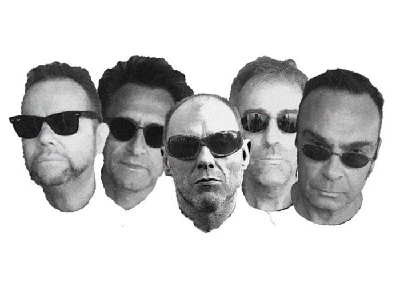 John Clarkson speaks to Jeremy Thoms, the front man with Edinburgh-based alternative rock band the Cathode Ray about 'Heightened Senses', his group's surprisingly optimistic first album in four years.
Interview (2015)
related articles
---
Band of Holy Joy/Cathode Ray: Feature (2016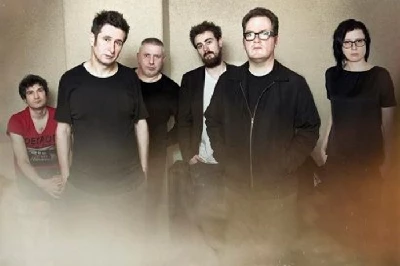 Pennyblackmusic presents three acts from the Edinburgh-based label – The Band of Holy Joy, The Cathode Ray and Roy Moller – at the Sebright Arms on April 15th
Pennyblackmusic Regular Contributors
---