---
Ash
-

Interview
published: 13 / 1 / 2002
---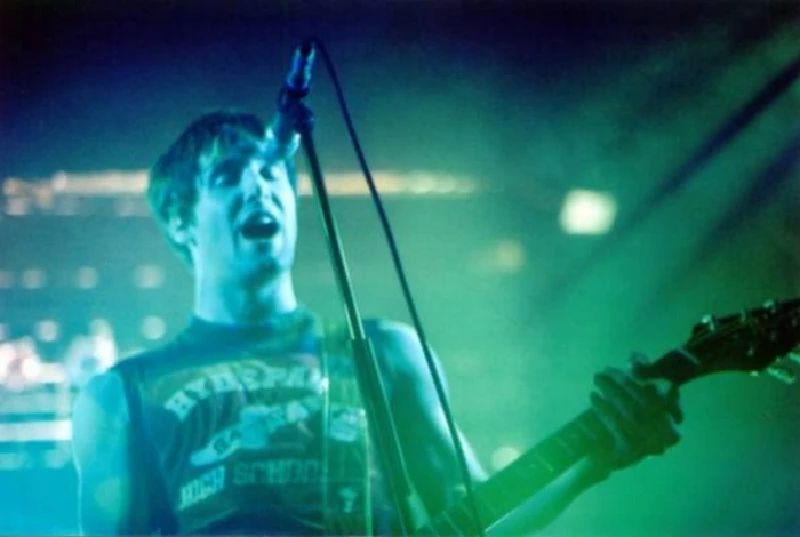 intro
Ash! You thought they were dead, right? Killed by rogue gangs of half-human half-goth Nine Inch Nails fans after the Lost Weekend debacle. Wrong! They're back, and this time they've got wings. 'Free A
Ash! You thought they were dead, right? Killed by rogue gangs of half-human half-goth Nine Inch Nails fans after the Lost Weekend debacle. Wrong! They're back, and this time they've got wings. 'Free All Angels' - named in honour of the Downpatrick heroes Hell's Angels security team - is the band's third album, at time of writing is Number 1 in the midweek sales chart and looks set to blast some pump action sunshine into the lives of Kerrang! readers everywhere. Like they need a bunch of pasty faced Placebo fans anyway! 'Free All Angels' is a poised weapon, a voodoo pop ray gun that neutralises cheap mascara on impact. And Ash, above everything else, are a pop band. Three years on from the intense, if slightly miscalculated, 'Nu-Clear Sounds' album and Tim Wheeler, Mark Hamilton, Rick McMurray and Charlotte Hatherley have arrived at a turning point in their seven year career. Even at the tender age of 24, they've accrued a shrewd wisdom in delivering the rock 'n' roll goods that puts them far beyond peers like Coldplay and Muse, and has left past competitors choking in the dirt. To witness them live is to see music being zapped back into life by a gang of perennial teenagers head over heels in love with the potential of the noise/melody crossover. Charlotte and Mark duelling their guitars like light sabres and pretty boy Tim, the songwriter with Sunny D instead of blood, breaking hearts and thrusting hips at every opportunity. Even when a song like comeback single 'Shining Light' seems awkwardly destined for Reef MOR territory they manage to scrape new heights when Tim flings his vital organs into the air for the cool chorus which rhymes words like "we made a connection" with "chemical reaction'"and reads like your first ever love letter. Aww. Crucially, Ash have come to re-learn everything that ever made them brilliant in the first place, without rehashing old moves. Strafing melodies flashbomb taut, adrenalised rock riffing - it's a hormonal, urgent sound. Unashamedly populist, but still it's been missing from the airwaves for too long. Sod Megadeth, this is the band bulletbelts and Flying V's were made for! They've kept the cruise missile love songs and beautiful heavy metal histrionics of classics like 'Angel Interceptor' and 'Kung Fu', but infused them with a maturity that suggests Ash may well be here for the long run. And with a psycho drummer, a bassist perpetually monged off his face on Starburst and vitamin C, sex bomb guitarist and Tim's gurgling, farting heart – they've certainly got the tools. Now it's just a question of detonating the mainstream.. Anyway, backstage at the Wulfrun in Wolverhampton the band are carved up into units of one to deal with the local press, and we get Charlotte. 'Free All Angels' is an altogether more streamlined affair then it's indulgent predecessor. The singles 'Shining Light' and 'Burn Baby Burn' are made for radio, more polish than spit, but still in keeping with the thrusting, sexy and above all, passionate sounds that defined earlier releases. Elsewhere the Walker Brothers-sampling baby Spector ballad 'Candy' swells up with repressed sighs and lumps in the throat and glossy thrashy album tracks like 'Shark' and 'World Domination' explode with locked-on, infra-red precision. "Was it a conscious effort to make a very melodic pop album? Or is it just part of the band's DNA?" "Yeah, I think it's at the core of it. Even 'Nu-Clear Sounds' was heavily fucken melodic. A lot of it. I think it's always the way Tim writes, he writes melodic pop songs. With this album we had 30 songs written and the idea was to pick the 13 most upbeat ones. Cos there weren't any bands at that time really doing that. So we kind've wanted to come back with a fucken pop album like. Y'know, like '1977'. But better." "Did you feel that you had to return to the bands roots a little bit?" "Erm, I think 'Nu-Clear Sounds' is quite self-conscious, y'know, trying to do something different. Trying to do something interesting. And, er, for this one Tim went back to his parents and took a year out of writing. So it's much more natural. It's a more natural Ash this sound." Most importantly, for the first time in years, Ash actually sound like a gang again. Tim's blue-eyed soul supernovas may be keeping the band in the charts but Charlotte claims to have a stack of unreleased songs ready for recording and most intriguing on 'Free All Angels' is the sub-Marilyn paean to deviant sex, 'Submission', penned by incongruently mohicaned drummer Rick. "Actually, the majority of this album is Tim." Charlotte admits. "I wrote a lot of stuff for 'Nu-Clear Sounds' but this is mostly Tim's stuff. Rick did 'Submission'. [laughs] He had to put his… input in there. Yeah." Having been recruited from the ranks of Camden scenesters Nightnurse in 1997, Charlotte initially had some problems being accepted as the new member of everyone's current favourite pin-up boys Ash. Four years and two albums later and she's only just starting to feel truly accommodated. "Yeah… It took a while. I think it took, y'know, doing 'Nu-Clear Sounds' and touring it and now we really are a foursome. It was a bit weird at first. There were a lot of female fans that strangely weren't too into the idea, but I think as soon as people realised that I was there cos I was a good musician rather than getting a girl in for a pretty face or trying to fuck anyone else in the band. I think that was maybe some people's perception, but, y'know, I think hopefully that's gone." "Is it true that you now get girls coming up to you and telling you you're the reason they started playing guitar, or starting their own bands?" "Yeah! Yeah, that's great. It's really good. I mean, I love just talking about being a girl in a band. I used to hate it, but now I'm quite into it. Cos I always wanted to concentrate on the fact that I was a guitar player rather than a female guitar player. There are as many girls that are getting into the music scene that are in bands or whatever. It's a fucken good thing. So I hope I can encourage it." "Did you ever worry that you'd joined this band at a time when all their Bratrock contemporaries, bands like Symposium, Snug, Kenickie, were falling by the wayside and it was starting to look like you were all washed up at 20?" "Yeah, I think Ash have kind of been in a lot of different scenes. One of the few survivors. Like Britpop and New Wave…" "New Wave of New Wave!" "Yeah, all that shite. And, like, there seems to be a current trend of quite angsty, kind of depressing bands. So… I think we've kind of always been – or Ash have always been – out on their own, doing their own thing. Especially on this album, we didn't listen to anyone else. Went to Spain, we had no idea what was going on in the UK. We just wanted to do something that was organic for us and not be influenced by fucken shit journalists who wanna create their own little scenes." "It's the curse of being the 'young people's band." "Yeah, I think probably. Because '1977', the guys were, what, 17 or 18? And, erm, maybe teenagers were at school thinking, "If they could have a Number 1 album then so could we." So it encourages bands to form and stuff, but I think then 'Nu-Clear Sounds' maybe alienated a few people! I don't think anyone expected us, or Ash, to go like that on 'Nu-Clear Sounds'. It's kinda like the album you do much later on in your career, but it was the second album and people were expecting songs like 'Girl From Mars' and 'Angel Interceptor'. And we didn't write any of them." "Do you think badly of that album now?" "No… we're incredibly proud of that album, we think it's a great album, but it's funny cos when we came back with 'Free All Angels' everyone was like "Oh, you're coming back after your disappointing second album." But like at the time it got good reviews. Commercially it didn't do very well, but…" "It was quite a hard album to make, wasn't it?" "Yeah. It wasn't very nice. But…! [laughs] It was quite weird cos I was quite newly-joined then and never really been in a studio and then they had the three of them having a bit of a breakdown in relationships and stuff. So it was quite a strange time. Quite a struggle." "Were there any points where you had to reassess what you're doing and decide whether it was worth carrying on?" "Erm… [long pause] I didn't think it was that bad but I think Tim perhaps had a bit of writer's block, he was struggling to write and he needed to take two years out to get over it, you know? Get it out of his system." It was the two year soul-destroying world trek plugging 'Nu-Clear Sounds' at the source of the legendary rumours surrounding Ash – a band that had previously had a sort of novel credibility as cutesy kids, clean cut but tottering around on alcopops – of anguished mental breakdowns and imminent break-ups. Previously their only hint of controversy had been in the off the wall antics of party animal Rick, now tales of heroin, punch ups, ouija boards, UFOs, guns, drugs and S & M abounded and looked set to puncture the band's reputation interminably. Bassist Mark Hamilton famously went 'off on one' and the scarcely-seen 'Numbskull' video - a sort of hybrid of motel porn and snuff movie starring Tim as hedonist iconoclast – was alleged in reality to have a little more substance than just irony and rock pig pastiche. Do you just go into a different mode when you're touring? Turn into different people?" "Yeah, maybe. You can get a sense of freedom that I guess you don't really have when you go back home. You really can just do anything that you want. But I think we're fundamentally… good people! [laughs]" Is all that stuff about hedonism and excess really true? " "Yeah. Yeah it is true. The only thing is it's not as full-on as it used to be. You've got to know your limits or you just end up being fucked the whole time. You forget that the most important thing about touring is the actual show and if your behaviour the night before kind've affects that then it's time to, like, chill out. But at the moment we're just really up for it and I don't think much has changed. Older, but not necessarily wiser!" "What would you be doing right now if you weren't in a band?" "Erm, I don't know. I'm really getting into photography actually. I'd like to be a photographer. Or I'd be a vet. Be like Rolf Harris. I can't think of anything that I'd rather do than this though." "And in ten years time?" "Fuck knows. I've got a whole itinary mapping out my whole year at the moment so that's as far as I dare look!" Meanwhile, the band already have their sights on that 'difficult' fourth album. "I think Tim's going to start writing – he was talking about it today actually – he's going to start writing. It takes so long between albums, we spent two years on touring. We're on a buzz now and we've gotta keep at it. Strike while the iron's hot!" KERRANG!
Band Links:-
http://www.ash-official.com/
http://www.facebook.com/ash
http://twitter.com/ashofficial
Picture Gallery:-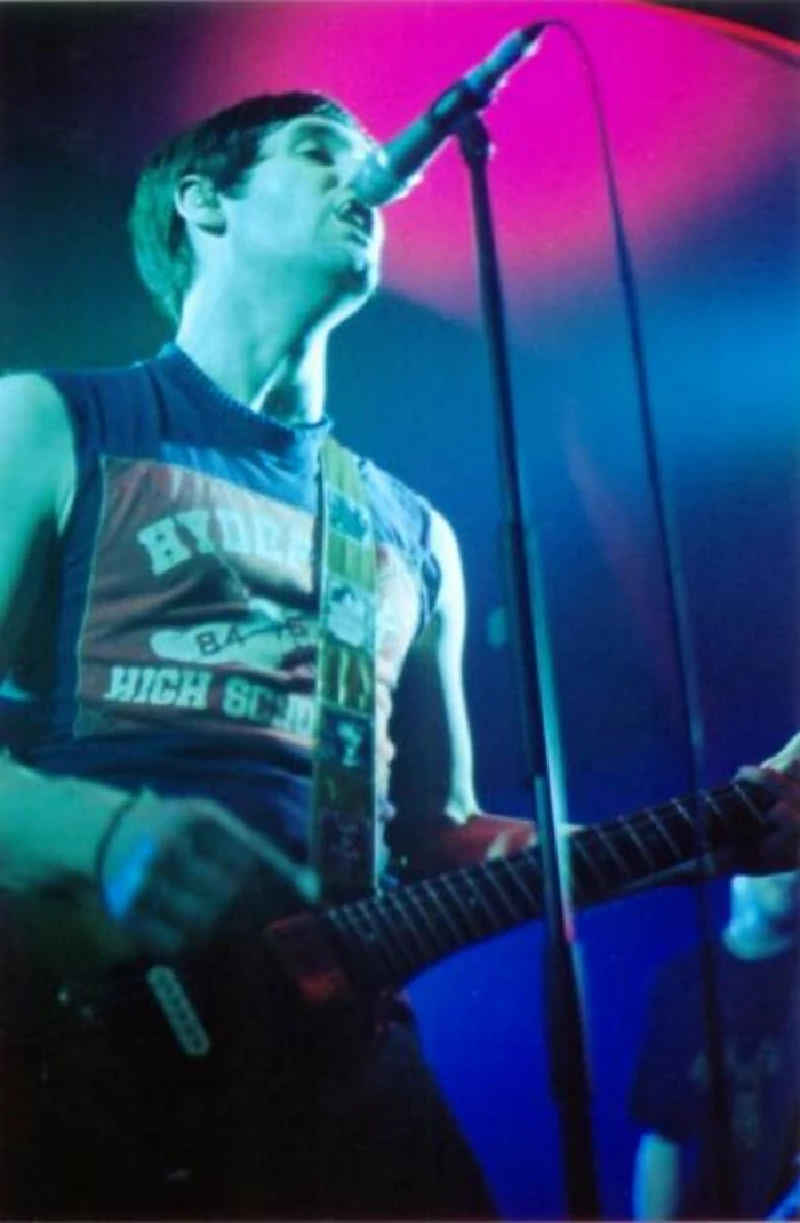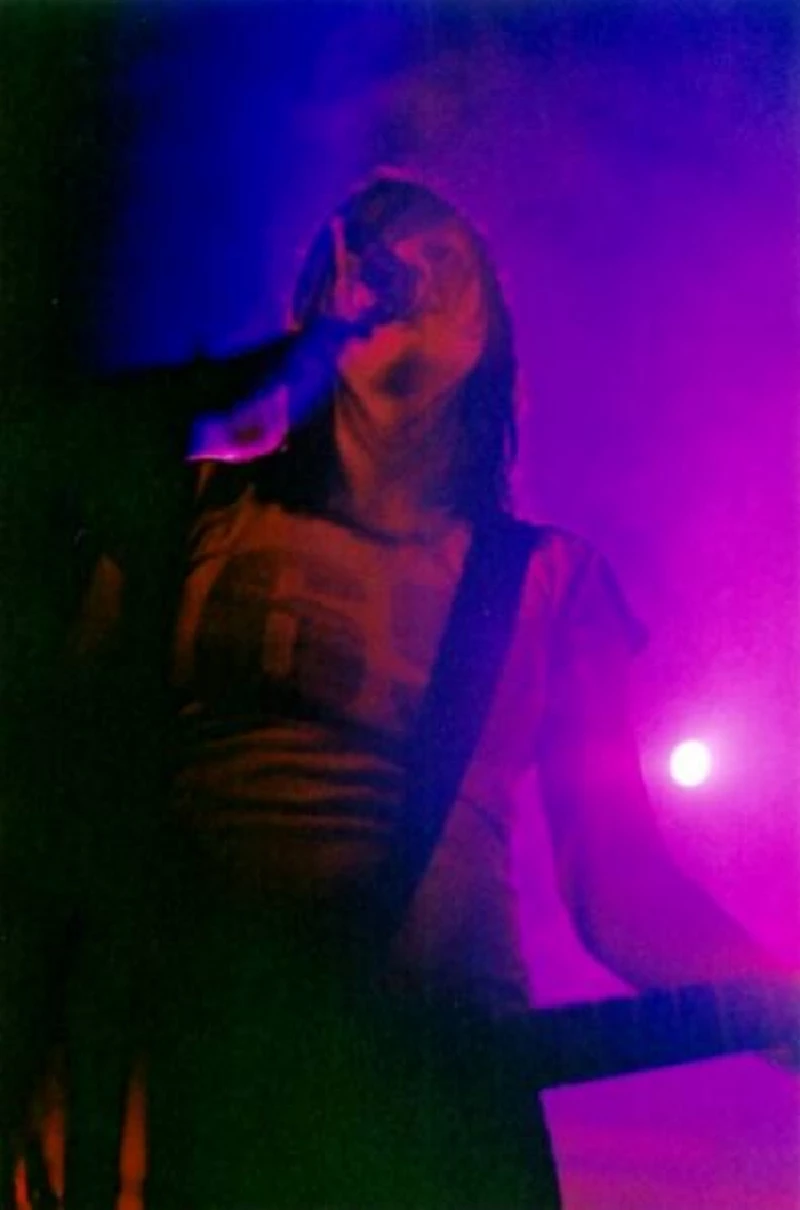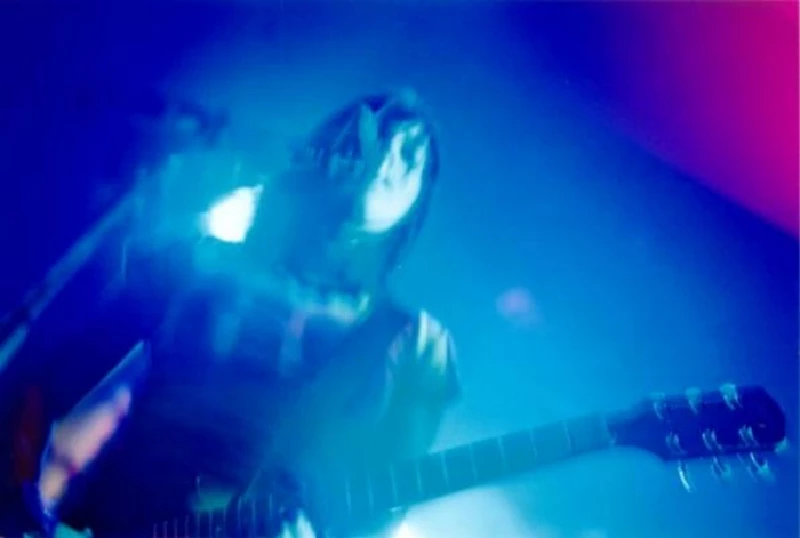 interviews
---
Interview (2004)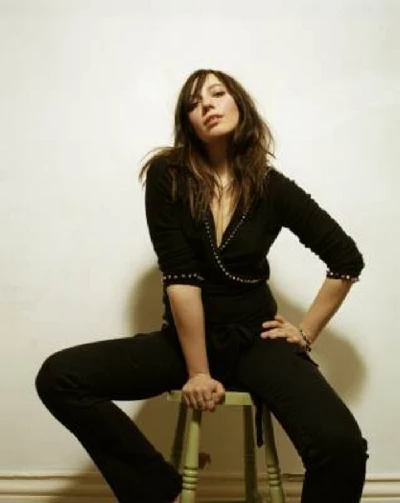 Ash guitarist Charlotte Hatherley has just released her first solo album, 'Grey Will Fade'. She chats to John Clarkson about her plans to promote it amidst Ash's own busy schedule of promoting and touring commitments.
photography
---
Photoscapes (2018)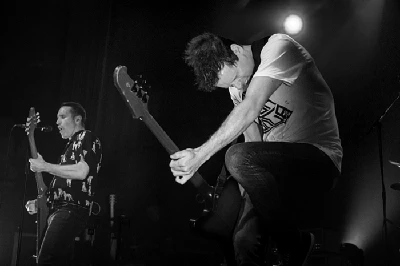 Andrew Twambley photographs Northern Irish alternative rock trio Ash on a recent tour at the Ritz in Manchester.
Pennyblackmusic Regular Contributors
---