---
Stranglers
-

Interview with Jean-Jacques Burnel
published: 24 / 4 / 2019
---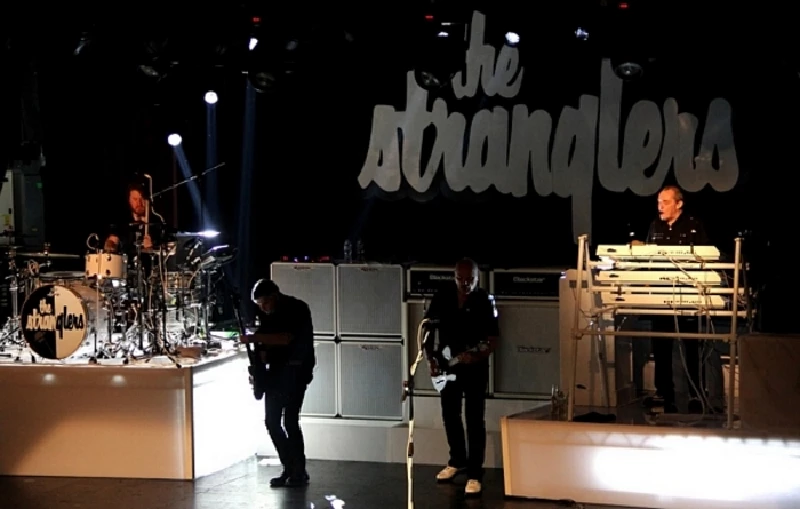 intro
Denzil Watson caught up with legendary bassist and founder member of The Stranglers, Jean-Jacques Burnel, to chat about their current tour, the increasing possibility of a new Stranglers album and the invention of a new word.
The weather's warm, spring is in the air and it's time for The Stranglers annual tour. With the popularity of the band still riding high, gig on their 19-date March 2019 tour of the UK have already sold-out. The forthcoming 'Back on the Tracks' tour should prove to be a fascinating one for the band's famously loyal fanbase, with the promise of new material being debuted live. Pennyblackmusic: How are things, Jean-Jacques? Jean-Jacques Burnel: I'm fine thank you. I'm just with the rest of the guys and we're in the studio working on new stuff. PB: 2019 is shaping up to be quite a busy year for the band, isn't it? JJ: It is. We're all together at the moment as we are working on new stuff. We've got an album's worth of material. In fact a bit more but we don't want to record anything until we've played it live. PB: Traditionally you always used to road test new material live first, didn't you? JJ: It's always so much better. It's never going to be as good as it was with the first two albums as the songs were road-tested for two or three years before we managed to record 'Rattus Norvegicus' and 'No More Heroes' because, like all young bands, you have got all these songs with nowhere to place them. They just keep getting played and played. I think we did the first two albums in about ten days played live with only one or two takes. PB: It been seven years since 'Giants' came out. It's has been quite a while, hasn't it? JJ: It has, and we've just been accumulating stuff. But, you know, when the last three albums have been so successful worldwide suddenly, we were in demand again and we want to fulfil that demand because after all a band wants to play. It wants to be playing all over the place. PB: As a band you've been really prolific. You've never gone through prolonged periods of not releasing material have you? JJ: No, so this period has been quite fallow. But I've got 150 little ideas down somewhere and Baz (Warne, vocals/guitar) has got quite a few, so we've finally found time to work on them and that's what we're doing at the moment. So, I think we'll be playing three or four new ones on this tour and refining them, because they are so much better when you have played them live. PB: I recall last tour in spring 2018 you played 'Water' and that was the first new song you'd played live for quite a few years. What's been the biggest obstacle to getting new songs in the set? Is it time? JJ: Yes. It is. It's not a lack of ideas. It's time. So, we are making much more time for ourselves this year because we are chomping at the bit to record them but that's what we're doing at the moment. This week we've been working on them every day, developing these ideas. The lyrics are already written so it's just the arrangements really, and the rhythm and which part you play. That takes a bit of time, but we are getting there. We wouldn't want to play a whole album's worth of stuff on tour because people don't come to see us for that. They come to see the stuff they know, then we'll play some new stuff and then hopefully it won't bore the pants off them. PB: Perversely, in the current climate, bands tend to play old albums in full but release new albums and mix in one or two new songs into the set. In that sense, it is quite strange times isn't it? JJ: Yeah, quite a lot of bands are reforming just to re-release their seminal album. And we did do that. Three years ago, we started off with 'Black and White' which is a forty-minute thing and then did a set of other stuff. PB: I saw you on that tour and you did a really good job playing 'Black and White'. JJ: It was fucking difficult to re-learn some of that stuff because it was really off the wall. I don't know what we were on at the time. It's fascinating to go over stuff that you might not have done otherwise. PB: And while the lyrics were of their time, some of them hold true to the current day as well, don't they? JJ: They are, aren't they? All the things about Russia, which is currently responsible for about all of the shit in the world today. They've got factories full of trolls working on disseminating false information everywhere. I'm sure they are responsible for the Trump thing in America. They're responsible for NATO starting to split and shit-stirring and creating divisiveness in Europe and everywhere. It's incredible. PB: And of course, in the past, after you, Hugh wrote the most lyrics, didn't he? Who's the major lyric writer now? JJ: It's evenly split at the moment. Having said that, a lot of the songs that Hugh sang, I actually wrote. I wrote the lyrics. But it was just who had the best voice for that particular song. Most of the lyrics for 'Hanging Around' which he sang, I wrote. PB: And right now, there's quite a lot to write about. What sort of themes have you been writing about? JJ: Let me think. Trump, the Arab Spring, divorce settlements. You name it. Everything in our life. Things about China and the West. I like to reflect the things in the world that I live in. That's an important element of The Stranglers. We don't write about too many personal things, but it creeps in. PB: So which songs are you thinking of debuting live on the forthcoming tour? JJ: One will be 'Payday Mayday'. We're going to do 'Water' again. One would be called 'Last Man on the Moon'. Another one's called 'This Song Will Get Me Over You'. PB: Is that the divorce settlement one? JJ: (Laughs) How did you guess? You don't need to be a brain scientist to work that one out, do you? Another one is called 'White Stallion' but I'm not sure that one is going to be ready. PBM: So, there's quite a stock of songs that are ready to be debuted then? JJ: Yeah. PBM: And the idea is to road-test some of the new songs on this tour then record them later in the year? JJ: Yeah, definitely. Just after the tour when we are happy with the arrangements. PB: In the past you've had some 'themed' tours. We've already mentioned the 'Black and White' tour. Is there a theme for the 'Back on the Tracks' tour? JJ: Not really. That will come later, I think, next year. But we're not sure we are going to do a tour next March. But yeah, the material is shaping up to be quite different. PB: Looking at your extensive back catalogue of songs, are there some, in the current climate, that you would find difficult to put in the set? JJB: We were talking about this the other day as we were wondering if we could get away with playing 'Bring on the Nubiles' with the lyrics and all that. We were thinking of reviving it to test the current climate. Also, there's another debate on in the band around the R. Kelly thing and the question of whether you can separate the artist from the art as I really fancied doing 'Rock'n'Roll' by Gary Glitter. So, it's an on-going philosophical debate about whether you can separate the artist from the art. PB: And again, it's quite a big tour isn't it? There's still a massive demand to see The Stranglers live isn't there? JJ: Yeah. I'm always amazed and gratified about that because we really enjoy it and it seems to be a date in the calendar that a lot of other people enjoy as well. PB: Having been in the crowd a few times over the last few years I can say, first hand, that everyone is very much into it and it's not like a nostalgia gig like with a lot of other bands. JJ: No, of course. We play old stuff but that's almost our comfort blanket. We're very much of today. Fortunately, a bunch of old geezers still living in the now. But that's OK. Someone has got to do it and not many people are doing that. PB: And there's 19 dates including gigs in Brixton and in Guildford. There's some pretty big venues in there too. And you always seem to finish off with Manchester, don't you? JJ: Yeah, and I don't know why. PB: And you are continuing your tradition of having really good support bands too. JJ: Yeah. Firstly, I was a bit dubious about having Dr Feelgood, personally, because I knew the original Dr Feelgood and I shared a flat with Wilko (Johnson). But on the other hand, I'd heard about them and seen them and it's a brand isn't it? They're a great British R'n'B band and they are carrying the torch for that kind of music. PB: And then you have got a few other interesting things coming up. A trip to Las Vegas in May for the Punk Rock Bowling Festival, for example. JJ: We've turned them down a few times. I'm never really that keen on going to America these days because they make you jump through so many hoops to get your visa. And everyone has thought that America is the be-all and end-all for any musician's career because on one hand if you have success in America it guaranteed you your pension, and I've never really liked that attitude. And I also saw all the bands who made it in America break up. Like The Clash starting to wear cowboy boots and cowboy hats. And The Police did the same. So, I've never been that keen on jumping through the hoops for America because there's another world out there. But it's true that if you have success in America it will magnify your success elsewhere. But The Stranglers have survived without success in America. We were starting to do very well out there at one point, playing to four or five thousand people but they wanted us to stay there for nine months and I just couldn't have stood it. PBM: This time it's just the two shows, right? JJ: Yeah, then we'll rush back as soon as possible. PB: And then there's your Friday headline slot at Rebellion Festival in Blackpool in August. JJ: Yeah, they've been asking us for years, but it just didn't fit in with the schedules but I'm more than happy to play it. PB: It's become the biggest annual celebration of punk music in the UK now. JJ: Which is good that they are inviting us to play it, because now, it's a much broader church. PB: And then there's the David Boni feature film, which is premiering in Brixton in April. JJ: Yeah, then a few other places. There's a big debate going on, and I won't let the cat out the bag, about the title. And if it ends up being the title that we have been talking about, at the moment there are a few places that might be closed-minded to showing it. But then that would be so Stranglerian, wouldn't it? PB: Is that a word? JJ: I invented it last week. PB: Excellent. I think we need to get it in the dictionary. JJ: (Laughs) OK, so define Stranglerian. 'Provocative, thought provoking and controversial'. PB: But captivating. JJ: Yes, but captivating. There you go. Thank you. PB: How heavily involved with the film have you been? JJ: Not at all with the editing, because I don't believe in censorship. PB: I mean in terms of being interviewed for the film? JJ: The current line-up does feature, but Hugh has refused to be involved with it. There is, however, an awful lot of footage from the past. I know that David Boni got to meet Hugh and was allowed into Hugh's dressing room on the proviso that he didn't mention the film. So, he came in and said to Hugh "Really pleased to meet you and I won't mention the film" and Hugh said, "You just did, so fuck off" and had him thrown out of the building. PB: Presumably it's fairly factual and not casting any dispersions over anybody, so it seems strange that he would want to be involved with it. JJ: I don't know why he's in such denial of the band because half the material he plays when he tours is Stranglers material, while twenty-odd years ago he was refusing to do. PB: Have you heard his current album 'Monster'? The bonus disc is all acoustic re-workings of Stranglers songs. JJ: I've heard part of it, yeah. And that's great. But when he first started out by himself he said he wasn't going to do Stranglers songs because he didn't need to but then he realised that people still want to hear his versions of Stranglers songs so he's had to revisit that, but also I think he's seriously pissed-off that he's not doing as well as us and seriously pissed-off about our continued success. But it was him that decided to leave, and actually, I think it did us a favour as a creative group of people, because it gave new impetus to the band. PB: And I would venture that you have gone on to produce three or four albums that are far superior to '10', for example. JJ: And I would support your venture! PB: Thank you very much and good luck with the tour. Photos by Denzil Watson
Band Links:-
http://www.thestranglers.net
https://www.facebook.com/thestranglers
https://twitter.com/stranglerssite
http://www.stranglers.org.uk/index.htm
http://en.wikipedia.org/wiki/The_Stranglers
http://downinthesewer.com/
Picture Gallery:-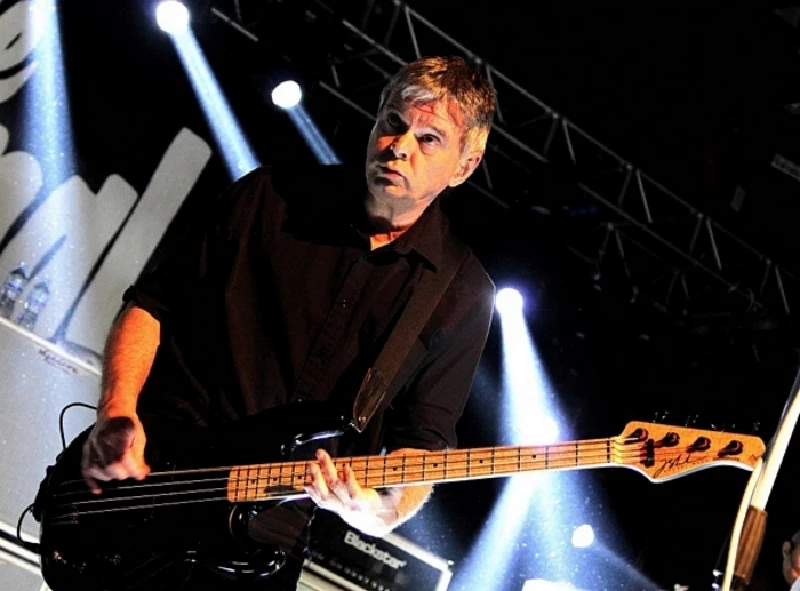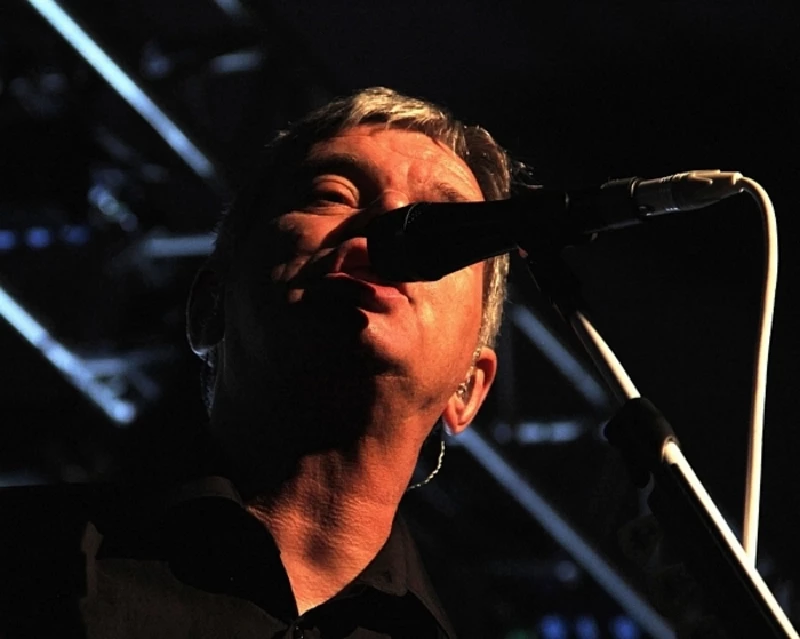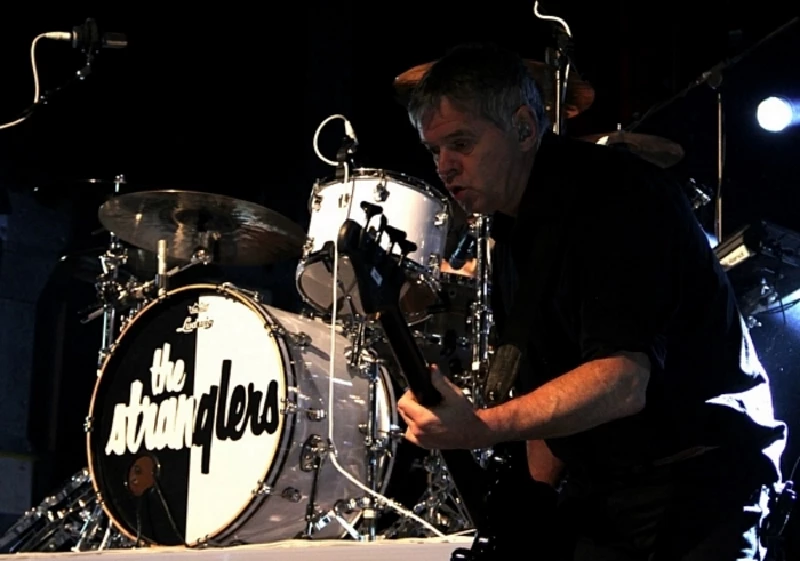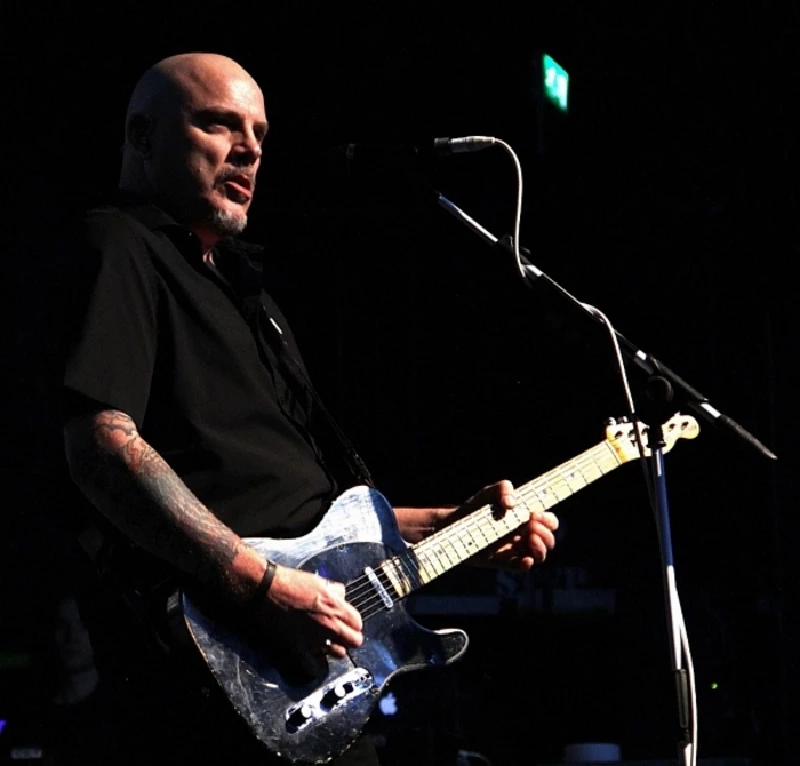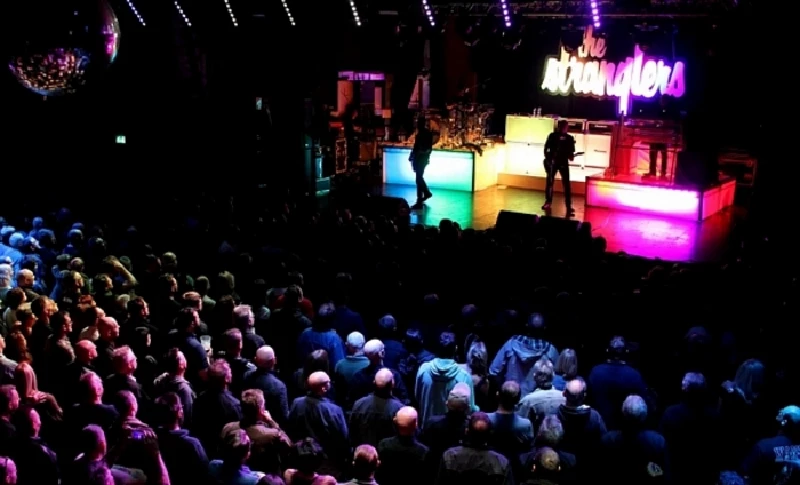 live reviews
---
Rock City, Nottingham, 23/3/2022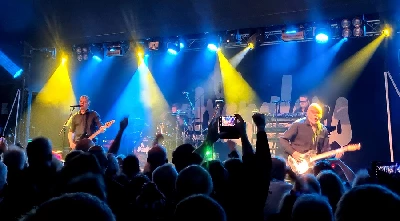 Following the loss of founder member, keyboardist Dave Greenfield and Covid related rescheduling, punk legends The Stranglers make a blazing return to the stage in Nottingham. Denzil Watson reviews.
02 Apollo, Manchester, 30/3/2019
(With Therapy?), 02 Academy, Liverpool, 6/3/2018
Rock City, Nottingham, 13/3/2017
Boardwalk, Sheffield, 16/10/2004
Leadmill, Sheffield, 7/3/2004
favourite album
---
Black and White (2011)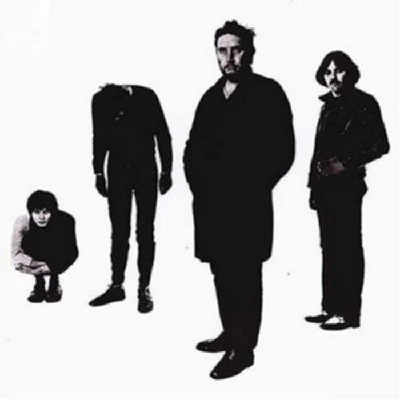 In our 'Re: View' series, in which our writers examine albums from the past,Denzil Watson reflects upon the Stranglers' 1978 third album, 'Black and White'
photography
---
Photoscapes (2016)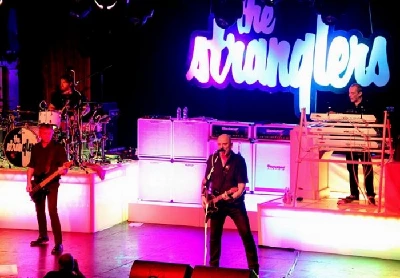 Denzil Watson photographs the Stranglers at a show at the Sheffield Academy on their latest tour in which they performed their seminal 'Black and White' album in its entirety
reviews
---
Giants (2012)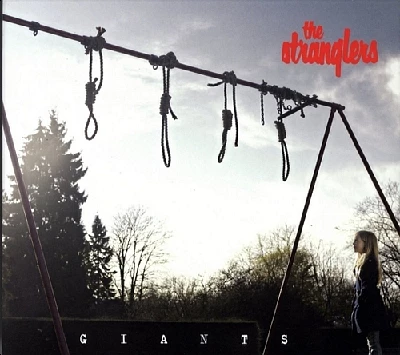 Faltering seventeenth album from the Stranglers, which, after an excellent opening, starts to stagnate badly
related articles
---
Hugh Cornwell: Interview (2015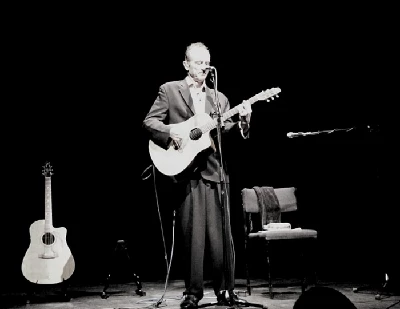 Ex-Strangler and now established solo artist Hugh Cornwell is about to release a solo 'best of' album, 'The Fall and Rise of', and will be playing an acoustic tour in November around the lesser-known parts of the UK. Denzil Watson speaks to him about the album, tour and his former band
Pennyblackmusic Regular Contributors
---