---
published: 18 / 5 / 2011
---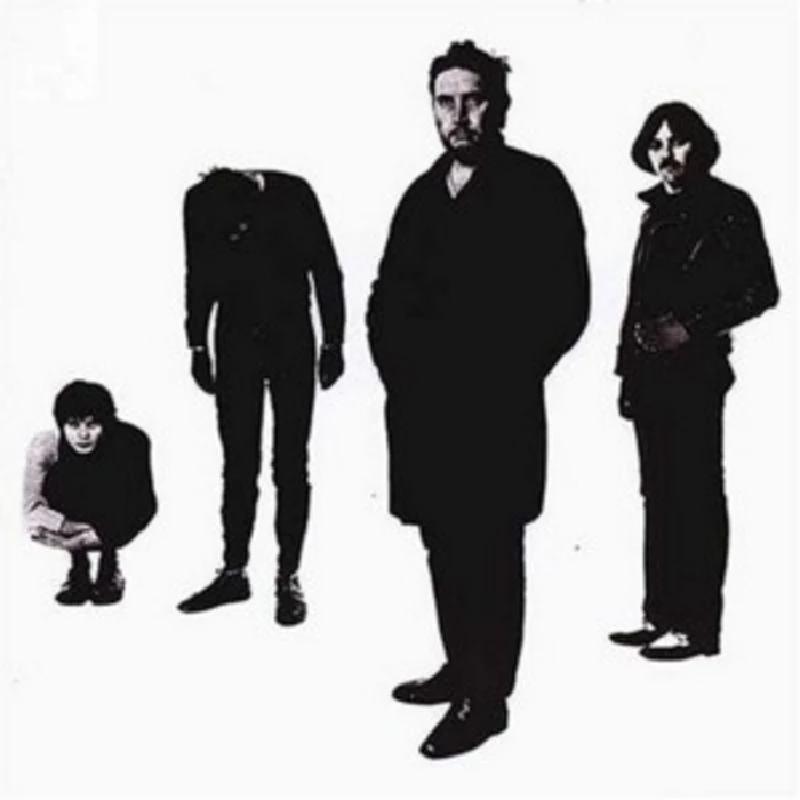 intro
In our 'Re: View' series, in which our writers examine albums from the past,Denzil Watson reflects upon the Stranglers' 1978 third album, 'Black and White'
Ask any music fan what their first ever album purchase was and I'm sure they'll be able to tell you where, when and how much. In my case it was Woolworths in Grantham, and said album was the tape version of The Strangler's third album, 'Black and White', back in 1978. I still have the tape to this day, although the exact price I paid escapes me. With no record player and just a ghetto-blaster to my name, it had to be tape rather than its vinyl counterpart. And while many people may 'forget' their earlier purchases and conveniently only remember their 'cool' purchases, I stand by my first album purchase as a wet-behind the ears twelve-year old with a sense of pride. Anyhow, on to the album itself. Famously played by John Peel on his BBC Radio One evening show in one whole go, it features Ruan O'Lochlainn's monochrome image of the band, possibly one of the most iconic pictures ever taken of the Stranglers. A fitting cover for a band that at the time was increasingly polarizing people's opinion. It came within 18 months of the release of the band's now legendary debut album, 'Rattus Norvegicus', and the more famous second LP, 'No More Heroes'. With their debut the Guildford four-piece emerged from their former pub-rock stylings to produce an LP at odds with many of their punk peers with its Doors-like song arrangements and almost virtuoso musicianship. 'No More Heroes', however, saw them embracing the brute-force of punk to full effect. With 'Black and White' though, considered by many to be the first great post-punk record, they started to experiment with their sound and song-smithery. Gone were the sexism and misogynistic tones (we'll turn a blind eye to that Battersea Park gig) that permeated their previous albums, replaced with altogether more weighty subject matter and more subtly channelled aggression. Sticking with the late Martin Rushent as producer and Alan Winstanley as engineer, the album is divided into the 'black' side and 'white' side. Or perhaps that should have read 'black' and 'even blacker'. Often overlooked in favour of the two aforementioned albums, 'Black and White', is arguably the most accomplished of the ten long players the Stranglers released while Hugh Cornwell was in their ranks. It peaked at no.2 on the album charts in June 1978 during its eighteen week stay. The white side opens in explosive style with crowd-favourite 'Tank' featuring Dave Greenfield's now trademark keyboard descents, tank gun samples and Cornwell's desires to drive his "very own SLR". The pseudo-white boy reggae of 'Nice and Sleazy' was the general public's first taste of the album, released as a single in April, a month ahead of the album, picking up from where 'Peaches' left off. Its crisp beat, Burnel's thudding base and tales of Hell's Angels made it an obvious choice of single. The sinister almost fairground waltz of 'Outside Tokyo' references German philosopher Martin Heidegger's concept of time, a theme picked up on at the end. Next up is perhaps the album's lightest moment. 'Sweden' is a pure pop moment poking fun at the Scandinavian country where "the clouds are interesting". It also features probably one of the best keyboard runs Dave Greenfield has ever written. The experimental 'Hey! (Rise of the Robots)' is interesting in subject matter (considering a world dominated by machines) but is the only moment on the album where things don't quite mesh. Featuring Lora Logic from X-Ray Spex on sax, the band can be heard to struggle with the song's many signature changes. But redemption is close at hand in the shape of the epic white side closer 'Toiler on the Sea'; the interplay between instrumentation on this sea-shanty tale is almost classical in nature, demonstrating the musical ESP the four Stranglers had with each other. The black side starts in apocalyptic fashion with the first of three JJ lead vocals. 'Curfew' name-checks the album title while painting a nightmarish picture of martial law and civil war in a post-nuclear age Britain ("Stay in your homes/Be off the streets by nightfall"). The vocal interplays between Hugh Cornwell and Burnel continue to good effect on 'Threatened' bringing brief respite despite the song's title. Burnel's rough-shod bass introduces the joint salvo of 'Do You Wanna"/"Death and Night and Blood (Yukio)'. The former is a brutish but fairly straight-forward Stranglers workout notable for a rare, vampiric vocal from Dave Greenfield. The latter is a darker bass-propelled beast inter-dispersed with mantra-like chants of the song title and references to the Japanese author Yukio Mishima who committed hara-kiri in 1970. The penultimate cut, 'In the Shadows, previously surfaced as the B-side to the 'No More Heroes' single but fits nicely onto the black side for obvious reasons. On the album closer, 'Enough Time', the sense of tension and urgency are tangible as Morse code keyboard stabs spell out "This is planet Earth, we are fucked" and the band experiment with slowing down the tape to bring the album to a shuddering halt. I could go on about drunken album launch parties in Iceland, and its landscape providing the perfect backdrop to the album's starkness. Or the bonus tracks on the re-issue CD. The usual mixture of throwaways that appeared on B-sides and the white vinyl 'Tits' EP that came free with the first 75,000 copies of the LP. Not forgetting the fantastic six-minute plus cover of Bacharach and David's 'Walk on By' but I'll leave it there. The album stands alone as one of the band's finest achievements, and one of punk rock's best concept albums.
Track Listing:-
Band Links:-
http://www.thestranglers.net
https://www.facebook.com/thestranglers
https://twitter.com/stranglerssite
http://www.stranglers.org.uk/index.htm
http://en.wikipedia.org/wiki/The_Stranglers
http://downinthesewer.com/
Picture Gallery:-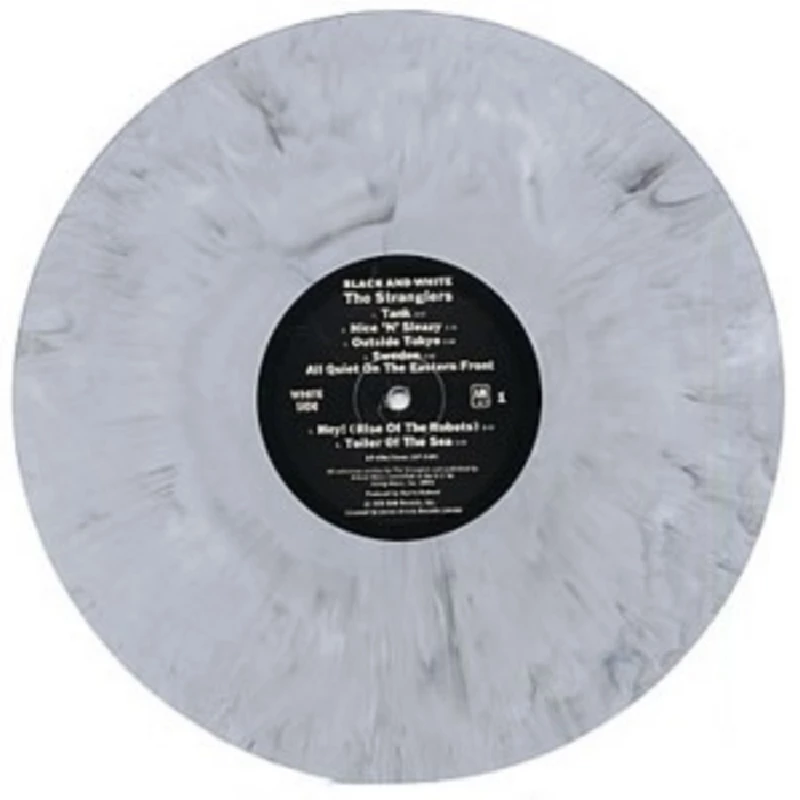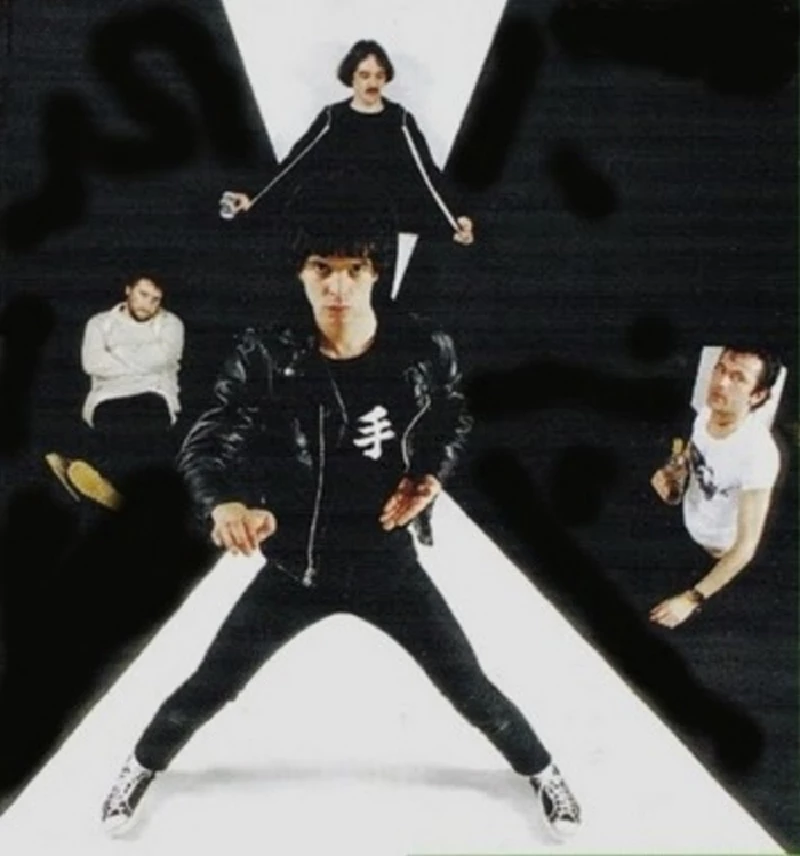 Visitor Comments:-
452

Posted By: Mark, Manchester on 13 Jul 2011
The Stranglers Black and White. A collection of songs that exude bleak war torn imagery and references the cold war dystopia to great effect. The Black side sought to capture death and apocalyptic destruction with a stark sneer of cold command, whilst the white side reflected a more libertarian utopian landscape where robots rule and armies conquered. The album sleeve depicts each band member silhouetted against a white background symbolising the intense light of an atomic bomb, thus reflecting the entrenched paranoia that existed in the late 1970's.
---
442

Posted By: BLJ, Staines on 17 Jun 2011
It is also my favourite album of all time (maybe tied with Tubeway Army's Replicas) Perfection. Very cool review.
---
438

Posted By: barracuda, dorset on 16 Jun 2011
best lp imo
---
437

Posted By: barracuda, dorset on 16 Jun 2011
it's my fave mk 1 lp .....musical esp indeed
---
435

Posted By: Alias, BUT Forum. No, not that one, the Burning Up Time. on 15 Jun 2011
Enjoyed reading that- it's always fun to read another fan enthusing over themeninblack! Now get back onto the forum and do one about The Raven, next! Cheers.
---
live reviews
---
Rock City, Nottingham, 23/3/2022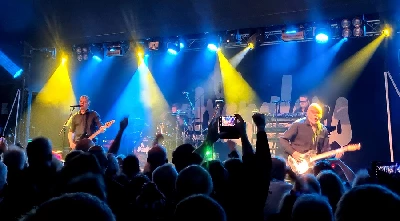 Following the loss of founder member, keyboardist Dave Greenfield and Covid related rescheduling, punk legends The Stranglers make a blazing return to the stage in Nottingham. Denzil Watson reviews.
02 Apollo, Manchester, 30/3/2019
(With Therapy?), 02 Academy, Liverpool, 6/3/2018
Rock City, Nottingham, 13/3/2017
Boardwalk, Sheffield, 16/10/2004
Leadmill, Sheffield, 7/3/2004
photography
---
Photoscapes (2016)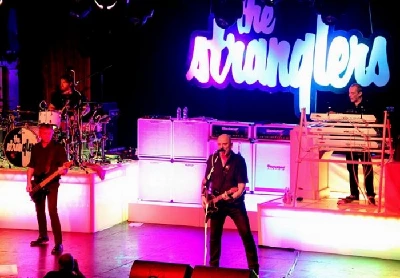 Denzil Watson photographs the Stranglers at a show at the Sheffield Academy on their latest tour in which they performed their seminal 'Black and White' album in its entirety
reviews
---
Giants (2012)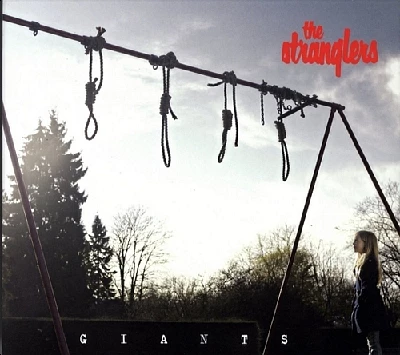 Faltering seventeenth album from the Stranglers, which, after an excellent opening, starts to stagnate badly
related articles
---
Hugh Cornwell: Interview (2015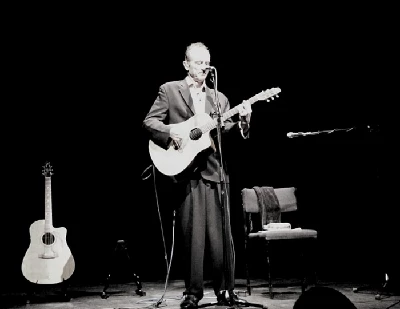 Ex-Strangler and now established solo artist Hugh Cornwell is about to release a solo 'best of' album, 'The Fall and Rise of', and will be playing an acoustic tour in November around the lesser-known parts of the UK. Denzil Watson speaks to him about the album, tour and his former band
Pennyblackmusic Regular Contributors
---