---
published: 21 / 10 / 2007
---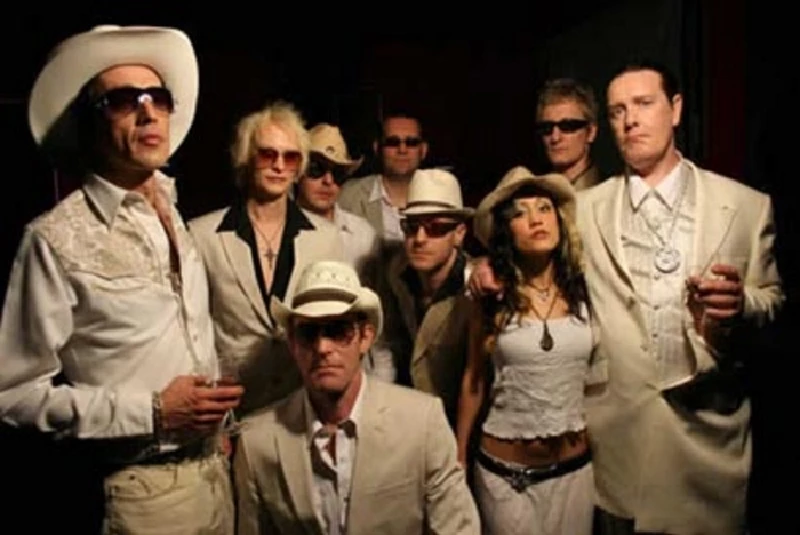 intro
At a show in Nottingham vocalist D Wayne Love and keyboardist Spirit of Love from country acid house group the Alabama 3 speak to Peter Allison about their love of touring, new album 'M.O.R.' and what they see as their role as outsiders in the music industry
For a band that has been described as "the best live band in the country" ('The Guardian') and "sweet, pretty, country acid house music" (D. Wayne Love, 'Ain't Going To Goa'), and which has such literary fans as Irvine Welsh and Stephen King, the Alabama 3 have always remained firmly fixed on the periphery. This is despite the presence of their unique blend of acid house and country music (with elements of gospel and blues thrown in for good measure) insidiously being felt throughout popular culture. 'Woke Up This Morning' (from their debut album 'Exile On Cold Harbour Lane') is the foot-tapping intro to 'The Sopranos', while 'Too Sick To Pray' (from 'La Peste') was used in the film 'Gone In Sixty Seconds'. It is through the promotion of this latter film, that many discovered the Alabama 3 (or A3 as they are known in the USA). The video for 'Too Sick To Pray', as played on MTV, stood out from the stereotypical rock and roll antics that typify much of the MTV generation. For despite their image as jaded Deep South evangelistic preachers, they seemed far more real than the other artfully groomed and manicured rock stars being screened, while their music pulled at the lyrical tendrils of the soul. Currently on tour, the Alabama 3 are playing to sell out audiences across the United Kingdom, and have so far garnered justifiably rave views from the music press for their unique sound and image. Following their Rescue Rooms gig in Nottingham, Pennyblackmusic (PBM) enjoyed the chance to meet vocalist D Wayne Love (DWL) and keyboardist Spirit of Love (SoL). With the tour coming towards a conclusion, it seemed only fitting to open by asking how it had gone so far : DWL : Mostly good, yeah. Mostly people like it. Mostly people think it's a good night. SoL : We've had gigs when all you can hear is "RARRR!" PB : And when you don't get anything… DWL : Ermmm, some places are like that. SoL : It can be very hard to tell though, can't it ? DWL : Cos some places, not here, when there is no proximity. Like here, we like it when it is close. Y'know, when we've often played places a bit bigger, there's been a barrier. SoL : You know when you have that gap between the stage and audience, I hate that. PB : You lose some of the interaction, don't you? DWL : Yeah, that's right. It really fucks with all your chemistry. We prefer playing places where ideally there isn't a stage. Y'know, and people just watch you. SoL : It also depends very much on the geography. I mean this is people in Middlesbrough having a good time (proceeds to scream down my ear). PB : Hey… I'm from Middlesbrough. SoL : You know then, you know what it is like. DWL : It's a backhanded compliment SoL : But others show they are having a good time by (claps politely) DWL : Aye, in Cambridge, you have seven hundred people line up. And everyone will just be nodding their heads. But they're all really enjoying themselves. Then, when we've finished the song, we get a (claps slowly). But you're up there, and you're shitting yourself, thinking "they don't like it". But they do. SoL : It's all in their heads. DWL : But they are having a good time. So you think to yourself, what do you do when you go to watch a rock band ? When I go, I just stand and rock my head. So, they're enjoying themselves as much as I would. PB : If everyone enjoys themselves, that's the main thing. DWL : Aye, they spend their money, they can do what they fucking well want, until I've finished. The Alabama 3 formed in the 80's after Rob Spragg (A.K.A. Larry Love) and Jake Black (A.K.A. The Very Revered D Wayne Love) met at a house party, that was suitably happy in the manner of those times, and found they enjoyed a mutual appreciation for the music of Hank Williams. Asking about their conception, D Wayne commented : DWL : That's kind of not true. Me and Larry met at the end of the 80's. But the first Alabama 3 record was made here in Nottingham. It was at Acid House Party, DIY, and they did the first Alabama 3 record, which was a version of 'I Shall Be Released' by Bob Dylan. It was just made as an house version. It had this girl singing on it, a diva. It was made on an Atari 1040, and I've still got that track, and it still playable. So the first few tracks we did were for house times, just with divas – singer's y'know – and it sort of developed from there. I mean someone suggested we should get a piano player, so we got a piano player and a conga player. Then we had someone for the turntables… PBM : Back then, did you ever conceive you would enjoy the success you have now? DWL : Aye, definitely (Both DWL and SoL burst into laughter) Although the Alabama 3 have had a series of albums that have garnered critical acclaim, they are probably most recognised for the excellence of theirs gigs. I was curious to ask if perceptions of them had changed since the start of their career. DWL : The reactions first are the same as now. There are people that like us, and people that don't. The only difference now is the business aspect of pop music itself has become centralised to people whose opinion counts. SoL : We don't get corporate hospitality. DWL : No, we don't get corporate hospitality. So they can F-off. The reaction to us is that we seem a bit mad, but this is the nature of things, the way they are going. Everything is like Time Warner and they count for 92% of everything now. We are outside the framework of that, so we really don't get talked about. So what you have is a drop off of success, as opposed to any intensive scrutiny. SoL : My favourite colour is red by the way. DWL :… Just to trivialise what I was saying, then… Given their unique musical blend, and refusal to lose their individualistic streak (which some would argue is the band's strong point); the Alabama 3 seem happiest living on the fringe - despite a brief dalliance with Geffen (They are now on One Little Indian) - where they can be who they wish to be. Asking about their current perceptions of music, D Wayne commented: DWL : Pop has become very conservative now. To give you an example (Pauses) SoL : You know the main now difference now. You know you go to school and pay fees. Well, now you have the rock academy where they teach you how to be in a band, how to be a rock and roll musician, and they teach you about the business strategy. DWL : What are you on about then? SOL : Well they do that now. DWL :Because everything is capitally minded, and is not about music now. PB : About the money? DWL : About the niche markets, that's right, and demographics. SoL : Music is no longer about the music. DWL : That's right. SoL : Which is what you have in the structure of western capitalism. I only thought about that the other year. DWL : Well yeah… SoL : I am naïve? Am I the naïve romantic? DWL : Richard Dawkins would love you.... We eventually stopped those people being with us and being facetious. We were speaking to our people, when we were doing the festivals for the last LP; and they said that they'd spent eight months doing market research, nailing our demographic, finding our niche market, and then writing for that niche market. PBM :Yeah? DWL : It's a question of what people actually aspire to now in rock and roll. People do not make rock and roll to make decent work, people make rock and roll now to make money. They get double mortgages. To be like, say, a staff officer in the Met' during the miners strike. They'd be running off from the metropolitan up to, say, Nottinghamshire, or Derbyshire, or Yorkshire, or whatever. They get all the travel time, all the overtime, and all the money. So pop music is no longer about pop music, but about gypping people, battering people with a marketing campaign over eighteen months. So you see for instance, if you look in HMV's window, or Virgin's window; that's £15,000 a shot. It's £3,000 a shelf. To put your records on their shelf, £3,000 a shelf… So you can imagine, a record company like ours, doesn't have that kind of money. What are they going to do? How are people going to find our records ? SoL : They (referring to large-scale music retailers) don't even fucking care. They don't even fucking listen to us. DWL : So things become more and more marginalised, and become more and more subject to the market, but the market tells you what you are supposed to like. You're supposed to like this. You're not supposed to like that. SoL : And they do it all in the name of individual freedom. DWL : Time Warner might have nine million what it calls "Indie" labels. Indie. Indie is actually a generic term for pop music now. I look at the generic compilations of pop music, and it's all groups. So they look at us, and what do you call a group like the Alabama 3? There isn't a name for it. So you can't find a shelf for it. When you're a small independent record label, you're marginalised in the shop anyway. So your music becomes more and more marginalised, and the only way out is playing live to people like yourselves, that appreciate seeing music live in its raw form. What we like to think is we play rock and roll in the way it should be played. Visceral, immediate, in your head. The Alabama 3 have seemingly been very careful in their political commentary, focusing more on social injustice. This is most evident with their patriotic ennui evident in Woody Guthrie and Patrick Hill's harrowing monologue in 'The Thrills Have Gone' ; (Their website has also added their support of the NHS). Most recently, Alabama 3 become affiliated with the Miscarriages Of Justice Organisation; with proceeds from the sale of 'Lockdown', their latest release, being donated to this organisation. I was keen to learn to learn how this association came about: DWL : It started in Glasgow, and someone told us about it. The guy at the time was struggling. He used to be part of what was called the Broad Left in the 80's, but it doesn't exist any more. So, when we spoke to him, he was trying to highlight certain cases that had been brought up by the C.P.S. – Crown Prosecution Service – that had been obviously bogus. He was trying to publicise it; and so we managed to pay a couple of things. Brought a couple of people in, but we managed to keep highlighting it, to the extent that you yourself asked us about it. Basically it's about highlighting actual miscarriages in this country. Mostly deficiencies in the C.P.S. and how bureaucratic deficiencies could be alleviated just by rerouting money and policy directives. That's why we're interested in that. We're in interested in other things y'know. All the things you can make a difference with. SoL : 99% of the cases that have been handled have born out. As he's got top flight lawyers working for him. DWL : Gareth Pierce works for him, and Gareth Pierce was the one that worked on the behalf of the Birmingham Six and the Guildford Four. Hence why Paddy Hill of the Birmingham Six is a founding member of the Miscarriages Of Justice Organisation, and Gerry Conlon of the Guildford Four is working for that. A lot of people that have been subject to miscarriages of justice that are now working inside to highlight it. But this is what happens in this country. Once there was an active left, but now people focus on single issues. The left has fragmented that way. So when people approach us, we have to be cagey, as what we make at the end of the day is pop music. But we've managed to I think to underpin some things, and highlight some of their work. So that's quite good. SoL : A lot of groups stay clear of them, as they are picky of being associated with governmental politics. As they've got to focus on a certain group of people, crack down on a certain kind of crime. But when things start looking bad for the government, they weigh it up, DWL : Which is simply just resources being shifted and moved about. They repackage it, and ship it out. And pop music is pretty much like that. Everything else is like that as well - the C.P.S. is a logo. It's all image conscious. But when someone has been in jail for seventeen years due to really bad policies, you have to highlight that. The Spirit of Love succinctly concluded this – and the interview - with his own perception: SoL : What you need are people like danger mouse… If there is one thing Pennyblackmusic learnt from meeting the Alabama 3, is that they are no strangers to mischief and mayhem, yet equally courteous and intelligent and are able to give insight into the music industry and government politics, while happily making fun of each other. Which quite possibly, summarises entirely what the Alabama 3 is about.
Band Links:-
http://www.alabama3.co.uk/
https://www.facebook.com/thealabama3
https://twitter.com/TheAlabama3
https://www.youtube.com/user/Alabama3akaA3
https://plus.google.com/114105243203762208008
Picture Gallery:-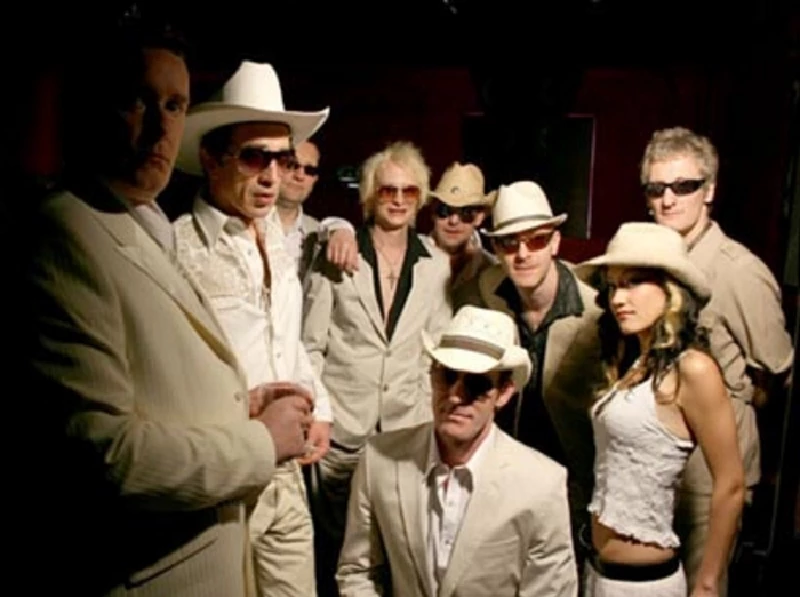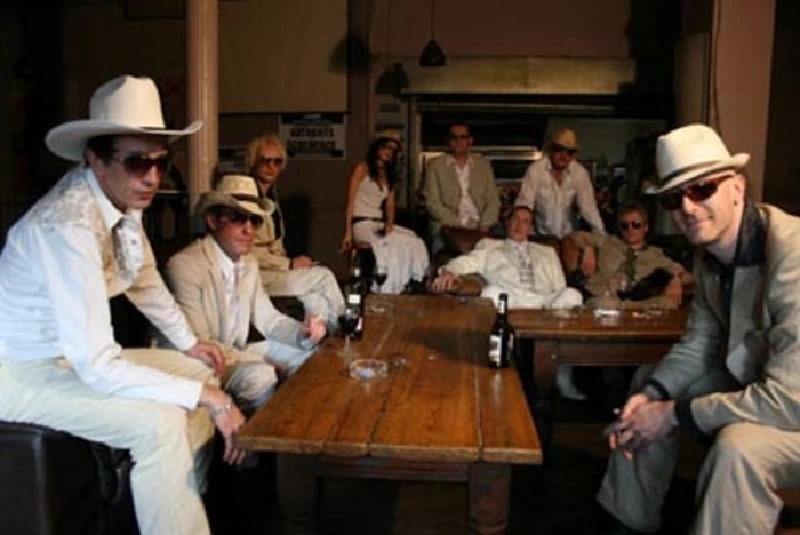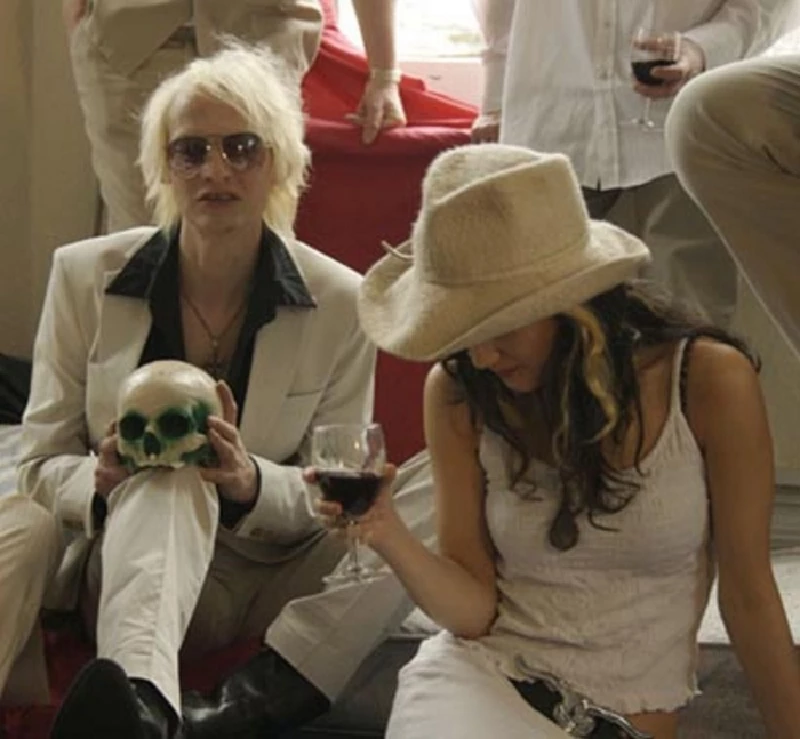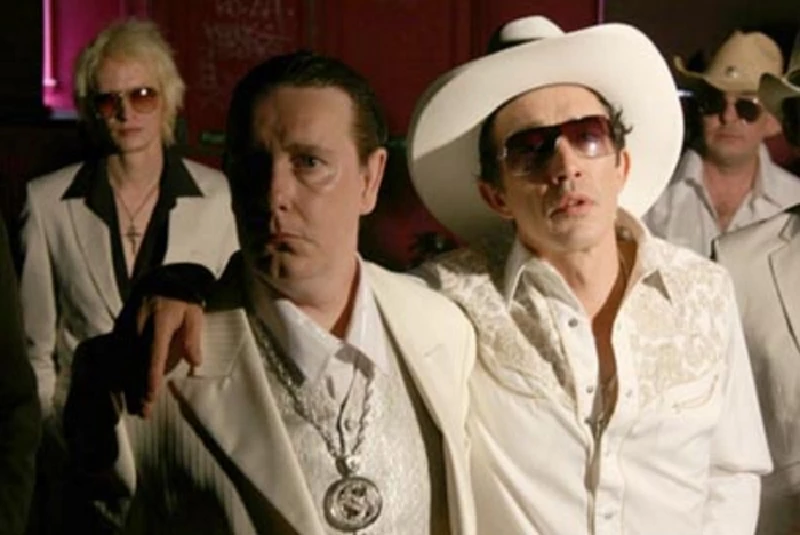 interviews
---
Interview (2012)
Peter Allison talks to Larry Love from Alabama 3 about his band's hip hop and sample-infused latest album, 'Shoplifting 4 Jesus', and which finds them reflecting angrily on the global economy, digital piracy and the London riots.
Interview (2009)
Interview (2005)
live reviews
---
Academy, Manchester, 29/11/2014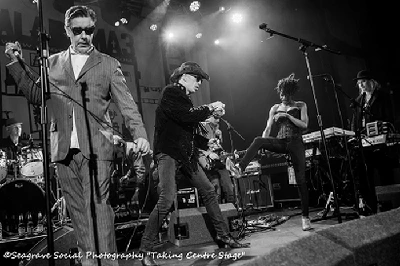 At the Academy in Manchester Billy Seagrave watches Alabama 3 play an exuberant yet thought-provoking set
Rock City, Nottingham, 12/11//2009
Academy, Manchester, 26/4/2008
Rescue Rooms, Nottingham, 8/10/2007
Brook, Southampton, 29/5/2005
Pennyblackmusic Regular Contributors
---