---
published: 16 / 9 / 2017
---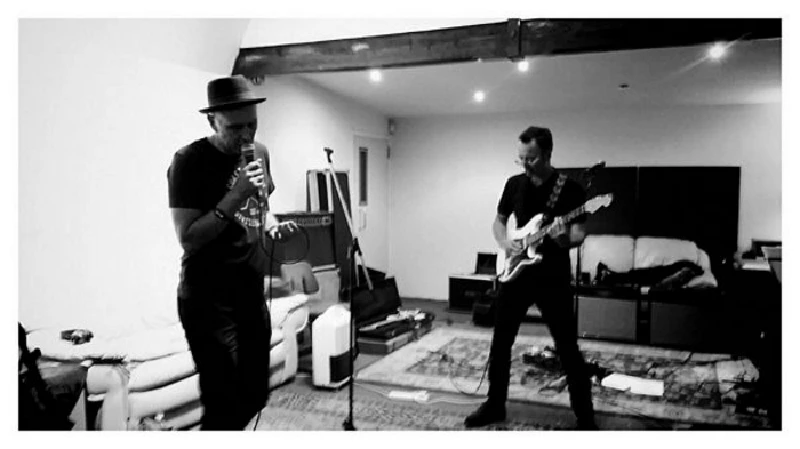 intro
Guitarist Pim Jones speaks to John Clarkson about Scottish dance/rock act Hipsway's history and their remarkable recent reformation after an absence of nearly thirty years.
For a year between early 1986 and early 1987 it seemed that the Glaswegian group Hipsway was on the verge of huge success both at home in Britain and also in the United States. Their third single 'The Honeythief' went into the Top 20 in the UK Singles Chart and the US Billboard Hot 100, and their eponymous 1986 debut album also entered the album charts in both countries. Hipsway toured successfully, playing their own sell-out headline dates and support shows both to Simple Minds at a homecoming gig at Ibrox Stadium in Glasgow and with the Eurythmics on a two month European tour. Yet, just as they seemed on the cusp of an international breakthrough, their career fell into irrevocable decline. Their bassist and co-founder, ex-Altered Images member John McElhone, left in late 1986 to form the top-selling Texas, taking the group's manager, his brother Gerry, with him. The three other members, vocalist Grahame 'Skin' Skinner, drummer Harry Travers and Edinburgh-born guitarist Pim Jones (who had replaced early Hipsway guitarist Ali Mcleod in April 1985), carried on, working on a second album 'Scratch the Surface' in New York with a succession of session musicians. Midway through the lengthy 'Scratch the Surface' sessions Travers, however, also quit. The group fell victim to record company politics, and by the time 'Scratch the Surface' emerged a year late in 1989 Hipsway had effectively broken up, with Skinner and Jones carrying on their musical partnership and recording music together first of all as Witness (who released an album 'House Called Love' in 1991) and then latterly as the Pleasurelords. While their career was brief, Hipsway remain fondly remembered especially in their native Scotland, and the 'Hipsway' album, which combines Skinner's distinctive, silken vocals and Jones' taut guitar lines with sweltering rock and dance beats, is seen to be a classic. When it was reissued last year in a thirtieth anniversary edition by Cherry Red offshoot Hot Shot Records, Grahame Skinner and Pim Jones decided to reunite Hipsway in a new line-up for the first time since it broke up in the late 1980's for what turned out to be three triumphant live dates last November, one in Edinburgh and two in Glasgow. Now there are more shows on the way in mid-August, including dates in London and also at Kelvingrove Park in Glasgow as part of its season of 'Summer Nights' gigs. We have interviewed Grahame Skinner twice before, once before the reunion and once just after Hipsway had announced they were getting back together, and, in what is a rare interview, this time spoke to Pim Jones about Hipsway's remarkable reformation. PB: You joined Hipsway after they had been formed about a year. Had you played in any other bands before then? PJ: I bummed around Edinburgh and played in a few bands. Half of them were bands that never got outside the rehearsal room, but I also gigged around various places in Edinburgh like the Traverse Theatre and later the Hoochie Coochie Club, which is where I was told about Hipsway from Allan Campbell (Owner of Rational Records and Edinburgh gig promoter – Ed). He had heard from Gerry McElhone that they were looking for a guitarist, and so I went for an audition. PB: All of the other members of Hipsway had played in fairly well-known Glasgow groups such as Altered Images, the Jazzateers and the White Savages. How aware were you of their work before you joined Hipsway? PJ: I knew Altered Images. Everybody loved Clare Grogan, but I wasn't really aware of the rest of them at all. I didn't really know anything about Glasgow at that stage. I was nineteen when I joined. The most professional aspect of my musical career up until that point had been doing a session on Fiction Factory album. I played on a few tracks on their second album 'Another Story' as a session guy, and I also did some recording with Ege Bam Yasi. That was me touching the edges of playing at a more professional level. I can't really remember much about the audition. I can't remember whether it was Johnny or Skin that came to pick me up at the station, but I do remember that after the audition, which was in a rehearsal room at the end of Sauchiehall Street, we went across to Nico's Brassiere, and they said, "Do you want to join?" I knew this was a moment when I had a crossroads right in front of me - Do I say yes to diving into this unknown city and to working with these unknown guys in this unknown world or do I say no? It was very shortly after that that we made the video for 'The Broken Years' and then appeared on 'Razzamataz', which was our first TV thing. I was just thrown straight into it basically. PB: It has sometimes been said that things happened too quickly for Hipsway as they signed with Phonogram soon after forming. Would you agree with that? PJ: It happened even more quickly for me because things were already in place when I joined. I don't know. It is very subjective. When you are in it you can't really tell. I had never done anything like it before. It would have been a very different situation for Johnny after Altered Images, but it was all new and exciting to me. I had a wage of £100 a week, and I had moved into a new city, and it was all clubs every night and rehearsing during the day. It was great fun. PB: What did you do before you joined Hipsway? PJ: I had my only 9 to 5 job which was working in Gordon Simpson's, a guitar shop in Edinburgh. I worked there for a year when I was eighteen. I got to fiddle around with guitars all day, the perfect job really although it was pretty badly paid, and then I rehearsed and played in Edinburgh as much as I could. PB: What are your fondest memories of Hipsway? PJ: I think it was probably the time we spent in New York recording 'Scratch the Surface'. I really regret that we weren't slightly more in the subculture at that time. Little did we know that the dance world was about to explode all over the UK, and that it was already emerging in New York. We were there for about nine months on and off living in various apartments. New York was great. I had a new American girlfriend. We were just soaking it all up really, and we were working at Atlantic Studios. We were one of the last two bands who made albums there before they sold it. PB: What do you remember about playing Ibrox Stadium in Glasgow support of Simple Minds in 1986 or touring Europe a few months later with the Eurythmics? Those were huge stadium gigs. PJ: I don't remember much about the Ibrox gig. To be honest, I don't remember a lot about most gigs because you are just trying to do your job and hoping that nothing goes wrong. I do remember that the kick drum broke at one point during the Ibrox gig, and we had to fill in in front of 30,000 people for a couple of minutes. That was fairly hairy. It was good fun though because we got to meet all the other bands that were there including Simple Minds, albeit fairly briefly. I do have a better memory of the Eurythmics tour because I wrote a diary of it. I read it recently as we are rolling again, and I was quite amazed at how much we didn't eat. We would get £10 per day living allowance. It was the middle of winter, and we were playing ice hockey stadiums and other big indoor arenas. I think the biggest one on that tour was Bercy in Paris, and that was absolutely huge. There was a big catering operation, but often we would be offered dinner just before we went on stage, and, of course, nobody would want to eat it in case you would feel sick once you were out there. By the time we got off stage all the dinner was always gone. I remember that I kept a tally for all the McDonald's filet de fish that I had on that tour, and I had fifty-two filet de fish around Europe which kept me alive. I am not a very lardy guy anyway, but I came back from that tour like an absolute beanpole. I was really, really skinny. At first we were very green, and we had to learn to perform to 10,000 people a night in a stadium who had never heard of us. We finished off one performance and the audience started applauding, and we said, "Let's go back out and do an encore," and we went back out and they started booing (Laughs). They were like, "Get off! You're fucking rubbish!" but that was at the beginning of the tour. As we went through the tour, we became more confident. We got more lights from the crew, and better sound on stage as they got to know us. Dave Stewart and Annie Lennox were also really nice to us, and the whole band by the end of the tour was really tight. PB: It was shortly after this that John McElhone, however, left. Do you think that was the start of the group's decline? PJ: I suppose so. It depends on what you mean by decline. If you mean in term of sales, I don't think the sales went down because he left, but when we did finally come to do the next album it wasn't very successful. I don't know how much that was down to Johnny and how much of that was down to the label. Tensions had been around in the band for a while and, although from a distance and with hindsight it does look very sudden, when you are living with each other twenty-four hours a day and out of each other's pockets, it is a very tense thing especially when you are young and you don't have any money and you're just trying to survive the rigours of the road. Things were definitely different after that. There were two very different camps. There was Skin and Harry and me, and there was Johnny and Gerry. Johnny and Gerry had very clear ideas of what they wanted to do and they obviously had been very successful at that already with Altered Images, but they didn't drink and smoke and we drank and smoke. There was a good creative tension as it were but it is like lab rats. When you feed them and they are happy, they don't do much. While there was a good creative tension in the band, I think at that age it doesn't usually last very long. It takes a very special band to stay together for a long time, and so they went off and did Texas. PB: 'Scratch the Surface' didn't do as well as the first album. Do you see it as under-rated? PJ: When we did the gigs in Edinburgh and Glasgow last year and played some of the tracks from it, I wasn't even sure how many people would even know the songs from it. I know that everyone probably had the first album, but I do wonder how many of them bought the second album. There were some good tunes on it, but what was different about that album was that we co-wrote it with the producer Phil Galdston and that was the first time that we had done a co-write in that way. It was his first album production, and his taste in music was not quite our taste in music, hence some of the direction. I think that on some of the tracks such as 'Show Me' it is obvious that it is more his influence. There were no bad vibes though. We wanted to try something a bit different, and we were able to steer things a lot more than we had before. We were also writing without the benefit of doing a bunch of gigs and rehearsing each day. It was typical second album stuff really. There are some things which I have got demos of and I think, "I am really glad that we didn't record that. It is really not our bag whatsoever," but we were just trying things out with Phil to see how what worked and didn't work. PB: Phonogram, however, did not get behind 'Scratch the Surface' in the same way, did it? PJ: While we were in New York, Geoff Young, the guy who had signed us to Phonogram, left, which left us in the hands of Dave Bates, who had signed Tears for Fears and had had a huge hit with 'Everybody Wants to Rule the World'. Tears for Fears hadn't wanted to release it but he had insisted, and, when it became a big hit and made them, that gave him a lot of power. He was shall we say quite a strong character, and started to give us a hard time about what we were doing in New York. We were basically left without any allies at Phonogram. We had to carry on as best we could, and by the time it was released we had decided not to play ball with the record company and had been dropped by Phonogram, hence the artwork which we had nothing to do with and which I personally think is dreadful. We did release one last single 'Your Love' with them, and it was just after that we were dropped before the album came out. Geoff Young had in the meantime gone to A&M, and so we went to see him and asked if he would be interested in giving us another deal and he agreed, so that is when we formed Witness. PB: Why did you decide to change your name? PJ: We were originally called Burn This before we were called Witness. Radio 1 wouldn't play us though because of the bombing in the Middle East and the Gulf War at that time, and so we had to change our name. We should have probably carried on using the name Hipsway in hindsight, but we thought that it was too poppy. We had more of a 70's rock vibe and by that stage were trying to break with the past. We would have perhaps had more sales if we had carried on as Hipsway as Witness' album, 'A House Called Love', also didn't sell. Just as we were finishing it, Geoff Young left A&M and again left a label he had signed us to, leaving us in the lurch with no allies, which was extremely frustrating as you can imagine. It was a pity as there were some great tracks on that album too. PB: You then played in a band called the Pleasurelords. Who were they? PJ: The Pleasurelords once again involved Skin and I. We did one single 'Sensation' on Cheese Records, and then we changed the name and became Sponge after that. We played around London for about a year, and were like a combination of Led Zep and the Red Hot Chili Peppers. We became harder as we went on musically. PB: After Sponge ended what happened then? Were you in groups after that? PJ: I had been working with Skin for nine years by that point, and that is a long time to work with someone, twenty-four hours a day. It was as amicable as these things can be, but I had had enough and we decided to go our own ways. We had both been living in London for about five years at that point, and I stayed on there while Skin eventually moved back to Glasgow. I did a few sessions for friends of mine who did dance records, and I also played on a Roger Daltrey album and I did a little bit with Shakespear's Sister. Then in 1996 I met a guy called Ange Dolittle, who had been in a band called Eat, at a wedding, and we got together to write some songs and ended up getting a record deal for our band Big Yoga Muffin on the Echo label. We made one album, 'Wherever You Go, There You Are', which was in my opinion a great album but nobody ever heard it. After that I drifted away from music, had family and started to work. Most of my friends had become self-employed, and I also went down that route. PB: What sparked this reunion? Was it the thirtieth anniversary of the 'Hipsway' album? PJ: Yes. Skin then got in touch, and said, "How do you fancy putting the band together?" I went up to Glasgow, had a drink with him and we talked about it. We then put a great band together, and we are better than we ever were. PB: Who is presently in the band? PJ: There is actually "no official band". Our members so far are Jim McDermott who is Kevin McDermott's brother on drums. There is Stephen Christie who is a keyboard player from Edinburgh and he plays with the Proclaimers a lot as well as other people, and David Robertson on percussion who plays with various Scottish folk bands. We have also got back Gary Houston who played with us back in the 80's on bass. He played on some of the initial sessions on 'Scratch the Surface', and also played dates with us on the last tour that we did before we split. PB: You played to full rooms at your comeback gigs in Glasgow and Edinburgh last year. Your show at Kelvingrove Park in August in Glasgow also sold out within four hours and your other dates this summer have also been selling well. Have you been surprised at how well received you have been? PJ: I wasn't surprised at how well received we were when we played in Edinburgh and Glasgow last year, but I was very surprised at how well the tickets sold. I was very happy that people did want to see us. It did make me think that maybe we could have carried on as Hipsway for all these years. Maybe, however, we weren't so silly as I know that we were one of the only bands from around then that hasn't played in all the intervening years, and I guess there was a lot of people the same age as us who really wanted to come and see us because they remembered us from before or they had missed us the first time. I was very humbled and delighted though to be able to play like it should have been all these years ago. PB: Why do you think that you have been so fondly remembered? PJ: The 'Hipsway' album has a really good production. It hasn't really dated as it uses pretty much all real instruments and thankfully we did use real drums. 'Scratch the Surface' is more dated in terms of production. I think that is just down to the American scene at the time in 1987, but Paul O'Duffy and Gary Langen who did the production on the first album did a great job. It is very spacious-sounding and it is a great album on the hi-fi. There is a lot of darkness to it too both sonically and lyrically, and it references things like the Great Western Road in Glasgow and other things that people can identify with. There is a lot of religious imagery on there as well. It is a very Scottish album in a way, but it also blends that and the American. PB: You're playing these shows this summer. What are your plans after that? PJ: Skin and I have been starting to write some material for a new Hipsway album. It will be an ongoing process because he is up in Glasgow and I am down in London. We know that we are not going to storm the charts and take Ariana Grande off the top, but we do see from the Glasgow and Edinburgh shows that we have at least 3,000 fans who would like to hear some new music and with the joys of the Internet and social media and so on we can at least furnish that desire with some new stuff. We don't want to just milk the nostalgia. That would be very boring for our audience as well as us, and it would also end result in diminishing returns. It would also be nice to create some new music. We hope to release it next year. PB: Thank you. The colour photographs that accompany this article are by Jayjay Robertson and the black and white photographs are all by D. Robertson except for the second photo which is by Pim Jones.
Band Links:-
http://hipswayofficial.com/
https://www.facebook.com/hipswayofficial/
https://twitter.com/hipswayofficial
https://en.wikipedia.org/wiki/Hipsway
Picture Gallery:-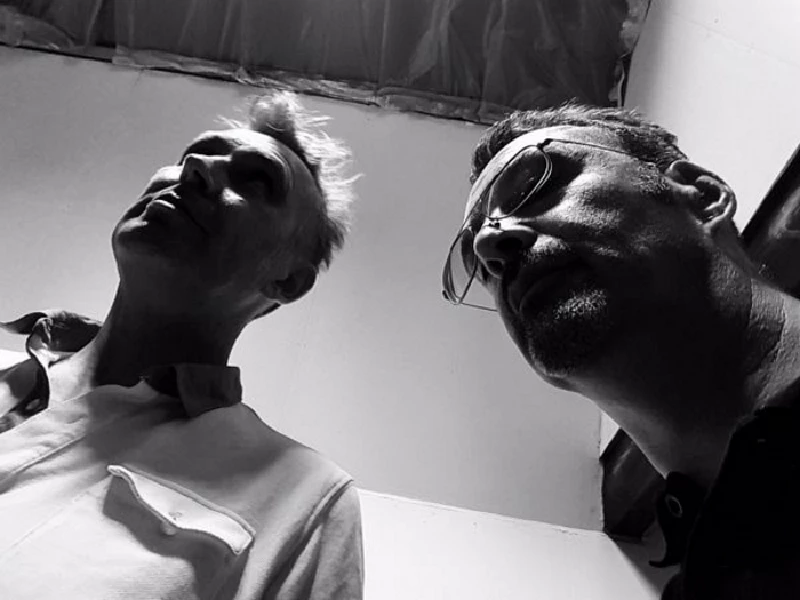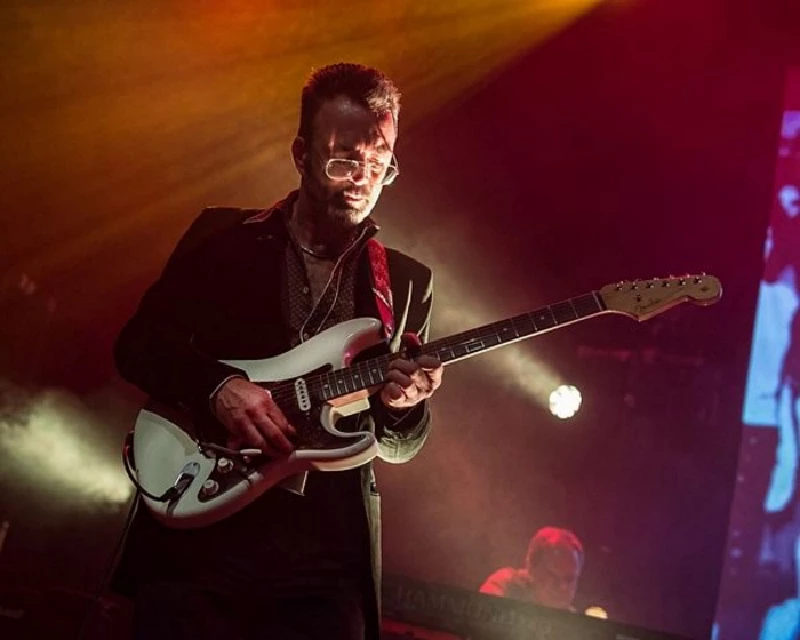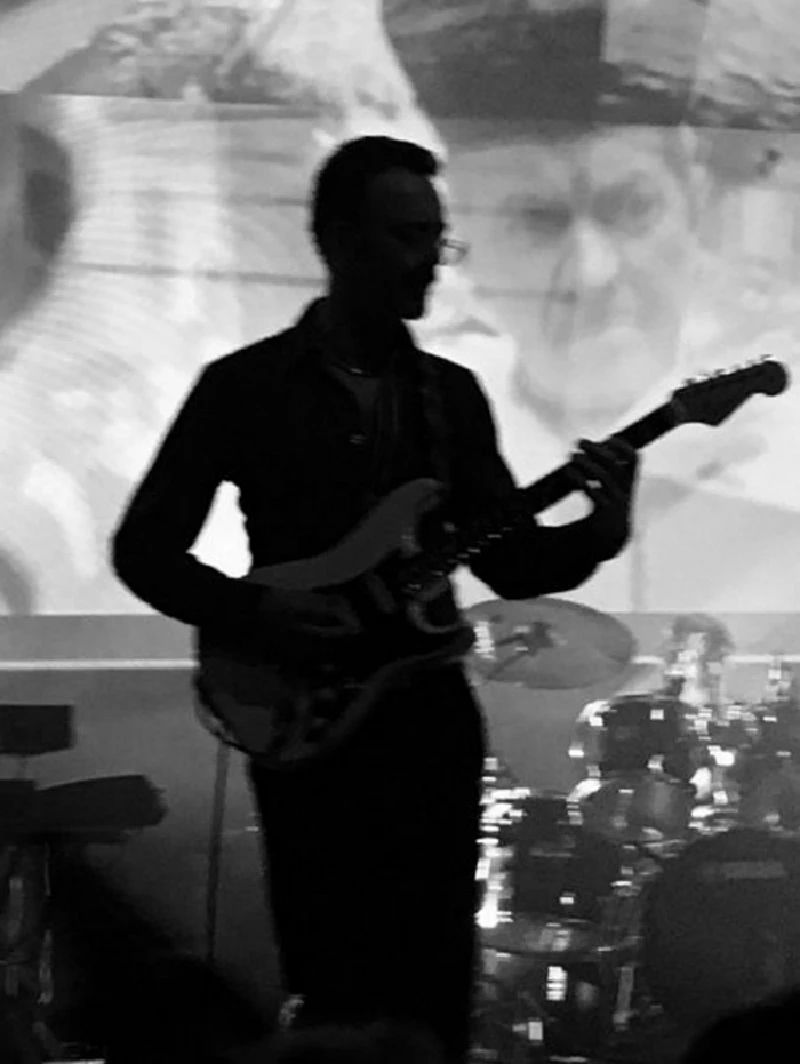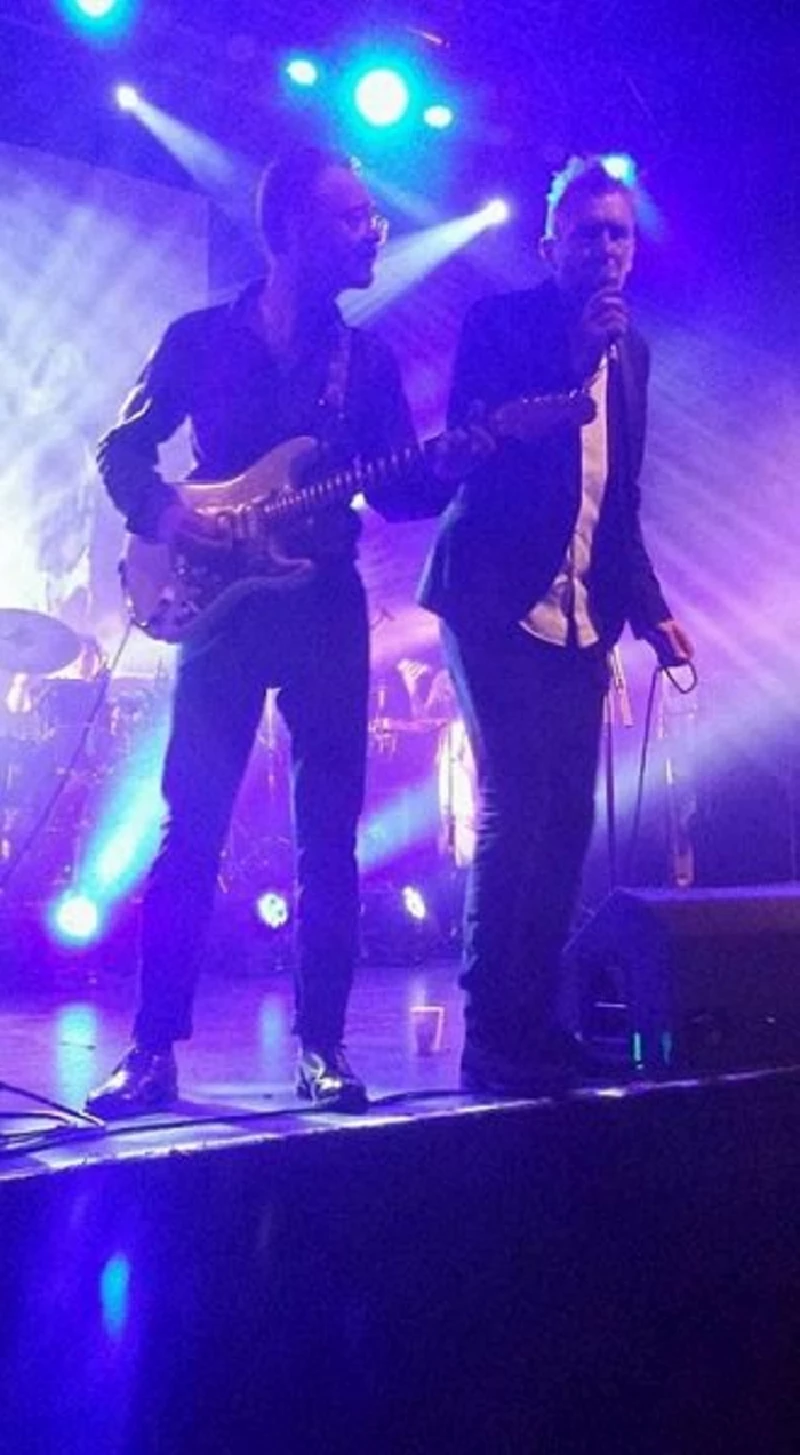 interviews
---
Interview (2018)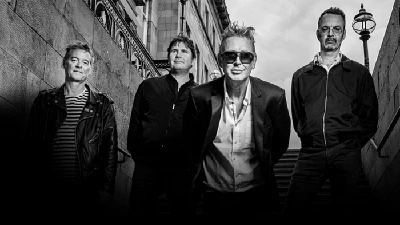 John Clarkson speaks to vocalist Grahame Skinner and guitarist Pim Jones from Scottish rock/dance outfit Hipsway about their third album and first album in thirty years, 'Smoke and Dreams'.
Interview (2016)
favourite album
---
Hipsway (2016)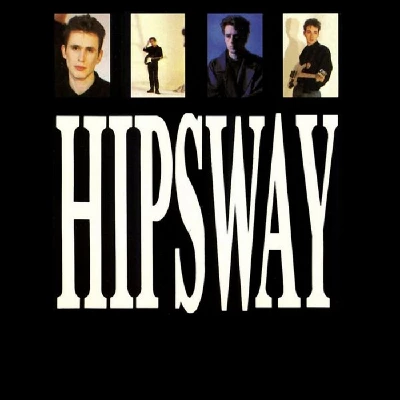 John Clarkson finds that Scottish dance/rock act Hipsway's 1986 eponymous debut album, which has just been released in a double CD thirtieth anniversary edition, remains substantial
Pennyblackmusic Regular Contributors
---