---
Alabama 3
-

Shoplifting 4 Jesus
published: 8 / 1 / 2012
---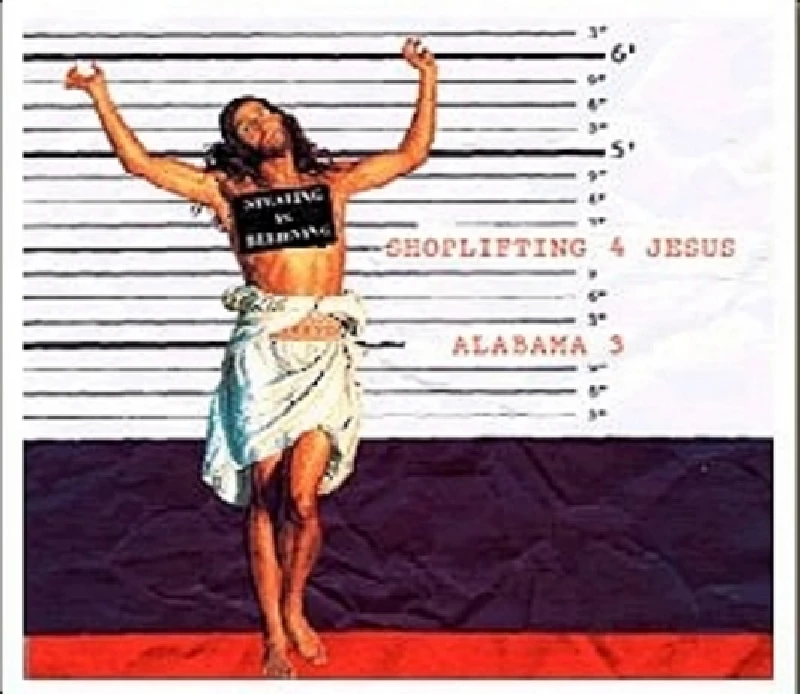 intro
Confrontational, yet hopeful new album from the Alabama 3 whose themes include the economic recession, digital piracy and the riots, and which finds them blending reggae and hip hop into their gospel/acid/country sound
Paraphrasing an ill-advised comment by the Reverend Tim Jones, the Brixton-based Alabama 3 are back with their latest album and once again proving they are one of the most culturally relevant bands out there. The Alabama 3 are at their best when they are pissed off. This strength of writing is witnessed in the success of their previous albums 'La Peste' and 'Power in the Blood', both of which had a more serious and focused approach than their other releases. Tackling themes of the economic recession, digital piracy and theriots, 'Shoplifting 4 Jesus' could easily be a sobering album to listen to. Yet despite the grim tone, there is an undercurrent of hope that permeates the album, which runs at odds with the dour subject matter. With a lesser band, these opposing emotions would not work well together, yet here they create a sound that is both angry with, yet revelling in, the current situation. Opening 'Shoplifting 4 Jesus' album is 'Have You Been Having a Nightmare?' with a growling recital by Hollywood's hard-man Ray Winstone, paraphrasing the Bible, which concludes with his opinion on investment bankers: "kill 'em all". The first few tracks of 'I Blame Kurt Cobain', 'We Stole the Moon', and 'It's About That Time' are almost off-putting due to the unapologetic blending of musical styles. It is not until we hear 'I've Been Seeing Stars (Ain't Seen the Light)' that everything clicks into place and the album hits its stride when it follows up with 'Wrong is Right' and 'Saved'. 'Black Dog' is a bit of a letdown, and possibly the weakest track from the album. It is not, however, until we hit the last few songs that find the truly sublime tracks, 'Who the Fuck is John Sinclair?' and 'Let's Go Out 2Nite'. At the core of the Alabama 3 are lead-vocalists Larry Love and D. Wayne Love. These two gentlemen's vocal styles are strikingly different, and as such never oppose or overwhelm each other. Larry Love's dulcet tones are smooth like velvet, while D. Wayne's are gravelled like rough diamond, and are at their best when combined in tracks such as 'Blazing like Glory'. Backing vocals come in the crystal clear form of Aurora Dawn's voice, which brings a much needed counterpoint to the testosterone and a truly impressive performance. Mirroring the album's themes on piracy, the Alabama 3 have remixed and sampled tracks from various sources, the result of which is that the album feels as if it teeters on the edge of similarity. These samples range from the aforementioned Ray Winstone to Lemmy's distorted roar of "That's the way I like it" (from Motorhead's classic "Ace of Spades") in 'Wrong is Right'. The Alabama 3 even manage to sample themselves in a way that does not feel clichéd. Blending reggae and hip hop into the Alabama 3's core gospel/acid/country style, 'Shoplifting 4 Jesus' is not an easy album to access. I am no fan of reggae or hip hop, but in this album these genres are carefully used for a result and it is actually quite beautiful: "I lay my only kiss on your lonely face". On paper, these disparate musical styles and opposing themes and tone should simply be unlistenable. The Alabama 3 are, however, veterans in this regard, and prove once again they are London's outlaw band. If there is one album you listen to this year, make sure it is this one. You will not like it at first, but then you will love it. Wrong, in this case, is right.
Track Listing:-
1
Have You Been Having A Nightmare
2
I Blame Kurt Cobain
3
We Stole The Moon
4
Its About That Time
5
Star Intro
6
I've Been Seeing Stars (Ain't Seen The Light)
7
Wrong Is Right
8
Saved
9
Facebook.Con
10
Black Dog
11
Summer In The City
12
Who The Fuck Is John Sinclair ?
13
Let's Go Out 2nite
14
Abide With Me
Band Links:-
http://www.alabama3.co.uk/
https://www.facebook.com/thealabama3
https://twitter.com/TheAlabama3
https://www.youtube.com/user/Alabama3akaA3
https://plus.google.com/114105243203762208008
live reviews
---
Academy, Manchester, 29/11/2014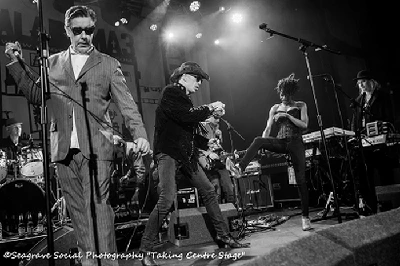 At the Academy in Manchester Billy Seagrave watches Alabama 3 play an exuberant yet thought-provoking set
Rock City, Nottingham, 12/11//2009
Academy, Manchester, 26/4/2008
Rescue Rooms, Nottingham, 8/10/2007
Brook, Southampton, 29/5/2005
Pennyblackmusic Regular Contributors
---