---
Graham Nash
-

Albert Hall, Manchester, 21/5/2016
published: 21 / 7 / 2016
---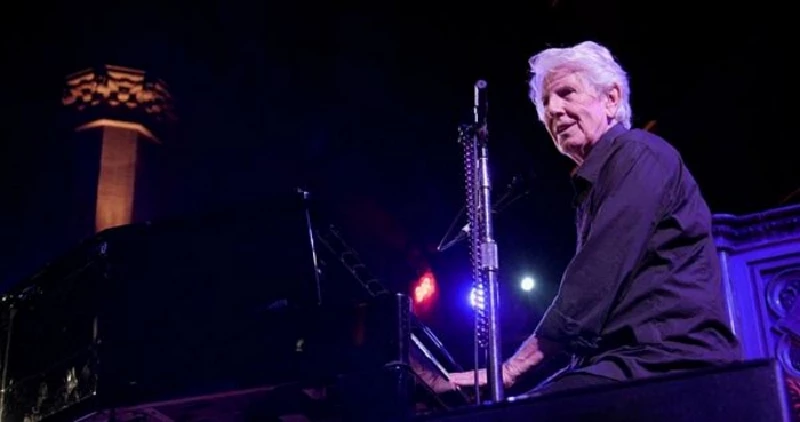 intro
Nicky Crewe sees Graham Nash delight his fans at a wonderful homecoming concert at the Albert Hall in Manchester
He doesn't know it, but Graham Nash and I have history. His songs are the anthems to my life, from the Hollies' hit with Graham Gouldman's 'Bus Stop' through 'Marrakesh Express' for my own Moroccan adventures and 'Our House', my anthem to long past domestic bliss. 'Teach Your Children' is still my creed. There are others, before and since, with and without Crosby, Stills and Young. His new album 'This Path Tonight' has songs for his followers, exploring creativity and the risks of falling in love, embarking on a new relationship as the decades roll by. He's 74 and he's still searching, still questioning. I'm sure I'm not the only fan to feel a mixture of concern and admiration for him. So here I am, with one of my old school friends, waiting for Graham and Shane Fontayne to take to the stage of a fantastic venue, the Albert Hall. It's an old Methodist Central Hall, built in 1910 and now used as a performance venue. It's grand in a shabby way, with its organ pipes and balcony, bare wood and simple stained glass windows. It manages to hold a crowd and yet feel intimate and the acoustics are great for singing. Across the road is the old Free Trade Hall, now a hotel, but venue for many bands over the years. Not far away is the Bridgewater Hall, where I have seen Nash play with David Crosby, and then more recently with both Stephen Stills and Crosby, both great concerts. The Midland Hotel is across the road, where Graham Nash and Allan Clarke met the Everly Brothers as young fans. He also wrote 'Cold Rain' on a visit home to Manchester, inspired by standing on the hotel steps watching the people rushing by. The Odeon, where my friend and I saw the Hollies when we were young teenagers is now an empty shell, a short walk away. I had my first kiss outside the Hollies boutique on Back Pool Fold, and my first serious boyfriend introduced me to Crosby, Stills and Nash. So many memories and impressions for me. What's it like for him to come back to his home ground? The weight of expectation of his fans at a Manchester concert must lie heavy too. We needn't have worried. As soon as he walked on the stage he mentioned the football win of the day, and was immediately reminded that Manchester is home to two football teams by the response! There was no support act. He and Shane launched straight into 'Bus Stop'. "Let's have some fun', he said, and we did. Each song was introduced with anecdotes, setting it into context. If you have read his autobiography, 'Wild Tales', you will know some of the stories. 'King Midas in Reverse' followed, written in the aptly named Split, then in Yugoslavia, with the Hollies. Then 'Marrakesh Express', written in 1966, inspired by a visit to the 3rd class carriages of the train, so full of life. Two songs from 1971 followed, 'I Used to be a King' and 'Immigration Man'. Before he sang 'Military Madness' he explained that as a performer he tries to put himself into the songs emotionally, and it can be an exhausting process. By talking about when, where and why they were written he took us there with him. His growing awareness of politics, environmental issues and his anti war stance became clear. We sang 'No more war' raising the rafters of the old Methodist hall. He followed this with a song from his recent album, with a name check for his new partner, Amy Grantham. 'This Path Tonight' is the title song from this very personal set of songs, and a new favourite for me. I was interested to hear him sing 'Everyone I've ever loved has been some kind of test, rather than 'I've ever known' on the CD. 'Wind on the Water' followed, written after a sighting of a Blue Whale from Crosby's boat. He reminded us that CSN & Y had 900 songs between the four of them, and followed with 'Wasted on the Way'. A well earned interval followed, 'off for a pee', reminding us he's 74. I'm sure most of the audience could identify. He came back with 'Cold Rain' written on the steps of the Midland Hotel, just across the road from where the tour bus was parked. He told us how grateful he was to his parents for letting him follow his musical path. He followed this with the beautiful 'I am a simple man', written on the day he and Joni Mitchell split up. 'I just want to hold you, I don't want to hold you down'. Still heartbreaking after all these years. With a change of pace, 'Taken at All', a CSN & Y song followed. Then back to an old love song, one he hadn't done in a while he told us, the spellbinding 'Lady of the Island'. This was followed by the new retrospective song, 'Golden Days', and then his tribute to Levon Helm, 'Back Home', both from the new album. 'Cathedral' followed, with the story of the Rolls Royce, the trip (in both senses) to Stonehenge and Winchester cathedral, and the grave of the soldier who died on his birthday. The evening sun streamed in through the stained glass of the Methodist hall. Describing his songwriting process, he talked about being open to everyday things for lyrics. Returning home from a shopping trip with Joni Mitchell led to 'Our House'. He invited us to sing for Joni and like a community choir we did. 'Chicago' followed and we were reminded that 'we can change the world'. There was a standing ovation for him and Shane. They sang their favourite warm up song with us, sharing one microphone, the Beatles' 'Blackbird'. He dedicated the next song to his sister Elaine, children and grandchildren. What else could it be but 'Teach Your Children'. And finally, when the audience couldn't let him leave the stage, 'Just a Song before I Go'. This was a beautifully paced and arranged concert. I hope he enjoyed it as much as we did. Shane Fontayne is a perfect songwriting and performing partner for him. Their harmonies and instruments sounded so powerful, filling the hall, making it hard to believe just the two of them were delivering this music. Nash's voice is as clear and as strong as ever. He'd really thought about what fans would like to hear, creating an intimacy with the stories of each song. He made the old songs fresh and the new songs familiar. 'I am a Simple Man'. We could take him at his word and risk underestimating him as a songwriter, a performer, a composer and an arranger. I suspect some people do. He's a Salford boy made good in the land of post war, Californian dreams. His autobiography 'Wild Tales' shows him as someone every bit as risk taking as the rest, but there's an innocence and honesty that shines through. He's written the anthems for my generation and long may he continue to do so.
Band Links:-
https://www.grahamnash.com/
https://en-gb.facebook.com/OfficialGrahamNash/
https://twitter.com/thegrahamnash
Picture Gallery:-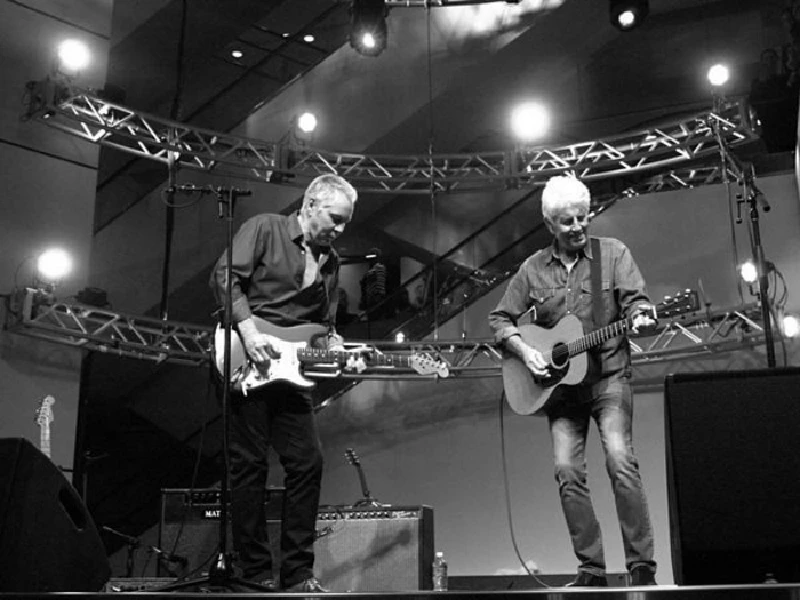 interviews
---
Interview (2019)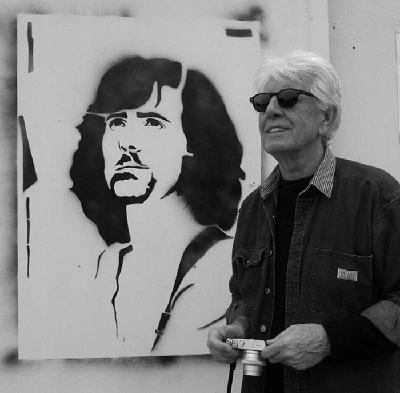 On a recent visit to America, Nick Dent-Robinson took the opportunity to catch up again with iconic songwriter, rock hero and former Hollie, Graham Nash – who was about to embark on a Summer tour of the UK and Europe.
Interview (2018)
reviews
---
This Path Tonight (2016)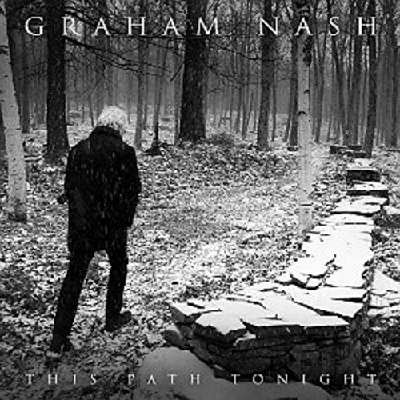 Intimate first solo album in fourteen years from Crosby, Stills and Nash star and 60's songwriter, Graham Nash
Pennyblackmusic Regular Contributors
---