---
published: 8 / 12 / 2021
---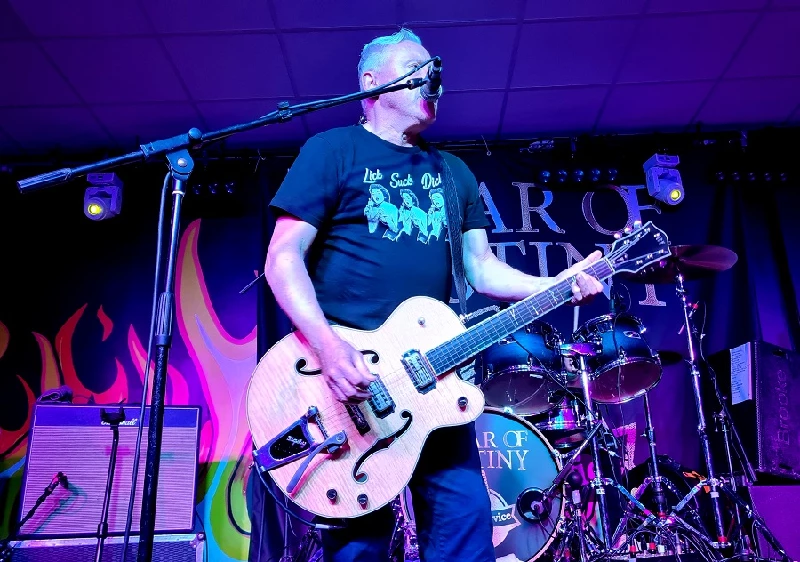 intro
Denzil Watson at Yardbirds in Grimsby watches an emotive performance from Spear of Destiny to celebrate the 35th anniversary of their third album, 'World Service'.
It's a crisp evening in Grimsby. So far we've seen more foxes on the desolate streets near the venue than people, but we've tucked away some fantastic fish and chips and had a quick pint in a friendly local boozer round the corner from Yardbirds Rock Club. Time to make our way to the gig and the newly refurbed venue that has gone up a notch during lockdown and now boasts a long, high stage and a 500 capacity. The inescapable fact is that it's a mid-week night in the Lincolnshire coastal town, with a population still getting round to the idea of live gigs post-lockdown. So, sadly, our fears are realised: the venue is, at best, a fifth full. It's a sharp contrast to back in 1985 when I saw Spear of Destiny on their original UK 'World Service' tour at a packed-out Sheffield City Hall. These days, Brandon is the sole survivor from that classic line-up of the band. Gone are Kirk's long-term sparring partner bassist Stan Stammers and ex-SLF drummer Dolphin Taylor. Fast forward to 2021, and the current line-up is no less impressive than back in the day. Bass duties are in the capable hands of ex-Sisters of Mercy and current Mission man, Craig Adams. Drummer Phil Martini drives the band on as he pummels his toms and doesn't drop a beat all night. Lead guitarist, Adrian Portas, comes with a great pedigree too, and is an ex member of New Model Army. But tonight, it's the relative newcomer, saxophonist Clive Osbourne, that is the ace in the Spear of Destiny pack, as he switches his sax for the penny whistle and then clarinet (or was it an oboe?). The big surprise is the absence of Kirk's long-term keyboardist, Steve Allan Jones. Whether it's logistical issues or that he couldn't make it, it changes the game somewhat, given the relatively piano-heavy nature of 'World Service'. Thus it's left to Clive to cover the piano lines: a task he does absolutely admirably. So onto the set itself. Often the lines between Brandon's two main bands, Spear of Destiny and Theatre of Hate, blur, but tonight the focus is to celebrate 35 years of Spear of Destiny's third album, 'World Service'. Having been 'reimagined' and released during lockdown, the band's original extensive UK tour slated for last year was unavoidably cancelled due to COVID-19. With the rearranged 22-date now nearing its conclusion, the band are a well-oiled machine. But it's far from a straight play through the album. Opening with the title track, as Brandon's sings "I hear music, like you hear music" it's hard not be moved. On 'I Can See' Brandon's voice is a tornado of sound as it puts his incredible vocal range through its paces. It's a primal scream that few of his peers can match. But it's not just about his voice. These are well-crafted, melodic rock missives that hit their target with not just force, but finesse as well. The first surprise of the set is just how good the album-era B sides sound, namely the deep down and dirty riffs of 'Walk in My Shadow' and 'The Last Card' which also delivers the night's best sax solo. The piano-driven 'Once in Her Lifetime' takes on a new life with it the driving sax lines filling the gaps until Portas' riffs come in. The second surprise is long-lost track 'Their England', a song from back in the day that never made the cut when recording the album. The album's dalliance with reggae, 'Come Back', has new life breathed into it, but predictably it's set closer, 'Mikey', that gets the crowd all bleary-eyed: a heart-wrenching tale about the wretchedness of war and its ability to tear lives apart. Its simple chorus line "And I wanna go home" hits home hard and coming from a family with a history of service in the Armed Forces, few can tell such a story with the authenticity of Kirk Brandon. The small crowd make a disproportionate amount of noise and Kirk initially returns to the stage solo for the first of six encores. He's always had an ear for a ballad and the melancholic 'Harlan County' sounds just as good on guitar as on piano. Soon he's joined by his band mates for the tribal rhythms of 'Solution' and a version of 'Transmission' that the current incarnation of New Order would be proud of. Predictably tonight's set closer is 'Liberator', a song now long-enshrined in Spear of Destiny folk-lore that gets the crowd moshing. At the end when Kirk thanks the crowd there is a genuine sincerity in his voice. Even on a cold dark night in Grimsby he can touch lives with his music. He's blessed with a true gift and sense of musicality many an artist spend all their careers trying to fake. And although the crowd may have been small, it was genuinely moving to see people so grateful to be able to be hear and share the live experience once more. Long may it continue. Photos by Denzil Watson
Band Links:-
https://en-gb.facebook.com/kirkbrandonofficial/
https://www.kirkbrandon.com/
https://twitter.com/kirkbrandon
https://www.youtube.com/user/SODPROMO
Play in YouTube:-
Have a Listen:-
Picture Gallery:-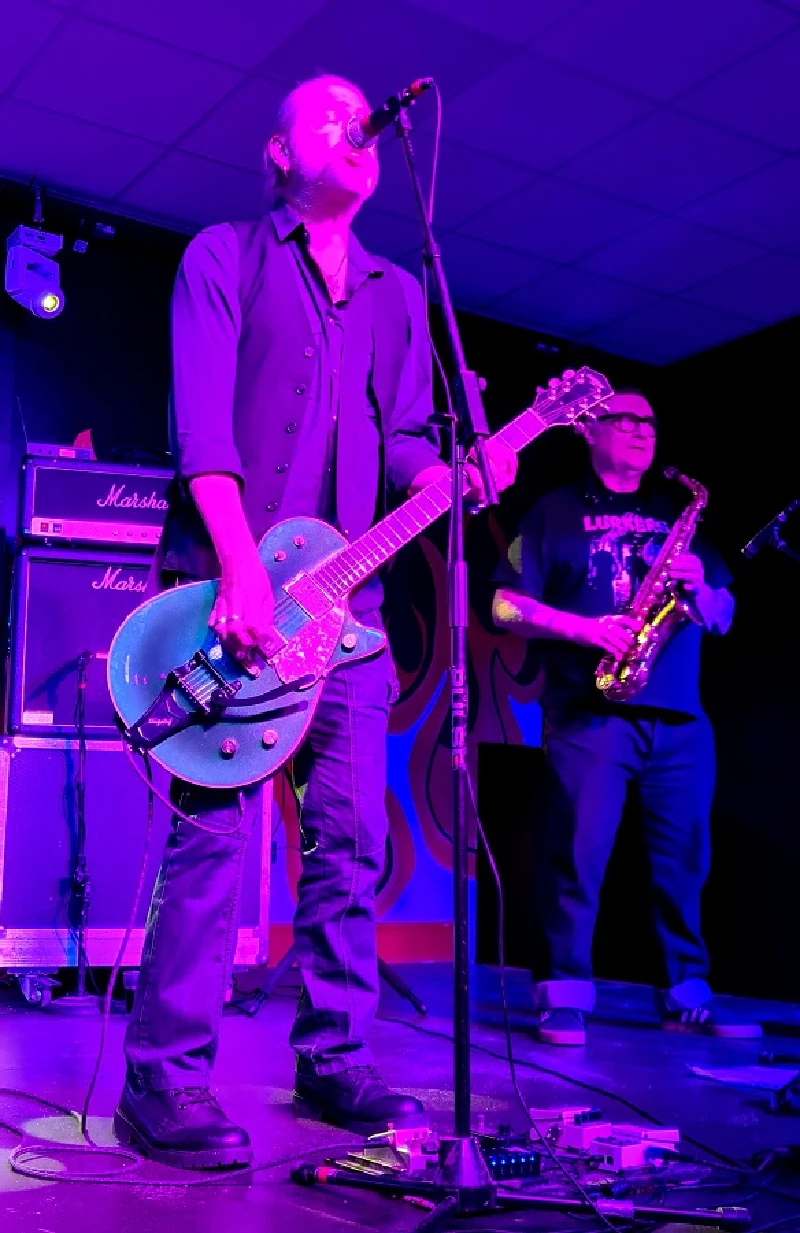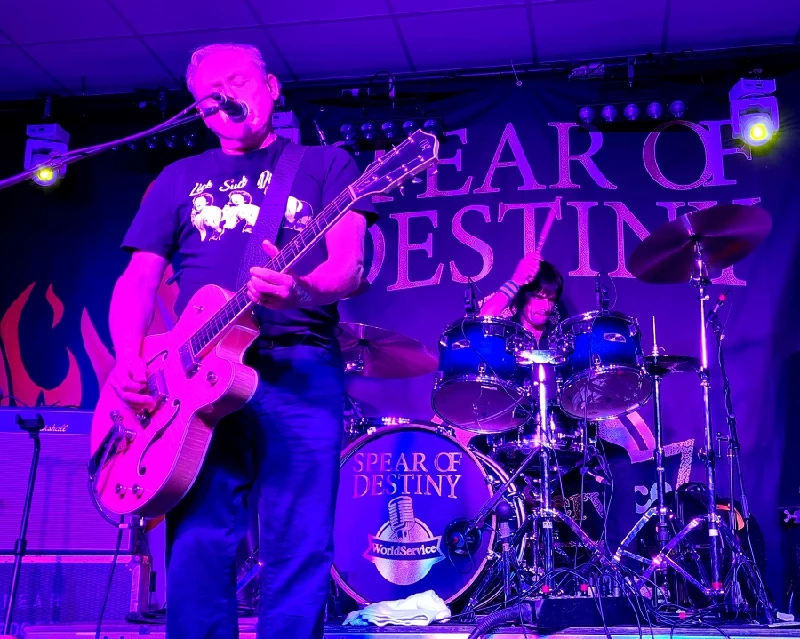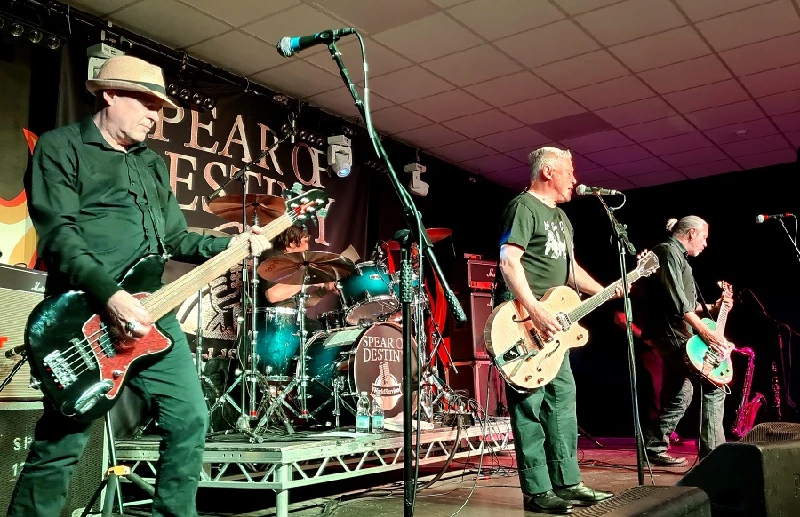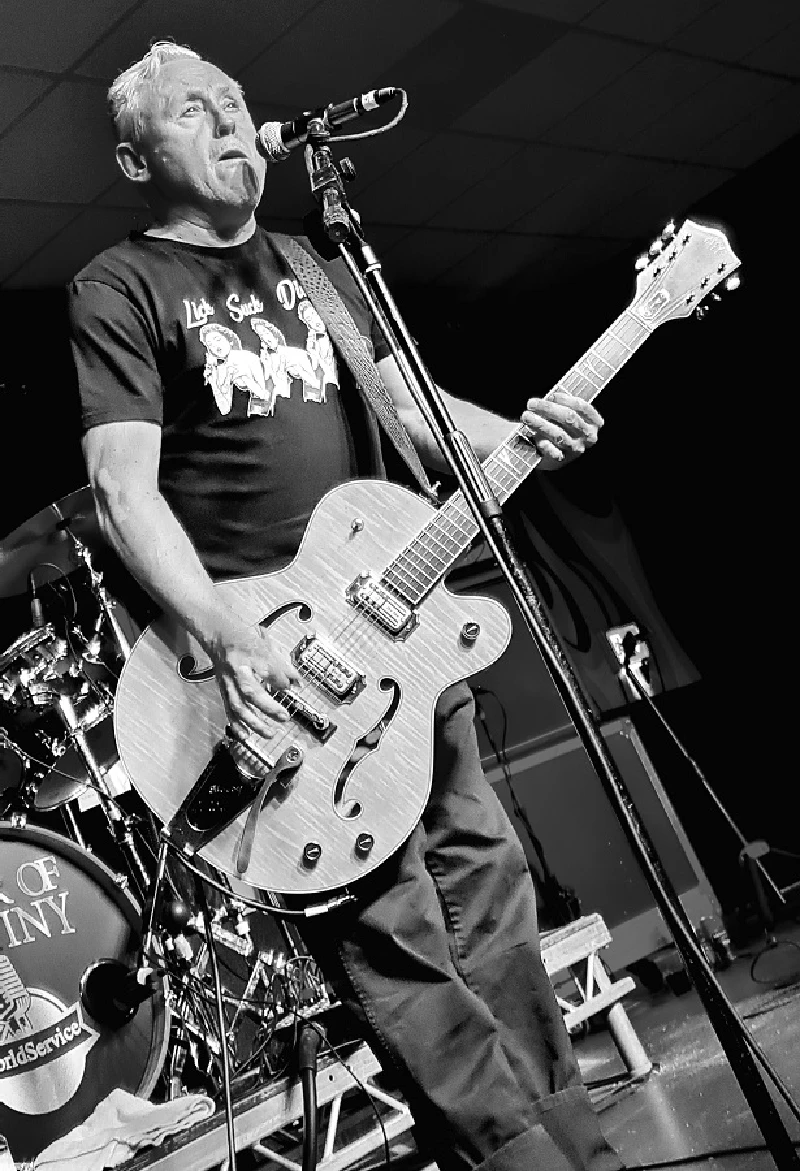 interviews
---
Interview with Kirk Brandon (2020)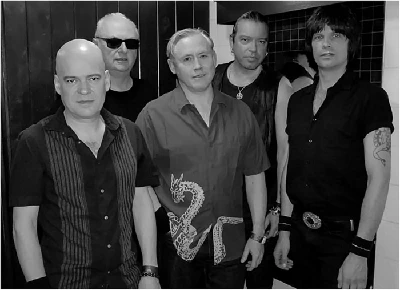 Denzil Watson speaks to Spear of Destiny frontman Kirk Brandon about their classic 1985 third album 'World Service' which is being re-released in a reimagined new version.
live reviews
---
Greystones, Sheffield, 14/10/2014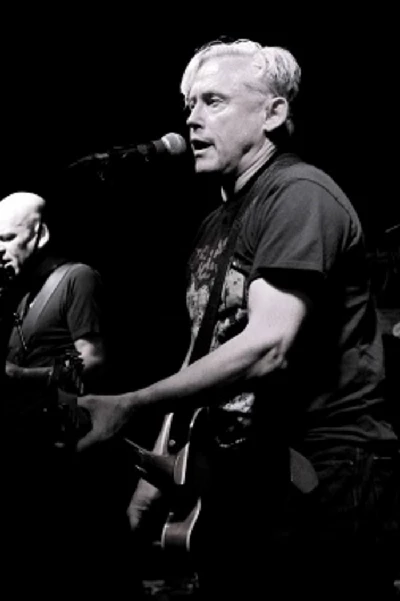 Denzil Watson watches 80's cult band Spear of Destiny play an explosive set at the Greystones in Sheffield to promote their latest album, '31'
reviews
---
Tontine (2018)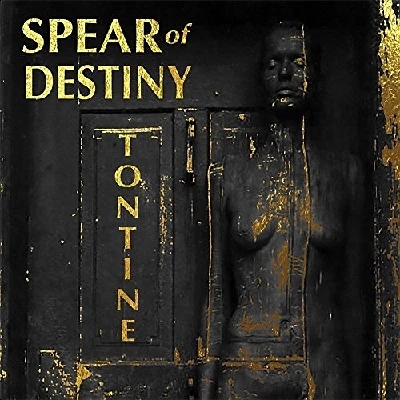 Excellent twelfth album from Spear of Destiny which finds them returning to their post-punk beginnings but also maintaining their edginess
related articles
---
Kirk Brandon: Live Review (2017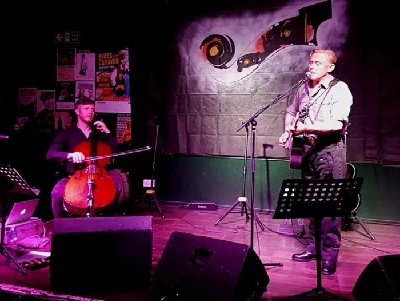 Denzil Watson catches the opening night of Kirk Brandon taking his extensive back-catalogue of songs with Spear of Destiny and Theatre of Hate on the road in stripped-down form with vocals, guitar and cello from Sam Sansbury.
Pennyblackmusic Regular Contributors
---