---
Alice Cooper
-

50th Anniversary of the Alice Cooper Group Original Line-Up Celebration Part 1
published: 26 / 3 / 2018
---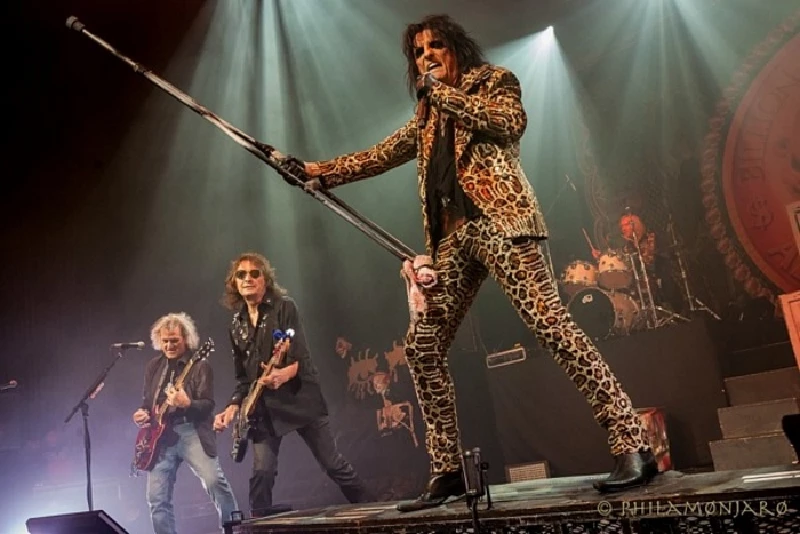 intro
To celebrate the 50th anniversary of the formation of the Alice Cooper Group, Pennyblackmusic has assembled greetings from essential friends and players.
Courted early on by true believer, Frank Zappa (for 'Zapped') and driven by disturbing dreams of gory theatrics, the original Alice Cooper Group (Michael Bruce, Glen Buxton, Dennis Dunaway, Vince Furnier and Neal Smith) set out to fight the odds, as one of thousands of bands looking to attain superstar status. Fueled by gumption and great hooks, they explored their musical terrain with open minds. Then, with the Bob Ezrin-produced 'I'm Eighteen' off of 'Love It to Death', the anti-establishment marauders found international fame. Riding high on 1973's 'Billion Dollar Babies' and its subsequent tour, they broke box office records. The Alice Cooper Group did exactly what they had set out to do: They triggered parental animosity and galvanized youth. On occasion, they ticked off a concert promoter or two, and even conjured up a few myths. There was the time, for example, that Vince Furnier, assuming that anything with feathers could fly (why wouldn't a Detroit city boy wager such a bet?), tossed a live chicken into a boisterous crowd at the 1969 Toronto Rock 'n' Roll Festival. All hell broke loose, the chicken got clobbered; the band took the heat… Because they originated outrageous stage craft ideas and donned one-off costumes and spidery make-up (courtesy of Cindy Smith Dunaway), key elements of the act would be pinched by the New York Dolls, Elton John, David Bowie and Kiss. But honestly, there were a lot of fine musical ideas to pinch, as well: muscular bass lines, passionate guitar solos and killer drumming. The original line-up's final performance took place in Rio on April 8, 1974. In 1975, Vince Furnier legally changed his name to Alice Cooper and forged a solo career. Former members delved into a multitude of creative endeavours, too, including the formation of Michael, Dennis and Neal's the Billion Dollar Babies — they released 'Battle Axe' in 1977. Despite the break-up, fans kept up hope of seeing the original band reunite. And they did: With Alice on October 23, 1999, two years after guitarist Glen Buxton's death (and again in 2010) and on March 14, 2011 for the RRHOF induction. A few, short months later, they even met up at the Jagermeister Ice Cold 4D event. And back in the studio that same year, Michael, Dennis and Neal contributed to Alice Cooper's 'Welcome 2 My Nightmare'. Last year, however, super fans nabbed the ultimate fix. Reunions included mini-sets in London, Birmingham, Manchester, Glasgow and Nashville, Tennessee. By that point, Dennis Dunaway had proved his mettle as an articulate, frank and fun-loving author. And late December of last year, Michael Bruce re-released his 'No More Mr. Nice Guy' biography as a limited edition box set. Neal Smith's synergy has been revealed through the "final" rock opera, 'Killsmith and the Greenfire Empire' series as well as a slew of similarly seething recording projects. More recently, the new single, 'The Sound of A,' co-written by Alice Cooper and Dennis Dunaway, was released in late February of this year. Out of the box and out of the blue, 'The Sound of A' represents an enlightening return to psychedelia, brimming with Alice's spiraling vocals and wrenching, electric guitar solos; the coolest and closest phenomenon to a natural high, since cola and aspirin. March 16, 2018 signifies the fiftieth anniversary of the Phoenix-formed, shock rock group. The legacy cannot be understated. Dennis, Neal and Michael have enjoyed co-writing, producing and performing with each other and with other talented players since the band members went their separate ways. The late Glen Buxton's humour, creativity and spirit live on through his classic recordings, the rebuilding of his electric guitar and fan/band member memories. One of the authors listed below, Christopher Todd Penn, remembers well a surprise reunion show in Dallas, Texas in conjunction with a Dennis Dunaway book signing for 'Snakes!Guillotines!Electric Chairs! My Adventures in the Alice Cooper Group'. The event took place at his popular record shop and stirred up a ton of excitement. Current Alice Cooper Band member, electric guitarist Ryan Roxie, filled in for Glen Buxton. The surprise performance rejuvenated fans and perhaps set the stage for more co-writes on Cooper's album, 'Paranormal,' courtesy of Michael, Dennis and Neal. Members of the original group have consistently forged relationships with other creatives: photographers, record executives, fashion designers, hair dye/cosmetic manufactures, other esteemed musicians/producers and graphic artists. What has tied these free-thinkers together? Does the phenomenon extend beyond mutual respect and a passion for live music? To honour the original line-up's legacy, many came forward. Needless to say, no arm twisting was involved. Pennyblackmusic merely had to shout, "Please help us celebrate" and their esteemed comrades came through. Between 2015-2017 and then in early November 2018, Michael, Dennis and Neal kindly granted interviews to me via Pennyblackmusic. Through our discourse, I learned about resilience, dedication to one's craft and establishing lifelong friendships. That said, if there is a rock studded milestone worth celebrating, this is the one… So please read on to see why this band has touched so many for so long. In their own words… Since their emergence from the Batcave club in London in 1982, Alien Sex Fiend have remained one of the most loved and longstanding pioneers of the Goth movement. Fusing themes of horror, humour, inner turmoil and outer space with an industrial/punk and electronic sound years ahead of its time, the band, led by front man Nik Fiend (that voice, crazed theatrics and inimitable art) and Mrs, Fiend (crunching beats, keys and assorted noises) has scored countless indie chart hits, found success across Europe, America and Japan and won a dedicated fan base which exists to this day. Mrs. Fiend: Both Nik and I were Alice Cooper fans from around 1972, before Nik and I actually met. Fast forward, we had set up our band Alien Sex Fiend in 1982 and Nik, in particular, had always name checked Alice as an influence – we even did a cover of 'School's Out' on an early demo. Eventually word seems to have reached Alice about us and we were invited to meet him in London in 1986. Nik Fiend: That was a "wow" moment! We got on really well and met up again the next day at his hotel. Next thing, the phone rang and we were invited at Alice's request to take up the remaining support slots on his UK 'Nightmare Returns' (1986) tour. That tour was a big milestone for us, as people and as a band. It was an impossible dream that happened, like something out of a movie! Mrs. Fiend: It was an amazing experience in so many ways, although it's very different to what we, as Alien Sex Fiend, do. Nik Fiend: Ever since then we try to see Alice whenever our paths cross and when we found that the original band were playing as part of the UK tour in 2017 (November), we just HAD to go! I'd seen the original Alice Cooper band play in London (1972) so to see them again after all that time was outta sight! Mrs. Fiend: It was fantastic to see so many smiling faces around us in the audience, people grinning like crazy, and so were we! Everyone obviously being taken back to their early years. Nik Fiend: I'm sure that Glen Buxton (RIP) was there in spirit. The original band is a different vibe, of course - the music is more free-form, but that earlier stuff is in my bones! Mrs. Fiend: Congratulations to Alice and crew on hitting their 50th Anniversary! Nik Fiend: We just celebrated 35 years ourselves, though in comparison, to quote Alice. "We've still got a long way to go…" with the release of a 35-year trip through our history, entitled 'Fiendology,' that includes two new taster tracks from our forthcoming new studio album, 'Possessed,' which we're currently finalizing as we speak! Paul Brenton is a Canadian, husband, father, environmentalist and archivist… Educated at the intersection of Alice Cooper and Harvard. "Not unlike the Rolling Stones of the '60s, to '70s youth worldwide, the Alice Cooper group represented the counterpoint to authority, parents and even the prevalence of pop music like the Osmonds and the Jackson Five." "And what was even better...the offended authorities, parents and music business were not "in" on the rock 'n' roll hijinx. This amazing band had connected with its audience with a nudge and a wink. Their sardonic commentary on such topics as sex, greed, violence and death was plainly presented in terms of black and white, corruption and redemption... a rock 'n' roll morality play. But "youth" was the secret code to "getting it" and parents, teachers, etc. were left aghast." "This band were pure originals, inventors, artists...the first to bring the rock n roll trifecta: high calibre musicianship; lyrical complexity and mastery and all presented in the over-the-top stage show. Others have tried - imitation is the ultimate form of flattery - my opinion, only two have come close...David Bowie and Elton John (both artists took immediate and dramatic changes to their acts after experiencing Alice Cooper in concert)." "2018 represents the 50th anniversary of this Rock 'n' Roll Hall of Fame band. In an age where artists are measured by (and an industry has been reduced to) the number of text messages sent following a TV talent show, surely the time is ripe for a renaissance of snakes, guillotines and electric chairs." "Alice Cooper invented the "Rock Show"." Patrick Brzezinski is a photographer based in France, living between Tours and Paris. Here he reminisces about first meeting Dennis and Neal, "back in the days they were playing in the same band along with Joe Bouchard, in BDS (Bouchard, Dunaway and Smith)." 'THERE WAS A TIME' by Patrick Brzezinski "There was a time that the only way to receive news about your favorite bands was the specialized press. The music newspapers were numerous, but unfortunately, the headlines were mostly about new bands, or, at the very least, current news about music. Being an Alice Cooper fan since I was teenager, I always kept an eye out for that kind of press, any information regarding concerts, new albums, interviews or articles. But here, in France, this kind of media exposures was quite rare... I was speaking here of a time before the rise of the Internet, which changed everything in the world of communication. People who grew up after the late 90s probably don't realize at which point this caused a revolution. The Internet allowed people to get connected around a similar community thanks to the creation of 'chat rooms' or 'groups'. I realized that I was not alone anymore with my passion and joined some of these groups. On the other hand, that made me discover that the original Alice Cooper musicians were still active in the music scene. I had no idea of that before and always asked myself, "What became of them? I will probably have no chance to see them live somewhere… But as we say, "Never say never"… In 2002, BDS (Bouchard, Dunaway and Smith) announced a live show in Paris! I was more than excited. Finally, I met two of the original members of the Alice Cooper Group! After all these years...Whoa! I immediately bought my ticket and started to count down the days until that event. "The concert was awesome. I remember Dennis Dunaway's bass medley which gave me goosebumps and made me realize how his creativity had deeply designed the Alice Cooper sound signature. I remember Neal Smith's interpretation of 'Alma Mater'. I remember the time they spent with the audience at the end of the show. And I remember that day as the beginning of a long and sincere friendship with my pal, Dennis." Nick Didkovsky is a guitarist, composer and software programmer. He founded the avant-rock band Doctor Nerve in 1983, the metal bands Haessliche Luftmasken and Vomit Fist, and the progressive rock trio Bone with Canterbury legend, Hugh Hopper. He is a member of the Fred Frith Guitar Quartet and the improvised music ensembles Eris 136199 and Zinc Nine Psychedelic with computer music pioneer Phil Burk, Didkovsky created Java Music Specification Language, a toolkit for algorhythmic music which he currently teaches at NYU. He has composed for Bang On a Can All-Stars, Meridian Arts Ensemble, DITHER Guitar Quartet, ETHEL and others. His compositions and guitar work appear on over fifty records, including releases on SONY Classical, New World and Cuneiform. Album credits include Alice Cooper 'Paranormal'. He is currently finishing up a suite of 100 duos for Kathleen Supove (piano) and James Moore (electric guitar). http:www.didkovsky.com "In 2015, I assembled a band to perform the first Alice Cooper record, 'Pretties for You' live in concert. Dennis, Cindy and Neal attended the show and having them in the audience meant the world to all of us. Cindy made a beautiful, one-of-a kind shirt for me with a hand-painted replica of the original album art on it. She told me she likes to engulf herself in relevant music when she's making clothing for musicians, and that listening to 'Pretties for You'; while working on my shirt stirred newfound appreciation for that record. Cindy told me, "Listening to it many years later, I realized how jazz influenced it was and how complex. It earned a new respect from me." Dennis joined us for the deep cut, 'Nobody Likes Me' as the encore. He sang the lead encore, and during the break in the tune, when all the instruments suddenly stop, he delivered the longest sustained "N-e-e-e-e-ever…" I'd ever heard on any of the live Alice recordings! It was pretty surreal to be performing a tune this obscure with the fellow who wrote it, although in typical Dennis fashion he insists the song was co-written by the band. I'm guessing 'Nobody Likes Me' and most of the songs off 'Pretties for You' haven't been performed since 1969/70, and I am beyond proud to have brought this music back to life before an appreciative audience of hardcore aficionados, with the participation and support of founding members of the band. Another Cindy story: When Dennis assembled the Snake Charmers to do a show at This Ain't Hollywood in Ontario, Cindy got on the case and created custom snakeskin scarves for everyone in the band to wear on stage. Each of us wore our scarf a little differently, and it was just the right touch to unify the look of the group. The material was super cool with scales on one side, and a sort of reptilian white underbelly on the other side. It turns out, she'd visited and revisited numerous fabric suppliers in NYC's garment district over the course of a few days, picking up samples at the various outlets until she got just the right snakeskin pattern. This is the sort of thing she does with a uniquely quiet intensity, and it ends up adding an extraordinary visual flair to the band and, ultimately, contributing to its spirit. Cindy's also a great traveller. For the drive to Ontario, I'd gotten this book of really awful puns which she embraced (some might say confiscated) immediately. Most people would torture their fellow passengers by reading the puns out loud until everyone begs for a merciful end, but her approach was completely different. Cindy would stretch each one out, reading the set-up aloud and insisting we figure out the punch line. You could almost see everyone's brain light up, offering suggestions, and this transformed the book (and the trip) into something creative and delightfully challenging. Cindy wouldn't crack up until we either got the right answer or offered up something better. It turns out a lot of our punch lines were better than the ones in the book! My favorite Alice Cooper record is 'Pretties for You' because it is so raw and personal. You really hear an incessant dedication to experimentation and risk in that music; a young, hungry band taking their influences, shredding them into little pieces in a high speed surrealistic blender and piecing the shards together again like a Kurt Schwitter's photo montage." Fee (Waybill), 40-year member, lead vocalist and co-songwriter for the Tubes of 'White Punks on Dope' fame, who supported the alice cooper Group at their UK shows last year. He has worked with Toto, Richard Marx, Billy Sherwood, etc., and has frequently performed as Frank 'n' Furter in 'The Rocky Horror Show' at the Barn Theater, Augusta, Michigan. "Alice and I have been friends for years. We both went to high school in Phoenix in the 1960s. I used to go see them at the VIP Club in the '60s when they were the Earwigs. Our first show together was at Anaheim Stadium in 1977, with Sha Na Na and Nazareth. We have played with them many times over the years. They are total pros and it's really fun to play with them. The UK tour was a blast! Funny that the only two really theatrical rock and roll acts are from Phoenix." Ingo Geirdal is a guitarist and songwriter for Icelandic hard rock band DIMMA and a collector of Alice Cooper memorabilia. He has contributed material for various, official Alice Cooper releases, including the 'Old School' box set and the 'Super Duper Alice Cooper' film. He is proud to have Cindy Smith Dunaway as his "Trollmom." "I was just a little kid in Iceland in 1980 when I first heard Alice Cooper´s 'Killer' and saw the picture of the band on the album cover. I remember thinking this was the most outrageous, dirtiest and dangerous band I had ever seen and heard - and yet so brilliant and exciting at the same time. It was clear to me that behind the make-up, snakes and electric chairs, there were five very gifted musicians with a unique distinctive style and a knack for writing great songs with shrewd lyrics. They had the look, the image, the producer and the sound. I was hooked! As I started collecting every recording and piece of memorabilia and information I could find on my favourite band, they inspired me to become a musician and songwriter myself. I always dreamed of someday seeing them reunited on the big stage, so I was devastated when I heard that lead guitarist Glen Buxton passed away in October of ´97. The following years I traveled to the USA to pay my respects to Glen at the various memorial events that were organised by Canadian super-fan Paul Brenton and the Buxton family. It was there that I first met and became friends with Glen´s family and fellow band members and saw the four surviving band members jam together again for the first time in 25 years. It was also there that I got the chance to pay tribute to my idol Glen Buxton by playing his guitar leads with his brothers Michael, Neal and Dennis." Since then, me and my younger brother Silli have been fortunate to share the stage with them at various events throughout the USA and even bring them to Iceland, where we have recorded together for various album releases. Over the last three decades, Silli and I have also travelled all over the world to see Alice in concert and our band DIMMA got to open for him at his only show in Iceland in 2005. But of all the concerts I´ve been to, the five UK shows in 2017 with the originals are the absolute highlight. For me, a fan for over 38 years, it was a dream come true and I had goosebumps and tears in my eyes at each and every one of these shows. That´s how great these guys still are when they get together. I am sure GB was there with them in spirit, with a switchblade, a beer and a big smile."
Band Links:-
http://www.alicecooper.com/
https://www.facebook.com/AliceCooper/
https://twitter.com/realalicecooper
Play in YouTube:-
Picture Gallery:-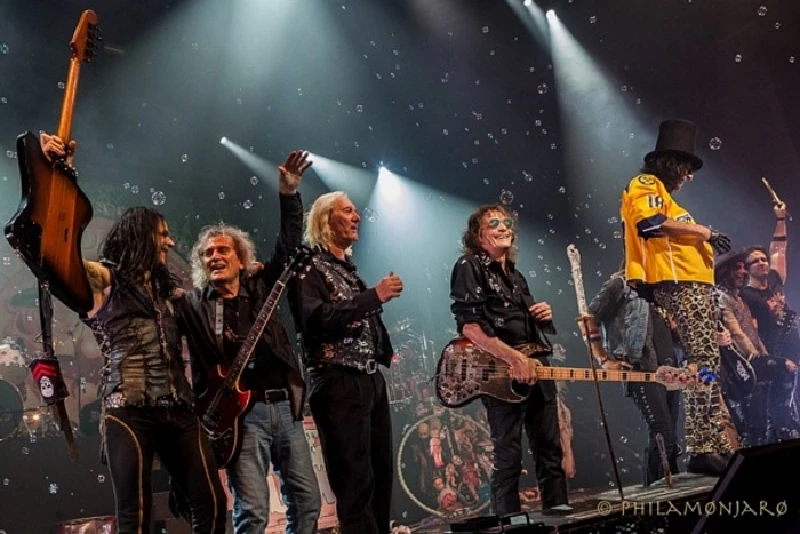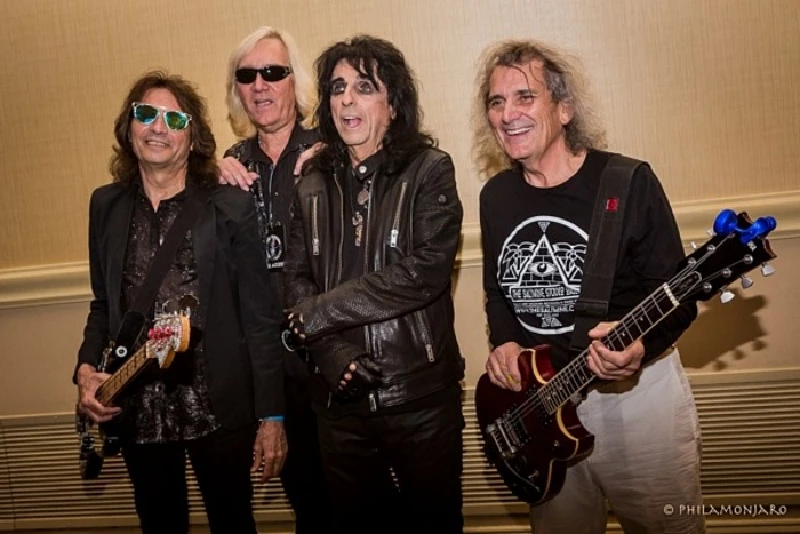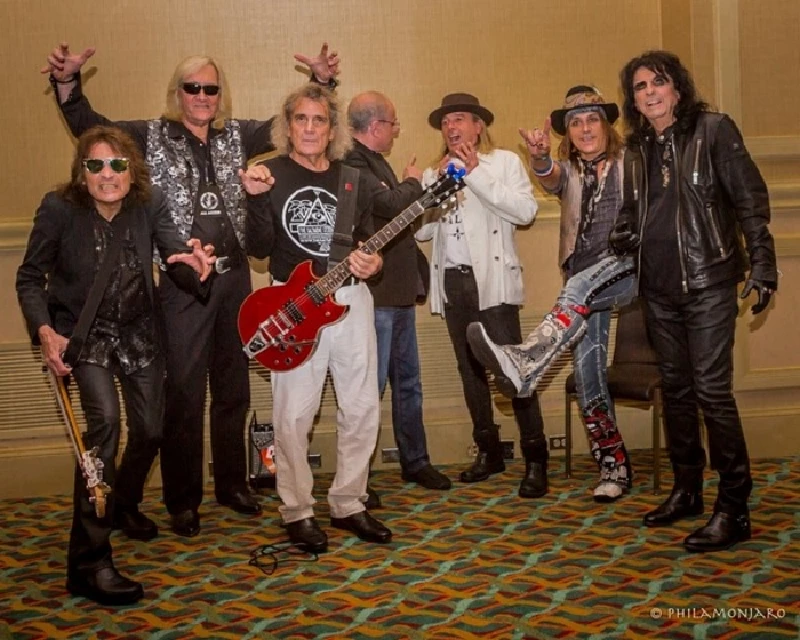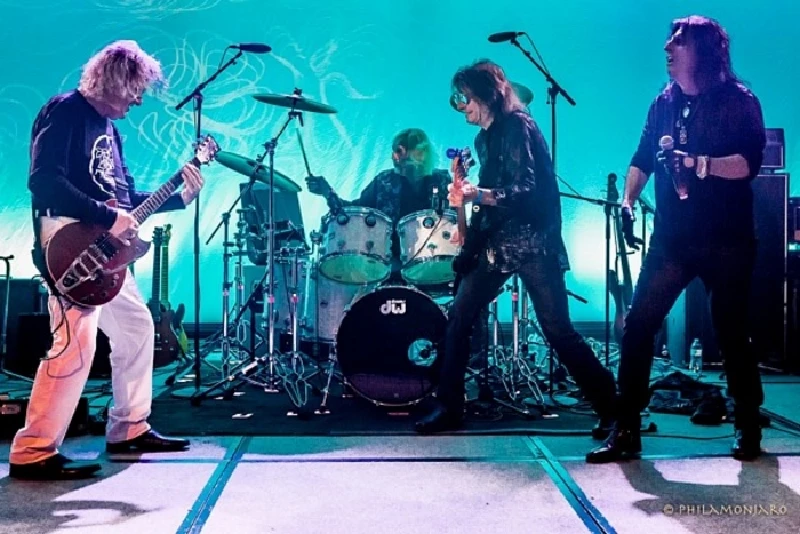 Visitor Comments:-
858

Posted By: Kari&Aila from Finland, Finlandia on 30 Mar 2018
Really awesome to got group together again! Hello also Glen to the heaven!
---
interviews
---
Interview (2021)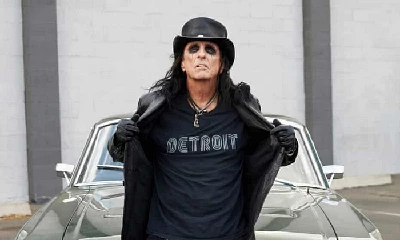 Alice Cooper talks to Nick Dent-Robinson about his new album 'Detroit Stories,' which, in homage to the infamous blue-collar city and his home town, includes new and classic covers, and features original band members.
Pennyblackmusic Regular Contributors
---