---
Mark Eitzel
-

Rough Trade East, London, 13/2/2017
published: 17 / 3 / 2017
---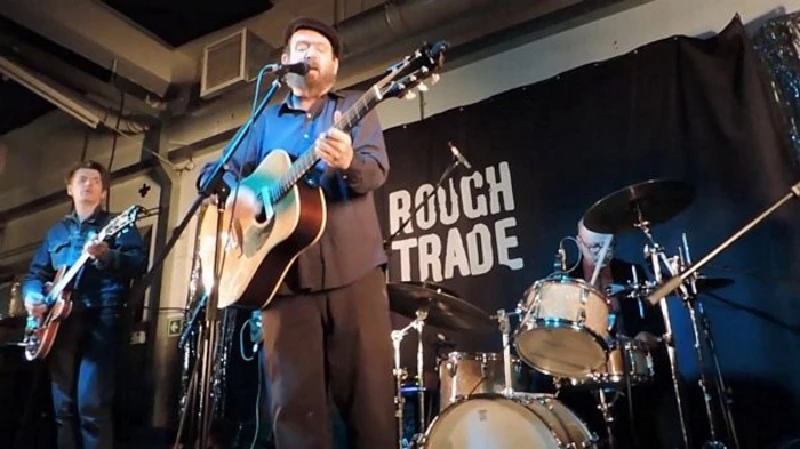 intro
Dastardly watches Mark Eitzel conquer the flu and launch his new album in style at an in-store at Rough Trade East in London
Mark Eitzel shuffles through the crowd at Rough Trade East like Chris Eubank edging towards the ring ahead of a title fight. Hunched under a thick overcoat he reveals a cold but still manages a smile for the friends and well wishers patting him on the back as he goes. Eitzel with a cold. An Aston Martin with a shredded front tyre. Uh-oh. Thankfully by the time second song 'What Holds the World Together' reaches the first chorus it's clear that it's going to take a lot more than a cold virus to contain the force of nature that is Eitzel's voice. The song is crowned by a sublime metaphor and an almost child like wail that sees him holding the mic way down by his waist - like he's showing all the Mariah Carey-wannabe 'Voice' contestants what mic control really looks like. On stage he's joined by the same stripped down band that made his Bush Hall show four years ago a triumph, plus we get a bit of Vudi noise atmospherics on electric guitar courtesy of Bernard Butler, producer of new album 'Hey Mr Ferryman'. Together they make the perfect frame for his songs and whereas some in-store gigs have all the atmosphere of a press conference tonight Eitzel doesn't seem to care where he is cos he's miles away inside the songs. And by the time 'Mission Rock Resort' starts we are too as he shoots another pinball round our heads and takes the room off into orbit. The new songs are hitting just as hard - drummer Stephen Hiscock nailing 'Last Ten Years', 'An Answer' swimming with Bacharachian hooks and Bernard Butler hitting his stride on 'La Llorona', after which Eitzel thanks Bernard for helping him make the new album and in an uncharacteristic slip refers to it as a great record. It's good to hear the master of self-deprecation finally owning up! As the alloted time slot ends Eitzel seems to want to keep going. He's got enough fuel for a whole lot more but tonight sadly they have to bring him back down to land. Final score Rough Trade East 0 - Mark Eitzel Allstars 8.
Band Links:-
https://www.facebook.com/markeitzel/
http://www.americanmusicclub.com/
https://twitter.com/markeitzel
live reviews
---
De Le Warr Pavilion, Bexhill-on-Sea, 25/5/2014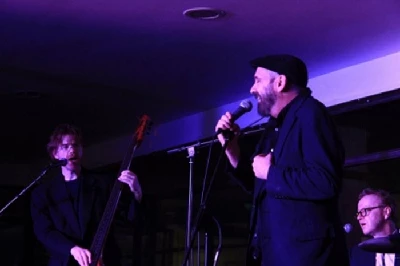 In the beautiful surroundings of the De La Warr Pavilion at seaside town Bexhill-on-Sea, Dastardly watches former American singer-songwrter Mark Eitel play a life-confirming set of his classic songs
related articles
---
Manolis Famellos: Interview (2020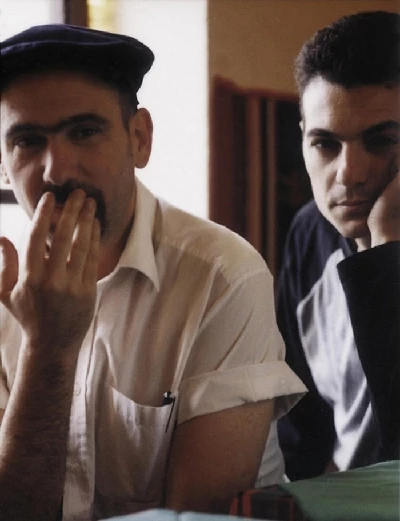 Producer and singer-songwriter Manolis Famellos talks to John Clarkson about the recording and re-release on vinyl of American Music Club frontman and solo artist Mark Eitzel's 2003 eighth solo album 'The Ugly American', which Eitzel worked upon with him and a group of Greek traditional musicians.
Pennyblackmusic Regular Contributors
---